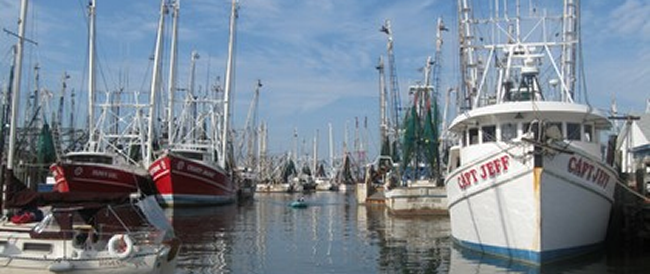 Ferry Tolls Appear Headed Toward 2015 Decisions
Pamlico News Staff
RALEIGH - A coastal effort to abolish tolls on all of the ferry routes appears headed for another year in the North Carolina General Assembly.
Pamlico County's lobbyists in Raleigh report that the battle over a state budget is winding down in a short legislative session that is already past its deadline.
"The 2014 NC General Assembly will adjourn within a few days," lobbyist Henri McClees said. "The transportation portion of the budget appears to have been settled. Although the House pressed for a final resolution of the ferry toll issue, Senate conferees refused to discuss the issue. Thus, adjournment finds no new ferry taxes, but leaves our issue dangling for the 2015 legislative session."
Larry Summers of Oriental, who has remained active in the anti-tolls effort since it became an issue in 2011, said no decisions by legislators did come as a surprise.
"It really is what I expected," he said.
Although bills against tolls were introduced in the House and the Senate, it was language in the House version of its budget that was the hope to abolish tolls through compromise.
"It would have been huge victory and it seems like smart thing to do, but not everyone wants to do smart thing," he said.
Summers, who visited the Legislature a number of times to privately lobby against tolls, said the lawmakers had major issues to confront and apparently no time to take on the ferry tolls.
"I think the main issues they are working on are big pieces," he said of issues such as teacher pay and Medicare. "As our (issue) didn't cause any immediate problems, they put it off until next year. It is probably a fight they are not willing to go heavily on."
Summers and McClees said the issue will be front and center on their radar screens with next year's resumption of the "battle," as Summers calls.
The ferry issue came up when the state budget in 2011 called for the Department of Transportation to increase existing tolls and create new ones on ferry routes such as the Cherry Branch-Minnesott ferry that crosses the Neuse River, and the Aurora-Bayview route over the Pamlico River.
A one-year moratorium via an executive order by then Gov. Beverly Perdue was followed by the Legislature taking the matter up again in 2012.
By last year, a compromise of sorts ordered DOT not to impose tolls without a direct request from regional Rural Planning Organizations in the ferry areas.
The Down East RPO, which includes Pamlico members Christine Mele, a county commissioner and Minnesott Beach Mayor Josh Potter, voted unanimously not to request tolls.
The toll money would go toward ferry replacement and if no tolls come forth, counties will be left battling with each other for highway funding.
State Sen. Norman Sanderson of Pamlico County was a co-sponsored on a bill early in the short session that would have done away with all tolls on the seven coastal ferry routes. Similar legislation was proposed in the House.
Those bills promoted the idea of funding ferry replacement with revenue generated from advertising, selling naming rights to the vessels and other revenue-generating projects.
Duck Impounds Raise Questions, Few Regulations
By Martha L. Hall
Pamlico News Staff
Duck impoundments are part of North Carolina history. Baseball legend Babe Ruth frequented coastal impoundments, including Goose Creek Island and others in the area. Business tycoon J.P. Morgan was a member at the Currituck Gun Club as was Andrew Carnegie. President Dwight W. Eisenhower and boxer Jack Dempsey were reportedly members of ducking hunting clubs.
The sport continues today and has been a visible part of Pamlico County for decades. The most non-productive piece of land can fetch millions of dollars because of its suitability as a duck impoundment.
A petition that the Pamlico County Commissioners received two weeks ago from the Hobucken residents asked that the seven-member board stop the building of any more duck impoundments.
The commissioners turned the matter over to the planning board to see if the county has any enforcement powers or if this is state and federal matters.
The planners will get a legal opinion. Legal research on the matter hopefully will provide answers to questions that remain unclear as to the ultimate authority over impoundments and responsibility for injury or property damage suffered by residents in the immediate areas of the impoundments.
The planning board does not meet this month, but may do so the last Tuesday in August.
Skip Lee, supervisor of Pamlico County building inspections, said his office does not permit impoundments.
He said impounds of more than one acre go through the state Division of Water Quality for a land disturbance permit if owners are building berms and the land is more than an acre.
"A duck impoundment is when they build a berm around a piece of land. The berms may be 2-feet; they may be 6-feet tall," he said. "If you go down to Lowland, you can see them. One was over my head on the outside of it. The intent is to make a pond of it. Most of the time it's in a field that had corn in it or something like that."
Lee said often it was on property that is not suitable to build on for septic or load-bearing reasons.
"They still have to go through the process based on land activity with Division of Water Quality," he said. "In some cases they have to go through the (U.S. Army) Corps of Engineers. Often they get a contractor to build the berms and then they dig a well to pump water into it. They have to get a well permit from the Health Department. Then they just fill it up."
He said a permit from the county (health department) is needed because of the electrical component on the well.
Daniel Kennedy, game warden, for the N.C. Wildlife Resources Commission, says he is the one who polices the duck impoundments. He looks for things like taking too many ducks, for which he imposes a fine and often issues a cease and desist order that prevents the offender from hunting for 2 years or more.
If they take more than an acre to build a duck impoundment, the owners have to apply with the Division of Land Quality because it is considered mining. The county does have an ordinance for that.
There are now dozens of impoundments in the Hobucken and Lowland areas, according to Kennedy.
Tracey Davis, of the state Division of Land Quality, says there are two potential permits that owners of duck impoundments must have and that involves an erosion and sedimentation review. The permit costs $65 per "disturbed acre." There are 30 days to review the process.
William Wescott of the Corps of Engineers said if it's in an existing agricultural field his agency is not involved.
"I'm not sure who's going to regulate that type of thing," he said. "If it is being built in a forested area or wetlands, it would be our problem."
Among the Hobucken residents' complaints was that shotgun pellets had struck roofs, windows and even people.
Billy Sawyer, sheriff of Pamlico County, said intentional shootings are a crime.
"When you shoot up in the air, shotgun pellets fall down. If it hits you in the eye, I guess it could hurt you. There's no crime there," he said. "I've got one (impoundment) directly" across from my house and it (gunfire) wakes me up on Saturday mornings when it's duck season. Shot rains down on my house, too, but I'm not in any kind of danger."
Kennedy said if someone owns a duck impoundment on private property, the owners are the primary policing parties.
"That place (Hobucken and Lowland) is prime for duck hunting," he said. "That's a lot of revenue for Pamlico County. As long as they have the proper permits, they can do whatever they want to do. If there was a hunting accident, we would investigate."
He said people are shot more often turkey hunting or deer hunting.
He said most of the accidents associated with duck hunting are drownings or hypothermia.
On a safety theme, there is a law in Carteret and Craven counties that a duck blind can't be within 500 yards of another duck blind.
Kennedy said shotgun pellets go about 40 yards and then they lose velocity very quickly.
There are state-maintained duck impoundments on Pamlico Point, Campbell's Creek.
"We keep them up, we plant them, we regulate them and we make sure everyone has permits," Kennedy said. "That's my job. We have state-maintained impoundments in Beaufort County and all up and down the coast. I don't know how many there are, but I know we have a lot. We only allow so many people in there per day to keep it safe. There is a certain time they have to be out to let the birds have the ability to come in and feed and nest."
He said his agency makes sure the proper species are being hunted, the bag limit is observed and that legal shells are used.
"We use kayaks and go around and check, using binoculars," he said. "That's one of the big things we do. It's a big job, especially during duck season.
He said the hunters pay a fee of $5 to be able to hunt ducks on state impoundments.
"For the general population who can't afford their own impoundment, this is what we do," he said. "We create the environment, we have these impoundments. We manage them. We try to keep them in a state where they have water fowl in them. The hunters come from all over the East coast."
He said his agency is involved only after impoundments are built.
"We don't go in and regulate whether they can or cannot build," he said. "We use aircraft to fly around and make sure they're not baiting the impoundments. We don't have the kind of manpower to police every impoundment in the county."
Second Pamlico County Walmart Opens in Grantsboro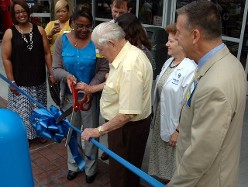 Grantsboro Mayor Alfred Cahoon, center,
prepares to cut the ribbon on the new Walmart
with store manager Aljeana Staples.
Pamlico News Staff
GRANTSBORO - Pamlico County's second Walmart store opened last Wednesday, marking the second such outlet opened in the county this year by the nation's largest retailer.
An early morning ribbon-cutting by Grantsboro Mayor Alfred Cahoon and store manager Aljeana Staples, was preceded by an opening ceremony attended by several hundred eager shoppers and many town and county leaders.
The new store employees nearly 150 people, which County Commissioner Chairman Paul Delamar III told the crowd was a welcomed economic boost in Pamlico County.
"I'm glad you are here," he told the crowd. "I'm glad that Walmart is here. I hope that Walmart and Pamlico County can co-exist this way for many, many years."
The store provides an outlet for regular Walmart shoppers, who in the past traveled to New Bern or Havelock for a full-size store.
"I hope that all my friends and neighbors continue to get the opportunities that brings," he said. "You don't necessarily have to go to New Bern or Havelock to get those benefits."
The new store, along with the 12,000-square-foot Walmart Express near Oriental, will also bring new sales tax revenue to the county and in the case of the 69,000-square-foot Grantsboro store, add sales tax to the town treasury.
"We can keep the sales tax and the job opportunities here, and that is what we are aiming for," he added.
Grantsboro Mayor Cahoon was one of the original commissioners when the town was incorporated in 1997 and has viewed all of its progress - the five-lanes of N.C. 55 and the addition of a number of retail and fast-food restaurants within the town.
"It is an exciting day for Grantsboro and Pamlico County," he said.
However, he admitted that the addition of a major store such as Walmart had not been in his sights.
"Who would have believed that Grantsboro would ever have a store like this," he told the crowd. "I had always said over and over, you will never see a Wal-Mart in Pamlico County because we are too small. But, we not only have one, we have two."
Pamlico County Chamber of Commerce President Beth Buckshott noted that Walmart founder Sam Walton started as a small business owner. She said his success provides incentive to other small businesses, even in rural Pamlico County.
"The American Dream is alive and well in Pamlico County," she said. "Walmart started with a man who had a dream in his heart, went off to war, came back and wanted to start a small business. He decided he wanted to grow that and he did so by having good prices and good customer service. It is a formula which still works today.
The Grantsboro store is open seven days, and includes a gasoline service station and convenience store at its entrance from N.C. 55.
The opening included the announcement of Wal-Mart giving $4,000 in grants to some local charities and organizations.
grant funding to local groups and charities.
Those include Grantsboro Silver Hill fire department, Marine Corps League chapter in Oriental, Pamlico Community College, Bethany Christian Church Food Bank and Communities in Schools N.C.
The new store's items include fresh produce, groceries, organic and natural selections, meats, fresh-baked bread and desserts.
It also has general merchandise and electronics.
A pharmacy provides medicines, products and services.