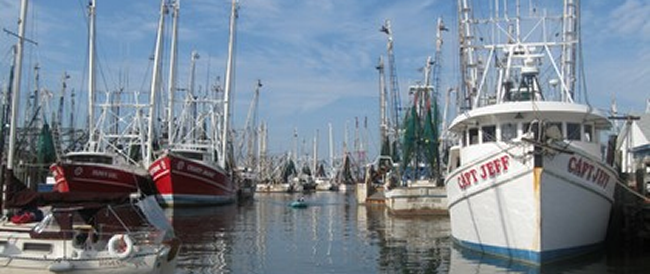 Week of December 17, 2014
Gaskill Named Southeast Region Teacher Of The Year
An assembly at Pamlico County High School turned into a huge celebration when it was announced that their beloved history teacher, Joshua Gaskill, was named Southeast Region Teacher of the Year. Gaskill, is a 2003 graduate of Pamlico County High School with a Bachelor of Arts in Communication Sciences from NC State University and a Master of Arts in Teaching from East Carolina University. Current 2014 North Carolina State Teacher of the Year, James Ford, a World History Teacher at Garinger High School in Charlotte-Mecklenburg School District, was on hand to bestow the honor on Gaskill. "This is a telling evaluation and this is where we celebrate," said Ford.
The National Teacher of the Year Program has been in existence for over fifty years and North Carolina has participated in this program recognizing outstanding teachers since 1970. The North Carolina Department of Public Instruction, along with its sponsors, administers the program and chooses a candidate who is "dedicated and highly skilled, a candidate proven capable of inspiring students of all backgrounds and abilities to learn. Pamlico High Junior, Mariah Meador, served on a student interview committee, which was part of Gaskill's vetting process. "He is an amazing teacher and I never doubted that he would win the honor, I appreciate everything he has done," Meador said proudly.
Gaskill is now a member of the elite eight representing each region in the state and in the running for the North Carolina Teacher of the Year chosen by a committee consisting of professional educators as well business and community leaders. The State Teacher of the Year and the other Regional Finalists form a collaborative network to provide ongoing professional development and support throughout the state on critical issues facing public education.
Gaskill's family was on hand to celebrate his monumental achievement. Proud father to Joshua, Dennis Gaskill, says that teaching is in his son's blood. He is a fourth generation Pamlico educator and carrying on quite a legacy. According to Dennis, Joshua's mother, Martha, is currently a teacher in the district, his late grandmother, Beulah, also a teacher, was totally committed to education and would be so proud. In addition, Joshua's great grandfather, Elbert Prescott, taught in Pamlico County. Joshua's wife, Meredith Gaskill, boasted about her husband's natural talent and his ability to garner his students' respect.
Pamlico's Superintendent, Wanda P. Dawson, Ed. D., was overjoyed by the news of Gaskill's achievement and was overwhelmed by the outpouring of support. "Joshua is so deserving because he loves what he does and it comes out every day in the classroom. Parents and students consider him a hometown hero. He is a natural talent and he refuses to let any student be left behind," she added.
Gaskill was over wrought with emotion upon learning of his distinguished honor. "You guys make it worth it every day and I can't thank you enough. This is an incredible opportunity. I work in the best school system in the state…the world," said Gaskell. "This is the best job ever. It is amazing to wake up each morning and change lives and help students achieve their goals. I am so lucky to be a part of that and I can't wait to represent these amazing students that make me the teacher that I am," he added.
_______________________________________________________________________________________________________________________
Operation Veggie Box Looks Toward Expansion in 2015
By Martha L. Hall
Pamlico News Staff
It has been a good year for Operation Veggie Box, the Pamlico County Christian ministry that was launched at Bethany Christian Church in Arapahoe in August of 2013.
PotashCorp – Aurora has donated $10,000 and $1,000 recently came from a Presbyterian church in New Jersey.
Veggie Box leader David Bailey said there is also a verbal agreement for a $3,000 grant from the state.
"That $3,000 is to be used just for supporting community gardens in Pamlico County," he said.
Plans are ongoing for 2015 for those gardens to grow fresh vegetables that are subsequently harvested and routed to local food pantries for delivery to those in need locally and in numerous counties in Eastern North Carolina.
"We are currently recruiting people to do garden sites," he said, adding that they hope to continue sites at Don Lee Farms, Arapahoe Charter School, the Pamlico County Senior Center and others.
He said OBV can use its funding to underwrite these garden sites.
"If they will just supply the labor, I can supply all the materials," he said. "As far as money goes, we are sitting very good. We have about $16,000 total."
Another community garden being added next spring is at Camp Caroline.
He noted that Bethany Christian Church was instrumental in getting the nonprofit off the ground.
He said the large PotAshCorp donation "now makes it feasible for OVB to expand its low-cost, standard garden methodology, as well as, its square foot garden methodology to other parts of eastern North Carolina."
Veggie Box is also working to establish relationships with large scale farming interests in eastern North Carolina who will grow vegetables for the annual harvest.
They are also looking for partnering groups in other areas around the East.
"We have some churches in the Ayden and Farmville area that want to do gardens this spring, so we are starting to see some growth," he said.
He said they plans to do the annual Veggie Box Operation packing event in 2015 in conjunction with the New Jersey church.
"When you think of Operation Veggie Box, there are actually two components to it," Bailey said. "There is the community garden industry and then there is our annual event; that is where we get the community together at a location and we box up vegetables."
That event includes boxes of 10 to 15 pounds of corn, potatoes and onions, along with a spiritual message.
The OVB then works with food pantries who make the deliveries. The first one was last year at Bethany Christian Church.
He said the organization was focused on feeding people and spreading the word of Jesus.
He said a goal for 2015 is to get growth in as many as four other states for the annual event.
"I believe that part of our ministry is very scalable and the Potash donation really gives us a chance to start to grow the ministry," he said.
He said getting more large farm operations to participate is another goal.
"Don Lee Farms and Neuse River Turf Farm are fantastic corn growers," he said. "Flatland Ag, the onion growers in Aurora are wonderful people."
Now he is looking for a major potato grower to participate, joining hundreds of local volunteers over the past year and a half.
For information, contact Bailey @ 252-229-6228 or email him at david.bailey@operationveggiebox.org.
________________________________________________________________________________________________________________________
Keep Calm, Buy Local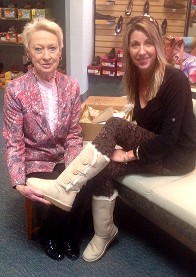 Last minute holiday shopping? Don't panic. During this last minute holiday shopping frenzy think local first. One of the greatest things we can do to support our community is to patronize its locally owned businesses. The National Retail Federation has forecast overall holiday sales will increase 4.1 percent from last year to $616.9 billion in 2014. So, when making your Christmas gift list think about how to pump some of those dollars into our local economy. Of course, we usually choose to do business where we perceive the best value for our time and money. Keeping that in mind, here are a few last minute gift giving ideas that will make your holiday shopping this year a whole lot easier.
For the art lover in your life, tap into your creative side and give a gift certificate from local artist, Betty Brown, to sketch that special something that your loved one holds near and dear to their heart or purchase her 2015 calendar featuring sketches of local land marks. Perouse the works of local artists at the Village Gallery to find that one of a kind piece or stop by the Old Theater and pick up tickets for the upcoming Holiday concert featuring Oliver Henderson and Abigail Mitchell. For handcrafted pottery, Christmas ornaments and jewelry all crafted by local artists visit Pigments of Imagination Studio in Alliance.
For the auto enthusiast, think gift certificates. Diversified Automotive in Arapahoe is offering a $15 off any oil change through the end of the year. Pamlico Parts NAPA Auto Care Center in Alliance has a full inventory of automotive parts and accessories and offers a reserve on line and pick up in store program, making shopping that much easier. Hardison Tire Company, also in Alliance, has been family-owned and operated since 1973 and specializes in tires, brake service and alignments. Who wouldn't love a free oil change or a set of shiny new rims this holiday season?
For the nautically (not naughty) minded, there is no need to travel far to find that perfect gift. Visit Seacoast Marine, a certified ray marine dealer for all your electronic needs. Maybe you have been really good all year and are hoping Santa will leave a brand new shiny boat under the tree or at the dock. If so, see the new owners of Deaton Yacht Sales and check out their inventory. If someone on your gift list has a boat that could use some TLC, Deaton Yacht Services offers professional repairs and maintenance for your boat. For that hard to buy for person on your list that seems to have everything give a life-changing gift by enrolling them in a boating course offered by World Wide Marine in Oriental.
Everyone could use a little pampering during this hectic time of year. Why not give the gift of relaxation. Purchase the gift of beauty with a gift certificate from Studio 55 or a beginner's yoga class at the Partners In Health Yoga studio both located in Oriental. Axelson Chiropractic with locations in New Bern and Alliance, offers chiropractic care, physical therapy and nutritional support. For the ultimate in relaxation and rejuvenation, Rosebud's in Oriental offers a deep tissue therapeutic massage. For the health nut or swimming enthusiast, a membership to Village Fitness is the gift that keeps on giving.
We can't forget our furry friends this Christmas, so why not pamper your pet with a visit to the Oriental Pet Parlor. Traveling over the holidays? Make sure your four legged friend is warm and safe by securing a stay at Dove Landing Kennels in Merritt. Fill Fido's stocking with treats from Bill's Pet Shop in New Bern. Or, give the ultimate gift of love by adopting a pet through P.A.W.S. and providing them a warm, safe and loving home.
Recycle, Reuse, Repurpose. Going green is in this holiday so why not shop our local thrift and consignment stores to find that something special for that someone special. Support a great cause and visit Habitat for Humanity Restore store in Grantsboro, offering everything from building supplies, furniture, home goods, books and jewelry. Looking for name brand clothing or something nautical? Check out Second Chances in Alliance. New To You in Bayboro is open on Wednesday's and Saturday's and all proceeds benefit the Alliance Pentecostal Holiness Church. Twice as Nice in New Bern is offering 25% off all jewelry through December. Hidden treasures abound at Pickers on Rte. 55, so stop in to see what you might find.
Gentlemen, there are plenty of gift options for that special lady in your life that will warm her heart, so please no vacuum cleaners, toaster ovens or pink tool boxes. No matter how many times we say we want something practical, we don't really mean it. Let me make this year's shopping a little easier. Any gifts from the following will do. The store that has a little bit of everything, Nautical Wheelers, offers a wide selection of Spartina 449 handbags, wallets & accessories. Marsha's Cottage offers free gift wrapping and all items are currently 40% off and will be 50% off after Christmas. If your better half is more of the outdoors type, check at the Inland Waterway Provision Company for all your nautical needs. Foul weather gear, flip flops, t-shirts and all things boating are on sale now. Keep your sweetie's tootsies warm with a new pair of Ugg boots or Danskos from the Shoe Boutique in New Bern. Reminder, diamonds are a girl's best friend and McNeill Jewelers of New Bern carries Pandora necklaces, bracelets 14k yellow gold and diamond rings.
For other last minute gifts both Pamlico and Bayboro Pharmacies offer a huge selection of house wares, picture frames, holiday decor, baby gifts and so much more. Some merchandise is available to me monogrammed making for the perfect personalized gift.
If you find yourself running out of steam while doing all this shopping feel free to stop in any of our local eateries. Refuel with one of Brantley's delicious buffets or take a break while taking in the scenery while imbibing in an adult beverage and a hot cup of chowder at The Toucan. Catching the ferry in Arapahoe? Stop by Changing Latitudes Cafe and enjoy a hot cup of fresh brewed coffee and homemade breakfast or their already famous fresh, local North Carolina shrimp basket.
Speaking of food...What to get that Foodie that everyone has on their gift list. Once again, gift certificates are king. Let someone else do the holiday food shopping by giving them a gift certificate to Town & Country in Oriental or the Piggly Wiggly in Grantsboro. Henry & Shorty's in Grantsboro offers a wide variety of specialty foods and gift baskets. While visiting Oriental's Farmers Market, stop by Fulchers Seafood for their fresh catch to serve your guests at this year's holiday party. Need a wine to pair with that fish or to bring as a hostess gift? Paradise Cove Marina in Merritt, has a wonderful selection of wines and is offering a free wine bag with the purchase of any bottle of wine.
If you are looking for something new for the home Wells Wayside Furniture Inc. in Havelock has a vast collection of home furnishings that will compliment the most discerning home. For the "Mister Fix It" or "Do It Yourselfer" on your gift list look to Pamlico Homebuilders in Bayboro or Village Hardware in Oriental. Despite the cold temps gardening is still on the minds of those with a true green thumb. Harbourside Garden Company in Bayboro has a large selection of live trees and holiday wreaths. Thinking ahead to Spring, Yard Barbers Garden Center in Oriental offers mowing and full service landscaping services and visit Forrest Farm Supply for all your equipment and lawn and garden needs.
So this holiday season as you venture out to try and find the perfect gift for that special someone, remember, you don't have to look far. One of a kind businesses are an integral part of the character of our community and a community with vibrant independent businesses retains its unique character as a great place to live and visit.
For a complete list of the merchants above, please contact Deborah Dickinson at The Pamlico News.