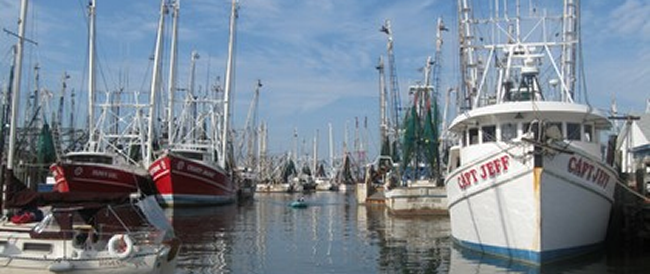 Week of July 1, 2015
Community Helps Feed the Hungry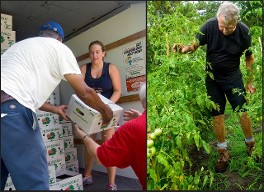 From vegetable gardens in Pamlico County, to a packing shelter at Bethany Christian Church in Arapahoe, onto trailers, a U-haul, pick-ups, and SUVs, 1,300 boxes of fresh vegetables made their way last Friday to homeless shelters, church pantries, and Food Banks in five states and the District of Columbia from Operation Veggie Box's well-oiled machinery of volunteers. David Bailey and Mac Harris met with Anna Perry, Minister at Bethany, Tuesday, to review logistics of Friday's shipments and to tweak operations in the ongoing harvest. Bailey visualizes that OVB, now a network of volunteer civic groups and churches across North Carolina growing specifically planned gardens, will become a unified and cohesive nation-wide program to not only distribute food, but also instill better nutritional standards to those in need. He explains, "This is also a ministry. We package a note in each veggie box that the food comes from people of faith who love and care for the recipients." An in-depth story will appear in next week's Pamlico News on how Bailey's vision grew in gargantuan proportions in just two years - spurred on by Harris, aided by countless volunteers, and assisted with a grant from PCS in Aurora.
Emily Harper kept up with two men passing boxes to her as she loaded a U-Haul. At right, John Moores checks Oriental Methodist Church's tomato crop. (Ben Casey)
PCC, GEAR UP Offers Glimpse of College Life for
Local Students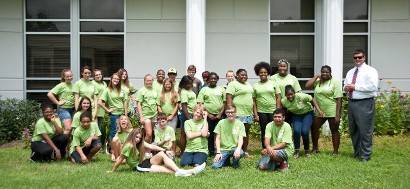 By Townley Cheek
GRANTSBORO— The Gaining Early Awareness and Readiness for Undergraduate Program (GEAR UP) has one simple goal--to significantly increase the number of students who are prepared to enter and succeed in postsecondary education. By teaming up with PCC and providing a number of academic and career services to local students, GEAR UP is proving to be a success.
For the second year in a row, GEAR UP NC Pamlico held its Science, Technology, Engineering and Mathematics (STEM) camp and Summer Math and Readiness Training (SMART) Academy on PCC's campus. A program where "everybody wins," says Cleve Cox, President of Pamlico Community College.
Over the course of the last two weeks, students were visited by local law enforcement, participated in a number of fun, educational activities, and worked closely with PCC's faculty. Through these interactions, the students were reminded to focus on the future and taught skills needed for both the college and career pathways.
Chris Davis, Pamlico County Sheriff, visited the college to talk to the students about a career in law enforcement, the importance of education, and why focusing on the future is a building block to success. "The future of this county starts with the children," Sheriff Davis explains. "If we advocate for the children, we simultaneously advocate for the county," he concludes.
The positivity associated with the program does not come as a shock. Pamlico Community College President, Cleve Cox, also supports the invaluable opportunities the program provides. "The GEAR UP program is wonderful. It introduces students not only to a college campus, but also to some of the programs we offer," he states. Students were able to experience first-hand what a career in Medical Assisting and Electroneurodiagnostic Technology would look like by interacting with instructors and participating in various activities associated with each program's respective field. Jessica Boomer, Instructor of Medical Assisting, taught the children about the different clinical responsibilities behind the field, such as taking blood pressure and monitoring heart rates. The Instructor of Electroneurodiagnostic Technology, Marc Williams, explained the medical diagnostic occupation, providing students with an example of how to record the electrical activity in the brain.
This direct, personal interaction between the students and the faculty at Pamlico Community College helps to foster and strengthen a relationship with the students and the college, one of the goals for GEAR UP. "The sooner you establish a connection with higher education, the better," states Angela Okell-Watson, Growth & Employment in Pamlico County Grant Coordinator. She goes on to say, "Pamlico Community College has been home for the past two weeks for these children, and we hope they feel comfortable here and remember it for the rest of their lives."
To learn more about GEAR UP NC Pamlico and PCC's partnership, contact Michelle Willis Krauss at 252-745-7349 or mwillis@pamlicocc.edu. To learn more about PCC's programs, attend PCC's Fresh Start event on July 25 from 10 am – 2 pm at 5049 Hwy. 306 South, Grantsboro.
Suspect Sought In Oriental Drug Raid
Over the last several months, the Pamlico County Sheriff's Office has received numerous complaints about the illegal sale and distribution of drugs in the George Street area of Oriental. During that time, Investigators with the Pamlico County Sheriff's Office have performed numerous surveillance and undercover operations within the area. As a result of the investigation, authorities executed a search warrant at 702 George Street in Oriental on Friday, June 26, 2015, and seized a quantity of cocaine and marijuana from the residence.
Anthony Lamar Green, age fifty one, residing at 702 George Street in Oriental was charged and arrested as a result of the investigation. Green was charged with one count of Possession With Intent to Sell and or Deliver Cocaine and one count of Possession of Drug Paraphernalia. He is being held in the county jail with on a $15,000.00 secured bond.
Police are still searching for Angela Lee Green, age forty six, also a resident at 702 George Street in Oriental. She is also a suspect in the investigation and according to authorities has active criminal charges.
Police are asking that anyone with information regarding the whereabouts of Angela Green, to please contact the Pamlico County Sheriff's office at (252)745-3101. Investigators expect more charges stemming from this investigation.