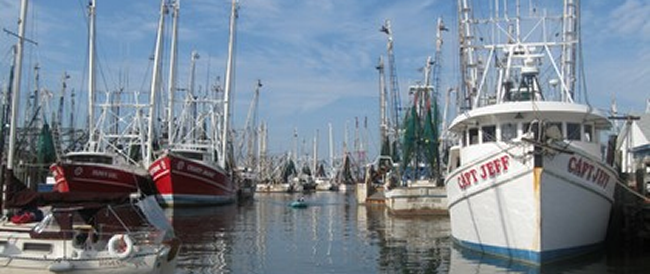 Emergency Calls Ends with Death,
Two Arrested on Drug Charges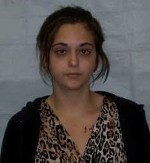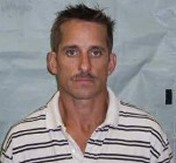 By Martha L. Hall
Pamlico News Staff
ARAPAHOE – What began as an emergency medical call July 22 evolved into the death of a local man, discovery of a suspected methamphetamine lab and the arrest of a Pamlico man and New Bern woman on drug charges.
A call came into the Pamlico County EMS concerning a man lying on the floor at 176 Griffin Lane, which is off N.C. 306. Pamlico County Sheriff's Deputies responded along with the EMTs and found the man in a mobile home at that address.
Christopher Michael Griffin, 29, was transported to CarolinaEast Medical Center in critical condition. He died on Saturday night.
The cause of death has not been released.
"While on the scene and assisting, officers observed some drug paraphernalia," said Capt. James Mitchell of the Pamlico County Sheriff's Department.
Mitchell said the sheriff's department obtained a search warrant for the mobile home, suspecting marijuana. When they found evidence of meth, they shut the search down and waited for another warrant.
The deputies uncovered a "shake and bake" meth operation. The term refers to the manufacture in a liter bottle. The method is dangerous. If any oxygen gets into the bottle, it can explode.
The State Bureau of Investigation's mobile crime unit was utilized as well as the Sheriff's Department in the examination of the scene.
On Thursday night, Gregory Allen Price Jr., 42, of Grantsboro, and Kayla Nicole Bass, 21, of New Bern, were both charged with manufacture of methamphetamine and maintaining a dwelling for the production of controlled substances.
Price has been a resident at 176 Griffin Lane and Bass was a frequent "stayer" with Price, according to the sheriff's department.
Mitchell said at the time of their arrest the pair was purchasing materials for the production of meth.
Both are being held in the Pamlico Detention Center under a $250,000 bond. Their first court appearance is Friday at the Pamlico County Courthouse.
_______________________________________________________________________
Ghosts and Legends Tour Offers an
Off-Beat Tour of Oriental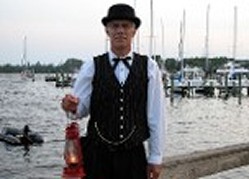 By Martha L. Hall
Pamlico News Staff
ORIENTAL – The Ghosts and Legends Tour began to haunt the streets of Oriental this past weekend and will do so again on Saturday nights in August and September, along with three of four in October.
Dale Morehouse is the one-man host of the tour, dressed in 19th century period costume.
He got the idea for a local tour after having attended a Ghost Walk in Delaware and having an interest in things ghostly.
"I knew a guy who published a magazine called 'Séance.' The magazine was all about talking to the dead," he said." I got all the old copies of the magazine and my wife took me on a Ghost Walk. I thought I could do better than this. I quit my real job and semi-retired in Oriental. I started asking people about ghosts and ghost stories. Nobody wanted to tell me anything. I finally met two ladies who said their mother told ghost stories."
He is now in his second year of the Ghosts and Legends Tour.
"It has been enjoyable and strange," he said. "Last year was my first year and I did it in October on Fridays and Saturdays."
This year, he continues the show, along with an appearance on Oct. 25, when he will take part in the Oriental Woman's Club Fall Festival.
One of those ladies who gave him some stories asked him to help the Woman's Club event.
"They are going to do a hayride, a dance and scary music and I am doing Spirit Theatre in a building behind the Woman's Club," he said. "I am going to take people in there, tell them a scary story and hopefully, scare the daylights out of them."
To join the Ghost Walk, you need $10 cash a person, an open mind, and meet at the Dinghy Dock at 8:30 p.m. on the tour nights. Tours are Aug. 30, Sept. 20 and all the nights in Oct. except for the Woman's Club Fall Festival. Tours for private parties can be scheduled for groups of four or more.
Call 252-639-0447 for private party reservations. The web site is www.ghosttour.com.
Morehouse said all of his stories are real and he has done research on them.
"I try to use little psychological illusions to enhance the stories," he said, "because people are very suggestible. The oddest thing is, although most people don't believe in ghosts and are often skeptical, that there is often some truth in the most outrageous story."
Morehouse said one such story was the "Booms of Vandemere."
"In researching a ghost story, this came out of a newspaper article about Pamlico County," Morehouse said. "They described it as old wives' tales," he said, "The residents of Vandemere would hear the booms and run down to the shore to collect the fish that were floating on the surface."
Last year in Oriental, the big booms happened, associated with earthquakes.
A couple of his ghost stories are from Kentucky where Morehouse grew up in an old haunted farmhouse.
"At first I had stories from Pamlico County but now I've got more stories than I've got time to tell," he said. "Some came from newspapers, some came from 'my Grandmother told me this story when I was six years old.' Sometimes I get spooked myself."
The Oriental Train Depot story is one he doesn't tell anymore because it got "kind of crazy.
"The train depot in Oriental is where the Trawl Door Restaurant used to be. I think they moved it in 2000," he said. "When they picked it up and moved it, the ladies who lived on Midgette Street and some of the ladies who worked at the bank, would hear the train whistle come down Midgette Street which is where the train tracks used to be. They said the train was looking for the depot. I've heard it twice from my home on Midgette Street. The first time, I just wrote it off to being someone playing a practical joke. The second time, I ran out into the street and I didn't see a car, a person, bicycle traffic, no one. So I quit telling that story."
Morehouse has been told he laughs too much to tell ghost stories.
"I admit to having a twisted sense of humor," he said. "But I try not to make my stories too dark."
There is, he says, a denouement – a final revelation or outcome.
"Some of the stories build towards the end," he says. "It's almost a 1, 2 punch, shock. I often wonder if I would have done something different."
Morehouse says he dresses in an early 1900's costume.
"It's kind of hot in the summertime," he said. "At least it keeps the mosquitoes from biting."
He traces his current passion to his past.
"I have always been interested in unusual things," he said. "I had worked as a paramedic in Louisville, Ky., when I was younger so I was involved in lot of stuff for 6-1/2 years – drama, violence, unusual things, murders, people sick, the whole thing."
He returned to college and got what he called "a real job."
"My wife and I took our sailboat and went on vacation in Wilmington," he recalled. "I was sitting aboard the boat trying to learn how to play the fiddle and these two panhandlers were singing and asking for money, right up the street from where we were docked. They talked me into playing the fiddle with them and we made a grand total of $2. I thought 'Wouldn't this be great if I could do some kind of street performance?'"
Morehouse said he never got to the point that he could play the fiddle well enough. But he said he was good at doing presentations.
He tries to carry that over into the world of the unusual and strange.
__________________________________________________________
Watermelon Social Continues as Popular
Annual Event for PCHA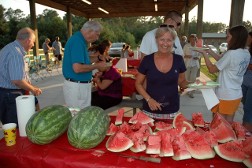 Pamlico News Staff
GRANTSBORO – Ripe, red watermelons took center stage from artifacts Monday night at the annual Pamlico County Historical Association Watermelon Social.
It is an event that began more than a dozen years ago as a way for the historical group to invite the community to gather, socialize and soak up some history.
This year's event was held at the pavilion behind the Pamlico County Museum and Heritage Center.
In past years, the event has been held in some waterfront locations - historic Kennel's Beach and also at the Neuse River home of Jack and Gladys Lee.
Association President Brent Stowe recalled one year they were going to have it at Lou-Mac Park in Oriental but it rained and was cancelled.
"When we've had it on the river, we did it on a Sunday," said Stowe. "We had it at Kennel's Beach those two times, which was nice because Robbie and Jennie (Kennel) opened up the house."
Robbie Kennel told of the heritage of Kennel's Beach during those Sunday afternoons on the water.
His father was the one who watched out for the children swimming off Kennel's Beach in the early days. The water at that time was full of alligators and Robbie Kennel's father was a menace to the alligators.
"He cleaned out the creeks of alligators," said Stowe. "He would sit on the porch, and watch. When one was spotted, he would jump in his boat, row out and shoot the beast with his shotgun. He skinned it and tanned it."
Monday night's event had no alligators, just plenty of watermelons, fresh from the field of former Pamlico County Commissioner Roy Brinson. Brinson is known for his watermelon-growing talents.
On Monday night, a table with a red cover sported a number of his 40-pound melons, grown in a field behind Brinson's home in Reelsboro.
The next major event for the historical association is its annual Heritage Day on Oct. 4.
For information on the association or the museum, call 745-2239 or email pcha@pamlico.net
The museum is open Tuesday through Friday from 10 a.m. to 4 p.m. and weekends by appointment.
For information online, the association web site is www.pamlicocountyhistorymuseum.com