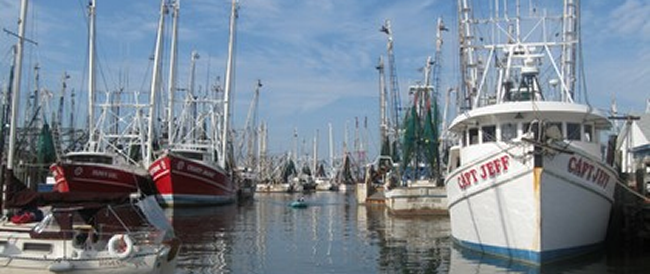 News from the 5/16/2018 issue
Looking Back....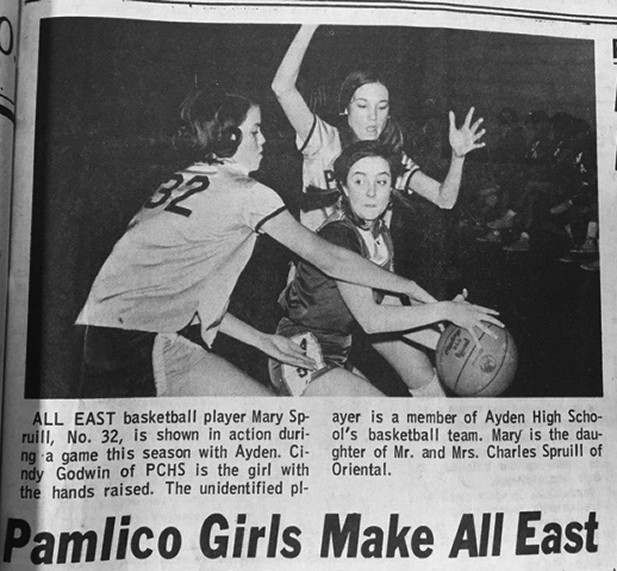 ---------------BREAKING NEWS----------------
Pamlico County Water System Issued a warning Monday, May 14 for low pressure and outages due to a cut waterline. The areas affected were Arant Farm Road, Florence Road, Whortonsville Road, Sanders Road, Siverthorne Road, Paradise Shores Road, Old Lupton Road, Browns Creek Road, River Run Road, and parts of Straight Road. Residents were advised to boil water once water was restored. On Tuesday, May 15 the Water System lifted the advisory, stating that all water is now drinking safe.
---------------BREAKING NEWS----------------
PCC Presents Top Annual Awards At Graduation Ceremony

Pamlico Community College Student of the Year Kaitlyn H. Jones, right, accepts her associate's degree from PCC President Dr. Jim Ross during last week's Commencement ceremony. Jones plans to transfer to East Carolina University and become a teacher. Contributed photo

By Sandy Wall, Pamlico Community College

Pamlico Community College pre-sented its most prestigious annual awards during the Commencement ceremony held May 11 at the Delamar Center on campus."Commencement is the best day of the year at Pamlico Community College, so it's the ideal time to honor people who have excelled in the classroom, on the job and in their roles as important partners," said PCC President Dr. Jim Ross. "We are honored to recognize these fantastic individuals."

The ceremony's first honoree was Kaitlyn H. Jones, who received the 2018 Academic Excellence Award and also was named the college's Student of the Year.Jones, who also graduated with her Associate in Arts degree at the event, was selected for the award from among four nominees. During the ceremony, Vice President of Student Services Jamie Gibbs presented her with a plaque and a medallion.

As the recipient of the Academic Excellence Award, Jones becomes Pamlico Community College's 2018 honoree in the N.C. Community College System's "Great within the 58" list of high-achieving students.

Derek Godwin, who is an instructor in PCC's Criminal Justice program and also serves as director of the Career & College Promise program, received the college's Instructor of the Year Award. The award, which recognizes outstanding teaching, is voted on annually by students.

Instructor Dr. Garnett Whitehurst, who teaches biology and chemistry, received the Adjunct Faculty Member of the Year Award, which also is voted on by PCC students. Adjunct instructors work part time at the college, but are critical to students' success. Vice President of Instructional Services Michelle Willis presented both Godwin and Whitehurst with their awards during the ceremony."Both of these men are outstanding instructors," she said. "I was extremely happy to see both of them recognized for the work they do every day to help our students succeed."

Rhonda Tillman accepted the Staff Member of the Year Award, which is voted on by college employees. Tillman works as an accounting technician in PCC's Business Office.Chief Financial Officer Sherry Raby presented Tillman with the award.The college's Alumnus of the Year award went to Pamlico County Register of Deeds Lynn H. Lewis. Carla Byrnes, president of the PCC Foundation's Board of Directors, presented Lewis with the honor.

Ross also recognized two community leaders for receiving the President's Extraordinary Partnership Awards. They are Pamlico Correctional Institution Superintendent Faye Daniels and N.C. Sen. Norman Sanderson.

Both Daniels and Sanderson were honored for their exceptional partnership with Ross in establishing a novel pilot program to offer an associate's degree program with life skills courses to offenders at the prison in order to dramatically reduce recidivism when they re-enter society.

Sandy Wall can be reached at 252-249-1851, ext. 3010, or swall@pamlicocc.edu.

---

Art On The Neuse Celebrate Art All Year Long

By Cathwren Hermon

If you missed "Art on the Neuse" this past weekend, there's still time to celebrate art in Pamlico County! During the show, it occurred to me that I could create a sort of catalog for our readers to use for year-round shopping."A little bit of this, that, and everything . . . whatever strikes my fancy" are the words of Lynn DeChesser of Oriental when describing her art. That's the reason it's called "Samplyns Pottery." Email Lynn for other samples: garden-erat605@embarqmail.com

Don and Laura Saddlemire of Sneads Ferry acquire their beautiful copper materials from salvage yards and repurpose them into gorgeous handcrafted weathervanes and copper jewelry. Check it out: dlweathervanes.com

Congratulations go to Nancy Crain and Marguerite Chadwick-Juner for coordinating Art on the Neuse. Marguerite displayed the most exquisite artwork, the result of a new technique that is a top trade secret, but you can experience it in the intriguing commemorative pins still for sale or by accessing her website: margueritechadwickjuner.com

As soon as you see the tiny mirrors in Amber Thomas's art, (Bird in Hand Gifts) you know what she means when she says "I'm all about light and color." Amber is a poet and a creative writing and literature professor at ECU, so her "vintage, rustic, charming, natural" art melds with her other life pursuits. Email: birdnhandgifts@gmail.com

Do you know the difference between leaded glass and stained glass? Just ask Lyne Lassen of Lassen GlassWorks. Her creations are not only works of art, but functional, and she specializes in custom work. So, what is the difference in glasses? Ask her: lynelassen@yahoo.com

"I help people connect with nature, so we all can do something to save it." So says David McManus of Raleigh. His photos make the ocean look like ribbons of azure sunlight. Share insights with him and enjoy his art: davidmcmanus.zenfolio.com

Michele Musella and her daughter use unique and color-ful agates and sterling silver to fashion one-of-a-kind jewelry and other whimsies. Ask her about a "druzy" when you talk with her. Earthlytreasuresibx.com

I learned a lot about "torch enamel" and "saltwater etching" from Suzanne Burchfiel of Zuzu's Artisan Jewelry. The colors and effects were wonderfully creative.Julie Gaines Summers holds a fine arts degree and has 30 years as an "open" artist who works in watercolor and collage to create masterpieces of pastels and poppies. She's local: 252-675-1483

Anthony Lupton of Jamey Lupton Custom Builder was showing a skillfully- and handsomely-crafted driftwood table base with glass top. This builder of custom homes has recently branched out into "furniture for fun."Jennifer Craft Del Rio calls her business "Second Wind," because she provides a second opportunity for "antique, vintage, and found objects" to be refashioned into "quirky, fun, and whimsical" artwork, and we can't forget the connection with her fabulous wind-chimes. jcraftdelrio@gmail.com

Design Trends Jewelry by Kathy Emerson is featured on both Etsy and Amazon. Kathy has some really dramatic examples of "druzy," along with lots of turquoise-colored stones, my favorite! kemerson@di-grp.com

"What's your size?" is the slogan for Laura Gindlesperger's hair works busi-ness. She makes creative metal and beaded hair clasps to replace the common "plastic claw." It's the first time I've seen hair clasps in seven sizes, to allow for thick or thin hair. LGindlesperpger03@aol.com.

The driftwood boats and intricate twisted copper patina trees of Kevin Fetzer's "coastal art" were eye-catching and unique. You can see more "Camp Creek Art" by emailing Kevin: campcreek@opti-mum.net

Janine Gillen calls her art "funzies" and her jew-elry is definitely both entertaining and clever with stones, leather, interesting shapes, and sizes. She also has a booth at Pamlico Antiques and Design on Route 55.

Beth's Beads says it all about her artwork, any type, size, or color of beaded jewelry is available. Why not give her a call: 252-241-2400

Becky Tyndell's custom hand-painted glass is a feast of color. Not only was there a wide selection of hand-painted (and baked) items, but she also offers custom work. Just email for more: wil-liam48@excite.com

The last booth was a fitting finale to my Art on the Neuse adventure with three artists: Wendy Johnson, Rosalyn Kutchins, and Marlene Miller. These ladies offer such a diversity of different media, it's hard to describe it in a few words. Gorgeous paintings, gourds, glass art, and lamp-work were featured, so much to see that the booth extended to several tables. The name of the collaboration is "Tangled Turtle," and Marlene is featured at the Village Gallery. tangledturtlenc@gmail.com

---

Nutrien Keeps Fossil Festival Tradition Alive

Cynthia Crane and Gail Patterson, Co-chairs of the Aurora Fossil Festival Committee announced that funding from Nutrien has come through providing the needed support for the annual event. "The Aurora Fossil Festival is one of the premier events in the region because it offers an exciting educational component. It is well-attended and showcases the great partnership we share with The Aurora- Richland Chamber of Commerce and the Aurora Fossil Museum. The organizing committee does an excellent job preparing an event that's fun for the entire family," said W. Ray McKeithan, Manager Public and Government Affairs for Nutrien.

---

Tails Are Waggin': Oriental Dog Park Opening

After a few days of gloomy clouds and rain, the skies parted and things warmed up just in time for the grand opening of the Oriental Dog Park. Many were in attendance, human and canine alike. All were pleased to see the new water fountain and disposable bag dispenser, the fountain winning over the bags for quite a few. Everyone is encouraged to register as soon as possible to get an extension on your registration. (See Page 4 In This Week's Issue For Do's & Dont's When Visiting A Dog Park By Alecia Williams, owner of Dove Landing Kennels)