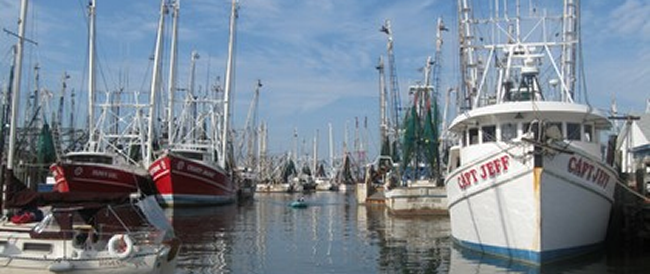 Summer's Over! Schools Gear Up for New Year!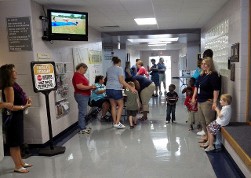 By Martha L. Hall
Pamlico News Staff
BAYBORO – Last Wednesday was a banner day in the lives of some Pamlico school children. It was the first day they ventured out of the nest and into the unknowns of school. It was an open house hosted at the Pamlico Primary School.
Thee elementary school was geared so the children could meet and get a hug from their teachers and principal and see the environs in which they will learn.
To some children it was just another day, but to a few others, it was separation anxiety in waiting. To some children, grade 1 and above, it was old hat. They had experience. Find out which hall contained which grades and which door offered the proper list of names. Piece of cake.
Principal Kim Potter at the Primary School greeted children and many of the parents by name.
"I try to know every child in the school," she said. Potter said she had been in education for 19 years and she never got tired of the first day of school.
Kindergarten is beginning on an abbreviated schedule for the first week to ease children into the school system. By next week, they will be acclimated and will attend the entire week.
Harry Brooks and Marla Morrow, transportation manager, signed families up for school buses, checking to see if their children were on the same route as last year.
Trenez Phillips, cafeteria manager, got a share of the hugs going around. She mentioned a federal grant called the Community Eligibility Provision that would offer healthy breakfasts and lunches to the students at no cost for the 2014-2015 school year.
Down the Kindergarten Hall, Teacher Assistant Debbie Wright was speaking to students and parents along with her teacher, Marie Smith.
Smith said she had taught 5th and 2nd grades for 6 years, reading for 2 years and Kindergarten for 6 years.
"I love teaching Kindergarten," she said. "These students just bloom."
___________________________________________________________________________________
Tri-County Food Offerings Benefit Children on Weekends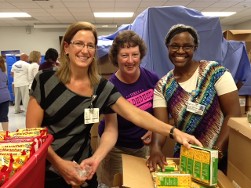 By Martha L. Hall
Pamlico News Staff
NEW BERN – A non-profit formed in 2012 is going one step beyond the free lunches and free breakfasts this year for children of Craven, Pamlico and Jones counties.
The Backpack Blessings sends food home with the children on weekends, some of whom would not receive a meal between Friday lunch and Monday breakfast.
Ruth Powers is the only paid employee. The rest are volunteers.
Pamlico County Board of Commissioners Paul Delamar III is on the board for this charity.
Powers was once the Academically Gifted teacher in the Craven County Schools and she is a member of Garber United Methodist Church, which began this program in two elementary schools.
It seems that a group of Certified Public Accountants got involved and had a vision that they should provide all the hungry children in Craven County with an adequate amount of weekend food.
"What we found out was there were lots of little churches sponsoring the same type of program," said Powers. "The first thing we did was contact those churches and ask them to partner with us. Now we have about 20 churches in the three counties (this year) who work with us."
Powers said they have doubled the numbers. There were 350 children last year. This year there are 775.
"We asked for $1,500 commitment from our churches, then all the money we are able to match," Powers said. "We had a generous grant from the Harold Bate Foundation, then Carolina East Health systems and then we got a grant from the Carolina East Foundation. We are no longer able to match dollar for dollar but we can match quite a bit of it. Now we have a partnership through the N.C. Food Bank and we get food at a very discounted rate. Anything they have in stock with individual servings for kids we can get for $.18 a pound which pays for the cost of shipping. We partner through them through the Food Lion."
Powers said there were 4 packing events a year. One at CarolinaEast Medical Center was held this past weekend, utilized 100 volunteers – mostly hospital employees.
On Sept. 26 and 27, Garber United Methodist Church will hold a packing event with 300 to 400 volunteers at three packing sessions – one Friday night, one Saturday morning and one Saturday afternoon.
"Each church has a coordinator and the coordinator will let me know how many are coming and when," said Powers. "Those are the only times during the year we pack stuff. And that is why we can't use the perishables from the Food Bank or the Food Lion. We pack two meals that are individually wrapped – macaroni and cheese, Spaghettios, Beanie Weenies, cereal, fruit cups, oatmeal, pudding, crackers and granola bars. Ten items go in a bag, 15 bags per bin. Oriental United Methodist Church is our only partner in Pamlico County right now."
Powers says they get names from counselors, teachers and bus drivers at school.
"We never know who gets the food. Every child who gets free lunches and breakfasts are not always hungry on weekends," said Powers. "In the cafeteria, they know who comes to school on Monday starving. But it's very confidential. We don't get names. When the children are gone to Physical Education, art or music, the guidance counselor may go put the food in their backpack. Most of the churches are paired with an elementary school and the food is delivered to the school."
Powers said the children aren't starving to death like in Haiti or some other country, but they have food insecurity.
"This is not my reality," Powers said. "But we hear it enough from guidance counselors and others, that we know there is a hunger problem in our counties. Our goal would be to pair a school with a church."
You can find this program on Facebook at backpackblessings.com.
______________________________________________________________________________________
Pamlico County Citizens Offer Prayer for
Public, Private Schools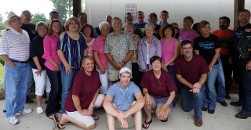 By Martha L. Hall
Pamlico News Staff
Before students returned to local schools on Monday, supporters of their educational pursuits were touring local public and private schools - offering prayers for the new school year.
On Saturday morning a group of parishioners from the Arapahoe Free Will Baptist Church met at the Arapahoe Charter School.
Prayers were said for the Charter School and everyone involved in its operation, from the students, their teachers and staff, to bus drivers and the janitors. Gary Collier, minister of the Arapahoe Free Will Baptist Church gave the first prayer.
These prayers were continued by parishioners in Bayboro at the Central Office, the Primary School, Fred A. Anderson Elementary School, Pamlico Middle School and Pamlico County High School.
Also on the touring prayer list was Pamlico Christian and Gateway Christian Academy. Home-schooled students were also prayed for.
There were members of different churches in the group. The Christian Motorcyclists Association was also represented. All you needed were good wishes for the students and teachers.
Parents and grandparents who had children at these schools or teachers and staff who worked there were positioned in the middle of a prayer circle and special prayers were said for them as well.
Willie Tyndall, a teacher now, went to school at Pamlico Middle School when the grades were 5 through 9th grades.
Heather Spears, president of the PTO at Fred A. Anderson, gave the prayer there. Carl Yaeger, president of the Christian Motorcyclists Association, gave the prayer at one of the schools. Sarah Winfrey gave the prayer for the home schooled classes and prayed for Pamlico Christian Academy.
Winfrey, member of the Arapahoe Free Will Baptist Church, said this prayer event would become an annual occurrence, meeting next year on the Saturday morning before school started to offer prayers for the school year.