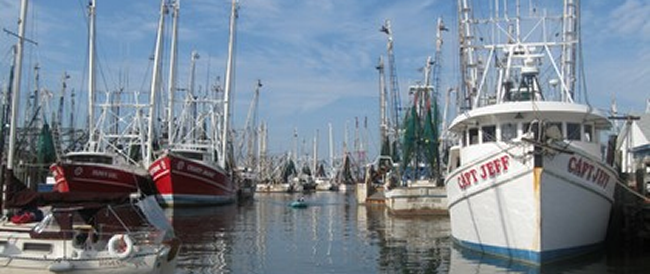 Community Shows Support for New Grocery Store

By Crystal Garrett

Correspondent

In preparation for a mid-June opening of his new grocery store, Piggly Wiggly owner Billy Flockhart met with more than 50 people Thursday night at Oriental's Old Theater. He addressed residents' requests on everything from gluten-free dog food to double coupons.

Before Flockhart had a chance to speak at the event – organized by the Oriental Food Initiative – he was greeted with cheers from residents excited about the prospect of not having to drive out of town for their groceries.

"Everybody's thanking me and I should be thanking you," Flockhart said.

The hours for the store, which will occupy the building vacated by Walmart, are set for 7 a.m. to 10 p.m. every day, Flockhart confirmed.

He also thanked those in the audience for completing a 16-page survey on shopping habits. As of Thursday night, he had received 571 responses to the questionnaire.

In fact, Flockhart joked that he learned a lot about residents' purchasing habits.

"You guys drink a lot of red wine," he said.

Flockhart said he plans to have items requested by residents but cautioned that he can't carry a large variety of the same item.

"When you ask me for a certain product, I'm going to do my best to get it but I can't carry four different kinds of organic flour," he said. "I can't please every one of you but I'm going to try."

Some features Flockhart said customers can expect to see in the new store include fresh cut meat on site, a walk-in beer cave, fresh cut flowers, a salad and soup bar, a white board for suggestions, a community bulletin board, and even a van on site to pick up traveling boaters for their groceries. He also plans to work with farmers and fishermen for local products.

Piggly Wiggly will also sell gasoline and as requested, non-ethanol gas. The store's décor will include photos of Oriental and local artwork as well, he said. An ATM, lottery machine and coin machine will be located on site.

Flockhart even addressed concerns about the outside design. He plans to have two drink machines and an ice machine outside the building along with a DVD movie rental box.

During the meeting he was asked about a potential golf cart path. Flockhart said the town's leaders would need to be involved in that discussion. He also commented on several items brought up in the surveys. Piggly Wiggly will not have personal charge accounts nor will the store have double coupon days.

And unfortunately, Flockhart said the store can't give a senior citizen discount.

"We just can't do that," Flockhart joked, "Because to be honest, senior citizens are the only ones with money these days."

The store is scheduled to open prior to Independence Day, specifically in time for the Croaker Festival.
Welcome to Mindset - a weekly column featuring the opinions of your neighbors.

Thanksgiving is a day for spending time with family and friends and, yes, enjoying some delicious food. Thanksgiving is also a time to sit and reflect about what we are truly Thankful for. Here is what folks about the town said they are thankful for this Thanksgiving.

Emma Fleming of Aurora says she is thankful for her two little monkeys a.k.a. daughters, Andrea and Hannah Scott who are both thankful for their Mom and their family this Thanksgiving.

Sheyanna Brinson who lives in Jasper but was in Pamlico to do some shopping with her Mother and Grandmother says she is thankful for her Mommy and Daddy.

Seven year old Morgan Hobbs of New Bern plans on spending Thanksgiving celebrating with family. "I am thankful for my family and food," said Morgan.

Joseph G. Hines Jr. of Orchard Creek Road in Oriental has a lot to be thankful for this Thanksgiving. "I am thankful for the Lord and for just being here to see another Thanksgiving ," says Joseph.

Dave Dutra and his wife and author, Judy Dutra, who have traveled to Oriental from North Truro, Massachusetts on their commercial fishing boat are thankful for their family and their health. "We are still enjoying life so much and are thankful to be here in Oriental," says Judy.

Janice Cox of Arapahoe is thankful for her two wonderful boys and the opportunity to live in "paradise" in Eastern North Carolina and for good friends.

"I am thankful for our families, our dogs and good health and safety," says Jean White of Oriental.