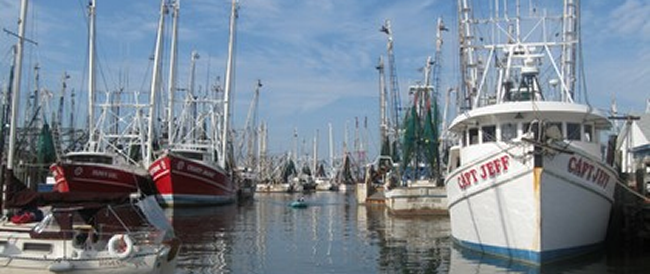 Aquarium Gets High Honors for Fun

Cooper Dickinson gets up close and personal with sea life with a little help from his Dad, Scott Dickinson, at a recent visit to the aquarium.

Captivating aquatic life, friendly and knowledgeable staff, and dynamic exhibits make the North Carolina Aquariums three of the best in the nation, according to Trip Advisor, a popular travel website. Based on traveler's reviews over a twelve month period, the website lists the bests attractions, water parks, zoos and more.

The Aquarium at Pine Knoll Shores came in at number twelve, Fort Fisher at sixteen and Roanoke Island, nineteen, on Trip Advisor's top twenty five aquariums in the United States.

The state-operated facilities share the high honors with much larger counterparts on the Travelers' Choice™ scorecard. The Georgia Aquarium in Atlanta took the top spot.

Visitors praised the clever ways learning is integrated with family fun, the helpful and friendly staff and volunteers, experiences such as seeing sea turtles and touching stingrays, and the variety of exhibits offered each year.

According to the North Carolina Aquariums' web site the aquariums were established in 1976 to promote an awareness, understanding, appreciation and conservation of the diverse natural and cultural resources of North Carolina's ocean, estuaries, rivers, streams and other aquatic environments. With over a million visitors in 2014, the three aquariums are big contributors to coastal tourism. The Aquariums Division also operates Jennette's Pier at Nags Head, an educational fishing pier that recorded 850,000 visitors in 2014.

Visitors to the Pine Knoll Shores facility can wise up about owls this Saturday, as the aquarium joins organizations and facilities worldwide in celebrating International Owl Awareness Day. The day will be packed with educational owl-oriented programs, crafts and encounters. Meet the aquarium's very own resident owls, an Eastern screech owl, a great horned owl and a barn owl.

David Griffin, Director of the North Carolina Aquariums Division, thanked visitors who took time to comment on their experiences on the travel site. "We appreciate the honor. More importantly, though, visitors are saying they learned about fish and sharks and other aquatic animals while enjoying time with their families. That is what we want to hear. That is why we go to work every day," he said.
Low Cost, Big Rewards Waiting at PCC

By Townley Cheek

Special to The Pamlico News

With the cost of tuition, books, fees, and room and board rising each year, the increasing financial burden of attending a four-year college can serve as a deterrent for many in pursuit of higher education. While financial assistance is available to students that qualify, as the demand for aid increases, the number of students who qualify for financial assistance decreases. This presents a growing problem for students who would have previously had the opportunity to receive financial aid to help pay for the cost of a four-year institution.

Community colleges can serve as a bridge to four-year institutions for many reasons, but most notably for cost. The cost savings associated with attending a community college is in the thousands, offering a viable, cost-effective alternative for students who want the option of pursuing higher education. While cost is an important component when considering options for higher education, it is only one of the pros of attending Pamlico Community College.

For students coming straight from high school, Pamlico CC offers a location that is close to home, friends, and family. So you can focus on your studies without the uncertainties associated with moving, living on your own, and adjusting to a new environment. Additionally, many recent high school graduates are unsure of their next steps. Due to the small size, faculty advisors at PCC are able to work with each student individually, allowing the student to enter a program or degree that best aligns with his/her interests.

For working adults deciding to continue their education, one of the benefits of attending PCC is also location. Many working adults have the responsibilities associated with a family, career, and school, PCC's location provides a better opportunity for those students to effectively balance such responsibilities. PCC also offers flexible class schedules, benefiting those students who are might be working during the day and only have the option of attending evening classes.

The easiest way to find out about our programs and if PCC is right for you is to come talk with us. This past Saturday, Pamlico CC held its annual Open House, where members of community came to campus and talked to our faculty about the educational, career, and technical options available to them. Potential students with a variety of backgrounds, from high school students, recent high school graduates, current college students, and working adults utilized these resources available to them and many found their next steps.

"Studies and surveys show that the earlier students connect with their advisors to start the advising and registration process, the longer they persist and the better they perform in their academic programs," says Dr. Maria Fraser-Molina, Vice President of Instructional Services and Chief Academic Officer. "These advisors," says Dr. Fraser-Molina, "also serve as references and advocates within the college community and the outside world, whether it is an employer or transfer institution."

If you were not able to make it to PCC's Open House, or would like more information about programs, come to our registration event on Wednesday and Thursday, August 12 and 13 from 8:30 am to 7 pm. To learn more about PCC, please contact Cristy Warner at cwarner@pamlicocc.edu or 252.249.1851 x 3014, or visit www.pamlicocc.edu.
Welcome to Mindset - a new weekly column featuring the opinions of your neighbors. Here's the responses to this week's question, "What type of business would you like to see move into Pamlico County?"

Do you have a question?

Send your suggestions to editor@thepamliconews.com




Vanessa Hope Cole of Smilin' Faces in Bayboro hopes she will soon be able to visit full service salon in the county that offers a variety of hair, nail, and cosmetic treatments and massages.

Patricia Dixon of Oriental would like to see a restaurant that serves Asian cuisine in the county, particularly Mongolian Barbecue.

The water front in Oriental is a big draw for tourists and Bret Doman of Oriental has hopes that soon "Floating Bed and Breakfasts" will soon be available there. "Many of these boats go unused and they could provide much needed lodging for tourists during the busy season and special events."

Sue Sanders, proprietor of Smilin' Faces Day Care in Bayboro would like to see a full service car wash that offers detailing in the County.

Jane Wright of Oriental recalls that a few years ago there were plans to open up a full service car wash in Oriental, but it fell through. Wright who works at Village Hardware also thinks a car wash would be a good fit in the community.

Angi Diamond, Oriental resident and owner of Pickers Trading Post would like to see a Mexican restaurant come to the area. She and her husband, Captain Ron, think it would be nice to have another option when eating out.

Matt Bannister of Oriental is always looking for more options when it comes to dining out. "I just want quality food with some healthier options, I recently found it at Paradise Cove Marina. It really fits the bill," says Bannister.

Terri Williams of Smilin' Faces in Bayboro would like to see a Taco Bell and Kentucky Fried Chicken Fast Food Restaurant in Pamlico.