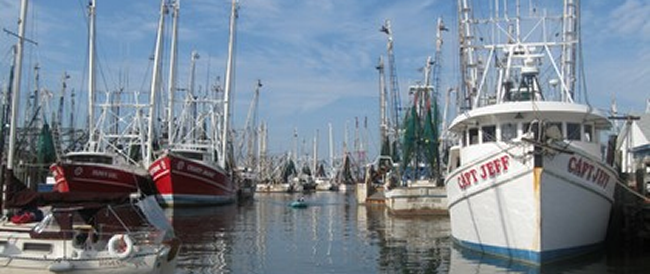 Overcoming Obstacles at PCC

By Townley Cheek

During Pamlico Community College's 2016 commencement, many exceptional graduates walked across the stage. One of those exceptional graduates was Medical Assisting student, Debbie Elks.

Elks is now a three-time graduate of Pamlico Community College and back in class again this summer, working towards her fourth credential. Debbie, after graduating with a diploma in Medical Assisting (MA), started the CNA program this summer. She will soon be qualified to sit for the CMA exam through the AAMA (Medical Association of Medical Assistants).

Debbie's time at PCC started in 1996. "I left high school not because I did not want to learn and go to school, but because I was getting picked on for my hearing disability. It made it hard to get up every morning when you were scared to go to school," Elks says. Knowing she needed an education for a good career, she chose to receive her GED from PCC.

During this time at PCC, Elks was pushed by faculty and staff to want more in life and was taught to believe in herself. Shortly after receiving her GED, she started the Phlebotomy program and graduated in eight short weeks.

A few years passed, and Elks felt as if something was missing. "I saw my grandfather become ill, as well as my grandmother. I wanted to do more to help, so I started researching medical programs," Elks says. "I came to PCC's campus and talked to Medical Assisting Program Director and Instructor, Jessica Boomer. After talking with her, I knew my next step was at PCC in the Medical Assisting program."

Little did she know, the Medical Assisting program at PCC was becoming one of the school's best programs with some of the best instructors.

The Medical Assisting program at PCC successfully completed the re-accreditation process in February of this year. In the final report of the program and the college, the program and college were referred to as a family environment, where each faculty and staff member is committed to student success.

This student success in the Medical Assisting program can be seen through the recent data released by the American Association of Medical Assistants (AAMA). The MA program at PCC currently has a 100% pass rate, with the students taking the Certified Medical Assisting (CMA) exam (qualifying exam for MA students) through the AAMA being among the 90th to 93rd percentile in the nation.

"The Medical Assisting program at PCC is a very close network of students working towards the same goal—making a difference in their lives and in the medical field," says Jessica Boomer, MA Program Director and Instructor. "I could not be more proud of Debbie Elks. She has had to overcome many obstacles many students do not face, and she is still one of the academically strongest in her class. She has been an absolute joy to have as a student and watching her overcome the obstacles in her life and succeeding is not only a success for herself, but me, the program and the college," Boomer continues.

Debbie Elks shares this sentiment.

"If I would have gone somewhere else, I would not have been as successful. One of my fondest memories is having Mrs. Boomer and Mr. Cedars go above and beyond to get me a special stethoscope so I could hear and participate in class, even with my hearing disability," Debbie says. "I never felt like I did not matter. I actually felt special, which is what I needed to have the confidence to believe in myself. I owe everything to Pamlico Community College. PCC has changed my life and the life of my family."

Debbie Elks is a PCC success story. Each obstacle she has faced, she has worked hard to overcome. We know when she leaves Pamlico Community College she will be successful because she has the drive and passion to change the world, and change the world she will.

If you would like to learn more about PCC's Medical Assisting program, please visit www.pamlicocc.edu, or contact Jessica Boomer at jboomer@pamlicocc.edu or 252-249-1851 x 3044.
Welcome to Mindset - a weekly column featuring the opinions of your neighbors.

Thanksgiving is a day for spending time with family and friends and, yes, enjoying some delicious food. Thanksgiving is also a time to sit and reflect about what we are truly Thankful for. Here is what folks about the town said they are thankful for this Thanksgiving.

Emma Fleming of Aurora says she is thankful for her two little monkeys a.k.a. daughters, Andrea and Hannah Scott who are both thankful for their Mom and their family this Thanksgiving.

Sheyanna Brinson who lives in Jasper but was in Pamlico to do some shopping with her Mother and Grandmother says she is thankful for her Mommy and Daddy.

Seven year old Morgan Hobbs of New Bern plans on spending Thanksgiving celebrating with family. "I am thankful for my family and food," said Morgan.

Joseph G. Hines Jr. of Orchard Creek Road in Oriental has a lot to be thankful for this Thanksgiving. "I am thankful for the Lord and for just being here to see another Thanksgiving ," says Joseph.

Dave Dutra and his wife and author, Judy Dutra, who have traveled to Oriental from North Truro, Massachusetts on their commercial fishing boat are thankful for their family and their health. "We are still enjoying life so much and are thankful to be here in Oriental," says Judy.

Janice Cox of Arapahoe is thankful for her two wonderful boys and the opportunity to live in "paradise" in Eastern North Carolina and for good friends.

"I am thankful for our families, our dogs and good health and safety," says Jean White of Oriental.