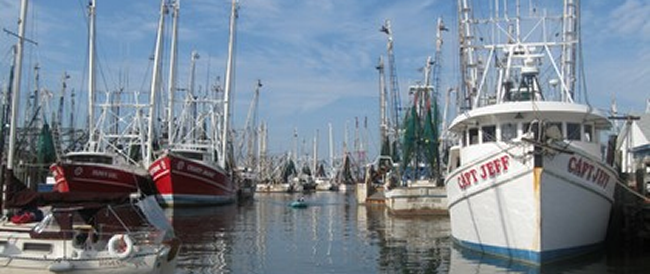 News September 2, 2015 issue
County Nixes Three

Polling Places

Pamlico County's Board of Elections gave the final approval at last Tuesday's meeting to a resolution that would combine six of its precincts into just three, expecting to save taxpayers an estimated $30,000. The resolution would mean that residents of Alliance would cast their vote in Grantsboro, Mesic voters would report to Vandemere and Stonewall voters would go to Bayboro.

The resolution now heads to the State Board of Elections. The board requested approval before the upcoming 2016 election. Director of the Board of Elections, Lisa Bennett said the discussion of such a resolution came up in July during the county budget workshops and the consolidation would take place in 2016 before the first election.

Pamlico is not the only county in the state to consider this measure with Craven County also submitting a list of five precinct consolidations to the Sate Elections Board earlier this year. These requests come in light of new voting equipment that has been mandated by the state to be in place by 2018, with a possible extension to 2020. New state voting laws passed during the 2013-14 session require counties to phase out their touch-screen machines by the 2018 election. The 2018 date was picked to allow the counties to get what was thought to be the useful life out of the machines they have. Affected counties will have to buy new machines which can be an expensive proposition they need time to prepare for. Bennett says that Pamlico County could save up to $10,000 per precinct depending on the costs of new voting machines and the trade-in value of the current ones.

According to Jennifer Roe, chairman of the Board of Elections a number of factors are taken into consideration when deciding wether or not to consolidate voting poles including voter turnout, early voting and actual Election Day totals, along with distance between voting sites. Bennett also wants to remind residents with concerns about having to travel to a different voting pole next year that prior to 2007, Vandemere and Mesic were one precinct, as was Alliance and Grantsboro.

The plan to combine precincts would not change "voter identity," according to election board Chairman Jennifer Roe. It would change their place of voting on Election Day. Roe said any consolidations would not affect municipal elections because towns pay for those elections and have control over the polling places.

The Pamlico County Board of Elections consists of a three-member board that is appointed every two years. NCGS 163-30 cites " Not more than two members of the county board of elections shall belong to the same political party."All North Carolina county boards of elections offices are county funded and state governed. The Elections office is responsible for conduct of all elections and voter registrations in Pamlico County. Current Board Members are Jennifer Roe, Chairman; Russ Richard, Secretary; Delcine Gibbs, Member and Lisa Bennett, Director of Elections.
Shooting Victim Arrested on

Drug Charges

Staff Reports

Officers with the Pamlico County Sheriff's office received a report of an unconscious and unresponsive individual at the intersection of Neal's Creek Road and NC 55 in the town of Alliance on Wednesday afternoon. When deputies arrived at the scene they found an unresponsive male and it was determined that the individual was overdosing on Heroin. He was transported to Carolina East by ambulance. His condition is unknown at this time.

The investigation led investigators to the residence of Demario Tyair Himbry located at 208 Neal's Creek Road. According to authorities, Himbry was inside the residence and a strong odor of burning marijuana was emanating from the home. Investigators along with North Carolina Probation and Parole secured the residence and applied for a search warrant.

During the execution of the warrant a quantity of heroin was found on Himbry and other items were located within the residence that was consistent with the sale of narcotics. Investigators seized scales, baggies, and other packaging materials. A small amount of marijuana and marijuana paraphernalia was also located.

Demario Himbry was arrested and charged with one count of Possession With Intent To Sell and Deliver Heroin, Felony Maintaining a Dwelling To Sell Controlled Substances, Possession of Drug Paraphernalia, Possession of Marijuana, Possession of Marijuana Paraphernalia, Resist, Obstruct, and Delay an Officer, and a probation violation. Because of the proximity of the location the crimes occurred, Himbry was also charged with felony offense for selling heroin within 1,000 feet of a school. Himbry was placed into the Pamlico County Detention Center under a 35,000.00 secured bond. Himbry's first court appearance was on Friday. Attorney Kirby Smith was appointed by the court to represent Himbry and because Himbry is disabled and confined to a wheel chair the judge signed a safe keeping order allowing him to be transferred to a central prison with a hospital facility able to accommodate him.

This is not Himbry's first encounter with the law and has a criminal history that dates back to 2004. According to the Department of Public Safety he had multiple drug related convictions dating back to 2004. In 2011 he was charged with common law robbery and in 2014 he was convicted of burning down an unoccupied mobile home. According to the sheriff's office Himbry is a known gang member associated with local United Blood Nation sets. Most recently Himbry was involved in a Bayboro shooting in which Himbry and two other men, Terrelle Greene and Stephen Ray Squires Jr., were shot by Davone Martez Bryant on Water Street in Bayboro. Squires died in the incident. The accused shooter, Bryant is awaiting trial in the case.
Welcome to Mindset - a new weekly column featuring the opinions of your neighbors. Here's the responses to this week's question:

It's a sad fact of life that most of us are at least a little bit hooked on our phones.

But how bad is our addiction? It is bad enough that there is a term to describe the fear of being without a phone-nomophobia. In light of so-called addiction to our phones, we asked folks around town "what is the most obnoxious thing people do on a cell phone?" Here is what they had to say…

Do you have a question?

Send your suggestions to editor@thepamliconews.com




Larry and Lynn DeChesser or Oriental feel that in general if you are in a restaurant or public place where they should not be used then be courteous and put them away. "Selfies are ridiculous, if you are that vain that you need to be constantly taking pictures of yourself then that is obnoxious," added Larry.

Mary Mills drives from Wake County to Oriental to visit her parents, Tom and Anne Smith who are ninety-two years of age. She feels that drivers, even with hands-free devices, are distracted. "I see people texting while driving on the interstate, its very dangerous. There should also be cell phone-free dining areas in restaurants," she added.

Bernard George of New Bern says the most obnoxious thing he sees people doing while on their cell phones is crossing the street. "Its not only obnoxious, its dangerous," said Bernard.

Wesley Carrier of New Bern feels that people that talk on their phones while eating dinner, whether out in public or at home are obnoxious.

Paige LeBlanc visiting New Bern from Lancaster, PA can't thinks its obnoxious when you are trying to have a conversation with someone and they are not paying attention to you because they are too busy with their cell phone.

Emerald Devitz from Lancaster, PA thinks its obnoxious when people randomly stop and take selfies in public. "Its the most annoying thing ever," says Emerald.