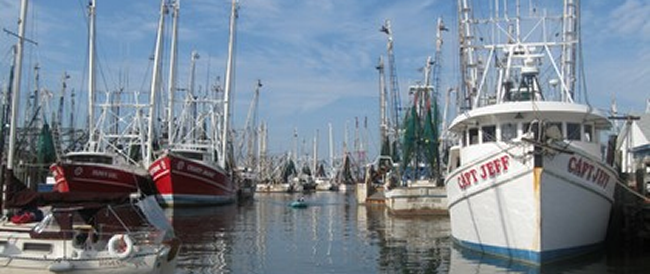 Early Voting Underway, Straight Party Ticket Out
By Martha L. Hall
Pamlico News Staff
BAYBORO - Pamlico County early voters will see state-wide rule changes when early One Stop voting for the 2014 elections begin Thursday.
The early voting continues through Nov. 1.
Local races include sheriff, a county commissioner seat, state House and state Senate. There are also the other mid-term national votes for offices such as U.S. House and Senate, along with nonpartisan seats for state Supreme Court and Court of Appeals.
The North Carolina General Assembly made changes to voting rules last year and those changes have been the subject of several recent court decisions which eventually left them as the Legislature wanted.
Lisa Bennett, the Pamlico County Elections director said voters should be aware of the changes since the past election.
One change that might catch some voters by surprise is there is no longer straight party voting.
"That is not an option anymore, so they will need to go through each contest and vote," said Bennett.
Voters can change their address at the One Stop, as long as they were already registered.
Another change is that same day registration is no longer allowed. That was among the rules overturned by an appellant court, but reinstated by the U.S. Supreme Court.
Also, out-of-precinct voting is not allowed.
"They (voters) need to know the schedule, because it is a little different than it has been," Bennett said.
One of the adjustments involves the election's office at the county courthouse being open later (8 p.m.) on Monday, Oct. 27 through Thursday, Oct. 30.
"If they need to vote after 5 p.m., we will be here," she said. "They do not need to show a photo ID for this election. They will be asked if they do have an appropriate form of photo ID that they can use in 2016."
The other voting times are Thursday and Friday, 8 a.m. to 5 p.m. and the same times on Oct. 31, with voting ending at 1 p.m. on Nov. 1.
Since January, there have been 382 new voters register in Pamlico County, with the county total more than 9,500.
Bennett said the new voters come from many segments - coming-of-age voters, new residents, or former residents who have returned to the county.
At the last mid-term election in 2012, the county had 9,179 registered voters, with an eventual general election turnout of 4,735. That included 1,899 One Stop voters. On the November 2012 election day, there were another 2,645 voters, with 90 absentee by mail, 13 provisional ballots and 88 people who voted curbside. It equated to a 51.59 percent turnout.
The county's registered voter count is currently 9,520. It includes 4,371 Democrats, 2,793 Republicans, 18 Libertarians, and 2,338 unaffiliated voters.
The local candidates include Democrat Sheriff Billy Sawyer Jr. facing Republican Chris Davis and Democrat John Buck going against Republican Ed Riggs Jr. for the District 3 county commissioner seat.
On the state level, incumbent state Sen. Norman Sanderson, a Republican and Arapahoe resident, faces Carr Ipock, the Democrat challenger from New Bern in District 2.
In the state House race, two Craven County residents seek the District 3 seat, which includes Pamlico County. They are incumbent Republican Michael Speciale and Whit Whitley.
For information, call the elections office at 745-4821.
____________________________________________________________________________________
Cookoff Draws Hundreds of Chili Lovers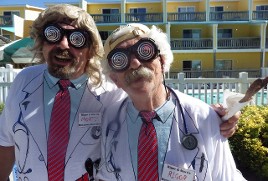 By Martha L. Hall
Pamlico News Staff
ORIENTAL - The 7th annual Chili Cookoff to benefit the Old Theater was a successful event with 275 people attending and also a historic event.
For the first time, there was a sweep of the top two awards.
From 13 entries, the People's Choice and Judges' Choice were both won by first-time entry Seacoast Marine Electronics, with chefs Dan Albert, his wife Betsy Bailey, and company owner Pete Waterson.
Ellyn Speciale, the co-coordinator of the event with Nelda Coats, said the event would hopefully bring in about $2,000 for the Old Theater.
Bailey said the key ingredient for Seacoast's winning recipe was the use of real dried chilies, made into a puree sauce for the base.
"A lot of people said the heat was just about right," she said. "It wasn't too hot, but it wasn't too mild. It was kind of a medium."
The Judge's award was decided by an impartial panel - Larry Summers, Barb Venturi and Bob Miller - based on a blind taste test.
The "People's Choice Award" was the result of voting by ticket-holders.
Per Erichsen served as the emcee and the disc jockey was Cheryl Thompson.
The 13 teams included defending People's Choice champ Axelson Chiropractic and Judge's winner Toucan Grill.
Other participating teams were West Marine, Healthy Habits, First Citizens Bank, Water Street Grill, Nautical Wheelers, Arlington Place, Inland Waterway Provision Company, Sailcraft Services and the Cartwright House.
A unique entry was Rigor & Mortis - aka Rick Smith and Ralf Heit, with chili and the most bizarre costumes of the day.
This was a first-time experience for Smith and Heit, who made Resurrection Chili. It was a no-bean, pulled-pork chili.
"We won 'best presentation' for looking like two fools," said Smith. He said he didn't count cups, but rather judged the popularity of their chili by the number of paper towels used 2 and a half rolls.
He said the two are already considering next year's competition.
"We might do Zombie Chili," he said. "We'll have to smoke some zombies before then."
Amron Eggers and Elle Dimond were the servers for the Inland Waterway Provision Company.
The duo wore alternate dresses - red and black with dragon aprons.
"We called ourselves the Hometown Hotties because we were both born here," said Eggers. "We're as hometown as you can get."
They used cut-up steak rather than the traditional ground beef and it won the 'Best Mild Flavored Chili.
"Next year, I'll add a whole bottle of ghost peppers or a whole bottle of cayenne. I'm going to kick it up a notch," she said.
Sally Belangia and Kaitlain Sobrack were the First Citizens Bank team, with chicken chili and navy beans.
"It definitely wasn't red chili," said Belangia, who said they had empty pots by the end of the day.
"Next year, if I'm in it I'll make another crock pot full."
______________________________________________________________________________________
Former, current islanders celebrate Goose Creek heritage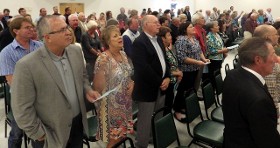 Pamlico News Staff
HOBUCKEN - Hundreds of people converged on Goose Creek Island last Thursday through Sunday for the 39th annual Homecoming celebration.
It began with three nights of "Ducks Galore and More," this year's rendition of the yearly home-produced comedy production at the Goose Creek Island Community Center.
It culminated Sunday, with a community-wise worship service, also at the community center, followed by an old-fashion reunion-style cover-dish luncheon.
There were five guest ministers, special music, emceed by Lottie Caroon.
As is the tradition, a different minister gives the main address each year. This year it was Rev. John Carawan of Warden's Grove Original Free Will Baptist Church.
The other ministers included Rev. Howard Waters of Lowland Church of Christ; Rev. Aubrey Spear of Lowland Pentecostal Holiness Church; Rev. Ray Bonner of New Vision church in Hobucken; and Elder Gene Lupton from the Goose Creek Island Primitive Baptist Church.
Rev. Lewis came from Friendship Pentecostal Holiness Church near Aurora and provided a message and led the special music with James Rice, and Kathy and Lynn Lewis accompanied on piano by Sharon Rice.
Rev. Roy Rodgers gave the opening prayer.
Rev. Lewis was born in Portsmouth, Va., lived in South Creek in Beaufort County, returned to Portsmouth and later moved to the island and remained here many years.
"We moved back down here (Lowland) when I was 16 in 1966 and that was the greatest thing that ever happened to me," he said during lunch.
He scoffed at the notion there wasn't much activity on the island for a 16-year-old.
"I was happy and then stayed here for 27 years until the Lord called me to preach and then I moved. That was over 30 years ago," he added. "We had plenty to do around here at 16-years-old - hunting, fishing, mowing grass, whatever we wanted to do. Young people just congregated and had a good time and good fun together."
There were lots of familiar names at the homecoming, such as Watson.
Bertie Watson Dougherty, a Lowland native, came from her home in Asheville with her husband Ronald. They attend every year and did so this year along with a number of brothers and sisters.
Dougherty, the ninth of 10 children, was joined by her sisters Ruby Allsbrook of Beauliville and Marjorie Eggleston of Virginia, as well as the youngster child, Kelly Jr., who now lives in New Bern.
The mother of five and a school teacher, she said her memories of growing up on the island were fond ones.
"There was a lot of freedom - going fishing, going out on the boats," she recalled. "On the Fourth of July, we would get all of the crowd about our age and we had several boat that would go out. We would go swimming and have a picnic. It was wholesome freedom."
Her father had a crab house and a farm, and the children also learned a strong work ethic.
She and her husband, whom she met at Milligan College in Tennessee, have been married since 1958. They bought the "home place" and it provides a reunion and vacation site for the family.
Another native on hand was Capt. Arthur Kirk of Lowland, who was born there in 1931, the son of Sam and Nannie Kirk. They fished and farmed.
He said most everyone did those jobs, had pigs and cows and a mule. He also recalled that while growing up, there were four stores on the island.
He married his wife Edith, born in Lowland and then spent his career in Savannah, Ga. as the deck pilot, directing ships in and out of the major port.
He moved back three years ago, after retiring at the age of 79. He had left when he was 22.
"It was home," he said of his reason for returning.
Like others at the reunion, he had good memories of growing up here.
"If your barn fell down, your neighbors helped put it back up," he recalled. "It was all a family and everybody knew everybody."