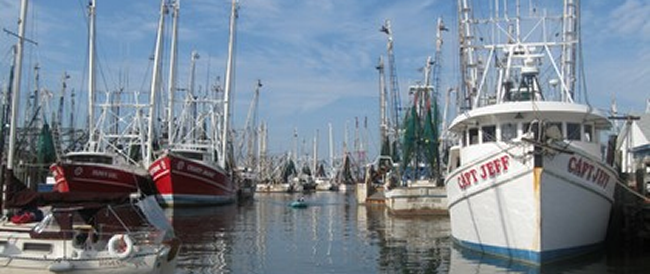 News from the 7/11/2018 issue
Looking Back....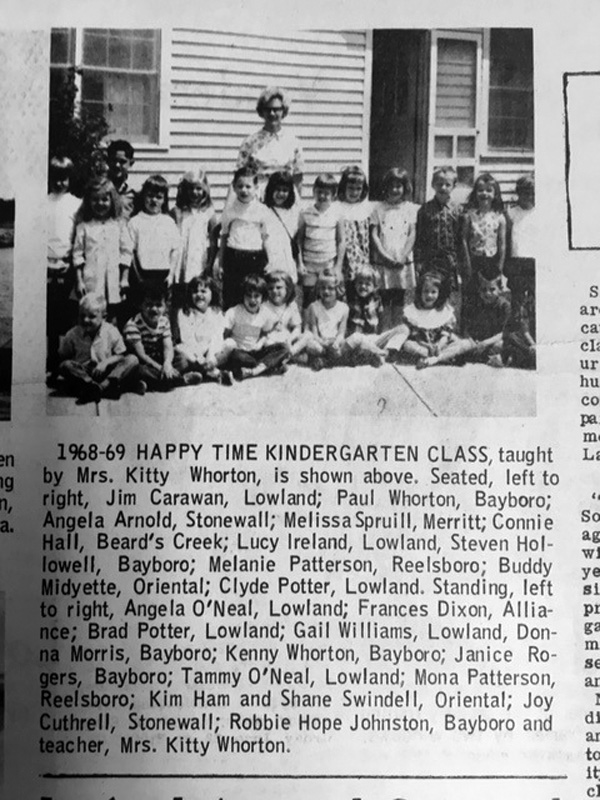 Come Aboard the Oriental Express

It's undeniable that Oriental is the Sailing Capital of North Carolina and maybe the epicenter of sailing for much of the eastern seaboard. After all, when it comes to sailing, just about every yacht at least stops by Oriental on its way up or down the east coast. That's understandably the reason that statistically, there are three boats to every person in this sailing Mecca, but the number of boats is not the only reason why so many people here say that "all roads lead to Oriental." There is a kind of spirit here that draws people to this town. Recently, I hopped on the Oriental Express to discover why people, and not just boaters, are attracted to the hometown of The Pamlico News.

Rich Deming started out by earning his Master's degree in journalism at the University of Missouri, but quickly decided it wasn't for him. When I told him I was writing a story about Oriental, he was enthusiastic about sharing a writer's viewpoint. Having lived in several locales, including Tampa, Florida and Budapest, Hungary, he ran his family's construction business before deciding on a career in renewable energy and is currently involved in building a biomass plant in Farmville. He tried Charlotte, Belhaven, and Lowland as a base before investigating Oriental as his home. He says it feels "secluded and beautiful with little traffic," a perfect environment for biking, and his boat "Sound of the Sound" is equally comfortable at the Oriental Yacht Club. He also adds that after practicing Yoga for 15 years (because "I'm naturally impatient and seek-ing balance") he found The Yoga Studio, which rounded out his requirements for feeling totally at home. He concludes with a smile that he thinks there is a sort of peaceful coexistence between equal parts conser-vative and liberal in Oriental, which appeals to this yachting Renaissance man.

Arthur and Lorraine Curtis currently live in Minnesott Beach and dock their boat at the Doubletree in New Bern, but they've been visiting Oriental for 36 years. In fact, Oriental was the first stop on their honeymoon trip, when Arthur introduced Lorraine to yachting by handing her the chart and saying "Tell me where to go." That would be a welcome request from any man, but Lorraine said she was quite uncomfortable on that first cruise. Of course, now she's a Tiger Woman when it comes to yachting. In fact, that's the name of their boat, and just recently, Broad Street Signs made nifty, new letters to refresh their boat name. The story goes that in the early 90's, Arthur was working for a company in Japan, and the ladies had their Japanese horoscopes read. When they returned, the men asked what they had discovered, and it happens that Arthur was a Horse man, which was exactly the animal guide of the company president, making Arthur valued as a strong horse. To further their good luck, Lorraine said she was a Tiger, and everyone was amazed that the company president's wife was also a Tiger. Horse man needs Tiger woman translated to Tiger Woman on their boat and a great story to tell. Having migrated all the way from Los Angeles, the Curtises have never regretted their move to the bucolic, natural setting of the east coast of North Carolina, and the 42-foot Ocean Alexander named Tiger Woman likes it, too.

Don Munn and his significant other Rebecca Schmorr split their time between Raleigh and Oriental, heavy on Oriental time. Don more than makes the Oriental "requirement" for three boats; he has three boats currently in the water, with two catamarans, three kayaks, a Sunfish, all of which he stores out-of-water, and a Laser in his garage. He is an avid racer who participates in the Frostbite Series during the winter and races with the Oriental Dinghy Club as often as he can. Even though he is a government contractor, he manages to carve out time for boating, and reads The Pamlico News. In fact, his mom Catherine Munn has been a Pamlico News subscriber for decades! My kind of woman, and believe me, I didn't plan this. It was a delightful byproduct of my interview with Don and Rebecca.

My last interviewees are a couple from my church in New Bern, Nancy and Will Huff. People in Oriental will surely recognize them, because they lived in Oriental for 30 years before Nancy had a stroke recently and moved to a senior independent-living community near the hospital in New Bern. She is up and around using a wheelchair and thankful that she has a lot of people praying for her health. Will and Nancy met in New Jersey when they were just youngsters and married when she was 18 and he was 19. For you United Methodists, it's interesting to note that their Methodist Youth Fellowship in New Jersey spawned three different marriages. The Huff's marriage has lasted 64 years and is still going strong. They were active in Oriental United Methodist and now attend Trinity UMC in New Bern. Will retired from more than 26 years as a pilot for United Airlines in 1993, they moved from Virginia to Oriental and happily sailed their 34' yacht, the "Godspeed" all along the east coast from their home base in Oriental. As one-time avid boaters, Will and Nancy say they really miss Oriental, especially the multitude of friends they made. Will concludes that the waters off Oriental are "as far south as you can go and have good sailing." (And that includes Florida, according to Will.)

I enjoyed my ride on the Oriental Express. So, now you know, if you didn't already, why Oriental is a special place. Even if you don't own a boat, it is, for many people, the most ideal place on earth to live.

---

Pamlico Community College Study Abroad Team Returns from Life-changing Trip to the Philippines

Pamlico Community College's Study Abroad group visited a remote jungle outpost to assist a non-profit group during its visit to the Philippines. Picturedare, from left, Instructor Zac Schnell, their new friend Maki Navarrete and PCC students Jenny Mills, Aaron Royal, Anthony Raisch and Francisco Arreol-Muro. Contributed photo

By Sandy Wall

Pamlico Community College

Pamlico Community College's globetrotting team has returned from a month-long, life-changing trip to the Philippines.While in the Pacific island nation, PCC Environmental Science Instructor Zac Schnell and four students – Francisco Arreol-Muro, Jenny Mills, Anthony Raisch and Aaron Royal – planted trees, visited cities and farms, explored remote locations, swam with giant sea turtles, spoke to college students and met dozens of new friends.

"Overall it was a great trip," Schnell said, adding that the students enjoyed being immersed in Filipino life and culture.The students also got valuable hands-on experience that helped them develop the skills needed to implement environment-enhancing plans and projects.

"I am very happy our students had this fantastic opportunity to learn about another country," said PCC President Dr. Jim Ross. "Very few community colleges are able to send students halfway around the world. I again salute Zac Schnell for his leadership on this ambitious project, and I thank everyone in our generous community who helped make it possible." Schnell conceived of the Study Abroad initiative last year. He had spent two years in the Philippines as a member of the Peace Corps, and the contacts he developed there were critical to putting the trip together.The 21-hour journey to the Philippines began on May 24 at Raleigh-Durham International Airport.

When the team members arrived in Manila, they soon discovered they had traded a warm, moist climate in sunny North Carolina for an even warmer, more moist climate in the Far East. PCC group members spent most of the trip in the Romblon province, where they assisted with fieldwork and environmental projects. They started on Romblon Island and then moved on to Tablas Island.

They visited the towns of Odiongan and Ferrol, where they saw a mangrove forest – complete with bamboo walkways – and took part in a huge fiesta.They also met local leaders and offered a presentation on their trip and environmental stewardship to students at Romblon State University. Raisch said he was impressed by the Filipinos' efforts to reduce waste.

"I love how they recycle and reuse so much of their glass and plastic," he said. "The waste is minimal. I learned so much about their culture and how they love their country." Also on the trip, team members swam in the clear Pacific Ocean with sea turtles and explored a cave. They also accepted invitations to some birthday parties and got to enjoy fresh coconuts and bananas with a farm family, where they also learned how to produce copra from coconuts.

Near the end of the trip, the five PCC ambassadors visited the Manila American Cemetery, where 17,000 people who died during World War II are buried. They also did some shopping at a huge indoor-outdoor market complex before begin-ning the long trip back to North Carolina. They returned early on the morning of June 25.The students said the trip changed their perspectives on many things, including life in the United States.

"It was a completely eye-opening experience to see and be involved in a completely different culture that is different than our own," Mills said. "The people there live such simple lives with not very much and yet they offer so much through their kindness and generosity and they are happy with what they have. It has definitely given me a new outlook on life." Royal said he was grateful he was able to take such a trip.

"The trip was something that changed my perspective of the world, completely," Royal said. "Never would I have thought that someone like me from Pamlico would have a chance at something like this."Schnell hopes to keep the momentum from the trip going, adding that he'd like to see the college undertake more Study Abroad trips. He says the group is planning a public presentation soon as well as a video documentary about the trip by the students that will be posted online.

Team members also will be posting additional photos and videos from their trip on the college's Facebook page, which is available at https://www.facebook.com/pamlicocc/ For more information, contact Schnell at zschnell@pamlicocc.edu or 252-249-1851, ext. 3115.

Sandy Wall can be reached at 252-249-1851, ext. 3010, or swall@pamlicocc.edu.