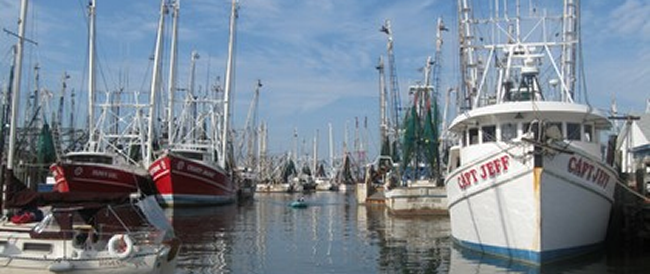 News November 25, 2015 issue
$2B State Bill Gets Local Support

Staff Reports

Governor Pat McCrory's proposal to borrow about $2 billion to repair and expand the state's infrastructure is getting positive feedback from local leaders and community colleges throughout the state including right here in Pamlico County.

"The Connect NC Bond Act affords the citizens of North Carolina the opportunity to vote on a bond referendum that if passed would provide much needed money to repair, renovate, and modernize facilities to educate North Carolinians well into the 21st century," said Mark Pullium, VP of Administrative Services at Pamlico Community College. "These funds would allow Pamlico Community College to continue offering state of the art learning experiences for the work-force of today and tomorrow,"

This referendum, to appear on the March 15 ballot, marks the first statewide bond question on the ballot since 2000.

According to McCrory, almost two million more people call North Carolina home since then. The funds will be used to construct new government and university buildings, infrastructure upgrades, expansions and other projects.

McCrory held the signing at Lenoir Community College and explained to the audience of local leader and policiticians that $350 million of the $2 billion bond would be split among all 58 community colleges in the state. The General Assembly directs $1.3 billion of the proceeds to 14 specific University of North Carolina campus projects and for work on all 58 of community college campuses.

McCrory emphasized the importance of repairing, renovating, and maintaining public infrastructure at places like community colleges, universities, parks, and National Guard facilities and described the measure as a "strategic investment that would make the state more attractive to both businesses and residents.

"This is where we're going to focus our money on. It's very strategic to future economic development and jobs and where we're spending our education dollars," stated McCrory.

The bond referendum will require no new taxes and voters will have the opportunity to vote for or against it on the March 15th ballot.

"So we have a choice in North Carolina: Do we continue to prepare for growth or do we react to growth?" the governor said. "I'm convinced that those who prepare win the competition for quality of life and economic development in the future. Those who stagnate and don't continue to invest and prepare for that growth will suffer in quality of life, and economic development and jobs. This is not a state that stagnates."

McCrory said a bond campaign team is forming and will spend the months between now and the election promoting the bonds across the state. "We're going to be traveling throughout the state to educate people on the investment in the future of North Carolina," he said.

According Pamlico County Commisssioner, Paul Delamar III, the bond issue was modified a couple of times as is went through legislation at at this point Pamlico County has not identified the specific projects that might qualify under its terms.

"As I understand it there are only certain types of infrastructure projects that can be funded. For instance, I believe community college capital projects can be covered. Our greatest needs at present are water related (the Reelsboro area needs significant work to improve pressure), and I don't have confirmation that those are included. Also, the courthouse itself is badly in need of renovation—something we've already started working on--so I would hope we could access funds from the proposed bond for those repairs," said Delamar.

At this point, the county staff is in the process of evaluating the County's needs and determining if the most pressing ones can be funded out of bond proceeds if it passes when voted upon.
Coast Guard urges NC hunters to stay off VHF-channel 16

During a grueling six-week stretch in the fall 2013, Coast Guard Station Hobucken, a small two-boat station in a remote area along the Pamlico Sound, answered five calls from alleged distressed mariners who didn't exist. The problem continued into 2014 and prompted the Coast Guard to analyze what might be triggering so many false distress cases.

A closer look at the dates and locations of the calls revealed they occurred in the New Bern area around the Neuse River during deer hunting season.

One theory is many hunters in the New Bern area use VHF-channel 16 to communicate, and some accidentally trigger search and rescue cases with phrases like "I need help!"

While the Coast Guard does not believe all false distress cases in the area were associated with hunters using VHF radios, or that all were intentional, VHF users need to be aware conviction of a hoax distress call can incur hefty fines and jail time.

"False distress calls limit the Coast Guard's ability to respond to actual emergencies," said Capt. Sean Murtagh, commander of Sector North Carolina. "Ultimately, they penalize the local communities and mariners the Coast Guard is charged to protect by unnecessarily endangering the lives of responders and wasting hundreds of thousands of tax payer dollars."

Making a hoax distress call to the Coast Guard is a federal felony offense with a maximum penalty of 10 years in prison, a $250,000 fine, an $8,000 civil penalty and mandatory reimbursement to the Coast Guard for the cost of performing the search.

Brandon Paul Garner, 32, of Beaufort, North Carolina, was sentenced in June to 28 months of imprisonment, three years supervised release and was ordered to pay $18,994 in restitution for hoax calls he made in October 2013.

The Coast Guard urges North Carolina hunters to stay off VHF-channel 16, unless it's to report a maritime emergency. Hunters should use channels designated for public correspondence, or non-commercial channels.

A list of VHF channels and frequencies can be found at www.navcen.uscg.gov under the VHF Channels and Frequencies tab at the bottom left.

Other channels to avoid include:

13 - Bridge to Bridge

21A - USCG Working Frequency

22 - USCG Working Frequency

81 - USCG Working Frequency

83 - USCG Working Frequency

Coast Guard Sector North Carolina encourages hunters to verify the desired channel every time after powering on a radio, as some radios automatically default to channel 16.

Hunters are encouraged to respond to Coast Guard callouts. Clarification after unintended or unclear comms is appreciated, not prosecuted.
Welcome to Mindset - a weekly column featuring the opinions of your neighbors.

Thanksgiving is a day for spending time with family and friends and, yes, enjoying some delicious food. Thanksgiving is also a time to sit and reflect about what we are truly Thankful for. Here is what folks about the town said they are thankful for this Thanksgiving.

Emma Fleming of Aurora says she is thankful for her two little monkeys a.k.a. daughters, Andrea and Hannah Scott who are both thankful for their Mom and their family this Thanksgiving.

Sheyanna Brinson who lives in Jasper but was in Pamlico to do some shopping with her Mother and Grandmother says she is thankful for her Mommy and Daddy.

Seven year old Morgan Hobbs of New Bern plans on spending Thanksgiving celebrating with family. "I am thankful for my family and food," said Morgan.

Joseph G. Hines Jr. of Orchard Creek Road in Oriental has a lot to be thankful for this Thanksgiving. "I am thankful for the Lord and for just being here to see another Thanksgiving ," says Joseph.

Dave Dutra and his wife and author, Judy Dutra, who have traveled to Oriental from North Truro, Massachusetts on their commercial fishing boat are thankful for their family and their health. "We are still enjoying life so much and are thankful to be here in Oriental," says Judy.

Janice Cox of Arapahoe is thankful for her two wonderful boys and the opportunity to live in "paradise" in Eastern North Carolina and for good friends.

"I am thankful for our families, our dogs and good health and safety," says Jean White of Oriental.