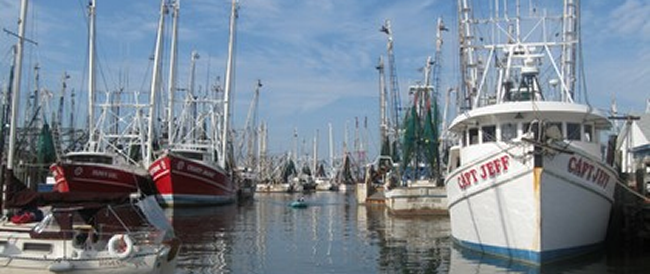 News October 7, 2015 issue
Flooding Remains Hazardous

In Pamlico

Kerry Thompson (left) and Scott Dickinson gave new meaning to waterfront dining at Paradise Cove Marina during the flooding.

Rich Russo had a tough time getting to check his boat.

The floodwaters in Pamlico County have receded, but not without incident. According to the Pamlico County Sheriff's Department there were a total of 17 people that were rescued from high water situations on Monday in the county.

According to Lt. Scott Houston with the Pamlico County Sheriff's Department, Pamlico County Emergency Management and the Sheriff's office rescued a woman in the Whortonsville Road area. She was evacuated after her home flooded, but was not injured. She was taken to the hurricane evacuation shelter set up by Emergency Management Officials at Pamlico Community College for those hoping to escape the storm flooding. Around the same time, Houston says an individual called for medical assistance in the Fork Point Road area of Oriental. The area was impassible due to tidal flooding and the National Guard assisted. The patient was transported from the scene to a waiting EMS unit.

Earlier Monday, the National Guard rescued a family of seven from their home in Lowland. The seven, including a four year old, a six year old and a seventy-five year old, were rescued from their home on Lowland Road in Lowland. One of those rescued, Michelle Day, called the fire department because the family was running low on food and medication. The family and their dog were brought to safety in a National Guard five-ton truck. They will be staying with friends until flood waters recede.

Six people in Hobucken were evacuated from a home as flood waters were rising. In Bayboro a man was rescued after his vehicle hydroplaned into a five-foot deep canal. The Sheriff's Office and EMS responded to the scene and were able to assist the driver, who was not injured, after escaping from his sinking car. In Merritt a law enforcement officer was rescued after his vehicle became trapped by rising flood waters.

As of Tuesday morning there were still multiple road closures. Kershaw Loop Road off of Kershaw Road is shut down because of a sink hole and will remain closed until repairs are made. The Hobucken and Lowland areas in particular have roads closed because of tidal overwash of six to fifteen inches. Flood waters have receded in most areas but some localized flooding remains making travel difficult. According to Houston less than ten residents took advantage of the evacuation shelter which was closed as of Tuesday morning.

The town of Oriental sustained minor flooding though an assessment of total damage will not be available by at least Friday, said Diane Miller, Town Manager for the Town of Oriental.

"There was no power loss and we made sure the storm drains stayed clear. ," she said, adding that there was no wind damage.

Areas such as Teaches Cove and Orchard Creek became isolated by water for a time. Kershaw Road was closed due to severe flooding according to local news sources, though it was accessible by mid-Monday.

First and Hodges streets sustained the most water, with levels reaching as high as 4 feet on Hodges by Monday afternoon.

The town lost several decking and railing boards on docks between Lu Mac Park and River Park, with docks still not accessible. Pamlico County Emergency Management is asking all people that do not live in flooded areas within the county to stay out of these areas and would like to remind everyone that sightseers and the curious can become victims of the flooding and further stretch their resources.
Search Continues For Missing Crabber

The Coast Guard and others are searching for a missing crabber

in the Pamlico Sound.

According to Lt. Lane Munroe of the Wilmington Coast Guard,

a good Samaritan found the 23-foot recreation boat belonging

to Michael Hopkins, age fifty-three, of Pamlico Beach, adrift near

Hickory Point, northeast of Aurora on Monday. The engine was

down and on board they found a life jacket, gas cans, live crabs

and a dog. According to Hopkins' family he launched the boat from

Cousins Point earlier Monday morning.

The Coast Guard has conducted eleven different searches of

the area covering a total of sixty five square miles and six hundred

total track miles. Both air crafts and surface vessels with crews

from Elizabeth City and Hobucken are a part of the search effort

which as of Tuesday morning was entering the fifteenth hour. The Coast Guard is also being assisted

by the Bath and Banyou Fire Departments and two Good Samaritans who are using their own

personal water crafts to search for Hopkins. "We will continue to assess the search and investigative

efforts and at this time have no plans to suspend search efforts," said Lt. Munroe.
Welcome to Mindset - a weekly column featuring the opinions of your neighbors.

Public works projects are financed and constructed by the government for recreational, employment and health and safety uses in the greater community. When asked what types of projects they would like to see come to Pamlico County, here is what residents had to say.

"Oriental is considering a park on North Street in Oriental and I am in favor of that," said Dale Montgomery who resides in Oriental. His wife, Debbie Montgomery agrees.

Alecia Williams of Merritt feels that the state DOT singles out certain areas when it comes to repairs and ignores others. "Instead of paving over problems they should concentrate on maintaining the ditches and draining systems," she said.

Tracy Peterson, a resident of Oriental, "I would love to have a green belt wide enough for walking, biking or a golf cart between Oriental and Whitaker Point," said Tracy.

Mike Tripp of Blackwell Point feels that drainage is the biggest issue in the county. "Water has no where to go and it's like a swamp. The longer it stays there, the more mosquitos you get," said Mike.

Captain, a canine resident of Merritt, would love to see a dog park come to Pamlico County. One with a water feature would be preferred.

Melissa Southard lives in Aurora, but grew up in Pamlico County. She would like to see something for the youth in this county, possibly a recreational center or movie theater. "These kids need something to do. The drug problem here is horrible. They are still our children and it is sad," says Melissa.