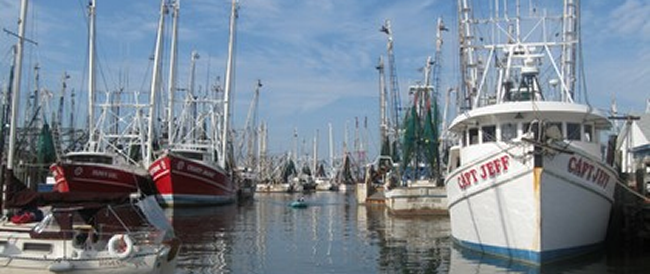 Week of September 17, 2014
Ol' Front Porch – Another Tribute to Oriental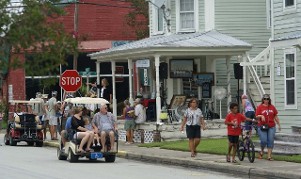 By Martha L. Hall
Pamlico News Staff
ORIENTAL -- On Saturday a first-time musical event morphed into a keeper. It was the first Ol' Front Porch Music Festival and a good time was had by crowds all along Broad and Hodges streets.
How clever it was to refer to the Ol' Front Porch in memory of Lucille and Billy Truitt's now non-existent front porch, but one the folks of Oriental certainly remembered.
It brings back memories of rocking chairs and music played on a hot afternoon. That was Leslie Kellenberger's idea. She and Dottie Osmun put this festival together. Dawn Hoyle was the one who kept up with the musicians and their time on "stage." She also delivered the programs in a wheelbarrow to each event.
The sounds of bluegrass, country, sea chanteys, classical jazz, gospel, roll and roll, Middle Eastern music and Dixieland were just a smattering of the music echoing up and down Broad Street and Hodges Street.
On the porch of the Old Hotel, the children of Lucille and Billy told stories about them.
"I have no idea how many people were in town," said Osmun, "but they had a people jam on Hodges Street. We had to get the police to clear a place for cars to go through. The weather (forecast) looked gruesome but it didn't rain until about 3:45 p.m."
Osmun said they would review any problems and ideas at their next meeting. She said the money raised from the jars at each site was about $1,500. The banner across Broad Street, Osmun said, cost $475 which would come out of that $1,500. The dates on that can be changed and it will be used for next year.
"If they had a sound system, they had to keep it down," said Osmun. "Another glitch, we had a musician put a tip jar out. By the time I heard about it, he was gone. The event was donated. People were wonderful to rally. There were lots of volunteers and the musicians volunteered their time. The program and the flyer were done by several volunteers."
Osmun said everyone loved the porches.
All of the artisans were on the Pamlico News lot with their wares, along with "porch" music.
At the Old Central Hotel, the Green Creek Blues Band played. This band consisted of players who originally played on Lucille and Billy's porch. Ken Belangia was Lucille and Billy's son-in-law, and includes Dr. Ernest Dunn and Becky Ackiss. Performing with them was Steve Belangia of Burlington. That band, formed in the 1980s performed on the Ol' Front Porch and the Bluegrass Association in Kinston and many other areas in the county.
Jim Austin and Bentley Smith live on a catamaran. They think of themselves as wandering minstrels – guitar, 5-string banjo, harmonica and concertina. They are only in Oriental for 3 weeks. Then they sail to Florida and the Bahamas.
"We are going to sing at Cat Island, at Fernando's Bay resort, then Elutheria where the people are wonderful," said Austin. "One more person who made this wonderful was Marsha Paplham. She had a jam session going on her porch and she let us play afterwards."
Austin said there was one more person who played with Salty Paws.
"His name was Dave and he was aboard the Dyad," said Austin. "He was the second guitarist."
Simon Spalding played on Broad Street. A musical historian, Spalding is a versatile musician knowledable about traditional English, Scottish, Scandinavian, Russian and American folk music. Spalding plays more than 50 instruments.
"I was only going to take three instruments but I took four," he said. A good thing, since his group Casablanca couldn't show up.
Others playing were Sandra Baldree played and sang at the Sing-A-Long Porch on Broad Street; Craven Brass under the direction of Dan Jones performed at Coldwell Banker Realty porch; The Del Rios played the Pamlico News porch; Green Creek Bluegrass were at the Old Central Hotel porch; Harbor Sounds were on the Town Hall porch; Bob Jones played acoustic guitar on the Village Art Gallery porch; Bob Laverty entertained with county rock to maritime, tropical and jazz; Mac McWilliams performed on Nautical Wheeler's porch; the Moseley Family Singers performed a tight blend of harmony from bluegrass to folk rock; Salty Paws sang sea chanties and nautical songs on Board Street and then went to Marsha's Cottage to play with the pick-up musicians; Simon Spalding played the 507 Broad Street porch with his usual versatile arrangements; Ed Terry, well known in Pamlico County as the owner and lead act at the County Opry, put on a show; Travelin' Jones, a music duo, performed on the porch at 500 Hodges Street, singing bluegrass and blues, jazz and Western swing; the UHOOS, the Ukulele Hoalohas of Oriental got together to strum their instruments at the 507 Broad Street porch; and the New Sensational Messenger performed, spreading the word of God from the 500 Hodges Street porch. Thanks are also extended to the Oriental History Museum who added exhibits from Lucille and Billy Truitt's life to the stage at the Old Central Hotel.
_____________________________________________________________________________________
Youth Step Into Garden Leadership Role To
Help Fight Hunger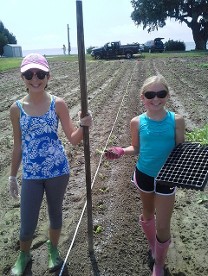 Caroline James (L) and Emmie James (R) of Oriental will lead harvesting operations
for the Operation Veggie Box – Bethany Christian Church Garden this fall.
By David K. Bailey
Operation Veggie Box
ARAPAHOE – Two 5-Star recruits from Oriental have made verbal commitments to lead the harvesting operations of the Operation Veggie Box – Bethany Christian Church Garden this fall. The two volunteer leaders are sisters Caroline and Emmie James. Caroline will quarterback the harvesting activities and her sister Emmie will be taking handoffs and running downfield to pick and pack lettuce, cabbage, squash, and other veggies!
Last week their mother Courtney James called Operation Veggie Box (OVB) and wanted to know if they could help with our efforts this fall. A couple of days later they were helping OVB plant romaine and green leafy lettuce. This was not the first time that they have helped OVB. This past summer both sisters participated in OVB's Corn JAM! and the Veggie JAM! For the Corn JAM! they went out into a sweet corn field and picked corn that was later delivered to hungry people across eastern North Carolina. They also helped box up over 1,000 boxes with vegetables and spiritual messages as a part of the Veggie JAM! event. The sisters were actually participating in Camp Seafarer's summer program at the time which has an element of community service within its curriculum. Camp Seafarer (CSF) and Sarah Rhymer, who is the Director of Community Programs at CSF, have been tremendous supporters of OVB and we thank them for their many contributions and volunteers to our ministry.
Now the James sisters want to do more to help people in their community. Both are home schooled by their mother and all three are fantastic people! After we had finished planting I asked if they wanted to help more and they both said "Yes!" They are sincere, energetic, intelligent people who are growing and developing in their leadership roles. If they ask you in a couple of months to help them harvest please consider giving them a hand. I can assure you that you will be blessed by them as I was this past Friday. While planting the lettuce they were smiling all of the time, as you can tell by the pictures, and were eager and sincere in all of their efforts. I thought that I was just going to get some free labor for the day but I was actually blessed by their attitude, values, and willingness to do more.
The gardening duo will also be checking in on the garden on a weekly basis to inspect the plants, perform field maintenance, and water, if necessary. We would welcome help from other volunteers in the community.
If you, or your youth group, want to get involved with Operation Veggie Box this fall feel free to contact David Bailey @ 252.229.6228 or email at david.bailey@operationveggiebox.org.
Operation Veggie Box is a Pamlico County based Christian Ministry that was launched at Bethany Christian Church in August 2013. Volunteers from other churches in Pamlico County are involved in the growth of this ministry including Oriental United Methodist Church, Silver Hill Christian Church, Anointed Remnant Church of Christ, Disciple of Christ, Arapahoe Free Will Baptist Church, and others. Other organizations and individuals providing financial support, expertise, and resources include Don Lee Farms, Neuse River Turf Farm, Zeb James, Camp Seafarer, Potash Corp. – Aurora, Flatland Ag, the Society of St. Andrews, the Pamlico District Union Disciples of Christ, the Pamlico District CMF Disciples of Christ, and Walmart – Grantsboro location.
_______________________________________________________________________________________
Lt. Governor Reportedly Behind NO Ferry Tolls Movement
By Martha L. Hall
Pamlico News Staff
In a meeting reviewing the legislative session with Henri and Joe McClees, lobbyists for Pamlico County, in Raleigh this past week, Lt. Governor Dan J. Forest reportedly expressed a long-standing opposition to seeking tolls for ferries.
Henri McClees said the Lt. Governor observed that ferries are like roads, highways and bridges, which has long been the expressed view of many Pamlico County anti-toll supporters.
Forest is a member of the State Board of Economic Development. This makes him aware of all aspects of economic development and he is very aware of coastal North Carolina's lack of growth and low employment figures, according to McClees.
This could be a "no news item" except for one thing. The Lt. Governor casts a tie-breaking vote as President of the Senate.
Pamlico County Commissioner Chairman Paul Delamar III said he had one thought when he heard about the Lt. Governor's reaction.
"I thought 'Good.' I'm glad for anyone who is against it," he said. "I've always felt that our job was to keep the tolls from being put on the ferries and we do have some allies. Since we employed Joe and Henri McClees as lobbyists, I feel we will know if the Department of Transportation or anyone else in the legislature tries to add on a law or change something about the ferries without our knowing about it."
The legislature, after wrangling over the issue, put the matter in the hands of local Rural Planning Organizations to ask for tolls to fund new ferry vessels. The overseeing DOT cannot raise or add new tolls without those requests.
Commissioner Chris Mele of Oriental and Minnesott Beach Mayor Josh Potter are the two appointees in Pamlico County to attend the Rural Planning Organization who have been made responsible for the ferries.
"We haven't done anything with the ferries for about two months. At that time, we drafted a resolution requesting that all tolls be eliminated," said Mele. "Our RPO includes Pamlico, Craven, Jones, Onslow and Carteret counties. Onslow County has not attended a solitary meeting. Josh and I have attended 100 percent."
Greg Piner, one of the leaders of the Don't Tax Our Highway group, said the news of Forest's stand came as a pleasant surprise.
"He was never on my radar as far as any of my previous dealings with him," said Piner, a dedicated proponent of the No Ferry Tolls. "I do know that there was some hope that the executive side of the government would start getting involved a little bit and there were hopes that Gov. McCrory would put some emphasis on it next session. I guess the more people understand that the tolling issue is not raising any substantial amount of net revenue and it's not good for eastern North Carolina, the better it is."
Piner said that the more people, especially those in power, who become aware that tolls are bad for Eastern North Carolina, the better.
Larry Summers, another anti-toll organizers, who went to Raleigh and waved signs and has sent letters to the legislators concerning No Ferry Tolls, said he didn't think the Governor or the Lt. Governor had a lot to do with it.
"I think we have the House behind us, and I think it's the Senate. I firmly believe this is Step One in lowering taxes and raising fees. I honestly think Rep. John Torbett from Gaston County is a superstar in the making. I think he's the one that can make it go. He wants to get new money into North Carolina. I think he has the right idea. We just need to get some others into the legislature who think the same way."
_____________________________________________________________________________________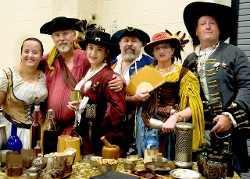 The terms Renaissance and unique are forming a unique partnership at Pamlico Community College.
Renaissance grammarians note that nothing is somewhat unique or very unique. It's either unique or not unique. According to Simon Spalding, The 2nd Annual Medieval and Renaissance Festival at PCC, this Saturday, September 20, is unique east of Rocky Mount in North Carolina's Coastal Plain.
Spalding, who is coordinating the event as a part of Cultural/Life Enrichment programs at the college, said, "Until now, Renaissance Festivals have never occurred this close to the central coast.
This year's festival features abundantly more entertainment than last year's program. Though definitely not a three-ring circus, there will be three stages of ongoing activities compared to two stages last year.
Spalding reported, "Craven Consort and Tuppence are returning to this year's festival, and we have quite a few groups coming this year for the first time. I am thrilled beyond belief to put this together for area residents. The variety of entertainment and demonstrations will be educational, and yet also delight people of all ages."
New groups this year include:
Thursday Morn, a string group, including violin and hammered dulcimer along with other stringed instruments, has performed at They group will perform in the Atrium outside the Delamar Center Auditorium at both 11 a.m. and 1 p.m.
Pamlico Brass, a local brass ensemble will perform Renaissance and early Baroque music on instruments of the trumpet family. Trumpets and sackbutts, predecessors of the trombone, were used extensively in Medieval and Renaissance music. This group will perform in the Delamar Center Auditorium at 1 and 2:30 p.m.
The Heritage Troubadours, directed by Cheryl Kite, sing madrigals and other Renaissance vocal music. They will perform in the Delamar Center Auditorium at Noon and 1:30 p.m.
Coastal Winds, a quintet of woodwind instruments, will play a variety of Early Music on the Auditorium Stage at 12:30 p.m. and 2 p.m.
Stage magician Gary Shelton will perform on the "Bear Garden Stage" at 11:30 a.m. and 1:30 p.m. Spalding commented, "I have seen him perform several times, and I know he will be an excellent addition to our event."
Groups returning to the festival from last year include Craven Consort and Tuppence.
Craven Consort has performed Early Music in and around Craven County since 1973. Under the direction of Roger Bennett, the consort has performed at the NC Renaissance Festival in Raleigh and in numerous other venues. The group performs on a mix of recorders and flutes, as well as plucked and bowed stringed instruments. Craven Consort will perform in the Delamar Atrium at 12:30 and 2 p.m.
Tuppence is the duo of Simon and Sara Spalding. They have performed ballads, dance tunes, and other traditional music on violin, guitar, the bodhran, an Irish drum, and other instruments for audiences as far-flung as Louisiana, California, and Scotland. Tuppence performs in the atrium at Noon.
Other attractions are:
Simon Spalding will teach English Country Dances that were familiar in the court of Queen Elizabeth for young and old in the Delamar Atrium at 2:30 p.m. This is for everybody!
A Combat Arena outdoors will feature Medieval and Renaissance martial arts in the. These include demonstrations of Archery by Crispin of the Shire of Cathenar at Noon and 1:30 p.m. The Triangle Sword Guild will stage an exhibition of sword fighting by at 12:30 p.m. and 2 p.m. Christophe, also of the Shire of Cathenar, will stage exhibitions of rapier fencing at 11:30 a.m. and 1 p.m.
Food, jewelry, and other wares will be offered for sale but it is most likely the food will be contemporary in flavor, not from the Middle Ages. Street characters will include a Town Crier as well as Grace O'Malley, an Irish Pirate Queen on her way to meet with Queen Elizabeth.
Leigh Russell, the college librarian, coordinates PCC's cultural events with assistance from Denise Meyerson. "For those who missed last year's festival, this is surely an event not to miss this year. No one will come away disappointed. This is a real treat for Pamlico County and the surrounding area," she said.
Contact Russell to learn more, lrussell@pamlicocc.edu, 252-249-1851 x 3033.