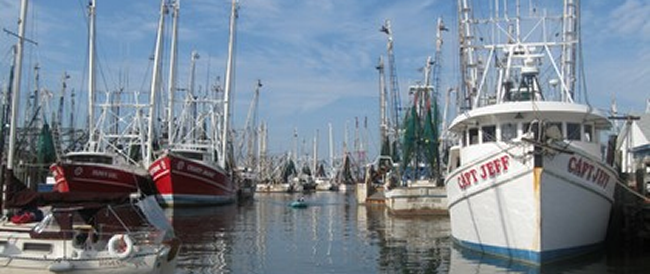 Week of May 20, 2015
Pamlico Community College Celebrates its
48th Commencement, Presents Graduates to Community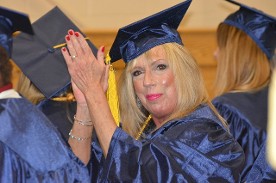 Cosmetology graduate Patricia Alt celebrates receiving her degree Friday evening.
Brandi M. McCullough
Special to The Pamlico News
This past Friday marked Pamlico Community College's 48th Commencement Ceremony. Sixty-five individuals were awarded a degree, certificate, or diploma from one the college's many programs of study. Awards conferred represented a variety of disciplines, including Environmental Science Technology, Accounting, Business Administration, Computer Information Technology, Medical Office Administration, Office Administration, Electrical Systems Technology, Electroneurodiagnostic Technology, Medical Assisting, Welding, Criminal Justice, and Early Childhood Education. Students preparing for university transfer walked the stage as well. A total of 126 credentials were awarded this year, with many students being able to accumulate certificates or diplomas in addition to their degree allowing them to further distinguish themselves in the workforce.
PCC Trustee Douglas M. Pearsall welcomed commencement guests to the ceremony, followed by which Mr. Jeff Minges, President and CEO of Minges Bottling Group delivered an insightful, inspirational commencement address. Minges spoke candidly about his college experience and explained to graduates there was not a day that went by when he did not reflect on the fact that he had not completed his degree. "We all have choices in life to make…it's what we make of those choices that define who we become." Minges urged graduates to remember the value of a strong work ethic, citing his own experience starting his first job at age fourteen. Minges was required to rise through the ranks of his family's business, and regardless of the task at hand, learn each aspect of the company's operations.
Minges went on to further explain that perseverance during times of adversity is a critical element for personal success. He heralded the value of mentorship and the importance of accepting constructive criticism, being willing to accept correction and move forward. Risk and opportunity, he explained, were inextricably linked. "When you're given opportunities, take them. Don't be left at the starting line because you're afraid to try…throw off those bow lines and discover what this world has to offer."
In keeping with tradition, awards for PCC's Outstanding Student, Faculty, Staff, and Alumnus were all presented. Mr. Jamie D. Gibbs, Vice President of Student Services proudly awarded Zachery James the 2015 Award for Outstanding Student, followed by Dr. Maria Fraser-Molina, who presented awards for Full-Time Faculty and Adjunct Faculty of the Year. PCC Mathematics Instructor Mr. Greg Gallagher received overwhelming support as the 2015 Full-Time Faculty of the Year, followed by which Ms. Lois Moye, received Adjunct of the Year. Ms. Michelle Willis Krause, PCC Chair of Off-Campus Programs and the college's Criminal Justice Instructor, was named Alumnus of the Year award, which was presented by Mr. Jim Kellenberger, Executive Director of the PCC Foundation. Mr. Jim Curry, Vice President of Administrative Services presented the 2015 Outstanding Staff Award. This year's award went to Mr. Ed McNally, member of the Maintenance Department.
Graduation festivities culminated with a reception in the Johnson Building, open to all attendees. The buzz in the air was palpable, as the evening was one filled with excitement, and the promise of bright futures. Without question, commencement is the most important event of the year at Pamlico Community College. It represents the college making good on its promise to provide accessible and affordable quality education, workforce training, and lifelong learning opportunities to those in its community. Preparing well-trained graduates is a commitment both college faculty and staff take seriously. Graduation day is the culmination of Pamlico Community College's promise to the citizens of Pamlico County. Here's to the class of 2015! Well Done PCC Graduates!
_______________________________________________________________________________________________________________________________________________________________
Staff Reports
In a joint press conference Tuesday Pamlico County Sheriff Chris Davis and District Attorney Scott Thomas detailed a six month-long undercover drug bust titled "Operation Clean Slate." According to Davis, "the operation targeted criminal suspects who have been engaged in the illegal sale and distribution of drugs in Pamlico County. Over the last several months investigators have made numerous controlled purchases of drugs from drug dealers operating."
The joint operation conducted on Monday, May 18, included the Pamlico County Sheriff's Office, North Carolina Alcohol Law Enforcement, North Carolina State Bureau of Investigation, and North Carolina Probation and Parole resulting in the arrest and charging 23 suspects with drug violations. As of today (Tuesday), 5 suspects are still at large.
"I am pleased with the work of the men and women who work for this office. Over the last 6 months our deputies and investigators have worked countless hours investigating drug violations within Pamlico County and today we as a community begin to feel the results," Davis said. "As I have promised to the citizens of Pamlico County, this is only the beginning and we will not stop here. As we have in the last few months, we will continue to work with the District Attorney's Office to assure these criminals are receiving the appropriate sentence."
District Attorney Scott Thomas said, "I am proud of the work by Sheriff Chris Davis and his team. They have spent many hours working on these cases in Operation Clean Slate. Illegal drug activity is a major problem that will not go away on its own. A coordinated effort by law enforcement and prosecutors is required to address this activity. I will continue to work with Sheriff Davis to identify, investigate and prosecute drug dealers in Pamlico County. Assistant District Attorney Laura Bell and I will work to prepare these cases for court so that we can obtain the appropriate dispositions and sentences. At the conclusion of this operation and prosecutions, Pamlico County will be a safer place. I look forward to continuing to work with Sheriff Davis and his team in our ongoing efforts to hold criminals accountable for their conduct."
Those arrested were:
Kayla Marie Morris
W/F, DOB 03/12/1994
CHARGES: Conspire to Sell/Deliver Heroin Maintain a Vehicle/Dwelling for Sell/Deliver Controlled Substance
BOND: $10,500.00 Secured
Emari Marissa Ford
W/F, DOB 11/17/1990
CHARGES: (3 Counts) Possession with intent to Sell/Deliver Heroin (3 Counts) Possession of Drug Paraphernalia
BOND: $5,000.00 secured
Channying Bell
W/F, DOB 04/02/1987
CHARGES: Conspire to Sell/Deliver Heroin, Maintain a Vehicle/Dwelling for Sell/Deliver Controlled Substance
BOND: $10,000.00 secured
Maurice Eugene Moore
B/M, DOB 10/26/1981
CHARGES: (3 Counts) Possession with intent to Sell/Deliver Heroin (3 Counts) Possession of Drug ParaphernaliaBOND: $1,620,000.00 secured (Also being held on previous drug charges)
Terry Ormond
W/M, DOB 01/14/1992
CHARGES: Possession with intent to Sell/Deliver Schedule II Controlled Substance
BOND: $20,000.00 secured
Elizabeth Ashlee O'Neal
W/F, DOB 06/12/1988
CHARGES: Conspire to Sell/Deliver Heroin
BOND: $10,000.00 secured
Sherri Ireland Ford
W/F, DOB 03/30/1963
CHARGES: (6 Counts) Trafficking Opium or Heroin (1 Count) Possession of Drug Paraphernalia
BOND: $700,000.00 secured
Ronsheda Mattocks
B/F, DOB 07/09/1988
CHARGES: Conspire to Sell/Deliver Heroin, Maintain a Dwelling for Sell/Deliver Controlled Substance
BOND:$100,000.00 secured
John Pernell Harrison
B/M, DOB 02/22/1986
CHARGES: Possession with intent to Sell/Deliver Cocaine, Possession with intent to Sell/Deliver Heroin, Possession of Drug Paraphernalia
BOND: $15,000.00 secured
Tamir Raynell Simmons
B/M, DOB 11/28/1980
CHARGES: Possession with intent to Sell/Deliver Heroin, Sell/Deliver Heroin, Conspire to Sell/Deliver Heroin
BOND: $40,000.00 secured
Emily Herring
W/F, DOB 03/20/1989
CHARGES: Obtain Property by False Pretense, Felony Conspiracy
BOND: $15,000.00 Secured
Kendryk Ramon Smith
B/M, DOB 10/20/1982
CHARGES: (3 Counts) Possession with intent to Sell/Deliver Heroin, (1 Count) Possession with intent to Sell/Deliver Cocaine, (4 Counts) Possession of Drug Paraphernalia
BOND: $50,000.00 secured
Andre Ganus
B/M, DOB 03/15/1985
CHARGES: (3 Counts) Possession with intent to Sell/Deliver Marijuana, (1 Count) Possession with intent to Sell/Deliver Schedule II CS, (3 Counts) Possession of Drug Paraphernalia
BOND: $50,000.00 secured
Christina Rice Cowell
W/F, DOB 06/25/1973
CHARGES: (2 Counts) Possession with intent to Sell/Deliver Schedule II CS, (1 Count) Possession of Drug Paraphernalia
BOND: $15,000.00 secured
Katie Moore
W/F, DOB 07/09/1993
CHARGES: (2 Counts) Conspire to Sell/Deliver Heroin, (1 Count) Possession with intent to Sell/Deliver Heroin, (1 Count) Maintain a vehicle for Sell/Deliver Controlled Substance
BOND: $30,000.00 secured
Carla Marie Lovick
B/F, DOB 06/01/1975
CHARGES: Possession with intent to Sell/Deliver Heroin, Possess Drug Paraphernalia
BOND: $6,000.00 secured
Stacy Thompson
W/F, DOB 03/12/1975
CHARGES: Conspire to Sell/Deliver Heroin
BOND: $15,000.00 secured
Kenneth Clay Layden
W/M, DOB 03/17/1989
CHARGES: Sell/Deliver Heroin, Possession with intent to Sell/Deliver Heroin, Conspire to Sell/Deliver Heroin
BOND: $50,000.00 secured
Chelsey Faith Bland
W/F, DOB 04/16/1991
CHARGES: (2 Counts) Trafficking Opium, (1 Count) Conspire to Traffic Opium
BOND: $50,000.00 secured
Tonya Kay Griffin
W/F, DOB 08/29/1981
CHARGES: Obtain Property by False Pretense
BOND: $6,000.00 secured
Ronald Lorenzo Grimes
B/M, DOB 10/02/1952
CHARGES: Felony Possession of Schedule II Controlled Substance, Possession of Drug Paraphernalia
BOND: $15,000.00
Jason Rochelle
W/M, DOB 01/05/1978
CHARGE: Possession with intent to Sell/Deliver Schedule II Controlled Substance
BOND: $5,000.00 Secured
Also during the operation, Investigators served Kelly Jackson Gibbs Jr. with a (9) count federal indictment. On March 16, 2015, Kelly Jackson Gibbs Jr. was arrested after a search warrant was executed at a residence in Reelboro. At the time of his arrest Kelly Jackson Gibbs Jr. was found to be in possession of approximately 20 grams of Heroin and (2) handguns. Through interviews, information received from confidential informants, and the investigative process, Kelly Jackson Gibbs was indicted for the following violations:
Count 1- Conspiracy to distribute and possess with the intent to distribute one hundred (100) grams or more of heroin and a quantity of cocaine
Counts 2 through 7- Distribution of a Quantity of Heroin
Count 8- Possession with the intent to distribute a quantity of heroin, a quantity of cocaine and a quantity of buprenorphine
Count 9- Possession of firearms and ammunition by a convicted felon
___________________________________________________________________________________________________________________________________