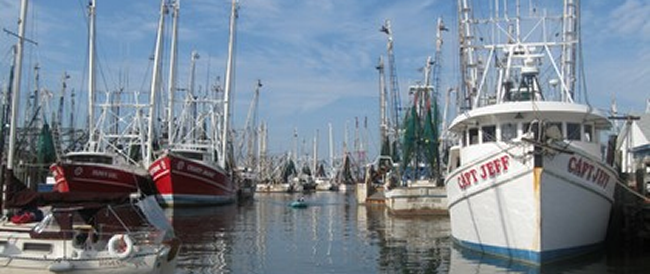 • Oriental Farmers Market Open Saturdays
The Oriental Farmers Market on Hodges Street is open every Saturday, 8-11 (beginning Nov. 29 - hours change to 9-noon). The market features a wide variety of goodies including farm fresh eggs, home-baked breads, biscotti, cookies, cakes as well as preserves and homemade chocolates. Don't miss the hormone-free, home-raised pork, an assortment of crafts that make great holiday gifts and an ever-changing selection of new items each week.
•Get Ready for Spirit of Christmas
Events on Friday evening, December 12, and before and after the parade on December 13, need to be discussed and added to the schedule of events. All organizations planning or have planned events are welcome to participate and help us coordinate a schedule. What and where food will be provided needs to be detailed. That would include local restaurants, non-profit groups, and local businesses. We would also like to know musical events, church services, etc. At this point we are looking at setting out Luminaries on Friday evening in conjunction with lighting the Christmas Star, a lighted Boat Display and a lighted kayak/small vessel (no motors) parade. For more information contact Marsha Paplham at 249-0344 (work) or Larry Summers 675- 0467. Help us make this another great year for this traditional event.
• Class Offerings at Aurora Library
Computer Classes every Monday in November from 11:00 - 12:30 at Aurora Library. Join Hannah Easley for this series on Job Basics that will cover topics from E-mail basics, resume and cover letter basics, filling out online job applications and how to search NCworks.gov. All classes are free and open to the public. Call 252-322-5046 for more information. Also at the Hazel W. Guilford Memorial Library in November is Preschool story times every Tuesday at 10 a.m. and Recipe Swap - Nov. 10 at 10 -11 p.m. Mesh Wreath Making will be held Nov. 13 at 3 p.m. - bring in a wire wreath form, roll of mesh and embellishments for your wreath and make one in time for Christmas.
• Attention High School Students in Down East NC!

The FHC Down East Regional College & Career Fair featuring HBCUs is coming to New Bern on Saturday, November 29 from 9am - 1pm featuring such schools as North Carolina Central University, Fayetteville State, East Carolina University, Craven Community College, Elizabeth City State University, NC State, ELON University, US Army, US Army National Guard, and more! The event will be hosted at the Stanley White Recreation Center, 901 Chapman Street, New Bern, NC. We are also featuring financial aid information, how to pay for college and SCHOLARSHIP INFO! THIS IS A FREE EVENT! For more information contact Marv Credle at 703-587-4947 or marv.credle@gmail.com
• "Christmas in America" in Vandemere
Vandemere United Methodist Church is hosting Eric Horner for a special "Christmas in America" performance
on Tuesday, December 2, at 7:00 pm. This free Christmas concert is one of many that Eric will be performing across the United States as he brings the message of Christ through his music. He has played for and toured with several Nashville greats such as Lee Greenwood, Shania Twain, Brad Paisley and Wynonna Judd. To learn more about his ministry, go to his website www.erichorner.com.
• Holiday Crafts Show Open at Library
The Pamlico County Arts Council and the Friends of the Pamlico County Library are happy to host the 3rd
annual Holiday Crafts Show for the month of December. A wide variety of handmade works of sewing, knitting,
jewelry, woodworking and more will be on display and for sale. Come join us at the Opening Reception on Saturday, December 6th, 10 to 2pm. Enjoy holiday cookies and hot cider, and from 11 to noon, mingle with some of the artists showing off their wares. Shop for lovely gifts and decorations for you holiday needs.
• Casting Call: Love Letters Auditions December 8, 9, 10
The Old Theater is happy to announce auditions for Love Letters, a play written by A.R. Gurney and directed by Jackie Mahan. Auditions will be held at The Old Theater on December 8, 9 & 10 from 7–9 p.m. (Attendance is only required at one audition.) The play performances will be on March 13, 14 & 15. All details about rehearsals (days, times, etc.) will be provided at the auditions.
Love Letters is a unique and simple, but imaginative drama, delivered in an epistolary style. It was a runner-up for a Pulitzer prize. The play consists of letters written by two friends who grew up together, went their separate ways, and continued to share confidences. These relationships transcend today's world of social media, developing and deepening thanks to the handwritten word. The letters are read on stage, requiring very limited line memorization. The play has two characters, a woman, rebellious Melissa Gardner, and a man, the straight-arrow Andrew Makepeace Ladd III, who have exchanged notes, cards and letters with each other for over 50 years. Behind the scenes volunteers (light props, set, costume work) are also needed. For further information, contact Jackie Mahan, 252-249-1340, jax.mahan@gmail.com.
• Time to Donate a Toy
Help deliver a message of hope to less fortunate children by donating a new unwrapped toy for Christmas. New Bern Parks and Recreation, in collaboration with the U.S. Marine Corp Reserves, will be collecting toys for the 2014 Christmas season. Please drop off your new toy donation at West New Bern Recreation Center located at 1225 Pine Tree Drive or Stanley White Recreation Center located at 901 Chapman Street. For more information please contact Shelley Collins at 252-639-2912. You may drop off Monday-Friday 9am-5pm from October 31- December 15.