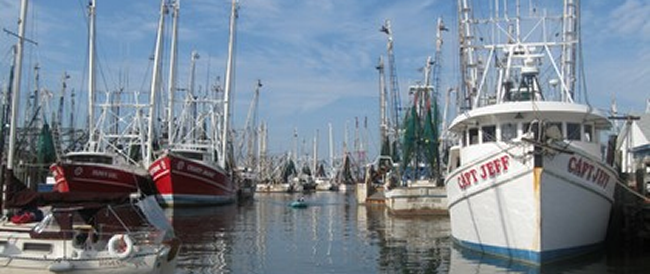 • Oriental Farmers Market Open Saturdays
The Oriental Farmers Market on Hodges Street is open every Saturday, 8-11 (beginning Nov. 29 - hours change to 9-noon). The market features a wide variety of goodies including farm fresh eggs, home-baked breads, biscotti, cookies, cakes as well as preserves and homemade chocolates. Don't miss the hormone-free, home-raised pork, an assortment of crafts that make great holiday gifts and an ever-changing selection of new items each week.
• Alliance Pentecostal Hosts Fundraiser
The Alliance Pentecostal Holiness Church located at 194 Main Street in Alliance is raising money to replace
the church floor. Through sales at the local consignment shop, "New To You," located at the intersection
of Route 304 and Highway 55 in Bayboro, adjacent to the post office. Ellen Cunio, parishioner of Alliance
Pentecostal Holiness Church and volunteer at "New To You," stated that all proceeds from the store will go
directly to a fund for the floor replacement. The shop is open Wednesdays and Saturdays from 8am to 5pm
and is seeking donations of slightly used goods, including household items, clothing, jewelry, tools, toys,
antiques and so much more. As always, the Alliance Pentecostal Holiness Church welcomes new members and is grateful to the residents of Pamlico County for their continued support. For more information, call Ellen Cunio at 252.675.3338.
• Oriental Woman's Club to Host Annual Arts Festival
This month the Oriental Woman's Club (OWC) will host its annual Arts Festival. The festival showcases the art work of local young artists from our county schools, educational and rehabilitation centers. This event provides a wonderful vehicle to show off and celebrate the talent and creativity of for our community. Awards will be given for work in many mediums including painting, multimedia and creative writing. The event will culminate in an Open House on Sunday January 25th from Noon to 3PM to showcase all of the winners and entries. Clubwomen will be at the open house as well displaying and selling some of their art and serving light refreshment. The members of the OWC look forward to seeing you there.
The event will run from January 22nd thru the 25th at the clubhouse on Gilgo Street in Oriental.
Chairwoman Dale Murena promises some unique and wonderful entries. Coordinating the student entries again this year is Nelda Coats. Suzanne Johnson and Carol McAdoo will manage the Clubwoman entries and other Artfest entries will be handled by Jean Chastang.
Here is the schedule for the event;
January 22nd 9 AM to Noon :Registration for Clubwoman art
January 23rd: Entry Judging
January 24th from 1-4 PM; set up for clubwoman wishing to exhibit or sell their works
January 25th from Noon to 3 PM: COMMUNITY OPEN HOUSE.
For more information please contact Dale Murena at 246-6059
• Harbor Sounds Benefit Concert
Harbor Sounds will perform in concert on Friday, January 23 at 7 p.m. at Anointed Remnant Church at 7728 Kershaw Road in Arapahoe. The concert will be a benefit for the revitalization of this historic church.
• Community Forum on Human Trafficking
A community forum will be held on Monday, January 26, 2015 on human trafficking at St. Thomas Church in Oriental. After drug dealing, human trafficking is tied with the illegal arms industry as the second largest criminal industry in the world today, and it is the fastest growing. Severe forms of this activity are sex trafficking and labor trafficking. Pat Strickland is the speaker and founder of Eastern North Carolina Stop Human Trafficking Now. ENC Stop Human Trafficking is a member of the NC Coalition Against Human Trafficking, and Pam is on the Executive Board. The program will be presented at St. Thomas from 1p.m. to 3 p.m. The public is invited. If you have any questions, you may call Virginia Goodwin, 249-3584.
• Chowder Cook Off Call for Chefs!
The Oriental Woman's Club is looking for this years' collection of superior chefs for the 8th annual Chowder Cook-off. The cook-off is scheduled for Saturday, March 14 at the Oriental Marina courtyard. Come and join us for the unofficial kickoff of our summer tourist season. The cook-off was the idea of Tom McIllhenny as an outgrowth of activities for the Tourist Board. The cook-off encourages local businesses and the community to work together on fund raising for local charities. If you are interested in participating as one of this years' chefs, please contact Kaitlin Sobrack at 249-1462 by March 1st. Mark your calendar for some fun and great food!