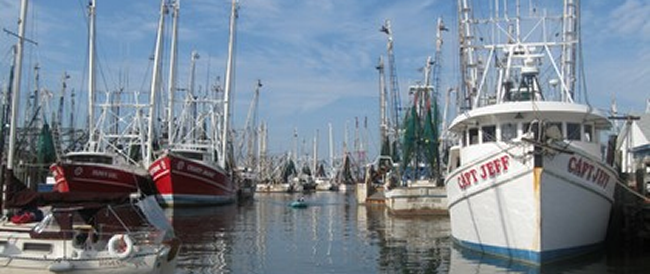 • Operation Veggie Box Needs Your Help
Friday is the big 2nd Annual Operation Veggie Box event where the community will turn out to put onions, potatoes, sweet corn, and a spiritual message in these boxes! Food pantries will show up to pick up these boxes for delivery and we will load a U-Haul truck to haul 500 boxes to Washington DC, MD, VA, and NJ. The community's help would be most appreciated at this event held at Bethany Christian Church beginning at 8 a.m.
• Paradise Cove Hosts Second Annual Cardboard Boat Regatta
Here's your chance to prove your boat-building skills! Paradise Cove Marina's 2015 Cardboard Boat Regatta will be held this Saturday, June 27, at the marina located at 1242 Paradise Shores Road in Merritt. The official cardboard boat regatta rules state that the entire boat must be built from cardboard and duct tape. Duct tape may be used to reinforce seams. Last year's regatta was a huge success with over ten boats racing with some very impressive times and also some very impressive sinkings. Deemed "the funniest event in Pamlico County," this year's event promises not to disappoint. Awards will be given for first, second and third place finishers as well as for the "Pride of Pamlico" for the most spirited team and the "Titanic Award" given to the boat that sinks in the most spectacular fashion. There is a $15 entry fee for each boat entered which will be donated to P.A.W.S. The event will be emceed by Mac McWilliams and Saltwater Nugget will be performing live music at the completion of the race. The race begins at 2 p.m. Entrants can arrive earlier to construct their vessel. Paradise Cove Marina's Captain's Bar & Grill, home of the "Carolina Cheesesteak" is now open and food and drinks will be available for purchase. Capacity and parking is limited. No coolers or food and drink can be brought on to the premises. For complete rules and regulations contact Paradise Cove Marina at 252.249.2025.
• Radio Field Day Set for Oriental
On Saturday June 27th from 2pm to 6pm and on Sunday June 28th from 9am to 2pm the public is invited to participate in this year's national amateur radio field day event being held locally along the Neuse River across from 1121 Neuse Dr. in Oriental. The Pamlico Amateur Radio Society (PARS) will have amateur radio stations set up to demonstrate off-grid radio communications within the North and South American region. The public, including children, with the supervision of a licensed amateur radio operator can use the Get-On-The-Air (GOTA) station to communicate with others throughout the Americas and learn how exciting amateur radio is. For more information: N4PRS.org and ARRL.org
• Book Signing in Oriental
Book Babes invites the public to a reading and book-signing by author and poet, Liza Wieland, to celebrate the publication of her latest novel, Land of Enchantment, on Saturday, June 27, 4-6 pm, 502 Hodges Street @ the corner of Broad and Hodges (the old hotel) in Oriental. Wine and cheese served. Many thanks to Beth Frazer & Associates for the generous donation of the venue for this event.
Book Babes, one of the book clubs in Oriental, has read two novels by Wieland and been fortunate to discuss them with the author who lives outside the town of Oriental.
"A beautifully written, dizzyingly knowledgable examination of the intersection between art and life. It is the best novel I've read in the past year." - Charles Frazier, winner of the National Book Award for Cold Mountain.
In the News & Observer 03/23/2015, Dannye Romine Powell reviewed Wieland's "provocative fourth novel, Land of Enchantment: How we fall into and away from those we love
• Transgender Film in Aurora
The video "I Am" will be previewed at the Aurora library on Tuesday, July 7th at 7pm. This is a video that speaks to the experience of folks who are transgendered, raising awareness about their journey through the process. Bringing awareness to equities in the provision of healthcare, continual stigmatization, and mental health outcomes of this segment of our population are all topics intertwined within the segment. A 45-minute exercise will follow. For more information, call Austin Joseph -252-617-5946 or via email at austinjosephfonville14@gmail.com
Ongoing Events
• Brazilian Jiu-jitsu
New Bern Parks and Recreation Department is sponsoring Brazilian Jiu-Jitsu for boys and girls ages eight to thirteen. Brazilian Jiu-jitsu is a martial art that teaches a smaller person "male or female" how to defend themselves against a larger person. It is a combination of judo and Japanese jiu-jitsu. It is popular around the world and soon to be an Olympic sport. This class will be Mondays and Wednesdays from 7:00 p.m. until 8:15 p.m. beginning June 22 at the Stanley White Recreation Center located at 901 Chapman St. The cost is only $20.00 per participant for a four week class session. Registration has begun and participants must bring a copy of a recent physical in order to sign up for the class. For more information contact Gus Hill 639-2908.
Open Jam Session

At the PCC Johnson Building Mall at 6:00pm on the 3rd and 5th Thursday of each month there is an open jam session. This is an informal gathering for any and everyone who enjoy a pickin' and a playin' and a singin'. For information call Leigh Russell at (252) 249-1851 Ext.3033 or Denise Meyerson at 252-249-1851x3034.
• Croaker Festival Planning Underway
Planning is currently underway for the 2015 35th Annual Croaker Festival. As always it takes many talented
volunteers to ensure a successful festival. The Croaker Committee is seeking volunteers to serve on this year's crew. We are in immediate need of help in Advertising/Sponsorships, Vendors, t-shirt Design, Croaker Booth and Publicity. If you can spare some time please contact Cheryl @ cetsail23@aol.com or 252-249-0510.
• Oriental Farmers Market Open Saturdays
The Oriental Farmers Market on Hodges Street is open every Saturday, 8-11 (beginning Nov. 29 - hours change to 9-noon). The market features a wide variety of goodies including farm fresh eggs, home-baked breads, biscotti, cookies, cakes as well as preserves and homemade chocolates. Don't miss the hormone-free, home-raised pork, an assortment of crafts that make great holiday gifts and an ever-changing selection of new items each week.
• Dragon Boat Practice Begins
Spring has arrived and it's time to get out on the water and have some awesome fun paddling on "Minerva," the Oriental Dragon Boat Club's dragon boat. Practice begins on Sunday mornings and Thursday evenings beginning on Sunday, April the 19th at 9am. Thursday practices will begin at 5:30pm. Meet at Clancy's Marina (located on Midyette Street just past Hodges St.) to gather and move the boat to the Wild Life Ramp. All that you need to do is dress in comfortable clothes, bring water and we'll provide the life jackets (or bring your own) and paddles. For questions, contact Linda Parker at 249-0888. Paddles up!
• New Interactive Community Calendar
Sheri Rettew, Executive Director of the Hope Clinic, has created an interactive community calendar for the Chamber of Commerce that is super user friendly! Anyone can log on and post an event to spread the word throughout the county. This free service is open to all community and civic groups, churches, schools, nonprofits, organizations, and businesses in Pamlico County and surrounding communities. Visit www.pamlicochamber.com and click on Community Calendar. Email info@pamlicocommunitycalendar.
com with questions or corrections.
• Blacksmiths Offer Workshop
A free workshop ispresented by the Blacksmiths of Pamlico County at the Heritage Center in Grantsboro from
11am to 2pm the last Saturday of every month. The blacksmiths will show you how to make simple things such as hooks so you can take something home.
• Narconon New Life Retreat Drug and Alcohol Rehabilitation and Education
Narconon would like to remind families that the use of addicting drugs is on the rise, take steps to protect your family from drug use. If you know anyone who is struggling with drug addiction get them the help they need. Call for a free brochure on the signs of addiction for all drugs. Narconon also offers free screenings and referrals. 800-431-1754 or DrugAbuseSolution.com
• ADDICTION COUNSELING
Narconon can help you take steps to overcome addiction in your family. Call today for free screenings or referrals. 800-431-1754