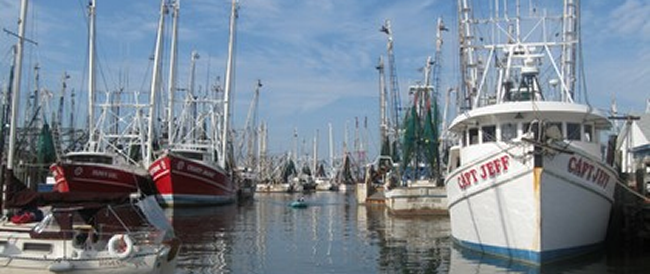 • OWC to Host First Fall Meeting
On September 2 the Oriental Woman's Club will hold is first fall meeting at 1pm at the Gilgo Street Clubhouse. The speaker will be Backpack Buddies from New Bern. Donations will go to Feed the Kids, a local charity focused on providing meals for underprivileged children.
• Coastal Women's Forum Hosts Dinner Meeting
The Coastal Women's Forum will hold its next Dinner Meeting on Tuesday, Sept. 2 at 6 p.m., at the Chelsea Restaurant in New Bern with former CWF President, Gayle Albertini, of Gayleforce Design, who will offer five budget friendly ways to self-promote your business. Informal Networking will begin at 5:30pm. The deadline for reservations is noon on Monday, Sept. 1. Contact Karen Monroe, Dinner Coordinator, at karmon210@yahoo.com, or call 757-343-4312. To learn more about what Coastal Women's Forum has to
offer, visit www.CoastalWomensForum.com for more information."
• Fort Macon Friends Host Lunch Meeting
Friends of Fort Macon will meet at 11:30 a.m., Wednesday, Sept. 3, at the Golden Corral, Morehead City. The public is invited to the monthly Dutch-treat lunch, no reservations needed. Program begins at noon with speaker Sue Stuska, Ed.D., wildlife biologist at Cape Lookout National Seashore, specializing in horses (notably those on Shackleford Banks). She will talk about the latest developments at Shackleford with specifics about the horses thriving there. For information, call 354-5259.
• Pamlico Chorale Kicks Off 26th Season
The Pamlico Chorale will begin rehearsing for its 26th year of singing choral music on Monday, Sept. 8 at 7pm in the Oriental United Methodist Fellowship Hall. Started in the Old Theater in 1989 with 20 people that love singing and growing at one time to 75 members, the Chorale has provided music for the Spirit of Christmas, Spring Concerts, Croaker Festival, Thanksgiving and other special occasions. The only requirement of the group is that you have a little knowledge of music and a love for sharing it with other people. The Pamlico Arts Council has been a supporter of our group for years. We offer graduating seniors scholarships when they sing with us and have awarded ten scholarships so far. We hope to see new faces at our first rehearsal. For more information call 249-2475.
• Friday Flicks Presents White Squall
Based on a true incident from 1960, White Squall is the story of the tragic sinking of the brigantine Albatross during a Caribbean storm. The Albatross was home to a prep school educational program combining classroom
work with real-life adventure, and captained by the grizzled seafaring captain, Christopher Sheldon (Jeff Bridges). Rated PG-13. The date is Sept. 19 - Box Office opens at 6:30 p.m. ~ Doors open at 7:00 ~ Movie starts at 7:30 p.m. Tickets: $5.50 (includes sales tax). Your admission includes free popcorn and the first episode of the 1936 short series SOS Coast Guard. Bela Lugosi stars as a mad scientist attempting to sell his super-weapon, "disintegrator gas," to the highest bidder. All proceeds go to the support of The Old Theater, a non-profit organization
• Uniform, Shoe Sale at CarolinaEast
The CarolinaEast Auxiliary will hold a uniform and shoe sale in the AHEC Classroom 1 at the hospital. Sept. 29-30. Proceeds will go to the CarolinaEast Health System for patient care items, equipment, grants and scholarships. For more information call Jane Moore at 637-5547 or the gift shop at 633.8086.
• New Fossil Exhibit at History Museum
Oriental's History Museum has just updated its collection of artifacts and fossils thanks to a loan from the Aurora Fossil Museum. Stop in with your children and grandchildren to see the whale vertebrae, shark's teeth and more. We are located at 802 Broad Street. Museum hours are: Friday 11am – 3pm, Saturday 1 – 4pm and Sunday 1 – 4pm. For more information contact museum@dockline.net.
• PCHC Offers Market Spaces
The Pamlico County Heritage Center is offering spaces in its parking lot on Saturdays. The spaces are available to the public for a price of $20. Hours of operation are from 7am through 3pm. Spaces may be utilized for bake sales and yard sales only. No alcoholic beverages or drugs for illegal use are allowed. Contact Pat Prescott at (252) 745- 2239 for more information or to schedule a space.
• Aurora Farmers Market Open
Aurora/Richland Township Farmers Market is open Saturdays, 7:30 am - noon, at fossil festival field on Chapin and Third Streets across from water tower and police station. Come by and enjoy the morning with us. For more information, stop by the Chamber office open Tuesdays from 9 am until 1 pm. Leave a message at the chamber 252-322-4405, e-mail us Aurorachamber@embarqmail.com or call Gail at 252-944-7868.
• Monarch to host first golf tournament in New Bern Sept. 11
Monarch will host its first Dreams Take Flight Golf Tournament at the New Bern Golf & Country Club on Thursday, Sept. 11. Funds raised from the event will benefit the programs and services Monarch provides in Craven, Jones and Pamlico counties to people with intellectual and developmental disabilities, mental illness and substance abuse disorders. Registration begins at 8:30 a.m. and tee time is 10 a.m. Dozens of teams will participate to support Monarch and compete for the championship title. Corporate tournament sponsors in Craven County include Cella Ford, Seniors Choosing to Live at Home, Sears and Zaxby's. The Dreams Take Flight Golf Tournament sponsorship opportunities provide statewide exposure to businesses and community partners. To register, become a sponsor or for more information about the tournament, please contact Sylvia Hancock, regional administrative director at Monarch, at sylvia.hancock@monarchnc.org</promail/src/compose.php send_to=sylvia.hancock@monarchnc.org> or (252) 671-0337. You can also visit www.monarchnc.org<http://www.monarchnc.org> for details or to register online. Lunch is included in the price of registration.