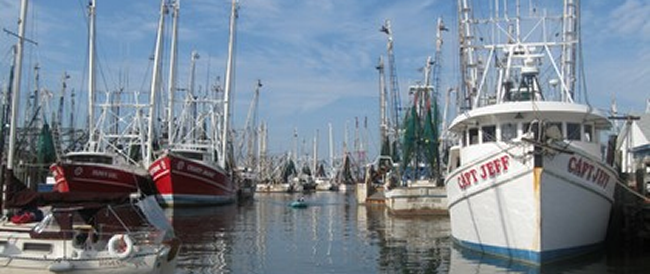 • Croaker Festival Planning Underway
Planning is currently underway for the 2015 35th Annual Croaker Festival. As always it takes many talented
volunteers to ensure a successful festival. The Croaker Committee is seeking volunteers to serve on this year's crew. We are in immediate need of help in Advertising/Sponsorships, Vendors, t-shirt Design, Croaker Booth and Publicity. If you can spare some time please contact Cheryl @ cetsail23@aol.com or 252-249-0510.
• Calling All Artists!
This year marks the 35th Anniversary of the Pamlico County Croaker Festival! To celebrate a "35th Anniversary, one would receive Coral, therefore, this year's theme is "Croaker, swimming among Coral".
The Croaker Committee is seeking a T-shirt design depicting this theme. If you are interested in designing
this year's T-shirts please send a "rough draft" using color to P.O. Box 1067, Oriental N.C. 28571 or you
may drop it by 209 Neuse Street in Oriental. Entries must be submitted by April 8, 2015. The winning entry
will be honored in the Croaker Festival Program and on our website.
• Oriental Farmers Market Open Saturdays
The Oriental Farmers Market on Hodges Street is open every Saturday, 8-11 (beginning Nov. 29 - hours change to 9-noon). The market features a wide variety of goodies including farm fresh eggs, home-baked breads, biscotti, cookies, cakes as well as preserves and homemade chocolates. Don't miss the hormone-free, home-raised pork, an assortment of crafts that make great holiday gifts and an ever-changing selection of new items each week.
• Dragon Boat Practice Begins
Spring has arrived and it's time to get out on the water and have some awesome fun paddling on "Minerva," the Oriental Dragon Boat Club's dragon boat. Practice begins on Sunday mornings and Thursday evenings beginning on Sunday, April the 19th at 9am. Thursday practices will begin at 5:30pm. Meet at Clancy's Marina (located on Midyette Street just past Hodges St.) to gather and move the boat to the Wild Life Ramp. All that you need to do is dress in comfortable clothes, bring water and we'll provide the life jackets (or bring your own) and paddles. For questions, contact Linda Parker at 249-0888. Paddles up!
• Coastal Conference Set for April 14
Registration is now open for North Carolina's Coastal Conference on April 14 in Raleigh. Sponsored by the University of North Carolina System and hosted by North Carolina Sea Grant, the day will begin with panels and discussions at NC State University's McKimmon Center, and will conclude with an evening reception at the N.C. Museum of Natural Sciences. Contact Katie Mosher, 919-515-9069, kmosher@ncsu.edu for more information.
• Community Fun Day in Aurora
The Aurora Fire and Rescue will host Community Fun Day on Saturday, April 18, noon-4pm. Everyone is
invited to this free annual fun and informative event for all ages. There will be a smoke house, bounce house,
fire truck and ambulance tours, law enforcement, hot dogs, drinks and so much more - all free.
• St. Mark Church Anniversary
St. Mark Church of Christ Disciples of Christ will celebrate its Church Anniversary on Sunday, April 19 at 3pm. Come out and enjoy the Bishop Edward L. Pollock and the Grifton Church of Christ Disciples of Christ. For more information call First Lady Josephine Slade at 252-814-9451.
• Get Ready for PAWS Parade
It's time for tail wagging again at the 10th Annual PAWS Dog Parade to be held on Saturday, April 25th at Lou Mac Park. Registration on the day of the parade is from 10:00- 11:00am. The parade begins at 11am. Those who want to pre register can do so at The Bean on Saturday, April 18th or Wednesday, April 22 from 10am-noon. The entry fee is $5.00 for each dog and remember to have all vaccinations up to date and your dogs properly leashed. This year's parade will be dedicated to Skip Waters who served as head judge for past parades and was a constant supporter of animal welfare.
• Relay for Life Events
Relay for Life Monthly Meetings held at Stonewall United Methodist Church at 6pm are as follows: April 21 and April 28, which will be a bank night only. The event date is May 1 with opening ceremonies at 6pm. There will be a Survivor Dinner, date to be announced, some time in April.
• Mad Hatter Ball Plans Underway
Pamlico Partnership for Children's NAPA Pamlico Parts Mad Hatter Masquerade will be held Saturday, May 2 at PCC Delamar Center. Individual tickets are $50, table of eight is $380 until April 24. Contact Michelle Shields
at 252-745-7850 for more details.
• Town-Wide Yard Sale May 2
The 10th Annual Town-Wide Yard Sale in Oriental will be held Saturday, May 2, 7am-noon. Residents,
businesses and non-profit organizations throughout the village will be selling everything you can imagine.Call Marsha at 249-0334 or email marsha@ marshascottage.com. There are also registration forms available at Village Hardware.
• Narconon New Life Retreat Drug and Alcohol Rehabilitation and Education
Narconon would like to remind families that the use of addicting drugs is on the rise, take steps to protect your family from drug use. If you know anyone who is struggling with drug addiction get them the help they need. Call for a free brochure on the signs of addiction for all drugs. Narconon also offers free screenings and referrals. 800-431-1754 or DrugAbuseSolution.com
• ADDICTION COUNSELING
Narconon can help you take steps to overcome addiction in your family. Call today for free screenings or referrals. 800-431-1754