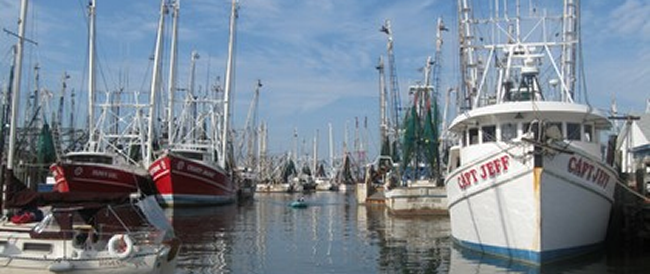 • CarolinaEast Hosting Heart to Heart Over Lunch: Four Part Series Focuses on Heart Health During Heart Month
In recognition of Heart Month, CarolinaEast Medical Center and doctors from CarolinaEast Physicians are hosting four lunch and learn sessions highlighting heart health and the latest advancements in the treatment of cardiac disease.
"Heart to Heart Over Lunch" will include a light lunch to be enjoyed while heart care professionals share valuable and timely information. All four sessions will be held at noon in the Auditorium on the medical center campus. The first session will be held on February 2 featuring Dr. Matt Grove discussing Coronary Artery Disease. Dr. Matt Levine will lead a conversation on Congestive Heart Failure February 9. The third session will be held on February 16 and feature Dr. Chris Hudson discussing the capabilities of Electrophysiology. The final lunch and learn on February 26, Dr. Piotr Dumicz will focus on the leading edge "Maze" procedure that reverses atrial fibrillation through surgical intervention.
"Heart to Heart Over Lunch" is being offered free of charge as a community service of CarolinaEast Health System. Seating is extremely limited at all sessions. Registration is required! Visit HYPERLINK "http://www.carolinaeasthealth.com/events" www.carolinaeasthealth.com/events or call 252-633-8154 to reserve your seat or for additional information.
• New Bern as it Really Looked in the 1860s
NEW BERN - A federally-occupied town throughout most of the Civil War, New Bern was filled with Union Soldiers and their many followers. This occupation attracted numerous photographers who plied their trade all over town, taking both official and personal photos. Their work created a unique photographic record that captured the essence of New Bern as it looked during the Civil War. Peter Sandbeck, Cultural Resources Coordinator for Orange County's Division of Natural and Cultural Resources will present a fascinating look at New Bern's rich photographic history during the 1860s at the February 10 Historical Society Lunch & Learn.
Sandbeck is a historic preservation consultant and the author of a comprehensive guide to architecture in Craven County, NC entitled The Historic Architecture of New Bern and Craven County, North Carolina. His book is considered the authority when it comes to New Bern structures. Prior to his current position, Peter worked at the North Carolina Department of Cultural Resources, State Historic Preservation Office. He was also the architectural historian at Tryon Palace and a project administrator at Colonial Williamsburg. Sandbeck received his BA in architectural history from the University of Virginia and has written numerous articles in historic preservation journals and newsletters. He is a lively and well-informed speaker.
Lunch & Learn starts at 11:30 a.m. at the Chelsea Restaurant, 335 Middle Street, New Bern. Tickets are $16 for Historical Society members and $18 for non-members; lunch is included. Tickets must be purchased in advance by calling the New Bern Historical Society at 252-638-8558, or can be ordered at www.NewBernHistorical.org. Lunch choices are: Brown Butter Chicken with Rice Pilaf and seasonal vegetable and Shrimp Newburg in a mushroom, tomato and lobster sauce served over pasta.
• Heartworks volunteer workshop February 11
Interested in volunteering at HeartWorks? Come to an Open House/Orientation Session for new volunteers on Thursday, February 11 at 1pm. Volunteers are needed to mentor, teach literacy or math skills, arts & crafts, music, dance, chess, sports, gardening, the International Club, etc..,etc.. Join our dedicated group of volunteers in providing enrichment activities to the kids at HeartWorks' 21st Century Community Learning Center. Short and long-term commitments are available to meet your schedule. Help is also needed with fundraising. The meeting will be at HeartWorks on Hwy 55 in Bayboro. For more information or if you would like to start helping sooner, please contact Katherine Hudson, Volunteer Coordinator, at 252-745-9703 or send an email to volunteer@heartworksNC.org
• Shopping Trip to Raleigh February 12
New Bern Parks & Recreation is sponsoring a shopping trip to Triangle Town Center & Commons on Friday, February 12. The cost of the trip is $12 per person. Registration is underway at West New Bern Recreation Center. The last day to register is Thursday, February 11, or until sold out. Space is limited, so be sure to register early. For more information please contact the West New Bern Recreation Center at 639-2912.
• PAWS Yard Sale Set for February 13
The Pamlico Animal Welfare Society (PAWS) will hold a Yard Sale on Saturday, February 13 from 9am-2pm at the Oriental Women's Club on Gilgo Road. Get your spring cleaning done early and donate items in good condition, large or small. (please no clothes) Items may be dropped off Thursday, February 11th between 10am-1pm and Friday, February 12th between 10am-2pm. Donate to a great cause! Come Saturday to buy! Questions or need help delivering items? Call Christine @249-3513.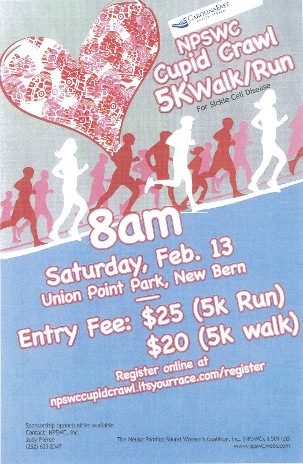 • Cupid Crawl 5K Walk/Run February 13
The Neuse Pamlico Sound Women's Coalition will sponsor the Cupid Crawl 5K Walk/Run on Saturday, February 13 in downtown New Bern – Union Point Park at starting at 8am. The entry fee is $25 for the 5K run and $20 for the 5K walk. Come out and join (New Bern native) Buffalo Bills NFL linebacker Kevin Reddick, Jr. #51. All registered participants will be eligible for special autographed footballs.
Working with GameOn, the Coalition is hosting this Valentine's Race to benefit individuals with Sickle Cell Disease in the surrounding counties, Carteret, Craven, Jones, Onslow, Pamlico and Pitt. The mission of the NPSWC is to "enhance the quality of life within our communities." This inaugural race looks to do so by celebrating those who are living with Sickle Cell Disease (SCD) and assisting those who cannot afford treatment, transportation or the expense of the other daily challenges that come along with battling this disease.
SCD is a devastating blood disease that affects millions worldwide, with over 300,000 of those living with it right here in the US. There is only one FDA approved medication for treatment & a shortage of specialists to treat the condition. This often overlooked disease affects the minority community at an alarming rate, yet funding for research and treatment is being eliminated. That is why the proceeds from the Cupid Crawl 5K will remain in our community.
The Cupid Crawl 5K will award overall winners, and every participant will receive a special Valentine's goody! We will also have special awards for walkers.
Visit HYPERLINK "http://npswccupidcrawl.itsyourrace.com/register" http://npswccupidcrawl.itsyourrace.com/register to register.
• Croatan Group to host Supt. Pat Kenney
The Croatan Group of the NC Sierra Club is proud to sponsor Superintendent Pat Kenney of the Cape Lookout National Seashore on Monday, February 15, 2016 at the Marine Lab Auditorium at Pivers Island, Beaufort, NC. The event will take place from 7:00 to 8:00 pm and there will be a "meet and greet" at 6:30. This event is free and open to the public. Superintendent Kenney will speak about current issues related to the national seashore and there will be time for questions and answers.
Http://croatangroup.wordpress.com
• Aurora Library Announces New Hours
Starting January 1st, the Hazel Guilford Memorial Library will launch its new hours. The biggest change - Thursday 11am to 7pm. Weekdays 9am to 5pm and Saturdays 9am to 12pm. More programs are planned for 2016. For more information call 252-322-5046.
Ongoing Events
• New Exhibit at Oriental History Museum
The Oriental History Museum has opened its newest exhibit on "Navigation Before GPS." How did sailors and boater find their way without current electronics. The exhibit illustrates traditional navigation techniques and the tools used "back in the day." Exhibit runs through May. Admission is always free. Museum hours are: Fri. 11-3, Sat. 1-4, Sun. 1-4. Contact: HYPERLINK "mailto:museum@dockline.net" museum@dockline.net.
• PARS Meeting
The Pamlico Amateur Radio Society (PARS) meets at Brantley's Village Restaurant at 9am on the last Saturday of every month (except June). We invite all HAMS and anyone interested in amateur radio to attend. Call Bill Olah KR4LO at 252-249-0287 for information. Visit our website: www.N4PRS.org
• Heartworks seeks volunteers
HeartWorks is a non-profit organization in Bayboro. The AfterSchool & Summer Programs serve K – 8th grade students and needs volunteers in a variety of capacities. You could tutor a child or help with the arts & crafts club, the music club or teach a child to play chess, to play a sport, or simply read books with the kids. Volunteers are also needed to help with food preparation. Want to start a book drive so every kid has at least 5 books at home? Have another idea? We will be happy to talk about it. Just because you travel a lot, doesn't mean you can't volunteer. HeartWorks can use you when you are available. If you would like to enrich the life of a child, call 252-745-9703 and ask for Katherine Hudson or email volunteer@HeartWorksNC.org
• Chorale Seeks More Voices!
Pamlico Chorale meets in the Oriental U. Methodist Church Fellowship Hall on Monday evenings at 7 p.m. Great fun will be had singing together. New members wanted!
Open Jam Session

At the PCC Johnson Building Mall at 6:00pm on the 3rd and 5th Thursday of each month there is an open jam session. This is an informal gathering for any and everyone who enjoy a pickin' and a playin' and a singin'. For information call Leigh Russell at (252) 249-1851 Ext.3033 or Denise Meyerson at 252-249-1851x3034.
• Brazilian Jiu-jitsu
New Bern Parks and Recreation Department is sponsoring Brazilian Jiu-Jitsu for boys and girls ages eight to thirteen. Brazilian Jiu-jitsu is a martial art that teaches a smaller person "male or female" how to defend themselves against a larger person. It is a combination of judo and Japanese jiu-jitsu. It is popular around the world and soon to be an Olympic sport. This class will be Mondays and Wednesdays from 7:00 p.m. until 8:15 p.m. beginning June 22 at the Stanley White Recreation Center located at 901 Chapman St. The cost is only $20.00 per participant for a four week class session. Registration has begun and participants must bring a copy of a recent physical in order to sign up for the class. For more information contact Gus Hill 639-2908.
• Oriental Farmers Market Open Saturdays
The Oriental Farmers Market on Hodges Street is open every Saturday, 9-12. The market features a wide variety of goodies including farm fresh eggs, home-baked breads, biscotti, cookies, cakes as well as preserves and homemade chocolates. Don't miss the hormone-free, home-raised pork, an assortment of crafts that make great holiday gifts and an ever-changing selection of new items each week.
• New Bern Farmers Market Open
This week at the New Bern Farmers Market features homegrown produce and farm products; handmade arts and crafts and baked goods. The Market is open Tuesdays, 10am - 2pm and Saturdays, 8am - 2pm.
• New Interactive Community Calendar
Sheri Rettew, Executive Director of the Hope Clinic, has created an interactive community calendar for the Chamber of Commerce that is super user friendly! Anyone can log on and post an event to spread the word throughout the county. This free service is open to all community and civic groups, churches, schools, nonprofits, organizations, and businesses in Pamlico County and surrounding communities. Visit www.pamlicochamber.com and click on Community Calendar. Email info@pamlicocommunitycalendar.
com with questions or corrections.
• Narconon New Life Retreat Drug and Alcohol Rehabilitation and Education
Narconon would like to remind families that the use of addicting drugs is on the rise, take steps to protect your family from drug use. If you know anyone who is struggling with drug addiction get them the help they need. Call for a free brochure on the signs of addiction for all drugs. Narconon also offers free screenings and referrals. 800-431-1754 or DrugAbuseSolution.com
• ADDICTION COUNSELING
Narconon can help you take steps to overcome addiction in your family. Call today for free screenings or referrals. 800-431-1754