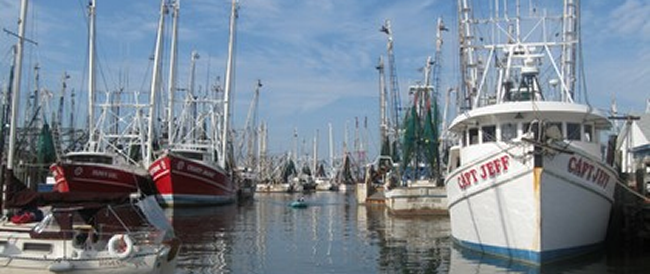 Archive of Previous Stories
Week of July 8, 2015
Three Campers From Don Lee Rescued After
Hobie Cat Capsizes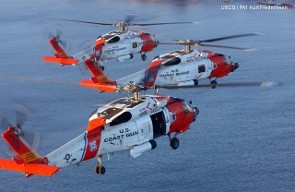 Three boys, ages fifteen to seventeen, were rescued by a Coast Guard Helicopter Rescue Swimmer on Saturday after their hobie cat capsized and drifted from shore. The incident began at 10:30 a.m. that morning when a group of campers on six hobie cats set sail from the Don Lee Methodist Campgrounds in Arapahoe and four of the boats overturned approximately one hundred to three hundred yards offshore. While the staff from the camp was assisting the boaters, one of the four hobie cats drifted out of sight. According to Petty Officer, Lindsey Neumann, camp officials alerted officers at the Hobucken Coast Guard Station about the missing campers at 12:40 p.m. and Sector NC immediately issued an urgent marine information broadcast and a 45 foot response boat was launched from the Hobucken Station and proceeded to the Neuse River vicinity of the campground.
The Coast Guard Sector Command Center then briefed the Coast Guard Air Station on the situation and soon after a rescue helicopter was deployed and arrived on the scene to join in the search for the missing sailors. The The Coast Guard response boat launched a shoreline search of the Neuse River. The helicopter then located the hobie cat and the three missing sailors in Turnagain Bay. Due to the shallow waters in Turnagain Bay, the response boat was unable to assist with the rescue. A rescue swimmer from the helicopter was then lowered into the water and hoisted the three sailors to safety. Unharmed and out of harms way, the three youths were then transported to Seafarer Campground where personnel from the Don Lee Methodist Campground were standing by. According to Camp Don Lee's website the camp has a progressive approach to teaching sailing and their youngest campers will be taught safe boating practices under the direction of an experienced sailing staff.
The U.S. Coast Guard recently released its 2014 Recreational Boating Statistics, revealing boating fatalities in that that year totaled 610 nationally, the second lowest number of yearly boating fatalities on record. In North Carolina the total number of reported boating accidents in 2014 was 124, twenty-two of them were fatal resulting in twenty-six deaths. The publication states alcohol use was the leading contributing factor in fatal boating accidents. Operator inattention, improper lookout, operator inexperience, excessive speed and alcohol use ranked as the top five primary contributing factors in accidents. The most common types of vessels involved in reported accidents were motor boats, personal watercraft and cabin motorboats. The vessel types with the highest number of fatalities were open motorboats, canoes and kayaks.
_____________________________________________________________________________________________________
N.C. Division of Marine Fisheries releases annual stock status report
MOREHEAD CITY – Five North Carolina coastal fish species were reclassified as viable by the 2015 Stock Status Report released today by the N.C. Division of Marine Fisheries.
The report also reclassified the status of three other species and removed one species from the report. Reclassifications are based on updated information through 2014.
The division annually classifies the status of important marine finfish, shellfish, shrimp and crabs as viable, recovering, concern, depleted or unknown. The classifications serve as a barometer of the overall health of the state's fishery resources, and they are used to prioritize development of state fishery management plans.
Definitions for each stock status category can be found at http://portal.ncdenr.org/web/mf/stock-status-categories-and-definitions.
Atlantic menhaden
Atlantic menhaden moved from concern to viable based on a Southeast Data, Assessment and Review 2015 benchmark stock assessment that indicates that Atlantic menhaden are neither overfished nor experiencing overfishing.
Overfished means the population size is too small. Overfishing means the annual catch rate is too high.
Black drum
Black drum moved from unknown to viable based on a 2015 Atlantic States Marine Fisheries Commission Black Drum Stock Assessment that determined that the stock is not overfished and not experiencing overfishing.
Kingfishes
Kingfishes moved from unknown to viable based on positive trends in biological data, as a regional stock assessment is not currently available.
King mackerel
King mackerel moved from concern to viable based on the 2014 South Atlantic Fishery Management Council stock assessment that indicates the South Atlantic king mackerel stock is not overfished and overfishing is not occurring.
Spotted seatrout
Spotted seatrout moved from depleted to viable based on a 2014 N.C. Spotted Seatrout Stock Assessment that indicates the North Carolina and Virginia stock is not overfished and overfishing is not occurring.
Black sea bass north of Hatteras
Black sea bass north of Hatteras moved from recovering to concern due to the lack of a recent approved stock assessment and recent low landings in North Carolina waters. The stock was declared rebuilt in 2009 based on the 2008 National Marine Fisheries Service's Northeast Fisheries Science Center stock assessment for U.S. waters north of Cape Hatteras. Due to unique life history characteristics and other data concerns, the 2011 and 2012 assessments were not accepted for determining stock status.
Southern flounder
Southern flounder was moved from depleted to concern due to the lack of a recent approved stock assessment. A 2014 stock assessment of southern flounder in North Carolina waters could not be used to determine stock status because the southern flounder stock mixes throughout the South Atlantic (North Carolina to Florida). However, concerns exist about the sustainability of current harvest levels because of a coast-wide decline in juvenile and adult abundance.
Gag
Gag moved from concern to recovering based on a 2014 South Atlantic Fishery Management Council regional stock assessment that found the stock from North Carolina to Florida was experiencing overfishing, but was not overfished. The National Marine Fisheries Service removed the stock from the overfishing list in December 2014 after determining that harvest levels in 2012 and 2013 indicated overfishing was no longer occurring.
Monkfish
Monkfish was removed from the N.C. Stock Status Report due to the limited fishery in North Carolina. In 2014, commercial landings of monkfish were low and there were no reported recreational landings.
Week of July 1, 2015
Community Helps Feed the Hungry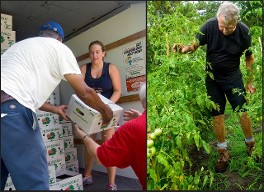 From vegetable gardens in Pamlico County, to a packing shelter at Bethany Christian Church in Arapahoe, onto trailers, a U-haul, pick-ups, and SUVs, 1,300 boxes of fresh vegetables made their way last Friday to homeless shelters, church pantries, and Food Banks in five states and the District of Columbia from Operation Veggie Box's well-oiled machinery of volunteers. David Bailey and Mac Harris met with Anna Perry, Minister at Bethany, Tuesday, to review logistics of Friday's shipments and to tweak operations in the ongoing harvest. Bailey visualizes that OVB, now a network of volunteer civic groups and churches across North Carolina growing specifically planned gardens, will become a unified and cohesive nation-wide program to not only distribute food, but also instill better nutritional standards to those in need. He explains, "This is also a ministry. We package a note in each veggie box that the food comes from people of faith who love and care for the recipients." An in-depth story will appear in next week's Pamlico News on how Bailey's vision grew in gargantuan proportions in just two years - spurred on by Harris, aided by countless volunteers, and assisted with a grant from PCS in Aurora.
Emily Harper kept up with two men passing boxes to her as she loaded a U-Haul. At right, John Moores checks Oriental Methodist Church's tomato crop. (Ben Casey)
PCC, GEAR UP Offers Glimpse of College Life for
Local Students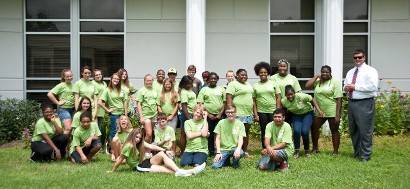 By Townley Cheek
GRANTSBORO— The Gaining Early Awareness and Readiness for Undergraduate Program (GEAR UP) has one simple goal--to significantly increase the number of students who are prepared to enter and succeed in postsecondary education. By teaming up with PCC and providing a number of academic and career services to local students, GEAR UP is proving to be a success.
For the second year in a row, GEAR UP NC Pamlico held its Science, Technology, Engineering and Mathematics (STEM) camp and Summer Math and Readiness Training (SMART) Academy on PCC's campus. A program where "everybody wins," says Cleve Cox, President of Pamlico Community College.
Over the course of the last two weeks, students were visited by local law enforcement, participated in a number of fun, educational activities, and worked closely with PCC's faculty. Through these interactions, the students were reminded to focus on the future and taught skills needed for both the college and career pathways.
Chris Davis, Pamlico County Sheriff, visited the college to talk to the students about a career in law enforcement, the importance of education, and why focusing on the future is a building block to success. "The future of this county starts with the children," Sheriff Davis explains. "If we advocate for the children, we simultaneously advocate for the county," he concludes.
The positivity associated with the program does not come as a shock. Pamlico Community College President, Cleve Cox, also supports the invaluable opportunities the program provides. "The GEAR UP program is wonderful. It introduces students not only to a college campus, but also to some of the programs we offer," he states. Students were able to experience first-hand what a career in Medical Assisting and Electroneurodiagnostic Technology would look like by interacting with instructors and participating in various activities associated with each program's respective field. Jessica Boomer, Instructor of Medical Assisting, taught the children about the different clinical responsibilities behind the field, such as taking blood pressure and monitoring heart rates. The Instructor of Electroneurodiagnostic Technology, Marc Williams, explained the medical diagnostic occupation, providing students with an example of how to record the electrical activity in the brain.
This direct, personal interaction between the students and the faculty at Pamlico Community College helps to foster and strengthen a relationship with the students and the college, one of the goals for GEAR UP. "The sooner you establish a connection with higher education, the better," states Angela Okell-Watson, Growth & Employment in Pamlico County Grant Coordinator. She goes on to say, "Pamlico Community College has been home for the past two weeks for these children, and we hope they feel comfortable here and remember it for the rest of their lives."
To learn more about GEAR UP NC Pamlico and PCC's partnership, contact Michelle Willis Krauss at 252-745-7349 or mwillis@pamlicocc.edu. To learn more about PCC's programs, attend PCC's Fresh Start event on July 25 from 10 am – 2 pm at 5049 Hwy. 306 South, Grantsboro.
Suspect Sought In Oriental Drug Raid
Over the last several months, the Pamlico County Sheriff's Office has received numerous complaints about the illegal sale and distribution of drugs in the George Street area of Oriental. During that time, Investigators with the Pamlico County Sheriff's Office have performed numerous surveillance and undercover operations within the area. As a result of the investigation, authorities executed a search warrant at 702 George Street in Oriental on Friday, June 26, 2015, and seized a quantity of cocaine and marijuana from the residence.
Anthony Lamar Green, age fifty one, residing at 702 George Street in Oriental was charged and arrested as a result of the investigation. Green was charged with one count of Possession With Intent to Sell and or Deliver Cocaine and one count of Possession of Drug Paraphernalia. He is being held in the county jail with on a $15,000.00 secured bond.
Police are still searching for Angela Lee Green, age forty six, also a resident at 702 George Street in Oriental. She is also a suspect in the investigation and according to authorities has active criminal charges.
Police are asking that anyone with information regarding the whereabouts of Angela Green, to please contact the Pamlico County Sheriff's office at (252)745-3101. Investigators expect more charges stemming from this investigation.
Week of June 24, 2015
Residents are advised to stay cool,
hydrated and informed
BAYBORO - Temperatures are expected to skyrocket to 100 degrees or higher tomorrow, forecasters said.
Getting too hot can make you sick. From 1979 to 2003, more people in the U.S. died from extreme heat than from hurricanes, lightning, tornadoes, floods, and earthquakes combined. Most vulnerable are the elderly, those who work or exercise outdoors, infants and children, the homeless or poor, and people with a chronic conditions.
The Pamlico County Health Department reminds residents to take necessary precautions to prevent serious health effects such as health exhaustion or heat stroke.
Stay cool
Stay in air-conditioned building.

Do not rely on a fan as your primary cooling device.

Limit outdoor activity, especially midday when it is the hottest part of the day, and avoid direct sun light.

Wear loose, light weight, light-colored clothing.

Take cool showers or baths to lower your body temperature.

Check on at-risk friends, family and neighbors at least twice a day.
Stay hydrated
Drink more than usual and don't wait until you're thirsty to drink.

Drink from two to four cups of water every hour while working or exercising outside.

Avoid alcohol or liquids containing high amounts of sugar.

Make sure your family, friends and neighbors are drinking enough water.
You can take these steps to prevent heat-related illnesses, injuries, and deaths during hot weather:
Stay cool indoors

Drink plenty of fluids.

Wear appropriate clothing and sunscreen.

Carefully schedule outdoor activities

Pace yourself.

Use a buddy system.

Monitor people at high risk.

Adjust the time of your daily activity to the environment.

Do not leave children and pets in cars.

Use common sense.
"Despite the fact that most heat-related deaths and illnesses are preventable, a significant number of people die and suffer from extreme heat events every year. People need to stay informed of weather conditions and be aware of how to protect themselves during periods of excessive heat," says Dennis Harrington, Health Director for the Pamlico County Health Department. Find more prevention tips about extreme heat, visit the http://www.cdc.gov/Features/ExtremeHeat/.
___________________________________________________________________________________
Flounder Fishery Issue Heats Up
By Maureen Donald
The Pamlico News
Fishermen, scientists, seafood dealers and others spoke both for and against proposed changes to the southern flounder fishery last Wednesday in New Bern.
The public hearing, led by the N.C. Marine Fisheries Commission, was attended by over 160 people many of signing up to voice their opinion on the draft six-proposal supplement intended to reduce flounder catch.
One of the biggest items of contention between speakers was large mesh gill nets. The supplement includes a proposal to ban the nets from the flounder fishery in state internal waters. If this measure were adopted, the ban would be effective on Friday, Jan. 1, 2016.
Jerry Schill, President of the North Carolina Fisheries Association, repeated the group's contention that the science doesn't call for such a measure and favors an amendment process to assess flounder stocks, a process that allows detailed scientific input, public input and advisory panels. It was implemented with the Fisheries Reform Act of 1997.
He said an amendment is used to address a concern and a supplement to address an emergency, such as stocks threatened by environmental factors, including hurricanes and freezes.
"It's all about the science," Schill said. "If it is not justified by the science, then it shouldn't be done. The supplement (process) is supposed to be used for an emergency situation. While we know there are some concerns for southern flounder that merit an amendment, we certainly don't think the criteria that demands for a supplement to be used are met. We don't see the emergency."
The supplement process is a point for contention for both sides of the issue with opponents saying there is no data to justify using the process, which bypasses certain committee and state agency reviews to fast-track FMP changes.
Some supporters of the supplement, however, said the state of the flounder fishery does provide a good reason for a supplement.
Terry Pratt, president of the Albemarle Fisheries Association, a commercial fishermen's group, also spoke against the ban.
"There are 10 million people in North Carolina who depend on gill nets to bring flounder to restaurants," he said. Mr. Pratt also said he thinks there's nothing to support using the supplement process to change the flounder FMP and using the amendment process would be better.
Bradley Styron, owner of Quality Seafood and former MFC member, said he thinks going through the supplement process instead of an amendment is "a serious breach of trust in the management of a public resource."
"The (2014) stock assessment produced no smoking guns," he said. "The commercial industry continues to be a good steward of the resource, taking voluntary actions (to address overages)."
Bruce MacLachlan, a recreational fisherman, said he thinks a supplement is needed and that the MFC needs to make the health of the resource its first priority.
"We need more fish reproducing in the waters to increase the stock," he said. "I recognize this will affect many people, but nobody benefits from a collapsed fishery."
But Dr. Stanley Norman, a retired former marine biologist for the National Marine Fisheries Service, said he believes any decision the commission makes should be based on the best scientific data available. He said since there's been no data provided to support catch reductions, he doesn't see the reason to even propose them.
Bob Dillard, president of the Recreational Fishing Club of Oriental, said he supports the proposal in the supplement that includes the gill net ban, though he suggested subsidizing the commercial fishermen who would be impacted by it. He said gill nets have been banned in all other states with a flounder fishery.
"You're not here to represent recreational fishermen or the commercial industry," he said. "Let's do what's best for the resource."
Not everyone who spoke thought the fishing effort was the cause of the flounder's status. Jimmie Goodman, a commercial fisherman, said he thinks it doesn't do any good for commercial and recreational fishermen to blame one another for their problems.
"The biggest problem is pollution," he said. "Taking away from landings hasn't solved our problems. Fishermen aren't the problem, it's pollution."
The commission is now scheduled to vote on what management measures to implement at its next regular business meeting, Wednesday through Friday, Aug. 19-21, at the DoubleTree by Hilton Brownstone in Raleigh.
While the hearing is over, written comments are still being accepted until Friday, July 10. Written comments may be submitted electronically to flounder.supplement@ncdenr.gov. Written comments may also be submitted by regular mail to Southern Flounder Comments, c/o Nancy Fish, P.O. Box 769, Morehead City, N.C. 28557.
_______________________________________________________________________________________
Tip Leads to Arrest of County Jail Worker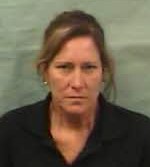 A tip that Officers at The Pamlico County Detention Center received regarding an employee being involved in a sexual relationship with an inmate and providing inmates with illegal narcotics led to the arrest of Dawn Brigman Hayes, age forty-seven of Sadler Farm Road in Merritt.
Hayes, an employee of Trinity Food Service Group, a company that is contracted to prepare and serve food within the detention center, was arrested and charged with numerous criminal violations on Sunday, June 21, 2015. Authorities were first alerted to the allegations of Hayes' actions on Friday, June 19th and an investigation ensued.
Detention Officers, Deputies and Investigators performed a search of the Pamlico County Detention Facility. During the initial search of the facility no illegal narcotics were found. But, deputies then searched Hayes' personal belongings and located a quantity of marijuana and an assortment of drug paraphernalia.
As a result of the investigation, deputies arrested and charges Dawn Brigman Hayes with the following criminal violations: six counts of Sexual Offense by a Custodian; one count of Possession of Controlled Substance in a Jail Facility; one count of Possession with intent to Sell/Deliver Marijuana; and one count of Possession of Drug Paraphernalia
Hayes was confined in the Pamlico County Detention Facility and placed under a $150,000.00 secured bond. Her first appearance in court will occur this week.
Week of June 17, 2015
Making the Most of Summer for Kids: Read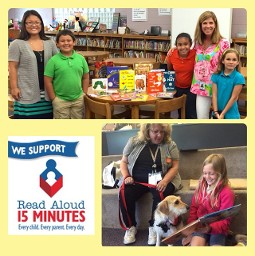 Written by
Sherry G. Meador, Director of Curriculum & Instruction, Pamlico County Schools
With summer quickly approaching, students will have lots of free time on their hands. It is important to remember to remind children to read, which will keep their brains active and learning.
According to the Reading is Fundamental blog:
"Over the summer months, all students are at risk of losing some of what they learned during the school year. When school is in session, all children learn, even if not to the same levels; they all have access to teachers, books, and learning resources. But when school lets out for the summer, poorer children don't have access to those resources. They don't go on field trips to the museum or zoo; they don't go to summer camp or the beach or the mountains; they are not likely to have the very basic materials at home that would support their learning. While they may learn as well as their peers during the school year, the amount of learning they lose over the summer can put them three years behind their peers at the end of fifth grade, and four years behind at the end of high school."
This loss can be categorized as "The Summer Slide," which is when students lose some of what they learned over the school year because they have not kept their brains actively engaged in reading and math.
"We are working to help end the summer slide by providing all students pre-K – 5th grade five books to self-select and add to their personal library at home by participating in a program that June Atkinson, our NC State Superintendent of Public Instruction pioneered called, "Give Five, Read Five." Community partners help us collect books that are donated for the students of Pamlico County Primary School (PCPS) and Fred A Anderson Elementary School (FAA). We would like to especially thank the Friends of the Library and Bayboro Pharmacy for being a collection site and for Food Lion and other local businesses, churches, and civic organizations for their donations. The community response and support has been tremendous! We are truly grateful." – Debby Hollowell, PCPS Media Coordinator
Both of these schools are also Reading is Fundamental (RIF) partner schools and receive grants for classroom and student books to be distributed.
"RIF has put books into the hands of our students each summer to prevent any summer reading slide. Our students work extremely hard all year long to improve their reading abilities and find books that they love. With RIF, I am able to order books that I know that the students love and want to read. To hear students come back in the fall and say things like, "I read that book a million times!" and "Do you have any books like...?" speaks for itself. Finding quality literature that children enjoy reading is becoming a challenge that most librarians deal with daily. With RIF and the Give 5 Read 5 Campaign, students at Fred Anderson do not have that problem. I cannot wait for the students to see the exciting books that RIF has provided them with this year!" – Anne Wood, FAA Media Coordinator
Pamlico County Schools is pleased to announce that over 4000 books were donated and/or purchased for this summer reading initiative. The books received from both programs will be distributed to our pre-K through grade 5 students during the last few days before school is out. PCPS has planned their book distribution on June 4th and FAA's book distribution date is June 9th. Parents are welcome to attend these distributions with their children. Parents, grandparents and family members are also strongly encouraged to read these books with their young family members throughout the summer.
To continue strengthening the love of reading, PCPS and FAA also encourage families to visit the Pamlico County Public Library over the summer. The children's library has many exciting books for checkout. Library cards are free and patrons are encouraged to check out more than one book. The library also has many other extensive resources to offer including computers with internet access and inexpensive DVD rentals. Mrs. Fran Berringer has a fun filled super hero summer reading program planned with many exciting activities that are scheduled throughout the summer that you will not want to miss. If you would like to sign your child up for the summer reading program, please stop by the circulation desk. The public library is a part of Pamlico County High School located across from Charlie's Restaurant.
Another fun reading opportunity students have over the summer is reading with Frankie, "The Reading Dog," and her handler, Mrs. Olga Roesch. Frankie is a part of the Reading Education Assistance Dogs Program. Mrs. Olga and Frankie are available for sessions on the third Saturday every month at the Pamlico County Library. Sessions are scheduled in 15 minute intervals, so be sure to call as soon as possible because space is limited. Our PCPS students have already met Frankie when she visited our school and shared a book that was written about her.
Reading with children in this day and time may not seem that important, however, research proves otherwise. Read with your child, it will help them develop a love of reading that will last a lifetime.
For additional information on how to help children strengthen their reading skills and/or for resources, please contact Debby Hollowell, PCPS Media Coordinator at (252) 745-3404, Anne Wood, FAA Media Coordinator at (252) 745-4611, or Fran Berringer, Pamlico County Library at (252) 745-3515 or visit the following websites: http://www.dpi.state.nc.us/give5read5/resources/, www.readaloud.org, andhttp://readingisfundamental.org/.
______________________________________________________________________________________________________________________________
PCC Ranked Leader in Community College System
By Deborah Dickinson
Pamlico News Staff
The annual performance report from the North Carolina Community College System office is in and for the second year in a row Pamlico Community College met the "excellence level" for meeting five out of eight measures. Coastal Carolina Community College was the only one other college out of fifty eight in the state to achieve this level.
"This is akin to our statewide report card," said Brandi McCullough, Director of Planning, Research and Effectiveness at the college. "Pamlico Community College did incredibly well just as we had last year. We met the excellence level in regards to five measures out of a total of eight and excelled in regards to our GED passing rate, developmental math success, first year progression, curriculum completion, licensure passing rate, and college transfer performance," she added.
With fifty eight colleges serving more than 850,000 individuals annually, the North Carolina Community College System is one of the largest systems of higher education in the United States and is internationally recognized for its efforts to foster economic and workforce development. In 1998, the General Assembly directed the State Board to review past performance measures and define standards to ensure programs and services offered by community colleges in North Carolina were of sufficient quality. Performance Measures for Student Success Report is the North Carolina Community College System's major accountability document. The eight measures these colleges are to meet are: basic skills student progress; developmental student success rate in college-level English courses; first year progression; licensure and certification passing rate; GED diploma passing rate; developmental student success rate in college-level math courses; curriculum student completion and college transfer performance.
Over the past several years, PCCC has responded positively to accountability standards and was ranked as the leader within the North Carolina Community College System in regards to its performance on system-wide, objective measures of student success. Last year, the college was the only one in the system to meet five of eight goals. "Pamlico County Community College is clearly a first rate institution of higher learning, as evidenced by this particular report. While our student body population certainly is small, our performance is quite clearly second to none," added McCullough.
PCC President, Dr. Cleve Cox attributes the efforts of many for the school's success. "This is certainly a tribute to the hard work and commitment of our faculty and staff. I am most proud to be associated with the fine folks who work here and give it their all for our students. We are able to provide personalized service to our students, which enhances student success and retention. We have been stressing customer service for the last several years and this verifies, in part, the results of our efforts," said Cox.
Cox describes PCCC as an 'open access student' institution which promotes excellence in student success. "Faculty and staff alike have aligned with best practices focused on retention and completion, embracing and supporting initiatives such as the college's Quality Enhancement Plan, a First Year Experience Program called 'Focus on Success'; its taking part in the Gates' Funded Completion by Design plan; and it is our 'Men Eliminating Barriers and Creating Opportunities' program. Asking "What's best for the students" is not just a casual quip, it is the foundation of what has motivated special projects, the procurement of external funding, institutional resource commitments, and perhaps most significantly, the college's strategic plan," he added.
Week of June 10, 2015
Bear Sightings On The Rise In Oriental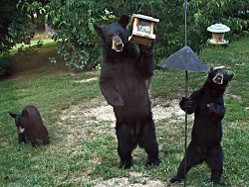 Bear encounters are not that unusual in Pamlico County, but in Oriental? It seems reported bear sightings have spiked recently within the city limits. One was reportedly roaming the area of Whittaker Point Marina and another "very big bear" was spotted strolling down Neuse Street and then continuing onto Broad.
According to historical records Black Bears were common in many parts of North
Carolina in the 18th and through much of the 19th centuries. The European expansion and settlement of most areas of the state took its toll on bear populations in the latter part of the 19th century as forested areas were converted into agricultural centers. According to the NC Wildlife Resources Commission, our state's first and only Black Bear Management Plan was developed in 1981 and according to the NC Wildlife Resources Commission, North Carolina's black bear populations have grown dramatically in more recent years despite increasing human populations.
An excerpt from the Overview of the Black Bear Management Plan reads as such: "The "success-story" of the black bear recovery in the state has not been without consequences. The ever-adaptable black bear conjures diverse images in the minds of citizens ranging from Disney's "Winnie the Pooh" to one of a dangerous predator. The truth actually lies somewhere in-between depending on circumstances and one's point of view."
Whether single bear or multiple bears have taken up residency in Oriental, the sightings have prompted Oriental's Town Manager Diane Miller, to speak with the local NC District Wildlife Biologist about the occurrences. He said a single male bear needs about 10,000 acres to sustain itself, and it's only here because residents have provided an "easy meal".
"So, if we remove that option, the bear will move on," says Miller. She asks that residents stop refilling the suet on their bird feeders so that the bear will go elsewhere to seek food.
If a bear happens to roam on to your property you do have some options. According to NC General Statutes, you may shoot the bear if it is on your property and you catch it in the act of causing damage. If you do shoot a bear on your property you then must call NC Wildlife resources and let them come out and take samples of the bear within twenty four hours, and then the bear must be buried on your property, or you must arrange for the proper Health Department authorized removal and disposal of the bear. You may not keep any portion of the animal.
Miller says if the bear continues to stay in town after we have stopped providing it meals, the Town of Oriental can call NC Wildlife and they will locate the bear and euthanize it.
"We can assist this not happening by removing attractants for the bear on our own properties. Tightly seal your trash and remove fresh bird food/suet from bird feeders," recommends Miller. "If the bear continues to approach homes easily with no promise of food for the effort, we will have to ask NC Wildlife to come remove it," she added.
____________________________________________________________________________________________________________________________________________________________________________
Oriental Has State's 5th Costliest Insurance
A study of 114 North Carolina cities found that Oriental is the 5th costliest city to insure a home in. Average premiums here are 110 percent above the state mean. The study also found that where North Carolinians live significantly influences how much they pay for home insurance with annual costs varying by $2,847 from the most expensive city to the cheapest. The study was conducted by ValuePenguinand included research into home insurance prices for a benchmark property, in 114 of North Carolina's cities, towns, and municipalities. The benchmark property used in the research, consisted of a $200,000, 2,000 square foot home. It had 2 stories, 1 and a half bathrooms, and a garage attachment (with no living space above it). Our sample homeowner was a 41-year-old male, not married, and owned no pets. The North Carolina statewide average home insurance cost for the sample property was $1,198. The cities with the cheapest homeowners insurance rates in North Carolina are found in the western regions of the state. The average cost of insuring a home in these cities is $775 -35% less than what it would cost in a typical North Carolina home.
All of the cities with the highest homeowners insurance prices in North Carolina were found along the eastern coast of the state – near the Atlantic Ocean. Insurance companies say the higher rates in coastal towns are due to the extreme weather conditions, such as high winds and hurricanes. These conditions increase the chances of a home in one of these cities sustaining some sort of damage, which will require an insurer to pay out a claim. These companies compensate for this increase in risk by raising home insurance prices relative to other cities in the state. The study also found that North Carolina rates are approximately 10 percent more expensive than the neighboring Virginia, 30 percent cheaper than the Tennessee average, and 40 percent more affordable than the typical Georgia city.
_____________________________________________________________________________________________________________________________________________________
Body Identified, Ex-Husband Charged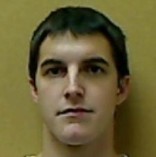 District Attorney Scott Thomas announced that the body discovered on Friday, June 5, near the Lake Tyler subdivision in New Bern has been identified as that of Summer Dawn Swindell, 22, of Havelock. Her family has been notified of this identification. An autopsy of the body is being performed in Greenville, North Carolina, to determine the cause of death.
District Attorney Thomas also announced that MICHAEL WAYNE BALLANCE, II, 27, of New Bern, was arrested and charged late Friday with one open count of Murder in the death of Ms. Swindell. He is the former husband of Summer Swindell. BALLANCE is in custody at the Craven County Detention Center where he is being held under no bond. His first court appearance will be Monday, June 8, in Craven County District Court.
District Attorney Thomas said, "Our prayers are with Summer's family and friends during this tragic time. Although an arrest has been made, investigators continue to work on this case to gather additional evidence. I would like to commend the two lead agencies -- the Havelock Police Department and the State Bureau of Investigation -- for their work on this case. Several other agencies have also assisted with the investigation and search that was conducted Friday. As this is still an active and ongoing investigation, no additional information will be released at this time."
In addition to the lead agencies, the New Bern Police Department, the Craven County Sheriff's Office, NC CERT team, the New Bern Fire Department and rescue teams, and volunteers from MCAS Cherry Point's Provost Marshal Office and Criminal Investigative Division engaged in the search and evidence collection which began early Friday morning and did not conclude until nearly sunset.
Week of June 3, 2015
A Legacy of Dedication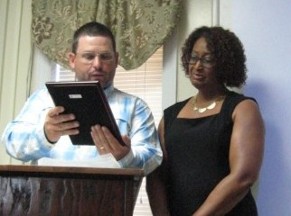 By Maureen Donald
The Pamlico News
More than 35 years ago, brand new college graduate and Pamlico County native Wanda Dawson was intent on heading out into the world.
"Staying in Pamlico County was the last thing on my mind," Dr. Dawson said. "I wanted to see what was on the other side of the bridge and sworn I'd never come back here."
Thirty-five years later, Dr. Wanda Dawson is retiring as Superintendent of Pamlico County Schools.
"It's been a rewarding journey that started with a mother determined to make me strong," Dr. Dawson said. "She was a driving force that to this very day, inspires me to do my best."
The only girl out of eight children to a single mother who worked long hours away from home, Wanda grew up fast and took early responsibility in the household. But when she graduated from Pamlico County High School, all that ended.
With the encouragement and support of her mother, the journey started out in 1976 when Wanda boarded a bus headed to Hampton, Virginia to pursue a college degree.
Four years with an outstanding academic record and armed with a degree in speech pathology, the journey continued back to Pamlico County. As a young graduate, she accepted a job with the local school system for what she expected would be a short stop.
"I told my mother that I would be in Pamlico County for two years until I headed to graduate school," Dr. Dawson said. "Things didn't work out that way."
Instead Dr. Dawson went on to work as a speech pathologist in four county schools for the next 7 years. Along the way, she received a Master's in School Administration from East Carolina University leading to various positions including Assistant Principal at Fred A. Anderson, Exceptional Children's Director and both Associate and Assistant Superintendent.
Thirty-one years after beginning her journey with Pamlico County Schools, Dr. Dawson was named Superintendent of Schools. With it came a list of priorities that she has worked to attain during her 4-year tenure.
"With the help of an outstanding staff, I have worked to introduce positive pathways for both our staff and students," Dr. Dawson said. "It's all about growth. When I leave this position, I want people to know I cared about them."
At the top of the list is the children.
"The children are what matters," Dr. Dawson said.
For her work both in and out of the school setting, Dr. Dawson has been honored on many occasions. But one of the most treasured came earlier this year when she
received the Reading Is Fundamental Volunteer of the Year Award.
"Reading Is Fundamental is powered by exceptional volunteers who are passionate about our mission and the children we serve," said Carol H. Rasco, President and CEO of RIF. "Their commitment to creating extraordinary experiences and opportunities for children ensures that they will not only have books, but the inspiration and confidence to pursue greater futures for themselves. Through their hard work and dedication, Wanda is setting students up for success in school and beyond."
No doubt Dr. Dawson's "beyond" will continue to include hard work.
" I want to volunteer at my hospital, devote time to my church choir, always find time to work with children and be active in my community," she said.
"And I just want to relax a little."
Not very likely.
_______________________________________________________________________________________________________________________________________________
Middle School Softball Team: Conference and Tournament Champs!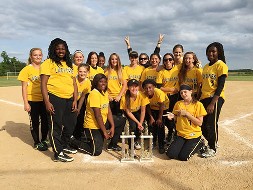 Pamlico County Middle School won both the CMSAC Conference Championship and Tournament Championship with an 9-1 record in regular season and 12-2 overall. The conference consists of West Craven, Havelock, HJ McDonald, Grover C Fields, Tucker Creek and Jones County.
The Pamlico Middle School team beat Havelock 18-3 in the first round of the tournament and went on to beat HJ McDonald in the tournament championship by a score of 12-2.
The statistics for the season show just how great these ladies played. Pitching records were: Jakiya Jones, 11-2 and Samantha Edmonds, 1-0.
Hitting Stats were: Kandice Stembridge. .531; Holley Brooks, .513; Haley Potter, .472; Paige Smith, .402; Maci Hardison, .400; Samantha Edmonds, .393; Jainaya Jones, .375; Jakiya Jones, .368; Kaylin Tanner, .363.
Defensively the team was lead by shortstop Tiffany Sawyer with outfielders Samantha Edmonds, Kaylin Tanner, Jayda Green and Jainaya Jones.
Team members include 8th graders Paige Smith, Kandice Stembridge, Samantha Edmonds, Jayda Green, Kaylin Tanner, Jainaya Jones, Abria Willis, Maci Hardison, Savannah Tribby and Shawna Rigby. 7th grade members are Holley Brooks, Tiffany Sawyer, Haley Potter, Jakiya Jones, Aleyna Cox, Jenna Bustamante and Jania Moore.
Managers for the team are Brandi Rowe, Seena Bahhur, Layne Brinson and Aiden Smith and coaches are April Rose and Karen Cayton.
Congratulations on an outstandi
_____________________________________________________________________________________________________________________________
Croaker Festival is Right Around the Corner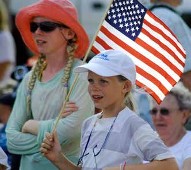 Staff Reports
ORIENTAL – Croaker Festival is almost here!
The Pamlico County Croaker Festival takes place every year the first weekend of July, hosted by the folks in Oriental. Since July 4, 1980, this festival, its volunteers, and its sponsors, have provided an event where families can come and enjoy a family-friendly Independence Day celebration. On July 4th, 1980 the Oriental Woman's Club put on a three-day event complete with a fishing contest. It was done in the spirit of benefiting the Pamlico County non-profits.
Through the years, it has changed with each group of volunteers that have worked to put it together, but the purpose has remained the same: To put on a wonderful festival to benefit the non-profits in Pamlico County while providing an event where families can come and enjoy it together.
Everyone loves this annual event and organizers could use a little help to make this year's festivities the best yet.
Croakerfest is in need of sponsorships, craft vendors and advertisers for the program. The fireworks fund is also in need. To Sponsor-a-Sparkle visit our website atwww.croakerfestival.com. General donations would be appreciated and may be sent to PO Box 1067, Oriental, NC 28571. A volunteer is also needed to coordinate the bake sale. If you enjoyed the quality of last years' festival, please get on board with us!
er
Week of May 27, 2015
NC 's Pre-K Program Top Four In The Nation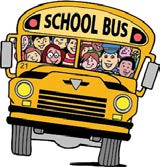 The North Carolina Pre-K Program is designed to provide high quality education experience to enhance school readiness for eligible old children under the age of four. A report by the National Institute for Early Education Research (N.I.E.E.R.) shows that North Carolina is one of only four states that meets the benchmarks for this program and has done so each year since 2006. The Benchmarks include: comprehensive early learning standards; staff credentials; staff to child ratio; developmental screens; evidence-based curriculum and formative assessments and monitoring and nutritional requirements.
other states that received a ten out of ten score on the program's quality standard checklist were Alabama, Alaska and Rhode Island.
The study also shows most states have increased their funding for Pre-K programs.
The NC Pre-k Program requirements are built on the National Education Goals Panel's premise that to be successful academically in school, children need to be prepared in all five developmental domains that are critical to children's overall well-being and success in reading and math as they enter school. These domains are: approaches to play and learning; emotional and social development; health and physical development; language development and communication and cognitive development.
Program requirements are designed to ensure uniformity in the class room experience in each NC-K Program throughout the state and to ensure that the programs meet the NC Child Care Rules. There are two facilities in Pamlico County that offer the NC Pre-K Program. The
Pamlico Primary School offers three classes in their school and Pamlico Development Center (Head start) has one class at their center located at the Coastal Community Action Center in Grantsboro. They are both five star centers which is the highest on the star rating scale.
_________________________________________________________________________________________________________________________________________________________________
Community Celebrates New Southeast
Pamlico County Substation Dedication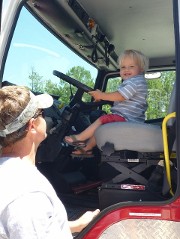 A grand opening celebration was held on Saturday to dedicate the Southeast Pamlico Volunteer Fire Department Substation #19-2, the first substation in Pamlico County. The event began with an opening ceremony and included home cooked food, live music and fun and concluded with a traditional "Wetdown Baptism." Those in attendance were able to see first- hand our volunteer fire fighters in action. Sponsors of the event include The Red Rickshaw, Brinson Insurance Agency, and Rive Dunes. According to Walt Abercrombie, SPVFD Member #144, the substation has eleven volunteer members (all SPVFD are volunteers) who live in the southeast part of Pamlico County. He describes the substation is a virtual extension of the main SPVFD 19 station outside Oriental which services the same fire district. Volunteer firefighters from this station respond to the same calls as one department inside the #19 district, and many times providing support to the neighboring Fire stations such as Arapahoe, Florence-Whortonville, and Bayboro. The fire trucks from these three departments were on hand at the dedication ceremony to do the "wetdown baptism". A used fire truck and much needed safety equipment were purchased for the substation through a fundraising effort in the local community. This truck serves as the tanker. A spare pumper truck was moved from the main station to the substation to fulfill the requirement of having one pumper and one tanker truck in each station. As a result of this certification, many homes in the vicinity of the new substation get a much improved fire rating, greatly reducing home insurance premiums. According to Fire Chief, Al Spruill, further investments will be made to improve Orchard Creek Substation's capabilities to protect homes, boats, and lives in the South East Pamlico district.
________________________________________________________________________________________________________________________________________________________________
Fishing Tourney Celebrates Wounded Warriors
Pamlico County's Shoebox project is asking local support for a special project to honor our Wounded Warriors.
Operation North State (ONS), its supporters and volunteers are calling on North Carolina's People, Places, Products and Pride (especially in the New Bern Community) to help support the 1st Annual Lake Norman Top Shelf Fishin' Festival. The event will be held Friday, June 5 (rain or shine) at the Lawson Creek Park, 1309 Country Club Road. All "on-shore" activities will take place at the landing and picnic shelter area.
The Festival is hosting 50 Wounded Warriors and Disabled Veterans to a great day of fishing and fellowship. According to Operational North State's Founder/Volunteer, Terry Snyder, "the event is being held at the request of the Wounded Warriors and Disabled Veterans that have fished in ONS' Top Shelf Fishin' Festivals the past two years. They requested that we consider hosting additional Fishin' Festivals throughout the state. We are expanding to six Festivals in 2015 including New Bern's Festival. The Wounded Warriors and Disabled Veterans are so excited to have the opportunity to go fishing with some of the state's premier/tournament fishermen" Snyder said. "Likewise, our fishing hosts/boaters tell us how honored they are to be a part of the Festival and have the opportunity to "give-back."
The 1st Annual New Bern Top Shelf Fishin' Festival is FREE to Wounded Warriors and Disabled Veterans. And, there is no entry fee for our fishing hosts/boaters. "Operation North State is grateful to these expert fishermen for providing their time, expertise and equipment" Snyder said. To register, send an email tomailbox@operationnorthstate.com or call 336-764-5967. Provide your name, email address, telephone number and what North Carolina town you call home.
ONS is requesting assistance and participation as follows:
Register a Wounded Warrior/Disabled Veteran

Register as a host boater

Volunteer

Donate product, services and/or cash for the dinner, snacks, beverages and prizes.

Provide a covered dish for the breakfast or dinner (so popular)

And, come out to the weigh-in on June 5 at 3pm and cheer on these Special Americans.
For additional information and/or to show your support, contact Terry Snyder, ONS Founder/Volunteer at mailbox@operationnorthstate.com or call 336-764-5967.
Week of May 20, 2015
Pamlico Community College Celebrates its
48th Commencement, Presents Graduates to Community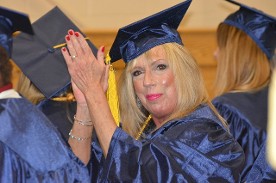 Cosmetology graduate Patricia Alt celebrates receiving her degree Friday evening.
Brandi M. McCullough
Special to The Pamlico News
This past Friday marked Pamlico Community College's 48th Commencement Ceremony. Sixty-five individuals were awarded a degree, certificate, or diploma from one the college's many programs of study. Awards conferred represented a variety of disciplines, including Environmental Science Technology, Accounting, Business Administration, Computer Information Technology, Medical Office Administration, Office Administration, Electrical Systems Technology, Electroneurodiagnostic Technology, Medical Assisting, Welding, Criminal Justice, and Early Childhood Education. Students preparing for university transfer walked the stage as well. A total of 126 credentials were awarded this year, with many students being able to accumulate certificates or diplomas in addition to their degree allowing them to further distinguish themselves in the workforce.
PCC Trustee Douglas M. Pearsall welcomed commencement guests to the ceremony, followed by which Mr. Jeff Minges, President and CEO of Minges Bottling Group delivered an insightful, inspirational commencement address. Minges spoke candidly about his college experience and explained to graduates there was not a day that went by when he did not reflect on the fact that he had not completed his degree. "We all have choices in life to make…it's what we make of those choices that define who we become." Minges urged graduates to remember the value of a strong work ethic, citing his own experience starting his first job at age fourteen. Minges was required to rise through the ranks of his family's business, and regardless of the task at hand, learn each aspect of the company's operations.
Minges went on to further explain that perseverance during times of adversity is a critical element for personal success. He heralded the value of mentorship and the importance of accepting constructive criticism, being willing to accept correction and move forward. Risk and opportunity, he explained, were inextricably linked. "When you're given opportunities, take them. Don't be left at the starting line because you're afraid to try…throw off those bow lines and discover what this world has to offer."
In keeping with tradition, awards for PCC's Outstanding Student, Faculty, Staff, and Alumnus were all presented. Mr. Jamie D. Gibbs, Vice President of Student Services proudly awarded Zachery James the 2015 Award for Outstanding Student, followed by Dr. Maria Fraser-Molina, who presented awards for Full-Time Faculty and Adjunct Faculty of the Year. PCC Mathematics Instructor Mr. Greg Gallagher received overwhelming support as the 2015 Full-Time Faculty of the Year, followed by which Ms. Lois Moye, received Adjunct of the Year. Ms. Michelle Willis Krause, PCC Chair of Off-Campus Programs and the college's Criminal Justice Instructor, was named Alumnus of the Year award, which was presented by Mr. Jim Kellenberger, Executive Director of the PCC Foundation. Mr. Jim Curry, Vice President of Administrative Services presented the 2015 Outstanding Staff Award. This year's award went to Mr. Ed McNally, member of the Maintenance Department.
Graduation festivities culminated with a reception in the Johnson Building, open to all attendees. The buzz in the air was palpable, as the evening was one filled with excitement, and the promise of bright futures. Without question, commencement is the most important event of the year at Pamlico Community College. It represents the college making good on its promise to provide accessible and affordable quality education, workforce training, and lifelong learning opportunities to those in its community. Preparing well-trained graduates is a commitment both college faculty and staff take seriously. Graduation day is the culmination of Pamlico Community College's promise to the citizens of Pamlico County. Here's to the class of 2015! Well Done PCC Graduates!
_______________________________________________________________________________________________________________________________________________________________
Staff Reports
In a joint press conference Tuesday Pamlico County Sheriff Chris Davis and District Attorney Scott Thomas detailed a six month-long undercover drug bust titled "Operation Clean Slate." According to Davis, "the operation targeted criminal suspects who have been engaged in the illegal sale and distribution of drugs in Pamlico County. Over the last several months investigators have made numerous controlled purchases of drugs from drug dealers operating."
The joint operation conducted on Monday, May 18, included the Pamlico County Sheriff's Office, North Carolina Alcohol Law Enforcement, North Carolina State Bureau of Investigation, and North Carolina Probation and Parole resulting in the arrest and charging 23 suspects with drug violations. As of today (Tuesday), 5 suspects are still at large.
"I am pleased with the work of the men and women who work for this office. Over the last 6 months our deputies and investigators have worked countless hours investigating drug violations within Pamlico County and today we as a community begin to feel the results," Davis said. "As I have promised to the citizens of Pamlico County, this is only the beginning and we will not stop here. As we have in the last few months, we will continue to work with the District Attorney's Office to assure these criminals are receiving the appropriate sentence."
District Attorney Scott Thomas said, "I am proud of the work by Sheriff Chris Davis and his team. They have spent many hours working on these cases in Operation Clean Slate. Illegal drug activity is a major problem that will not go away on its own. A coordinated effort by law enforcement and prosecutors is required to address this activity. I will continue to work with Sheriff Davis to identify, investigate and prosecute drug dealers in Pamlico County. Assistant District Attorney Laura Bell and I will work to prepare these cases for court so that we can obtain the appropriate dispositions and sentences. At the conclusion of this operation and prosecutions, Pamlico County will be a safer place. I look forward to continuing to work with Sheriff Davis and his team in our ongoing efforts to hold criminals accountable for their conduct."
Those arrested were:
Kayla Marie Morris
W/F, DOB 03/12/1994
CHARGES: Conspire to Sell/Deliver Heroin Maintain a Vehicle/Dwelling for Sell/Deliver Controlled Substance
BOND: $10,500.00 Secured
Emari Marissa Ford
W/F, DOB 11/17/1990
CHARGES: (3 Counts) Possession with intent to Sell/Deliver Heroin (3 Counts) Possession of Drug Paraphernalia
BOND: $5,000.00 secured
Channying Bell
W/F, DOB 04/02/1987
CHARGES: Conspire to Sell/Deliver Heroin, Maintain a Vehicle/Dwelling for Sell/Deliver Controlled Substance
BOND: $10,000.00 secured
Maurice Eugene Moore
B/M, DOB 10/26/1981
CHARGES: (3 Counts) Possession with intent to Sell/Deliver Heroin (3 Counts) Possession of Drug ParaphernaliaBOND: $1,620,000.00 secured (Also being held on previous drug charges)
Terry Ormond
W/M, DOB 01/14/1992
CHARGES: Possession with intent to Sell/Deliver Schedule II Controlled Substance
BOND: $20,000.00 secured
Elizabeth Ashlee O'Neal
W/F, DOB 06/12/1988
CHARGES: Conspire to Sell/Deliver Heroin
BOND: $10,000.00 secured
Sherri Ireland Ford
W/F, DOB 03/30/1963
CHARGES: (6 Counts) Trafficking Opium or Heroin (1 Count) Possession of Drug Paraphernalia
BOND: $700,000.00 secured
Ronsheda Mattocks
B/F, DOB 07/09/1988
CHARGES: Conspire to Sell/Deliver Heroin, Maintain a Dwelling for Sell/Deliver Controlled Substance
BOND:$100,000.00 secured
John Pernell Harrison
B/M, DOB 02/22/1986
CHARGES: Possession with intent to Sell/Deliver Cocaine, Possession with intent to Sell/Deliver Heroin, Possession of Drug Paraphernalia
BOND: $15,000.00 secured
Tamir Raynell Simmons
B/M, DOB 11/28/1980
CHARGES: Possession with intent to Sell/Deliver Heroin, Sell/Deliver Heroin, Conspire to Sell/Deliver Heroin
BOND: $40,000.00 secured
Emily Herring
W/F, DOB 03/20/1989
CHARGES: Obtain Property by False Pretense, Felony Conspiracy
BOND: $15,000.00 Secured
Kendryk Ramon Smith
B/M, DOB 10/20/1982
CHARGES: (3 Counts) Possession with intent to Sell/Deliver Heroin, (1 Count) Possession with intent to Sell/Deliver Cocaine, (4 Counts) Possession of Drug Paraphernalia
BOND: $50,000.00 secured
Andre Ganus
B/M, DOB 03/15/1985
CHARGES: (3 Counts) Possession with intent to Sell/Deliver Marijuana, (1 Count) Possession with intent to Sell/Deliver Schedule II CS, (3 Counts) Possession of Drug Paraphernalia
BOND: $50,000.00 secured
Christina Rice Cowell
W/F, DOB 06/25/1973
CHARGES: (2 Counts) Possession with intent to Sell/Deliver Schedule II CS, (1 Count) Possession of Drug Paraphernalia
BOND: $15,000.00 secured
Katie Moore
W/F, DOB 07/09/1993
CHARGES: (2 Counts) Conspire to Sell/Deliver Heroin, (1 Count) Possession with intent to Sell/Deliver Heroin, (1 Count) Maintain a vehicle for Sell/Deliver Controlled Substance
BOND: $30,000.00 secured
Carla Marie Lovick
B/F, DOB 06/01/1975
CHARGES: Possession with intent to Sell/Deliver Heroin, Possess Drug Paraphernalia
BOND: $6,000.00 secured
Stacy Thompson
W/F, DOB 03/12/1975
CHARGES: Conspire to Sell/Deliver Heroin
BOND: $15,000.00 secured
Kenneth Clay Layden
W/M, DOB 03/17/1989
CHARGES: Sell/Deliver Heroin, Possession with intent to Sell/Deliver Heroin, Conspire to Sell/Deliver Heroin
BOND: $50,000.00 secured
Chelsey Faith Bland
W/F, DOB 04/16/1991
CHARGES: (2 Counts) Trafficking Opium, (1 Count) Conspire to Traffic Opium
BOND: $50,000.00 secured
Tonya Kay Griffin
W/F, DOB 08/29/1981
CHARGES: Obtain Property by False Pretense
BOND: $6,000.00 secured
Ronald Lorenzo Grimes
B/M, DOB 10/02/1952
CHARGES: Felony Possession of Schedule II Controlled Substance, Possession of Drug Paraphernalia
BOND: $15,000.00
Jason Rochelle
W/M, DOB 01/05/1978
CHARGE: Possession with intent to Sell/Deliver Schedule II Controlled Substance
BOND: $5,000.00 Secured
Also during the operation, Investigators served Kelly Jackson Gibbs Jr. with a (9) count federal indictment. On March 16, 2015, Kelly Jackson Gibbs Jr. was arrested after a search warrant was executed at a residence in Reelboro. At the time of his arrest Kelly Jackson Gibbs Jr. was found to be in possession of approximately 20 grams of Heroin and (2) handguns. Through interviews, information received from confidential informants, and the investigative process, Kelly Jackson Gibbs was indicted for the following violations:
Count 1- Conspiracy to distribute and possess with the intent to distribute one hundred (100) grams or more of heroin and a quantity of cocaine
Counts 2 through 7- Distribution of a Quantity of Heroin
Count 8- Possession with the intent to distribute a quantity of heroin, a quantity of cocaine and a quantity of buprenorphine
Count 9- Possession of firearms and ammunition by a convicted felon
___________________________________________________________________________________________________________________________________
Week of May 13, 2013
Lawmakers Move to Preserve State's
Fishing Heritage at Coastal Colleges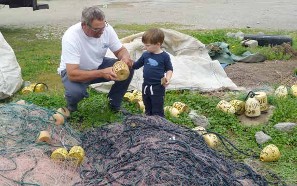 Young Drake Dunbar gets an early lesson about the fishing profession from grandfather Wayne Dunbar, Pamlico
County commercial fisherman, fish dealer and North Carolina Fisheries Association board member.
North Carolina legislators are making a case for preserving thestate's heritage of commercial fishing by involving coastal colleges. The bill urging the addition of commercial fishing and aquaculture courses is getting a positive reaction through out the state. The North Carolina Fisheries Association endorses the move citing greater need for awareness of the industry.
"While NCFA did not push for the introduction of this bill, we support its passage. The bill simply encourages our coastal community colleges to offer courses in commercial fishing and aquaculture and take advantage of the assets and infrastructure that we already have in Carteret and Brunswick Counties," said Jerry Schill, president of the North Carolina Fisheries Association. "From an economic development standpoint, it highlights an industry that already exists and the need to offer courses for the labor
pool to support and help it grow." Currently Carteret Community College and Brunswick Community College offer aquaculture courses. Carteret Community College offers
course credits that may be transferred to fouryear marine-biology courses at East Carolina University or the University of North Carolina- Wilmington. Brunswick Community College's aquaculture courses focus on freshwater aquaculture. "It is very encouraging to see the legislature support the needs of North Carolina's commercial
fishing industry, said Cleve Cox, president of Pamlico Community College. "We will certainly consider offering any course, certificate, or program that would do that."
"For this industry to grow in North Carolina, we need to make sure our coastal community colleges are offering courses that support the fishing and aquaculture industry," Cook said. "We North Carolinians deserve nothing less than the safest, healthiest and most delicious seafood available."
The state's community colleges are funded based on previous years' enrollment and performance standards, so it may be difficult for small colleges like Pamlico to fund a new program unless it ends a program and diverts money from it to start a new one or unless it receives outside funding such as grants to help defray the start-up
costs of that program. "In all likelihood, at least as the first step, we would pursue collaborating with our friends at Carteret as has Brunswick Community College,
to make commercial fishing and aquaculture available right here at Pamlico Community College," Cox said. "This would give us the opportunity to maximize resources, accessibility, and the availability of this program.
____________________________________________________________________________________________________________________________
Students Represent Diversity, Similarities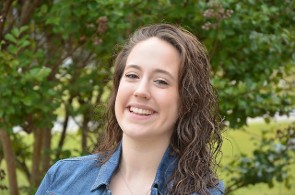 By Brandi M. McCullough
Special to The Pamlico News
PCC Students Megan Lloyd and Jackie Royer come from different walks of life, however, their commonalities abound. Both migrated from the mid-west to Pamlico County as a result of their families. They both decided to pursue careers in allied health, embracing public service as a result of personal experiences. Each student also credits Pamlico Community College as preparing them for the next stage of their careers. Perhaps most importantly, however, they both attribute the scholarships they received from PCC's Foundation as a key component in being able to attain their goal.
Megan Lloyd was recently awarded a Rufus E. Brinson, Jr. Scholarship, which provided her the opportunity to take the college's Certified Nurse Assistant course. This scholarship is awarded to the dependents of local fire and rescue squad workers. Lloyd's father is a paramedic who serves with both Pamlico and Chocowinity's Rescue Squad. Lloyd regards the instruction she received while at the college highly. "My instructor was just really helpful…I got to learn about real-world situations. My clinicals were rewarding too." Lloyd completed the clinical requirement of her course at Grantsbrook Nursing and Rehabilitation Center. "My CNA is just one step towards my long-term goal of becoming a nurse...PCC is helping me get there."
Jackie Royer credits a personal caregiving experience as the motivating factor for enrolling in PCC's Medical Assisting program. "I helped care for my dad while he was a Hospice patient…I knew then I wanted to do something to help people." Royer recently passed her Medical Assisting exam, another step towards gainful employment in her field. "Pamlico really prepared me…the test was a real challenge, but I was able to pick it apart and figure it out. This was a great achievement for me!" Royer's goal is to work in a medical practice that focuses on pediatrics. She was funded through the PCC's Student Ambassador Program this past year. This program is a competitive scholarship that covers the cost of tuition and fees for one year. Participants represent PCC at various college and community events. The program is currently in its second year.
Providing the support students need to achieve their goals is a task Foundation Board members do not take lightly. Joe Mattea, member since 2012, describes his motivation to serve with the group, "While on campus for a boat building class, I couldn't help but notice the regular curriculum students…These were not your normal 'frat boy, sorority girl' kids. They looked like folks who were trying to work their way to a better life, often while juggling a job and family. It made an impression on me … I asked if I could help…and here I am, on the Board."
Since 2010, this entity has partnered with over 300 individuals, local and regional businesses, and other agencies to provide more than $200,000 for student scholarships and academic enrichment. Key fundraising activities center around the Mariner's giving campaign, the Pepsi Cup Golf Tournament, the Rufus Brinson Dinner Dance, and the Great Oyster Revival. Each one of these events have one primary goal – to raise dollars for students who might not otherwise be able to further their education.
If you have not already, partner up with the PCC Foundation today in the 15th Annual Pepsi Cup Golf Tournament! The tournament will be held this Saturday, May 16th at Minnesott Golf & Country Club. The individual player fee is $70, and covers breakfast, lunch, cart, a mulligan and tee. Registration begins at 8:30, with players getting started off at 9:30 to shots from a Napoleon cannon. Call 252-249-1851 (3010) or Dr. Cleve H. Cox, PCC President at 252-249-1851 (3007) for more information. You can register online at www.pamlicocc.edu/foundation.
Week of May 6, 2015
And the Music Keeps Getting Better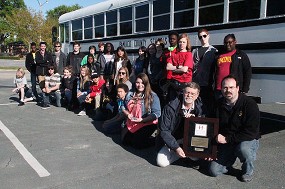 The Pamlico County Symphonic Band has participated in music festivals for many years in the past. They have received ratings of Excellent many times and have received ratings of Excellent for two years in a row at the Carowinds Music Festival. This year, however, was different. James Durham, Pamlico County High School (PCHS) band director, and David Falardeau, Pamlico County Middle School (PCMS) band director, decided to raise the bar musically and set their sights on a different music festival.
On April 24th, 2015, the PCHS Symphonic Band, along with eight students from the PCMS Band, participated at the WorldStrides Heritage Performance Festival in Williamsburg, Virginia. Bands from around the country participate at these events and the festival on April 24th was no exception. The day of competition included 10 bands coming from Delaware, New Jersey, Massachusetts, South Carolina, and our very own Pamlico County Symphonic Band from Bayboro, North Carolina. A total of 600 students performed with their groups that day.
Performing groups at these music festivals are rated as fair, good, excellent, and superior, which is the highest rating. For a superior rating, a 1A performing group must receive at least 85 of 100 points given by three adjudicators. The adjudicators are usually college and university music professors, professional composers, and musicians of outstanding reputation. Performing groups are scrutinized and rated on specific criteria including dynamics, balance, articulation, difficulty of the music, and musicality.
During the six years Mr. James Durham has been the PCHS band director, he has been determined to change the band's direction. Mr. Falardeau, who works closely with Mr. Durham, has been at the middle school for four years. Together, they have been pushing team work, perseverance, persistence, dedication, and musicianship. The symphonic band, presently consisting of 17 high school and 8 middle school students, started rehearsing shortly after the holiday break during and after school hours. For such a small band, music had to be chosen carefully. The pieces selected were The American Way March by Karl L. King, Freedom's Light by James Swearingen, and Meeting at Tryon Palace by Richard L. Saucedo. The PCHS Band had not received a superior rating since 1991. Goals were set for this performing group and a Superior rating is what they were after.
The students from PCMS are: 7th grade--flute: Casey Harwick; clarinet: Serenity Greene and Dakota Millard; alto sax: Claudio Lopez; trombone: Caleb Blevins; 8th grade--percussion: Damarcus Greene; trumpet: Alex Lee; tenor sax: Xavier Roberson.
The students from PCHS are: flute: 11th grader, Mariah Meador, and 9th graders, Emily McPherson & Szonia Nemes; clarinet: 11th grader, Bryanna Owens, 10th graders, Leetasia Midgette and Noah Whitney, and, 9th grader, Danielle O'Neal; alto sax: 9th grader, David Baumgartner; baritone sax: 12th grader, Griffin Finch; trumpet: 9th grader. Aaron Bennett; french horn: 9th grader, Matt McAllister; trombone: 9th grader, Mason Caroon; tuba: 10th grader, Hank Winfrey; and percussion: 11th graders, Tyler Connor and Austin Willis, and 9th graders, Shaen Wright and Aquindon Young.
There were two other 1A bands participating that day and the competition was stiff. The Pamlico County Symphonic Band was the last band to perform on Friday night. Being the last band to perform could have been less than ideal, but the adjudicators were delighted with the band's performance and the band earned a Superior rating and 1st Place for 1A Concert Band Division. The band also achieved this Superior rating with a very young band that was playing high school level music. As previously mentioned, eight of the 25 students were middle school students from PCMS. This is quite an accomplishment we can all be proud of, and we're excited about what it means for the future. Mr. Durham said, "The students that performed had to ultimately be the ones on that stage being judged, but they have had a great deal of support from all around them." Because the band performed so well in achieving a Superior rating, they have been invited to the next level of WorldStrides Heritage Festival of Gold in 2016. Only bands that earn a Superior rating and achieve an overall score above 90 are invited to attend those festivals. The closest Festival of Gold is in Washington, DC, but other locations are Orlando, Chicago, Los Angeles, and San Francisco.
At this same festival, PCHS senior, Griffin Finch, was awarded the "Ovation Award." This was a special award to be given to someone that is not only an excellent musician in their band or chorus program, but also shows a great deal of pride, dedication, and support in their band, community, and family. There were about 600 students that participated in the festival that day and Griffin was the only person to receive this very special award. The director for each performing ensemble was to nominate one person for the award and write a paragraph about why they nominated that student. The festival staff read through all of the submissions and chose Griffin to receive the award. Mr. Durham said, "We are proud of her and all of the students in our band."
The band directors at PCMS and PCHS are building this music program and are trying to reestablish the reputation and pride in the music program that once thrived in Pamlico County. The story doesn't end here. The band is now looking at next year's festival in Washington, D.C. and possibly a trip to the festival at Carnegie Hall in 2017. If you have a student who wants to participate in a growing music program that strives for excellence, they can start in 6th grade at PCMS and continue through PCHS. Please contact Mr. Falardeau, davidfalardeau@pamlicoschools.org, or Mr. Durham,jamesdurham@pamlicoschools.org, for more information to learn how your student can join the band. Come see and hear this award winning band perform at their annual Spring Concert on Thursday evening, May 21 at 7:00 p.m. in the A.H. Hatsell Auditorium at PCHS; it is sure to be an outstanding event. In the meantime, keep practicing!
_____________________________________________________________________________________________________
Pamlico County Native Named New Administrative
Director of Charter School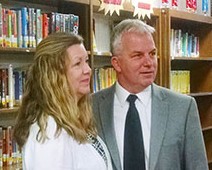 Longtime educator Dr. Dennis Sawyerand wife, Polly, say they
are anxious to return to Pamlico County.
The Arapahoe Charter School's Board of Directors announced the selection and appointment of Dr. Dennis John Sawyer as the next Administrative Director at last Wednesday's Board of Directors Meeting. Sawyer, a long time educator and native of Pamlico County, will take office on July first of this year. Dr. Sawyer, attended the meeting with his wife of twenty-seven years, Polly. They have two sons, Jordan and Bradley.
Dr. Sawyer, who holds a bachelor's degree, master's degree, educational specialist degree, and doctorate from East Carolina University, comes to Arapahoe Charter School with nearly three decades of experience in education. He currently serves as Superintendent of the Roanoke Rapids Graded School District. Prior to his eleven year tenure there, Dr. Sawyer served as a high school, middle school, and elementary school principal in the Beaufort County School System and the administrator in the Pamlico County School System. He began his educational career in Edgecombe County as a middle school vocational teacher and coach before serving as a teacher, club advisor, coordinator, and administrator with Craven County Schools.
According to a statement released by the Board, "Dr. Sawyer has been instrumental in human resource development and innovative approaches to learning during his career. The Board describes Dr. Sawyer as an effective communicator who they expect will build strong relationships with school system staff, students, parents and community members."
"The Board believes Dr. Sawyer's experience, commitment to excellence passion for teaching and learning, and visionary leadership will best serve the Arapahoe Charter School students, parents, staff and community for years to come and is confident that Dr. Sawyer will lead Arapahoe Charter School to even higher performance," states the release.
Dr. Sawyer is looking forward to returning home to Pamlico County and the opportunity to lead an serve the Arapahoe Charter School community.
"It's an exciting time, I look forward to carrying out a moral impactive following the school's motto of every child, every day. I am looking forward to working with you and supporting you. I look forward to getting to know the students and becoming a part of this community and thank you for this opportunity," said Dr. Sawyer.
_____________________________________________________________________________________________________
Arapahoe Charter Students Garden For A Good Cause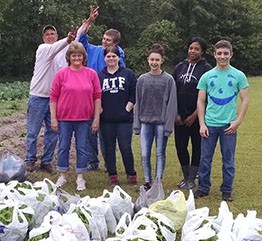 Martha Newman, a ninth and tenth grade teacher at Arapahoe Charter School, wanted to utilize the land in a teaching way. Through her love of gardening she created an occupational course of study for Arapahoe Charter School's career-oriented students. For the second year in a row her students have been tending to two gardens growing a variety of produce including two types of lettuce, brocolli, collard greens and peppers. The largest garden measures eighty by fifty feet. A portion of the vegetables are harvested by the students and donated to local food banks. Additional produce is sold locally and the profits are used for school-based enterprises.
"Both the students and I have learned so much along the way. My students ask questions that I may not know the answer to, but we do research and figure it out together, so it is a win-win situation," says Martha.
Arapahoe's student gardeners have made food donations to The Pamlico Food Bank, Fishes And Loaves and Operation Veggie Box. "We harvested our Veggie Box lettuce on Friday, nearly 170 pounds of lettuce went to Pamlico County Fishes And Loaves, The Senior Center, and two communities in the county," said Newman. The students developed a great system of harvesting, rinsing, and packing, so we they were able to complete the entire process in about forty-five minutes. "My students are awesome and we are going to be picking strawberries this morning," Martha boasted.
Martha says her students love to get their hands dirty and show their nurturing side while tending to their gardens. The goal at the end of each year's harvest is to expand their gardens and crops for the following year. "To see these students develop through the years has been worth all the hard work," she added.
Arapahoe Charter School is a teacher/parent directed community school that requires both to be involved in the governance of the school and share in the responsibility for the educational achievements of their students.
Week of April 29, 2015
State Gets Tough on Passing School Bus Violators
State legislators are looking for additional penalties for motorists passing stopped school buses.
The bills currently making their way through the House and Senate would provide local governments and school districts with the ability to expand the use of cameras to reduce the number of motorists not stopping for buses loading and unloading children.
The Senate voted April 22 to allow counties to initiate ordinances that enforce state law already prohibiting vehicles from unlawfully passing buses when their stop arms swing open and lights flash.
The local school system then would have the option to contract with vendors to install cameras and cite violators with $500 civil penalties, much like red-light cameras.
Currently passing a stopped school bus carries a $500 criminal penalty. Additionally the defendant must appear in court and is banned from evoking a prayer for judgement.
The Senate initially passed the measure 46-2, but not before agreeing to an amendment requiring counties to create formal appeals processes. A final chamber vote is needed Thursday before the legislation goes to the House.
All 24 Pamlico County buses are armed with interior cameras, but only nine currently have the exterior stop arm cameras. According to Dr. Wanda Dawson, if someone passes one of these buses, the film is reviewed and turned over to the state Highway Patrol for prosecution.
"This is a real concern for school districts, " Dawson said. "In addition to the use of cameras, we have also revamped our bus routes to drastically reduce the number of children having to cross the road to reach their bus."
The nine buses with stop arm cameras were chosen because of the number of incidents in those areas. Those areas are highways 55 and 306 S&N.
According to Pamlico County Finance Manager Steve Curtis, the cameras come with a hefty price tag - $3000 each. A state plan funds two cameras a year for the district with the school picking up the tab for several more.
"We don't know for certain that the funding will continue for the coming year," Curtis said. "I can say with certainty that it has and will be appreciated in the future." The Department of Public Instruction says school bus drivers observed more than 3,000 vehicles passing buses on one single day last month.
___________________________________________________________________________
All About Goals for Girls on the Run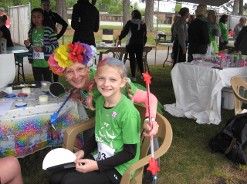 On Saturday a group of thirteen girls achieved a goal they have been working for twelve weeks to accomplish, finishing a 5k fun run as their family and friends cheered them on. The girls, all members of the Spring 2015 Girls On The Run Team, along with their Running Buddies, Coaches, Junior Coaches, Dream Team (alumni) Girls and a guest Girls On The Run Team Member from New Bern showed their star power as each crossed the finish line on the Pamlico High School track. Upon completion of the run, each team member was recognized and presented with a medal and certificate by Girls On The Run Coach, Cynthia Cochran.
Girls On The Run is an after-school program for girls in third through fifth grade which creatively integrates running to inspire girls to become independent thinkers, enhance their problem solving skills and make healthy decisions. The 24-lesson Girls on the Run curriculum, taught by certified coaches, combines training for a 5K (3.1 miles) running event with lessons that teach girls to be joyful, healthy and confident. At each season's conclusion, the girls and their running buddies, complete a 5k running event. Setting a goal to finish the run sets a framework for achieving life goals. The result—making the seemingly impossible, possible and teaching girls that they can.
Girls on the Run of Pamlico County is an Independent Council of Girls on the Run International, which has a network of over two hundred councils throughout the United States and Canada.
It is an all volunteer, nonprofit organization comprised of girls and thier parents, schools, volunteers and staff which is powered by community donations and volunteer energy.
With over fourty one volunteers at the 5k Fun Run, there were plenty of helping hands to assist with the festivities. DJ and Announcer, Cheryl Thompson, kept the music pumping to keep the girls going. Eight cadets from Pamlico High's NJROTC program were there to help set up, cheer the girls on and assist with the clean up. Deputy Stevens, from Pamlico County Sheriff's Department attended and greeted each runner as they broke through the finish line. The Rotary Club Of Oriental was on hand and provided all tents, tables and chairs for the event.
According to Betsy Hughes, Girls On The Run Council Director, this season's Girls On The Run Team trained to run the 5k while building thier knowledge about healthy ways to interact with thier peers. They learned about the hurtful effects of gossip and were taught some helpful strategies to use when confonted with bullying. As part of the curriculum, the team joined together to become a part of the larger community by selecting a community service project. The team chose to make dog and cat toys to be donated to the Craven and Pamlico Animal Shelters. The girls in an assembly line fashion, created over one hundred toys for dogs and cats in the shelters. Hughes reported that there are over two hundred councils, each one unique and dedicated to positively affecting girls' lives. She added that everyone, both locally and internationally, is very excited to be part of "1inamillion", clebrating one million girls having completed the Girls On The Run Program. A new, pilot program geared t middle shcool aged girls called Hear and Sole will be implemented this fall.
Pamlico's Girls On The Run thanks all that have participated, making the event a huge sucess. the organization Including all sponsors, coaches, volunteers, running buddies, and family members who made the event such a huge success. Local sponsors include: Axelson Chiropratic; Highland Industries, Inc.; The Masters Wealth Management Group; River Dunes; Minnesott Golf and Country Club's Ladies Golf Association and Rotary International. They would like to extend a special thank you to the Pamlico County Schools for use of the facilities and high school track, the staff of Fred Anderson Elementary, the Pamlico County Girls On The Run Board and the Oriental Express Bike Club.
To find out more about how you can be a part of Girls On The Run Pamlico County visit www.gotrpamlico.org,
________________________________________________________________________________________
Death Penalty Possibility For Murder Suspect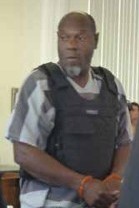 A man accused of murdering his own parents went before Pamlico County District Judge, Clinton Rowe, on Wednesday, April, 22 shackled and wearing a bullet proof vest. Fifty-four year-old Joe Jones, III is accused of shooting his eighty-two year old father, Joe Jones, and his seventy-six year old mother, Geraldine Jones. The two were found shot to death the afternoon of April 18th, in the home they shared with their son on Janiero Road, outside of Oriental. Jones made the initial 911 call, reporting that he had found his parents dead in their beds. Following a brief investigation, Jones was arrested the following day.
The judge advised Jones of a potential sentence of life in prison without parole or the death penalty. When asked if he understood the charges against him, Jones replied "Yes, Sir, I do." The judge granted Jones' request for a court court appointed attorney.
The case remains as an active investigation and deputies have not released a potential motive in Pamlico County's first double murder since 2003. According to District Attorney, Scott Thomas, the Pamlico County Sheriff Department along with the State Bureau of Investigation are working diligently to follow up on leads, talk with potential witnesses and gather evidence. Thomas praised the investigative work done by the two organizatins thus far. According to the NC Department Of Public Safety web site, Jones has a limited criminial history including DWI and possession of drug paraphernalia charges in 1990 and trespass and damage to property charges in 1987. Jones will remain held in the Pamlico Couty Detention Center without bond. His next court appearance is slated for May 8.
__________________________________________________________________________________________________
Week of April 22, 2015
Suspect Arrested in Double Murder, 911 Tape Released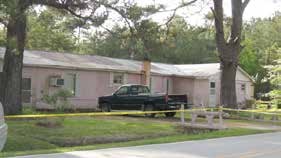 By Deborah Dickinson
Pamlico News Staff
A double homicide resulted in an arrest of Joe Thomas Jones III following the discovery of the bodies of his parents, Joe Thomas Jones and Geraldine Thompson Jones.
At approximately 3:47 p.m. Saturday the Pamlico County Sheriff's Office received a call regarding the discovery of two deceased individuals located in the residence located at 1396 Janiero Road near Oriental in Pamlico County. Upon arrival, Deputies requested assistance from the North Carolina State Bureau of Investigation. Pamlico County Deputies and Agents with the NCSBI began collecting evidence and conducting interviews. Responding officers found two bodies inside the home with apparent gun shot wounds. The deceased were identified as Joe Thomas Jones, born August 8, 1932 and Geraldine Thompson Jones, born December 12, 1938.
On Sunday, April 19th at approximately 11:30 p.m. Joe Thomas Jones III, of the same address as the deceased, was taken into custody and charged with two open counts of murder in connection to the deaths of his parents,, as a result of the investigation.
According to authorities there was an earlier disturbance at the same address earlier on Saturday. At approximately 7:30 a.m. a neighbor called 911 to report a domestic disturbance. Deputies responded to the reported domestic dispute and found the suspect, Joe Thomas Jones, III and a female arguing outside the home. Authorities confirmed that the female was not Jones' Mother, Geraldine Thompson Jones, and say the dispute was diffused and no arrests were made.
Jones is being held in the Pamlico County Detention Center under a No Bond. The first court appearance for Jones will be today in Pamlico County District Court.
__________________________________________________________________________________________________
Pamlico Student Simmons Selected to Attend
2015 NC Youth Legislative Assembly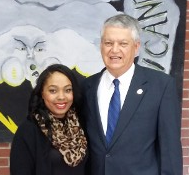 Michaela Simmons, Junior at Pamlico County High School, was recently selected and sponsored by the office of Senator Norman Sanderson to represent our area at the 45th Annual Youth Legislative Assembly (YLA) in Raleigh, North Carolina. Simmons joined over 200 high school students from around the state to draft bills, engage in debate and vote on mock legislation.
Mirroring the real NC General Assembly, students assembled from across North Carolina to elect a leadership team, choose bill topics and then create mock legislation to be debated and voted up or down. Topics ranged from the controversial to the benign, including children and families, the environment, technology, civil rights, human sexuality and education.
"It was really great to work with other young people in what was very similar to the real legislative process," Simmons said of the YLA weekend. "The arguments, debates, and even agreements taught me how to respect everyone's opinions and beliefs while standing up for my own beliefs. It was an experience I truly loved and gained much value from."
The YLA is hosted by the North Carolina General Assembly and is directed by the Youth Advocacy and Involvement Office of the NC Department of Administration. The program builds, encourages, and strengthens character traits that equip students to take leadership roles in civic activities in their communities.
According to Senator Sanderson, "The YLA is an excellent opportunity to learn first hand how the legislative process works in an actual legislative environment. It is important for our young citizens to be involved in and have knowledge of the legislative process. Students such as Michaela are not only tomorrow's leaders…they are the leaders of TODAY. We are honored to have Michaela represent our area at YLA and thankful that the program has been shaping young leaders for many years."
Michaela is the daughter of Monica Gibbs who also has a passion for the political process and lives in the Bayboro community of Pamlico County. Upon graduation, Michaela plans to attend Meredith College and pursue a degree in graphic design.
_____________________________________________________________________________________________________
Keeping Your Money in Pamlico County
By Maureen Donald
The Pamlico News
A Senate sales tax revenue redistribution plan made public this week could provide a welcome boost to Pamlico County coffers but could cost other counties millions.
Monday Pamlico County Commissioners approved a resolution in support of Senate Bill 369 that would change how the state parcels out a portion of taxes collected when people buy clothing, building materials and other goods. Instead of basing each county's share largely on where sales occur – the current system – the bill would change to a population-based distribution. Shopping destinations for Pamlico County residents such as Craven County and farther destinations such as Durham and Wake counties would get less revenue, while rural counties would see big gains.
"This is not just about Pamlico County, this is about leveling the playing field for all our state's rural counties," said Paul Delamar III. "The dollars our residents spend in nearby counties out of necessity should benefit themselves and their neighbors, not other communities."
The resolution in support of reallocating the distribution of sales tax from point-of-sale to a per-capita basis states "if citizens of a rural county travel to shopping areas in a nearby larger county, then the larger county reaps the benefits of the sales dollars spent by rural citizens. This point-of-sale collection results in greater distribution of sales tax revenues to the more populated and urban counties that are more likely to have a greater number of retail shop, and results in fewer proceeds to rural counties whose citizens must travel outside of the county to purchase available goods and services . . ."
An example would be that of a Pamlico County resident in the market for a vehicle. With no dealerships in the county, traveling to another county is necessary and the result is those tax dollars stay in the county where the purchase was made.
Of the 100 counties, 83 would benefit from passage of the bill, but the opposition from those wealthy counties - those that would lose tax revenue - is staunch and includes the North Carolina Association of County Commissioners, headquartered in Raleigh.
The bill's sponsor, Senate Majority Leader Harry Brown of Jacksonville, has said the proposal would benefit the state's rural counties that lack the shopping opportunities of more urban locales. In the case of Pamlico County, Brown projected an additional $1.4 million over a three-year period should the bill become law.
The plan has been criticized by several larger counties, including Durham, Wake and Dare counties saying it would force them to raise taxes or cut services.
Among Triangle counties, Durham would be hit hardest, with revenues dropping 9.2 percent from fiscal year 2013-2014 to fiscal year 2018-2019, when the change is fully implemented. That means Durham would receive $4.22 million less than it took in last year – while the county is expected to see continued growth in residents and sales.
However, the proposal would leave county commissioners with a choice: cut government spending or raise either the property tax or sales tax. Under the legislation, county commissioners could enact a quarter-cent sales tax increase without a ballot referendum – as long as voters haven't defeated a tax hike proposal there in the past five years. Brown says it's an option to make up for lost revenue.
Brown has said he expected the bill would see bipartisan support and bipartisan opposition. So far though, only one Democrat has signed on as a co-sponsor: Sen. Ben Clark of Hoke County, where sales tax revenues would more than double. The other 11 co-sponsors are Republicans whose districts would gain revenue under the plan.
The bill will go to the Senate Finance Committee in the coming weeks.
Week of April 15, 2015
Dawson Honored by National Group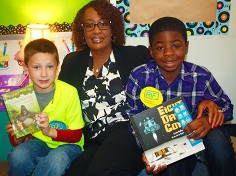 By Maureen Donald
The Pamlico News
WASHINGTON, D.C. – Reading Is Fundamental (RIF), the nation's largest children's literacy organization, has chosen Dr. Wanda Dawson to receive the 2015 Anne Hazard Richardson RIF Volunteer of Year Award (VOYA).
"Reading Is Fundamental is powered by exceptional volunteers who are passionate about our mission and the children we serve," said Carol H. Rasco, President and CEO of RIF. "Their commitment to creating extraordinary experiences and opportunities for children ensures that they will not only have books, but the inspiration and confidence to pursue greater futures for themselves. Through their hard work and dedication, Wanda is setting students up for success in school and beyond."
"I am extremely grateful to be selected as a 2015 Anne Hazard Richardson RIF Volunteer of the Year," Dawson said. "I just can not say enough about our partnership with Reading Is Fundamental. I am thankful for how the organization has helped our literacy program."
Dawson, Superintendent of the Pamlico County School District, did not hesitate when she was approached by RIF to participate in a research study to improve literacy.
The RIF program provided classroom sets of books on topics dealing with science, technology, art, engineering and math for each K-5 classroom and the media center at Pamlico County Primary School and Fred Anderson Elementary School.
Dawson extended thanks to Debby Hollowell, Media Coordinator at Pamlico County Primary School and Sherry Meador who was then the principal at Fred Anderson Elementary School for all their help in getting the program up and running at each of the schools.
"The fact that these kids would have the opportunity to take these books home - it was just wonderful," Dawson said. "We had some multicultural books, but not a lot. Our Hispanic population grew from zero to 20 kids and that may not sound like a lot, but it meant a lot to them."
"The most rewarding part of the grant was the RIF book distribution that occurred the last week of school and again over the summer," Dawson said. "Each student received a total of eight books. Each student got to pick out their own books and they were so proud."
For the few families who could not attend the distributions over the summer, Dawson loaded up two county vehicles with the RIF books and drove them out to the students' homes.
While the research study provided take-home books for students in second and third-grade, as well as fourth grade during the second year of the study, Dawson took her own measures to expand the program throughout the school. "We collected over 5,000 books so that every child, kindergarten through fifth grade, got those books for the summer."
Now that the study has concluded, Wanda is continuing the collection to keep giving books to every K-5 student before summer break. The books are important, she explains, because "we have children that live 35-40 miles from the library. It's hard to get there over the summer, and even if you can you have to choose between using gas to go to the library or for Daddy to go to work."
Pamlico received its first RIF books and activities after Hurricane Irene in 2011. "It devastated the county," Wanda says. "RIF was the perfect program because people had literally lost everything. But they had the books."
Since 1998, the Anne Richardson Volunteer of the Year Award has been presented annually to RIF volunteers whose dedication to improving children's literacy through service to local RIF programs is truly outstanding and inspiring. By offering this national recognition, RIF seeks to engage children's literacy volunteers and advocates in celebrating the spirit and practice of volunteerism and honoring the accomplishments of those who encourage and nurture young readers. This prestigious award is named for RIF's chair emerita, the late Anne Hazard Richardson. The 2015 award winners will be recognized during RIF's Z IS FOR MOOSE Gala in Washington, D.C., on May 19. For more information about RIF's Gala, visit http://www.rif.org/gala.
____________________________________________________________________________________
Be a Mad Hatter for a Good Cause
The 3rd annual Mad Hatter Masquerade Ball will take place at the on May 2nd at the Delamar Center at Pamlico County Community College. The ball, which benefits Pamlico Partnership For Children and the programs that it offers will be catered by title sponsor, Outback Steak House. Pamlico Parts Company, NAPA of Alliance, also a title sponsor of the ball, has made the event possible with their generous contribution.
This year's Mad Hatter Sponsors include Potash Corp., and First Citizen Bank of Bayboro and Oriental. Alice Sponsors include: Smiling Faces; Rose and Rose DDS., P.A.; and Potter Oil
Queen of Hearts Sponsors include: Sixth Street Website Design & E Marketing, LLC; TR Prescott Marine Construction; B Prescott Marine Construction; Spencer Farms, Inc.; Austin Bros. Fisheries, Inc.; and Hardison's Tire Company. Cheshire Cat Sponsors include: Charles and Ann Holton; Bryan and Jaclyn Jones; and James and Marilyn Ragan.
Pamlico Partnership for Children, Inc., a non-profit organization incorporated in 1994, seeks to nurture the development of creative innovative programs and solutions to address the needs of young children and their families to ensure that Pamlico County children enter school healthy and ready to succeed. One such program, Smart Start, through a comprehensive public-private initiative, serves children 0-5 years of age through a variety of programs that help provide access to high quality and affordable health care and other critical services. Smart Start was created in 1993 by Governor Jim Hunt and the program won prestigious National Innovation in Government Award in 1998 and 1999. The mission of Pamlico Partnership for Children is to ensure that children grow up to be responsible citizens, assuring the continuing viability of Pamlico County.
"I have enjoyed the mad hatter ball every year. It just gets bigger and better. This is the most fun you can have while benefitting the children of Pamlico County," says Dottie Barker-Bechtold, volunteer and grandparent of the program.
Sponsorship and individual tickets to the event are still available. Contact Michelle Shields at 252.745.7880 for more information.
_______________________________________________________________________________________
Dragons Are Now Safe in Town of Oriental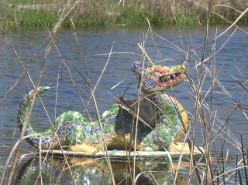 By Deborah Dickinson
Pamlico News Staff
The Town Of Oriental Board approved a very important resolution last week making it much safer for dragons to live in and thrive in the town of Oriental as long as they are on their best behavior and do not present a nuisance. Town Board members unanimously passed the resolution establishing Oriental a Dragon Sanctuary.
The resolution is as follows:
Whereas, the name of the town, "Oriental", has inspired artists, writers, residents, entrepreneurs, and visitors to enjoy and incorporate a whimsical appreciation of "things relating to the Orient," especially Oriental or Asian Dragons, and,
Whereas, over the last fifty years the number of dragon references, signs, eggs, and other representations throughout the town and dragon inspired events gracing the town's calendar have increased significantly, and,
Whereas, the town's association with Dragons adds to its allure so that citizens and businesses have demonstrated a desire to embrace dragon images, events and lore, into the life of the town, and,
Whereas, grandparents are often heard teaching their grandchildren to county by having them count the number of dragons they see as they wander about the town, and,
Whereas, Asian dragons represent health, vitality, creativity, and bounty arising from natures' wetlands, marshes, and mists, and,
Whereas, The Town of Oriental incorporates and is surrounded by vast wetlands, the traditional mythical habitat of Asian dragons and considers dragons to be friendly and honorable creatures who should be kept safe when in our town.
Now Therefore Be It Resolved by the Town Board of Oriental, North Carolina as follows:
Section 1. That the area confined within the town limits of the Town of Oriental be, as the same is, hereby designated as a "Dragon Sanctuary".
Section 2. It shall be unlawful to trap, hunt, shoot, attempt to shoot, molest or harm in any manner any wild dragon, or to rob them of known nesting areas within the Dragon Sanctuary; provided, however, that if lesser, badly behaved dragons are found to be congregating in such manners in a particular locality that they constitute a nuisance or menace to health or property in the opinion of the Town Boar, then in that event the Town Board may make arrangements to abate the nuisance in such a manner as they deem advisable.
Section 3. Anyone violating the provisions of this Resolution should be punished.
The resolution was approved and adopted on the seventh day of April, 2 and signed off on by Oriental Mayor, Bill Sage and Town Clerk, Diane Miller.
Week of April 8, 2015
Bill Would Urges Coastal Colleges to Offer Commercial Fishing, Aquaculture Courses


L to R: Dr. Cleve Cox, PCC President; Jerry Schill, NCFA President
By Maureen Donald
The Pamlico News
A bill urging community colleges in North Carolina's coastal areas to offer courses in commercial fishing and aquaculture is currently making its way through the North Carolina legislature.
Senate Bill 112 was approved last month on its third reading in the Senate. One of the bill's sponsors is Sen. Norman W. Sanderson (District 2) representing Pamlico, Craven and Carteret counties. The other sponsors are Sens. Bill Cook (District 1), and Jerry W. Tillman (District 29).
The North Carolina Fisheries Association endorses the move citing greater need for awareness of the industry.
"While NCFA did not push for the introduction of this bill, we support its passage. The bill simply encourages our coastal community colleges to offer courses in commercial fishing and aquaculture and take advantage of the assets and infrastructure that we already have in Carteret and Brunswick Counties," said Jerry Schill, president of the North Carolina Fisheries Association. "From an economic development standpoint, it highlights an industry that already exists and the need to offer courses for the labor pool to support and help it grow."
Currently Carteret Community College and Brunswick Community College offer aquaculture courses. Carteret Community College offers course credits that may be transferred to four-year marine-biology courses at East Carolina University or the University of North Carolina-Wilmington. Brunswick Community College's aquaculture courses focus on freshwater aquaculture.
"It is very encouraging to see the legislature support the needs of North Carolina's commercial fishing industry, said Cleve Cox, president of Pamlico Community College. "We will certainly consider offering any course, certificate, or program that would do that."
"For this industry to grow in North Carolina, we need to make sure our coastal community colleges are offering courses that support the fishing and aquaculture industry," Cook said. "We North Carolinians deserve nothing less than the safest, healthiest and most delicious seafood available."
The state's community colleges are funded based on previous years' enrollment and performance standards, so it may be difficult for small colleges like Pamlico to fund a new program unless it ends a program and diverts money from it to start a new one or unless it receives outside funding such as grants to help defray the start-up costs of that program.
"In all likelihood, at least as the first step, we would pursue collaborating with our friends at Carteret as has Brunswick Community College, to make commercial fishing and aquaculture available right here at Pamlico Community College," Cox said. "This would give us the opportunity to maximize resources, accessibility, and the availability of this program."
An associate-degree program in coastal fishing or aquaculture like the one cited at Carteret Community College would require a substantial investment. An Internet-based program in aquaculture offered through the Division of Continuing Education at Brunswick Community College would require less of a financial investment but most likely would involve, at the least, hiring an instructor and obtaining instructional materials for the course.
"Without outside help in paying for personnel, equipment, classroom supplies and other related costs, a small college like BCCC simply could not afford to pay for those start-up costs," reads a statement released by Brunswick Community College.
"However, as discussions about this continue, there may be other options open to us — such as partnering with another community college — that could enable BCCC to offer at least a part of the courses on its campus," the statement notes.
______________________________________________________________________________________________________________________
Search Continues For Missing Boater
Search and rescue efforts resumed Monday morning off the shores of the Neuse River for a boater who went missing Friday afternoon when his inflatable raft capsized off Flanners Beach. The missing boater has been identified as Daniel Newberg, age twenty-eight of Havlock. Since his disappearance, search efforts by the North Carolina Marine Patrol, North Carolina Wildlife, rescue helicopter, Pedro and volunteer firefighters from both Pamlico and Craven counties have been hampered by high winds and strong surf according to Craven County EMS Assistant Director, Ira Whitford.
Initial report state that a man and his fiancée, were camping at Flanners Beach and had taken a small, inflatable dinghy off shore to check on a crab pot shortly after noon on Friday. The man dropped an oar into the water and while reaching for it, capsized the boat.
The incident occurred in an estimated six to eight foot of water and the boat was pushed further out into the Neuse by the waves before capsizing, according to reports. The waters in this area are known to have drastic drop off points. Although the two boaters were closer to the Craven County side of the Neuse River, wind and waves made it impossible for the two to reach the shores and instead pushed them further into the waters toward the Pamlico side of the river.
The female passenger was able to swim to the opposite shore, near Kennel Beach, where she was picked up several hours later and was given assistance by local residents who heard her calling for help. According to the Pamlico County Sheriff's Department a call was made to the 911dispatch at 7:30 p.m. on Friday evening. The caller reported hearing a woman calling for help from the water.
Authorities describe the boat as an inflatable dinghy, no more than five or six feet in length. Neither passenger was wearing a life jacket. Although the boat and the woman were located along the Pamlico shore of Kennels Beach, Craven County Emergency Management has been overseeing the search since the initial incident occurred in Craven County when the boat capsized off Flanners Beach.
_____________________________________________________________________________________________________
Building Engineers through Career and
Technical Education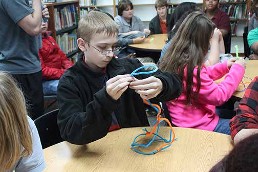 Drafting Engineering III at Pamlico County High School is the so called foundation of future engineers, but it more than just preparing you for the future. It teaches you concepts that cannot be taught by teachers, like thinking intellectually, visualizing and imagining your drawings in a 3D space. Grasping these concepts is what truly prepares you for the future, because you learn to problem solve in unconventional ways, opposed to the obvious. Drafting Engineering III also teaches you important concepts you do need to learn, such as leadership skills. The difference between a boss and a leader is the leader will help others and doesn't care about the solidary incentives. Also, you learn programs, such as, how to use Auto Cad and Inventor Professional, which is essential to know if you're going to become an engineer. Topics include job seeking and interviewing skills, the engineering design process, constraint-based/parametric modeling, threads & fasteners, working drawings, basic geometric dimensioning and tolerance, and portfolio development.
This course introduces students to the use of the graphic tools necessary to communicate, analyze, and understand the ideas and concepts found in the areas of engineering, science, and mathematics. This course is demanding, requiring the application of complex visualization and computer skills. These skills will be used to assess, communicate, and design virtual and physical models used in Science,Technology, Engineering, and Mathematics (STEM), manufacturing, transportation, and structural systems.
The week of March 9 was National Engineering Week. On March 9, three engineers from the Marine Corps Air Station Cherry Point visited Pamlico County High School to talk to Honors Drafting Engineering III students about what they do, how engineering has impacted our lives and to increase the understanding of and the interest in engineering and technology careers. They also explained the many different fields of engineering, many of which I have never heard of before. Regardless, every form of engineering benefits our lives for the better.
Recently, we received a generous donation from a local engineer of three 3D printers. These came unassembled, allowing us to experience hands on engineering in a modern form. These 3D printers are going to be a huge help to our class because they help us print tools we need to solve every day problems. On behalf of our entire class of Honors Engineering III students, we cannot thank the donor enough for this wonderful donation.
This is a high value third level course, which teaches you how to use your skills from the previous levels, and use them in a more practical manner. Right now, we are creating miniature towers out of balsa wood. Instead of just jumping in to creating the tower to hold maximum weight, we work in a program, such as, Inventor Professional, and create various prototypes and concept ideas. The beauty of these programs is that the prototypes you create can be created with a virtual balsa wood, with the same properties as the real thing. Then, you can add constraints and test how much that prototype could actually hold. This allows us to test our ideas without ever having to waste materials. Drafting Engineering III is a very beneficial class that will help students in the future, as well as, right now in your everyday lives.
This article was written by Marlon MacIntyre, Engineering III Honors student at Pamlico County High School.
Caption for #1 & #2: Examples of student work in 3D printing.
Week of April 1, 2015
HeartWorks Awarded For "Go Far" Running Program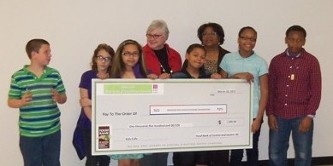 By Deborah Dickinson
HeartWorks took home "The Best All Around Program Award" at this year's Kids Café, North Carolina Central and Eastern Food Bank Awards luncheon in Raleigh. Kids Cafe is an after-school program that offers tutoring, nutrition education, mentoring, and nutritious meals to children at risk of hunger. Cathy Keating-Cox, Program Director of HeartWorks 21st Century Community Learning Center in Bayboro, and her students were on hand to receive the prestigious award for their "Go Far" running program. The after school program, incorporates all elements of a successful Kids Café while introducing students to new experiences. During the program, twenty HeartWorks students and staff trained to participate in a five kilometer run while learning about healthy nutritional habits. In addition, to the daily outdoor recreation period, their gardening club grew fresh vegetables for healthy eating. According to Cox, students learned that working and training for a goal may result in rewarding new experiences like competing in a 5 k race. Cox contends that through this program her students have reached milestones in their training and improved their listening skills and literary abilities while walking for exercise. The "Go Far" program has also encouraged many students to sign up for organized sports activities for the first time and has taught them to choose more nutritional snacks like fruits and vegetables. "Because of the support we receive from Kids Café and the Food Bank of Central & Eastern NC and the Walmart Feed America Program, we are now able to offer our students fresh fruit and raw vegetables for snacks. The real success is that students are making healthy choices on their own," boasts Cox. As winner of "Best All-Around Program Award, HeartWorks received a check in the amount of $1,500 to reinvest in their "GoFar" program.
The Food Bank's Kids Cafe program began in 1999 and currently supports twenty-six Kids Cafe programs at thirty-two sites in twenty-five counties serving approximately 1,692 children.
Each Kids Cafe site is operated in partnership with a respected community agency and are geared towards academic enrichment, mentoring, nutrition education, nutritious meals, physical activities and parental empowerment.
Since being founded in 2002 by Rod and Dr. Sue Lee, HeartWorks has been a lifeline for some residents of Pamlico County. HeartWorks is a nonprofit community service agency and its' 21st Century Community Learning Center serves over 150 students each weekday in it's Safe Harbor Youth Center in Bayboro assisting them with homework assignments and tutoring. Cathy Keating-Cox was recruited by Executive Director, Karen Prince in 2014 and since coming on board has hit the ground running. Due to Cox's efforts, in addition to the "Go Far" Club, children attending Heartworms can participate in a number of projects and clubs including: International Club, African Drumming Club, 4-H, Girls Scouts, choir, kayaking, sailing, garden club, and fishing club.
Cox, with a masters degree in education has had a diverse background which she feels has helped her in her position with HeartWorks. Originally from Florida, she was teaching gifted children in Texas, where she was recognized for her unique teaching style and recruited into the FBI. She entered in to the academy in Quantico where she was in a class of thirty cadets with only four other women. She was the 300th women to graduate from the academy. During her twenty-one years with the bureau, Cox worked in various capacities, including working under-cover to arrest fugitives and fight white collar crime. A most memorable assignment for Cox was posing as the wife of a kidnapped bank manager. Cox, recalls driving the demanded ransom money the drop off point disguised as the bank manager's wife and in the end the hostage was rescued the money returned and no one was hurt.
After retiring Cathy and her husband spent six years sailing and that is how they found eastern North Carolina. They decided they loved what the area had to offer and she and her husband settled here from Florida. But, after some time Cathy became bored and began to volunteer at a school and was later hired for a full time position. She was a specialist for Craven County Smart Start, traveling six counties working with teachers to provide counseling for after school programs prior to joining the staff at HeartWorks. Cathy saw a real, pure of heart commitment at HeartWorks. "I loved what Heartworms was doing for the kids. I fell in the love with the place and it was if God was tapping me on the shoulder saying it is time to give back," she said. Her initial goal was to improve the quality of the educational staff. Every team has a certified teacher and a teaching assistant. Cathy encourages her staff to continue their education. "If you want to stay here, you must work toward your degree," she believes. She calls her staff a balance between lively retirees and young educators.
HeartWorks also offers Stillwaters Counseling Program which provides individual and group help for children, students, and adults in and around Pamlico County. Safe Start Academy is HeartWorks' licensed five-star developmental daycare for preschool age children, one to five years old. HeartWorks Summer Learning Programs, have grown in scope and volume and offer a six to eight week all-day Summer Program focused on academics, unique enrichment, enlightening service, and fun recreational activities. Last year fifteen lucky students from the program attended sailing camp at Bow To Stern in Oriental.
One of the first programs instituted by Cathy was designed to teach social skills. Students were given tickets each time they exhibited exemplary social skills. In turn they could use those tickets to purchase items from the school's store. They then created a mini society program in which the students created their own business model and plan. They then were able to use the tickets earned to purchase items they needed for their business. For example, buckets and sponges were available for the car wash business and cake pans, batter mixes and icing were available for the new bakery.
Area residents will be able to view these companies who will be joined by other Youth Groups in the county the first "Pamlico Youth Market" on May 20th from 5-7pm at HeartWorks.
This year, Cathy's focus is respect. She describes as two-fold and feels adults model respect. She wants to teach kids to respect themselves, their peers, teachers, parents, etc. One of the seven groups of students participating will earn a point weekly for showing the most respect. Every two weeks, the group with the most points gets a pizza part on Friday.
Funding comes from a 21st Century Community Learning Center grant, individual and corporate donations, and fundraising. These programs are free to Pamlico families on a need first basis. "Everybody helping us is what makes HeartWorks go. It is an exemplary program which takes much hard work and funding," said Cathy who credits the Board of Directors with their ongoing support through funding. There is a current fundraising drive in which students are soliciting change called "Pennies From Heaven" to raise money to re-carpet the first floor of the facility. Cathy would like to remind everyone that HeartWorks is in need of mentors and volunteers. "Ours are sent straight from heaven," she gushed. A no-obligation, volunteer orientation session will be held on April 7th from 1-3 p.m.
Cathy believes there is a commitment to quality which she has come to appreciate and learn. "I thought it was all about the kids, but I realized that the importance of HeartWorks in Pamlico reaches further than kids, it reaches families and the community as a whole, allowing persons who may not be able to go back to work or school to do so, thus constantly improving the community," she said.
______________________________________________________________________________________________________
Pamlico's Briana Jones And Coach April Rose
Honored By Sun Journal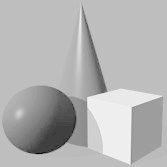 Pamlico Junior, Briana Jones, averaged a team-best 12.8 points per game for the Lady Canes Basketball Team, who went 23-3 and reached the third round of the NCHSAA 1A state playoffs this season. For those accomplishments and her 3.8 assists per game and 2.5 steals per game, Jones was named the 2014-15 Sun Journal Girls' Basketball Player of the Year. Jones gives credit to The Lady Canes head coach, April Rose named Sun Journal's 2014-2015 Coach Of The Year, and her teammates with her success this season. Rose has coached the Canes for the past three seasons.
Over a span of Jones' three years in high school, The Lady Hurricanes have earned a 62-16 record. Earlier this season, Jones hit a milestone in her career by scoring her 1,000 point and received a commemorative basketball from Coach Rose during a celebratory pause in the game while fans cheered her on. Jones was not the first Hurricane to score 1,000 points. Her teammate, Alazia Whitfield was the first to take that honor back in February.
The Lady Canes finished the season with a 23-3 record overall but lost out in the third round of state playoffs to the state runner-up, Riverside. Despite the heartbreaking loss there were many highlights during their run. They were conference champions for the second year in a row with a record of 33-2 in the conference over the past three years. Coach Rose said she is proud to have coached three All Conference first team performers, Senior, Alazia Whitfield, Junior, Briana Jones and Junior Laichelle Sparrow. There were also four All Conference honorable mention title holders: Senior, DeAndrea Dawson; sophmore, Leetasia Midgette; sophmore, Zyaja Mattocks; and sophmore, Alexis Hawkins-Pool. Senior, Alazia Whitfield and Junior, Briana Jones, were also named All District performers.
"Overall we had a fantastic season, improving our record from a year ago.
We would have liked to had the opportunity to attend Regionals, but in
order to be the best, you have to beat the best, and unfortunately we lost
to the state runner- up for the second year in a row," said Rose. "I am extremely proud of this team, we are more than a basketball team, we are like a family and everyone genuinely care for each other. We are already starting to prepare for next season and look forward to 2015-2016," she added.
_____________________________________________________________________________________
Multiple Agencies Involved in Pamlico Drug Bust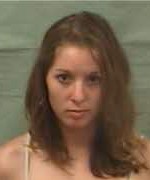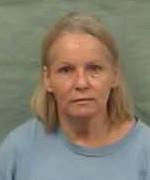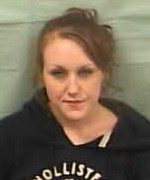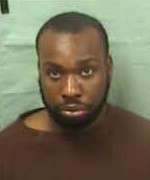 L to R: Tara Denise Wood, Shirley Wood, Mary Rebecca Williamson and Maurice Eugene Moore
On Friday, March 27, the Pamlico County Sheriff's office Narcotics Unit and the New Bern Police Department Narcotics Unit executed a search warrant at the residence of Shirley Wood, age fifty-six, of 8293 NC Highway 55 East in the Reelsboro community of Pamlico County.
The warrant was the result of an ongoing joint investigation involving several agencies including the New Bern Police Department, the Craven County Sheriff's Office and the Bridgeton Police Department. During the execution of the warrant Heroin and Cocaine were found in the residence along with numerous items of packaging material, digital scales, syringes, and cutting agents.
The residence has historically been at the center of numerous investigations involving the sale and use of controlled substances and also was the location of two deaths that were related to Heroin and or Fentanyl overdoses in 2014.
Shirley Wood was arrested and charged with maintaining a dwelling for the sale of controlled substances, conspiracy to sell/deliver Heroin, and possession of drug paraphernalia.
Mary Rebecca Williamson, age twenty-three, of Arapahoe was charged and arrested for possession of Heroin and possession of drug paraphernalia.
Maurice Eugene Moore of Reelsboro was arrested on two outstanding warrants for maintaining a vehicle for selling controlled substances, Moore was also charged with possession with intent to sell and or distribute Heroin, possession with intent to sell and or distribute counterfeit controlled substances, and conspiracy to sell and or deliver Heroin stemming from the search warrant.
Tara Denise Wood, age twenty-three, of Reelsboro was charged and arrested for possession of drug paraphernalia.
Week of March 25, 2015
Sheriff Sets Sights on Cold Cases, More Resources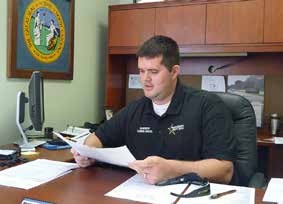 By Maureen Donald
The Pamlico News
A hundred days into his term as Pamlico County Sheriff, Chris Davis has a big agenda including tackling today's drug problems, continuing his modernization of the department and increasing the resources available.
Thus far, changes in the department have included the addition of three vehicles, beefed up staff consisting of nine deputies (seven retained, two new) and five investigators (three retained, two new), one of which assigned to combat drugs. It all costs money and according to Davis, Pamlico County Commissioners are providing the support needed.
"We understand money doesn't grow on trees," Davis said. "That said, commissioners realize what we're up against and are doing whatever is possible to provide the funds needed."
Not all the changes have needed cash, deputies were added following the retirement of clerical positions.
"I used the vacancies to add more presence on the street," Davis said. "I can answer my own phones and tend to my own email,"
Davis is hoping a portion of the funds needed for additional resources will come from grants helping to defray the cost to the county.
"I've got my eye on several grants that could help even more."
By even more, Davis refers to dispatch which he says is extremely understaffed.
"We need at least two additional dispatchers," Davis said. "Handling the number of round the clock calls with four dispatchers is a big challenge and as this county grows, it will get more and more difficult."
"I've watched our dispatchers juggling calls and frankly, I'm amazed that they can handle what they do."
But Davis' major focus remains what he believes is the growing drug problem and acquiring the resources to combat it.
"This year drug arrests are up 65 percent from last year," Davis said. "I'm pleased but that doesn't mean we can't do better."
According to Davis, he can't and won't worry about prosecutions.
"Our job is to make the arrests, make as good a case as possible and leave the rest to those qualified to take it to the next step," Davis said.
"We're not saying we'll get rid of all drugs," Davis said. "But we will make every effort to do the best job possible."
In addition to tackling the day-to-day business of law enforcement, Davis has his eye on the county's cold cases, in particular the Linda Lee Jackson and Flowers murders. Both cases deserve another look, according to Davis.
"I feel like anytime there's a homicide, it should be investigated until the end," Davis said.
_______________________________________________________________________________________
Jackson Tapped to Head Schools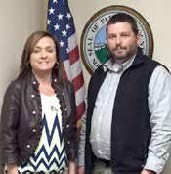 The Pamlico County Board of Education elected Lisa Jackson as the next Superintendent of the Pamlico County Schools, upon Dr. Wanda Dawson's retirement, effective July 1. The appointment is for a four-year term.
"I am thrilled to be given this opportunity to continue serving the Pamlico County school community," said Jackson following her appointment. "I look forward to bringing the same passion and energy to this job as I have since starting here in 1989."
"I feel so blessed to work with an amazing group of students and staff."
In announcing the appointment, the Board thanked Dr. Dawson for "her tireless service and her enduring commitment to the Pamlico County Schools, not only during her successful tenure as Superintendent, but over her entire career in this school system. She has left an ever-lasting imprint, and we wish her the best in her retirement."
"Congratulations to Ms. Jackson on being appointed as the next superintendent. I am very proud of the work Ms. Jackson has done in her various roles in the district and I know she will do an outstanding job in her new role as superintendent of schools," said current Superintendent Dr. Wanda Dawson. "I wish her the best of luck."
Jackson has served the Pamlico County School System throughout her entire career. She graduated from East Carolina University with a Bachelor's Degree in early childhood education in 1989. She immediately began her professional career at Pamlico Middle School, teaching math, language arts, science and social studies. She earned career status as a teacher in 1992 and was the 1999 Pamlico County Middle School Teacher of the Year. During that time, she also earned her Master of Arts degree in reading education from East Carolina University in 1996.
From 2000 to 2006, Ms. Jackson served as department chair for education programs at Pamlico Community College. She returned to the Pamlico County School System in January 2006, as Director of School-Community Relations. From there, she became an Assistant Principal at Pamlico County High School in 2009, Principal of Pamlico County Middle School in 2010, and Principal at Pamlico County High School in July 2013.
Ms. Jackson will remain Principal of Pamlico County High School for the remainder of this school year, and she will be working with Dr. Dawson to assure a smooth transition to the 2015-16 school year.
_______________________________________________________________________________________
Oriental Town Board, David Cox Dispute
Draws Public Reaction
The on-going dispute between the Town of Oriental and David Cox is finished according to Oriental Bill Sage. But the controversy seems far from over.
The three-year dispute stemmed from a land trade involving the closure of rights-of-way the South Avenue and Avenue between the town and Chris Fulcher. Cox said from the onset he opposed the Oriental Town Board's desire to sell or barter an asset they only hold in trust for the public.
"An agreement signed by myself on behalf of the Town Board and signed by Mr. Cox constitutes a fully executed agreement," said Sage. "I am relieved that this is finally over. The process has been frustrating, costly and lengthy for all. It is gratifying to stop the flow of money and put it to better use."
But not everyone is gratified with the Town Board's response to the settlement agreement.
In a Letter to the Editor in this issue (see page 9A) Jim Privette calls the Town's press release on the issue, "an anonymous editorial demonizing David Cox."
On the contrary, Privette writes "David Cox has done nothing to the town. David is a kind and thoughtful gentleman who cares deeply about Oriental. It is the commissioners who chose to spend so much of the public's funds rather than compromise on an issue that had been opposed by many citizens from the outset."
Sage agrees Cox had every right to bring suit against the town.
"Cox, as a citizen of the town, had every right to bring suit against the town," Sage said. "But in this case, he was wrong and simply couldn't accept defeat."
On the other hand, E.B. Duer (see Letter, page 9A) has harsh words for the suit has gone on for so long.
"Is there anybody out there that agrees with me that anybody . . . that files numerous frivolous lawsuits that cost a small town tens of thousands of dollars (that could have been better spent), deserves to be ridden out of town on a rail," writes Duer.
Grace Evans comes to Cox's defense in her Letter to the Editor (page 9a) in which she calls the Town's press release, an unworthy attack on one of Oriental's citizens, David Cox."
Evans points out that it is not the merits of the case causing Cox to settle, but the practical side of pursuing it.
"Mr. Cox has to consider personal and financial cost in pursuing his case is understandable but the present and future citizens of Oriental are the losers," reads Evans letter.
Sage, on the contrary, believes the losing is in dollars and cents.
"This process took much too long and cost much too much money," Sage said. "It's time to put it aside and consider the needs of all the citizens of Oriental."
Week of March 18, 2015
Narcotic Sting Nets Three In Reelsboro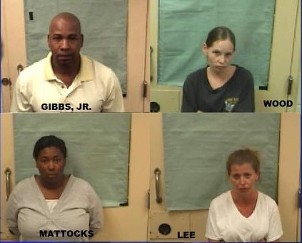 On Monday, March 16, 2015, Investigators of the Pamlico County Narcotics Unit along with assistance of CNET Narcotics Task Force and North Carolina ALE executed a search warrant at 275 Longleaf Drive in the Reelsboro Community of Pamlico County. The warrant stemmed from a three month joint investigation into the sale of Heroin, Prescription medications, and cocaine.
Kelly Jackson Gibbs, Junior, age forty-six, a/k/a Killa a/k/a Lil Kelly was arrested and charged with two counts of trafficking heroin, possession with intent to sell and deliver cocaine, conspiracy to traffic heroin, possession with intent to sell and deliver schedule III controlled substances, possession of firearm by convicted felon and possession of drug paraphernalia.
Approximately twenty grams of heroin, eight grams of cocaine, suboxin strips, marijuana, and assorted drug paraphernalia were seized from the residence along with two handguns, ammunition and a quantity of US currency. Gibbs was confined in the Pamlico County Detention Center under a 2 Million dollar secured bond.
Ronsheda Mattocks, age twenty-six, of 275 Long Leaf Drive was arrested and charged with possession with intent to sell and or distribute marijuana, possession of drug paraphernalia and maintaining a dwelling for the sale of controlled substances. Mattocks was placed into the Pamlico County Detention Center under a $100,000.00 secured bond.
Stacey Wood was charged and arrested for conspiracy to traffic heroin and possession of drug paraphernalia. She was placed into the Pamlico County Detention Center under a $100.000.00 secured bond
Brittany Lee was charged and arrested for possession of marijuana, possession of drug paraphernalia.
___________________________________________________________________________________________________
Silos Is Big Winner Again At The 8th annual
Chowder Cook Off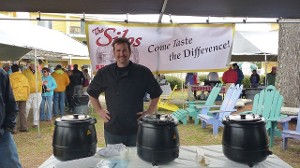 Congratulations to Chris Daniels and The Silos, first place winner for the third year in a row in the Oriental Women's Club Down East Chowder Cook-Off. Despite the rain and clouds, chowder cook off contenders worked tirelessly to show off their culinary skills.
This year's eighth annual Chowder Cook-off, sponsored by the Oriental Women's Club, was held on the grounds of the Oriental Marina and hotel. The cook-off is serious business to local chefs and home-grown chowder enthusiasts alike. This year five local restaurants and six non-restaurants vied for the title of best chowder. Entrants were: The Silos; Toucan Grill; M&Ms; Nel's Sports Bar & Grill; River Dunes; Florence/Whortonsville Fire Department; Pamlico County Community Foundation; Camp Don Lee; First Citizens Bank; Provision Co. and Pamlico Presbyterian Church.
The cook-off uses a public tasting system, in which chowder fans can pay a small fee to enjoy the secret recipes of each entrant and vote for their favorite chowder. The cook-off champ is awarded by majority rule. This year's Chowder Cook Off was dedicated to memory of the late Skip Waters, chief meteorologist of WITN News, who served as a judge for many of the past events. Music was provided by Harbor Sounds.
The Oriental Women's Club responds to the needs of people through community service and to offer opportunities for growth and development to members. Priorities have always been youth and education, health and welfare, community improvement, and beautification. Proceeds from the event will be put towards academic scholarships for deserving students.
Week of March 11, 2015
A Special White House Invitation for One PCC Student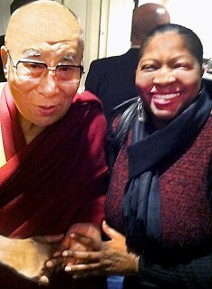 PCC student Tina Williams with the Dalai Lama the day before the
National Prayer Breakfast in Washington, DC.
By Ben Casey
Special to The Pamlico News
A significant number of Pamlico Community College students and staff members are so excited to know Tina Williams. Her recent visit to the nation's capital and the reason for that visit have become a great source of pride for the entire PCC family.
Williams, from Havelock, atypically for contemporary ladies, takes delight cooking and preparing meals. Viewing TV cooking shows intensified her interest in the culinary arts, so much so that her husband, Tracy, encouraged her, "Why don't you find a school where you can learn how to cook professionally?
She first told him that with grown children, she was too old to start taking real classes. That was the wrong thing to say to a man who now earns his living as a motivational speaker. His response, "You are never too old."
After an online search, she discovered the Continuing Education classes headed by Richard Garrett at PCC were just the right fit for her and her schedule.
Her extraordinary story unraveled one day when the college's Director of Public Affairs visited her class to take photos for a campus publication. These classes are held in the professional kitchens of the Ned Everett Delamar Center. Amidst the bristling array cooking utensils, pots, and pans, he discovered her sharing a photo on her smart phone with other students. Taken aback by the "Oos" and "Ahs" from her classmates, he begged to see also and discovered the photo was a close-up selfie depicting her and the Dalai Lama.
And now, the rest of the story.
Husband Tracy was halfway through his undergraduate studies at James Madison University in Virginia when he learned of a Harlem Globetrotters try-out in Charlotte, NC. Impressing the scouts, he won a spot on the team and played for them 3 ½ years. Meadowlark Lemon and Curly Neal became household words as common as her recipes.
After touring with an international basketball league, and, not quite as young as he was in his undergraduate days, he subsequently became a motivational speaker in a quest to make a difference in the lives of young people.
His speaking talents earned him an invitation to speak at an evening program on the day of the National Prayer Breakfast held in the nation's capital. On the dais would be the President of the Untied States and also NASCAR legend Darryl Waltrip.
As they were checking into their hotel the day before, a staff member for the National Prayer Breakfast approached them, told them to leave their bags with the bellman and come immediately with her for an unusual opportunity. With no idea what to expect, they were led past security through a heavily guarded door that opened to small room. To the couple's utter surprise, they found the Dalai Lama speaking to a small gathering in that room..
After the Dalai Lama's remarks, Tracy, as others did, descended upon him. While he was shaking hands with the spiritual leader, Tina was using her phone to record the moment. The Dalai Lama apparently saw her from the corner of an eye. Once he finished exchanging greetings with Tracy, the Dalai Lama looked directly at her and motioned for her to come to him.
"He took my hand in his, and I was so nervous. All I can remember is that his hand was as soft as cotton. I discovered that he felt that if Tracy was getting his picture made with him, then I should have the chance to have my picture with him, so he graciously stood there for me to take a selfie of the two of us."
While that was certainly a climatic moment, Tina reported that being at the breakfast the next morning with President Obama and First Lady.
Michelle left a memory never to be erased. Because Tracy was one of the speakers for the evening program, he was afforded the opportunity to meet and greet both the President and the First Lady.
At the Prayer Breakfast, Tina could not join Tracy at the head table with the President, but she was seated with dignitaries from across the globe and both houses of Congress.
Tina reports, "I asked Tracy what it was like to meet the president, and all he could talk about was how beautiful Michele was. He said she just seemed to float. But I had my moments too. I sat with congressmen that you see on TV almost every day. I teared up thinking that here I am from little Havelock, North Carolina and I am having breakfast with John McCain and all these other important people.
"The king of Jordan was there, but he had to leave early because ISIS burned the Jordanian pilot. There were Arab people, Jewish people, and, of course, Buddhists."
She recalled that even though this was a Christian event, the President encouraged all people to come together as one, to love, not hate.
Tina Williams is now back in culinary classes every weekday afternoon, honing her culinary skills. Meanwhile, weekdays find Tracy in Virginia finishing his unfinished degree at James Madison University, home on the weekends.
She related that the National Prayer Breakfast was in some many ways a life-changing event for her household. She is still absorbing the fact that her fellow students are almost as excited as she is about her experience. It is the "I knew her when," phenomenon.
The reaction of her classmates, as well as college staff, is indicative of how such learning experiences on the part of one student at Pamlico Community College can enhance learning and an appreciation for learning by all.
______________________________________________________________________________________
Gaskill In Running For NC Teacher Of The Year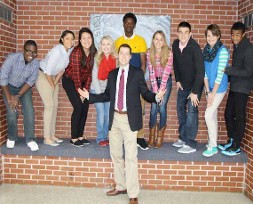 Pamlico High School's own, history teacher, Joshua Gaskill, will head to Carey on March 20th for a round of interviews conducted by a committee made up of State leaders in education, and community and business leaders as a final step in the NC Teacher Of The Year. He and seven finalists representing their regions will face tough questions from the committee regarding pertinent education issues in the state. The NC Teacher of the year will then be announced at a formal luncheon in Carey on April 7th.
The National Teacher of the Year Program has been in existence for over fifty years and North Carolina has participated in this program recognizing outstanding teachers since 1970. The North Carolina Department of Public Instruction, along with its sponsors, administers the program and chooses a candidate who is "dedicated and highly skilled, a candidate proven capable of inspiring students of all backgrounds and abilities to learn.
Gaskill is a 2003 graduate of Pamlico County High School with a Bachelor of Arts in Communication Sciences from NC State University and a Master of Arts in Teaching from East Carolina University. He was nominated for NC Southeast Region Teacher of the Year by his students and their parents, faculty and administration last year. During an assembly at the high school Josh was surprised to learn he had won in the region. His family was on hand to celebrate the wonderful news. Since graduating from Pamlico, Gaskill has seen many positive changes within the district. "There are more opportunities for students. There are programs that help with college and career choices, more AP courses, virtual classes and innovative curriculum changes," said Gaskill. A newly instituted program at Pamlico is the "Canes Lunch" which provides one half hour each day set aside during which students can get extra help with their studies through tutorials, group study sessions and one-on-one tutoring.
Gaskill has only positive things to say about public education. His students praise his teaching techniques. He was chosen by his students, their parents and his peers because of his ability to inspire. "I try to be very enthusiastic, its not about me, its about the needs of my students. Students learn in a variety of ways and I like to use hands-on activities and technology to assist with my lesson plans," added Gaskill. He gets his inspiration seeing students succeed and helping them to reach that success. "Celebrating the small successes key. Helping them to excel and meet their goals is what keeps me doing this," he added.
Gaskill comes from a long line of teachers and says that teaching is in his blood. He is a fourth generation Pamlico educator. He and his wife are expecting their first child, a boy in April. When asked if he will encourage his son to follow in his foot steps, Gaskill replied "Teaching is a rewarding profession. If it is what will make him happy, I will encourage it."
Gaskill advises his students to follow their dreams and do what makes you happy and love what you do. "Every day has its challenges and to teach is to touch lives forever," says Gaskill. As far as his advice to those going into education, he encourages teachers to be real with their students and to build relationships. "If you are excited about subject matter, they will be excited," he explained.
The State Teacher of the Year acts as an ambassador to education within the state. According to Gaskill, the winner is like a "teacher on loan" for the year. He or she will travel throughout the state working together with other regional finalists to form a collaborative network providing ongoing professional development and support throughout the state on critical issues facing public education. One issue Gaskill is concerned with is teacher retention. He believes that there are many reasons why teachers leave their district or profession. He feels there are high expectations of educators and they need ongoing support to make them want to stay and be successful in their career. Gaskill attributes his success to those who he works with on a daily basis, his students, family and collegues. "I have so many people to thank whom have helped me get to this point, the community has been so supportive its a great place that fosters personal growth and success," he said with great appreciation.
____________________________________________________________________________________________________
Operation Shattered Glass Leads To Arrests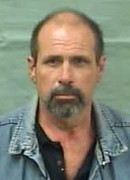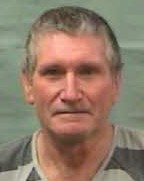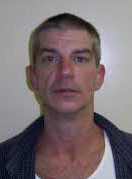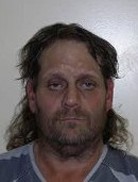 Pictured L to R: John David Willis, Michael Rexford Dixon, Sr., Robert Lee Sutton, Todd Carltn Whorton
On Saturday March 7, 2015 Narcotics Investigators of the Pamlico County Sheriff's Office initiated Operation "Shattered Glass" that led to the arrest of four individuals involved in the manufacture of methamphetamine in Pamlico County. Acting on information received during a three month investigation, Investigators conducted a search at 15961 North Carolina Highway 55 in Stonewall North Carolina. During the search numerous chemicals and precursors associated with the manufacture of methamphetamine were located on the property along with packaging materials, digital scales, heroin and Methamphetamine. Robert Lee Sutton, age forty-three, of 4554 Florence Road in Merritt was arrested and charged with possession of precursor materials with the intent to manufacture methamphetamine, possession with Intent to sell and or deliver heroin, possession with Intent to Sell/Deliver Methamphetamine, possession of marijuana, and possession of controlled substances in local confinement facility. Sutton was placed into the Pamlico County Detention Facility under a $55,000.00 secured bond. Sutton was currently out of Jail on bond for a previous possession of methamphetamine charge. Todd Carlton Whorton, age sixty-two, of Merritt was arrested and charged with possession of precursor materials with the intent to manufacture methamphetamine. Whorton was placed into the Pamlico County Detention Facility under a $15,000.00 secured bond.
Information obtained during the investigation led Investigators to search another location located at 4554 Florence Road in Merritt, the residence of Robert Lee Sutton. Evidence of methamphetamine production was located at the residence and a search warrant was applied for and executed. The North Carolina State Bureau of Investigation was contacted for assistance with dismantling and disposal of the lab.
Investigators also conducted a search at 199 Shine Drive in Arapahoe, the residence of Michael Rexford Dixon Senior, age sixty-one. During the search a quantity of methamphetamine was recovered with several items of paraphernalia. A firearm was also recovered from the residence. Michael Rexford Dixon Senior was arrested and charged with possession of methamphetamine, possession of firearm by convicted felon and possession of drug paraphernalia. He was placed into the Pamlico County Detention Center under a $25,000.00 secured bond.
Investigators also served warrants for eleven counts of possession of pseudoephedrine with a prior felony conviction of manufacture or possession of methamphetamine on John David Wills of 2232 Kershaw Road in Oriental. Willis was placed into the Pamlico County Detention Center under a $60,000.00 secured bond. According to the Sheriff's office additional charges are expected as the investigation is ongoing.
March 4, 2015
Just In: Dawson Retiring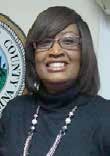 Dr. Wanda Dawson, Superintendent of Pamlico County Schools, has announced her retirement as of June 30. Dr. Dawson steps down after 35 years in Pamlico County schools, the last four years as superintendent. See next week's edition of The Pamlico News for more on Dr. Dawson's retirement.
____________________________________________________________________________________
Conference Basketball Tournament Kicks Off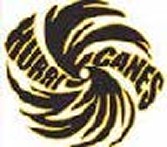 After numerous weather postponements the first game of the 1-A Coastal Plains Conference Basketball Tournament kicked off on Thursday at Pamlico County High School. The Pamlico County Hurricanes Men's Basketball Team was victorious against Southside with a final score of 79-70 in the first round of the tournament. The win allowed the Hurricanes to advance to the second round of the tournament where the Hurricanes, 16-8 overall and 9-3 in the conference faced off against Riverside with a 18-5 record over all and 10-0 in the conference. The men suffered a disappointing loss against Riverside in overtime with a final score of 65-66.
Leading scorers were: Daquan Dudley with 18 points; Cameron Moore with 19 points; Josiah Simmons with 14 points and Jawaan Coffey with 10 points.
Despite the loss, varsity coach and Pamlico Athletic Director, Earl Sadler, was proud of his team's accomplishments this season. "We had a great year. Our seniors, Cameron Moore, Tyler Ellenberg and Denzel Wright have had great careers at Pamlico and we are looking forward to next year," said Sadler.
The Pamlico Hurricanes Women's Basketball Team, first in the 1-A Coastal Plains Conference, also won their first round in the tournament in a 65-15 win against Neuse Charter on Friday night at home. The leading scorers of the game were Pamlico's Alazia Whitfield with fifteen points, Briana Jones with fourteen points and Laichelle Sparrow with fourteen points. The women's team, 22-2 overall and 12-0 in the conference, then advanced to round two of the tournament where they faced off against South Robeson, 14-10 overall and 9-5 in the conference on Monday night. The Hurricanes won the second round game against South Robeson with a final score of 61-36.
Leading scorers were Alazia Whitfield with 16 points and 8 rebounds; Laichelle Sparrow with 9 points and 10 rebounds; Briana Jones with 8 points and 4 assists; Leetasia Midgette with 8 points and 5 steals.
Head coach, April Rose, made sure to recognize her standout players. "Zyaja Mattocks, Shonda Lee and Alexis Hawkins-Pool played a great all around game. Freshman, Hydia Davis, came off the bench and gave the Lady Canes a spark, grabbing five rebounds and five points, "stated a proud Rose. It was a big night for junior point guard, Briana Jones as she scored her 1,000 point as a Lady Cane.
The Lady Canes will play their third round game Tuesday night at home against Riverside.
__________________________________________________________________________________
Pamlico Church Volunteers Help Feed Needy Children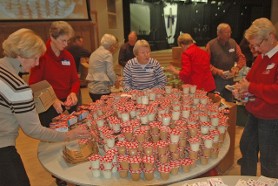 By Martha L. Hall
Pamlico News Staff
ORIENTAL -- It was one of the first sermons former pastor Keith Sexton preached at the Oriental First United Methodist Church. His message was that Pamlico County was such a poor county and had so many needs that he wanted the Methodist Church to reach out and take care of some of those needs.
"Then he talked about the children who had no food or little food on the weekends," said Pat Leonard, church member. "My husband, Gary, and I were absolutely flabbergasted to know that there were children had no food on the weekends. When we came home that Sunday afternoon it stayed on our minds so we talked about it and called Keith and told him we wanted to do something about it."
That was seven years ago and led to a program called "Feed the Kids," led by the Methodists. First Baptist Church of Oriental joined in two years ago and both churches are now part of a 3-county effort called Backpack Blessings, based in New Bern.
Initially, the Leonards gave Sexton a donation. Little did they know their intervention would lead to packing backpacks of food for children in Pamlico, Craven and Jones counties. Nor did they realize there is a national program called Backpack Kids all over the country which was addressing the same issue as Pamlico County.
"We went to the congregation and asked for donations," said Pat. "We couldn't ask for the church to pay as the budget was so tight. Then we went to the Mission Team at the church and had it sanctioned by them. It is actually is a Mission Team program. There was actually one guy in our congregation who said he was one of those kids who went hungry from Friday's lunch at school until Monday when school opened again."
At one point, there were 10 children at Pamlico Elementary School who benefitted from this program. These children were tagged by social workers. Leonard said they never knew the names of recipients.
The next year the program went to 15 children and the year after that, it went to 20. The women from the Baptist Sunday School class in Oriental joined with the Methodist Church to give manpower and support to the program.
"We would go to Sam's Club and buy food. We would pack the food in Ziploc bags and the social workers would put them in each child's backpack on Fridays," Pat said. "Since 2013-2014, we are partnering with Backpack Blessings in Craven County which is run by Joanne Boyle, the president. (Boyle is also the director of material management at CarolinaEast Medical Center.) They get funds from the Bate Foundation which includes Pamlico and Jones counties."
This past weekend, on Saturday and Sunday, the Leonards joined 500 volunteers from the three counties who filled the backpack orders at Garber United Methodist Church in New Bern. \When they left on Sunday, they took 40 containers for Pamlico school children and 20 for the charter school. Other Pamlico churches were also there, packing for children they minister to. All together nearly 10,000 bags of food were prepared to go to approximately 750 children in the three counties.
The overall 20-plus churches raise about $35,000 annually and that is matched through the Harold Bate Foundation, CarolinaEast Health System and CarolinaEast Foundation.
The food comes through discounts from Food Lion stores and the Food Bank of Central and Eastern North Carolina.
"In the Pamlico County school system, the number of children who qualify for free or reduced meals is 64 percent. In the charter school, it is the same," said Gary. "In Pamlico County, every child gets a free lunch."
Pat said children who get reduced price meals don't qualify for weekend food.
"We leave it entirely to the social workers at the school," said Gary. "The social workers have to make sure the parents agree to their child being part of the backpack blessings. We don't send home things that offend the parents or that they don't need."
Gary said they have been blessed that we have had adequate funding and volunteer participation. There are three other churches in Pamlico County that are involved in Backpack Blessings.
"We have gotten donations from three civic groups, one for the past three years, who have asked not to be identified," he said. "It's much less expensive now than it was initially. Our church makes a donation once a year and we include those donations from civic groups and individuals. Each church commits to a certain amount of money per year. We raise more money than we're required to send but I think that the money will be better used buying food for these children instead of lying in a bank vault."
Week of February 25, 2015
The Return of the Ferry Bill – No Tolls on Any
By Martha L. Hall
Pamlico News Staff
RALEIGH – Republican state Rep. Michael Speciale is one of the lawmakers who has introduced a new ferry bill that would eliminate tolls on all of the 7 ferries in the state. The bill was passed by the House and now is in the Transportation Committee – a venue that has proven difficult in the past.
Speciale says tolls on the ferries would keep people from riding the ferries and for tourism purposes that is one of the one of the best reasons for no tolls. There are people who won't ride them because they have to pay. Better the tolls be dispensed with, tourism dollars go to the local folks providing tourism and the cost of maintaining the ferries goes to the state.
"Last session we gave the authority to sell naming rights, concessions and things like that so there is a way they can bring in some funding," said Speciale. "I'd like to put an end to this thing."
The ferry issue is now in its fourth year since the Legislature ordered DOT to create new tolls and increase existing ones for millions in revenue in 2011.
Speciale and Rep. John Torbett, Gaston County, combined to author the bill.
In an email put out by Henri McClees, lobbyist for Pamlico County and other coastal counties, said this bill and the time it appeared may have been a boon.
"There was an internal movement to take $800,000 from the ferry budget away from the ferry," she said. "This bill appeared just in time to quash that move."
The bill was filed on Feb. 16 and passed its first reading by the House on Feb.18. It has been referred to the Committee on Transportation and if gets a favorable response, it will go to Appropriations and then the Senate. Evidently the wording of the bill was cobbled together from an older bill and then the parts not applicable were lined through, leaving a page and a third of a 3-page document.
Asked if he thought this bill, which has no trouble passing in the House of Representatives, would pass the Senate's scrutiny, Speciale had no idea.
"We just keep plugging away at this thing," he said. "I believe the ferries should be free. We have suggested ways that the ferries could make money – by providing food, drinks, personal comfort items, Internet access and souvenirs of the ferry system."
There are also sponsorships, including naming rights to ferry vessels, ferry routes or ferry facilities.
Advertising includes display advertising and advertising delivered through the use of video monitors, public address systems in the passenger areas and other electronic media.
Also offered is any receipt-generating activity not forbidden by public health or safety.
The money from these ventures will go a reserve account in the Highway Fund and designated as the Ferry Capital Improvement Account. Funds from this account will be used for improvements to the ferries and the facilities of the North Carolina Ferry System.
Speciale said paid ferries, because of added personnel, would cost $27 for every passenger.
Larry Summers, an Oriental Commissioner and staunch proponent of no ferry tolls, said he didn't know if the bill had a chance.
"I think we need to push this thing a little bit. I think the best thing we can do for Eastern Carolina is bring more outside money in. Rep. Torbett believes that and I think some of the others who are staunch Republican leaders in leadership positions believe it too. I'm not sure if we need to fire it up a lot of ways. Sen. Norman Sanderson said he was going to put a bill in to find a way to replace the funding on the Senate side so we'll see where that one goes."
Summers said he was told that the Transportation Department had nothing to do with it. But he believes someone in the Senate Transportation Committee was continuing to push and try to get tolls on it.
"I think as a department, they're not so much in there. Maybe I need to write to Secretary of the Transportation department, Tony Tata, and get people to write and apply a little pressure. Fifty or 100 emails or letters on this I think would be helpful." If you would like to add support to Speciale and Torbett, their addresses are as listed:
Rep. Michael Speciale
N.C. House of Representatives
16 W. Jones Street, Room 1008
Raleigh, NC 27601-1096
919-733-5853
Rep. John A. Torbett
Gaston County
N.C. House of Representatives
300 N. Salisbury Street, Room 538
Raleigh, NC 27603-5925
919-733-5868
Secretary Tata's office number is 919-707-2800
____________________________________________________________________________________
Hope Clinic Offers Medical Care to a Population
That Falls Between the Cracks
By Martha L. Hall
Pamlico News Staff
BAYBORO – Despite the Affordable Health Care Act, many Pamlico County residents still need the free Hope Clinic.
Sheri Rettew, executive director of Hope Clinic, says that that even after full implementation of the Affordable Health Care Act, or Obamacare, according to the Congressional Budget Office, there may be as many as 29 million people who are still without health care. This includes documented, undocumented and those who are eligible for Medicaid but reside in states that are not going to expand this program (North Carolina is one).
And, Rettew says this population of vulnerable indigent adults, have so many other needs as well and so many things they are at risk for.
"One is transportation," said Rettew. "They have trouble getting to their appointments. They might have all the coverage in the world but what good does that do if they can't get there. Also the other thing that is huge for indigent populations is medication. These people frequently have chronic disease and illness, in a lot of cases life-threatening. Just in the last year, I have probably lost 5 patients to strokes.
They are not compliant, not eating right. We have an advanced diabetes patient whose medicines cost
$2,600 a month. We get them for free but if we weren't able to help him, Obamacare nor Medicaid will pick that up. They might pay for a portion of it but this patient can't even afford gas to get to the doctor's office."
Rettew said Pamlico County is so rural and help is so far away.
"I remember when Obamacare was first talked about," she said. "People said they wouldn't need Hope Clinic anymore. People just aren't aware."
Rettew said the clinic is also a certified application center in the area. The first enrollment, they were the only one. For the second enrollment, Dr. Sue Lee and the Pamlico Community Center were there to help people. Now Brian Ellenberg from Farm Bureau is also trying to help.
"Ideally in North Carolina, anyone 100 percent over the federal poverty level, they may qualify for Obamacare," Rettew said. "They may also qualify for tax subsidies. I use the word 'may' because there are other considerations like the number of people in their house. If they are under, making less than $11,800 a year, which is the federal poverty level, they don't qualify for anything. The very poorest of the poor can't have health insurance."
Rettew said there were a lot of rumors going around that the state of North Carolina was looking into a modified plan for Medicaid expansion.
"In some respects, I understand the implications of expanding Medicaid and accepting federal money," she said. "Then you're accountable for it. The state would have to have people in place that are trained and understand it."
According to Rettew, Hope Clinic covers up to 200 percent of the federal poverty level. And it goes up, depending on how many live in your house.
Many people, she said, who are eligible for Obamacare don't get it because they can't afford the co-pays, the premiums and their medications.
"We have patients coming to Hope Clinic who have zero premiums; with the tax subsidies they would have to pay nothing for their insurance." Rettew said. "That works well if the patients are relatively healthy and don't take a lot of expensive medications because there is a significant deductible. Most of the people who qualify can't pay a $2,500 deductible.
Hope Clinic offers medical care, pharmacy, dental, vision and behavioral health care to patients who can't afford Obamacare or Medicaid.
"I think that the biggest misconception has been that the public doesn't understand what Hope Clinic does," said Rettew. "We are not just seeing people with headaches and wounds that need Bandaids. We're seeing people, and I would say it is more than 75 percent of our patients, that have chronic disease or illness."
Rettew said the board of Hope Clinic spends a great amount of time involving strategic planning, looking into the unmet needs in Pamlico County.
"Dental health is a huge issue," she said. "There is not enough room in the Health Department. We have formed a Pamlico Health Alliance and what we're trying to do is help all the medical providers, churches, Human Services, Department of Social Services – we're trying to get them all to come together and hire a case manager who will qualify someone who is eligible and then help them navigate what's available in the county."
Everyone is welcome at the meeting which will take place next to the Bayboro Baptist Church at the Family Life Center, on Thursday at 10 a.m.
_______________________________________________________________
Heartworks Students Kick Off Pennies from
Heaven Campaign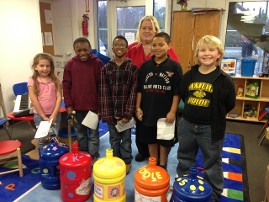 (l-r) Christina Smith; Antoine King; D.J. Midgette; Ms. Rebecca Carriere,
painter of the coin barrels; Larry Ponds and Douglas Robinson
Heartwork's one hundred and forty children from kindergarten through Eighth grade are saving their coins in large colorful banks to carpet the 4,100 square feet of learning area at their afterschool program facility. The building, itself, was once a car dealership which means the cement floor requires a bit of preparation before large carpet tiles can be properly applied. This also means sound reverberates within like a basketball court. The goal of the "Pennies from Heaven" campaign is to quiet the student learning area so they can better focus on homework and tutoring time. Part of the afterschool curriculum teaches entrepreneurial responsibility. This includes setting goals and working to reach them. Each class will compete in trying to raise funds for this project. The class which raises the most money will earn a field trip to the Marbles Children's Museum in Raleigh.
As a 501(c)(3) non-profit community service agency, HeartWorks' mission is to address the underserved mental and physical health needs of youth and their families in Pamlico County and surrounding areas. Education is the cornerstone of their efforts. Nurturing is their method.
HeartWorks' programming includes life skills development, the promotion of positive physical and mental health, and family advocacy. By providing children and their families affordable and effective resources in these key areas, Heartworks hopes to reach their overall goal of creating a community that serves as, "the shelter of each other." Heartworks 21st Century Community Learning Center After School Program is held in the Safe Harbor Youth Center in Bayboro, North Carolina. The vast majority of the children are deemed academically at-risk because of poverty, behavioral issues, health complications, or family situations. This significant program is offered at no cost to all participants. Funding for this program comes from a 21stCentury Community Learning Center grant, individual and corporate donations, and fundraising. Program Director Cathy Cox stated, "Grant funds cannot be used for this purpose, so the students are hoping the local community will step up and 'be an angel' by contributing some paper money to help them out."
If you want some fun, drop off your tax deductible donation at Heartworks Safe Harbor Youth Center, 709 Main Street, Bayboro, North Carolina. The class to which you donate will let you ring the bell to let everyone know they have a donation. You can also mail donations to Heartworks, P.O. Box 365, Bayboro, NC 28515. Good luck Heartworks kids!
Week of February 18, 2015
Searching for a Bone Marrow Donor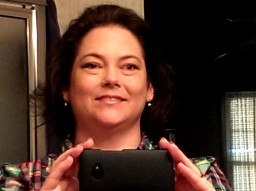 Angel Caroon Woodard is a native of Pamlico County and was born and raised in Lowland. She is a Pamlico County High School Graduate. She lives in Matthews NC with her husband Rob Woodard and their two sons. Fifteen years ago Angel won a fight against cancer. Today she finds herself in a similar battle. Angel has Leukemia and is searching for a matching bone marrow donor. Her siblings have been tested, however they do not qualify as donors. Now we are calling out to her hometown and surrounding areas to be tested. Delete Blood Cancer (deletebloodcancer.org) will be holding a donor match drive on February 28 from 1-4pm at the Grantsboro Town Hall. The process only takes about 15 minutes to register and do the cheek swab. There is no cost to register, however monetary donations will be accepted. All funds raised will go to register and test new potential donors. Potential donors need to be between the ages of 18 and 55, in good general health, and willing to donate to any patient in need. You cannot be in any branch of the US Military – active duty or reserve personnel. Those who suffer from these conditions do not qualify to be a donor: HIV, history of heart surgery or heart disease, autoimmune disorder such as lupus, rheumatoid arthritis, multiple sclerosis or fibromyalgia, sleep apnea, breathing problems or severe asthma (daily inhalers are acceptable), diabetes requiring insulin or injectable medication, hepatitis B or C or kidney or liver disease, history of strokes, including TIA, chronic or severe neck or back problems, epilepsy or other seizure within one year, history of blood clotting or bleeding disorders, personal history of cancer (exceptions: melanoma, breast, bladder, cervical (stage 0, in situ) and cured localized skin cancer such as Basel cell or squamous cell carcinoma. If you cannot be tested to become a bone marrow donor, you can still help. We need volunteers to help with the process on the day of the event. We will also need monetary donations. If you have any questions please contact Sarah Winfrey at slw62@live.com . 252-671-7576 or message her through Facebook. Thank you so much and please consider being tested.
______________________________________________________________________________________________________
PCHS Basketball Continues to Dominate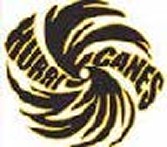 The Pamlico County High School Girls Basketball Team won last Monday's away, conference game against Southside by a score of 61 to 20. Congratulations to the Hurricanes #10, DeAndrea Dawson for being named "Player of the Game." It was a big defensive game for the senior guard. The Lady Hurricanes went on to beat Lejeune on Wednesday by a score of 55 to 42 in a home, conference game. Pamlico's #14, Briana Jones, was named "Player of the Game" for her outstanding play. On Friday night the girls had a huge win over Bear Grass Charter School with a final score of 60 to 7. Congratulations to #42, Joyce Gardner for being named "Player of the Game." It was a big night for the senior who had a career high of thirteen points during the away, conference game. These big wins leave the Lady Hurricanes with an overall season record of 21 to 2 and puts them first in the 1A Coastal Plains Conference with a record of 12 to 0. They will play the first game of the 1A Coastal Plains Conference Tournament at home today at 6 P.M. Their opponent has not been determined. The boy's basketball team beat Southside in an away, conference game on Monday by a score of 77 to 65. They went on to win Wednesday's home, conference game against Lejeune by a score of 79 to 38. The Hurricanes had a big night during Friday's home, conference game, beating Bear Grass Charter School by 54 to 14. These wins leave the Hurricanes with a 15 to 8 record overall and 9 to 3 in the 1A Coastal Plains Conference.
____________________________________________________________________________________
Pamlico High to Host Basketball Tournament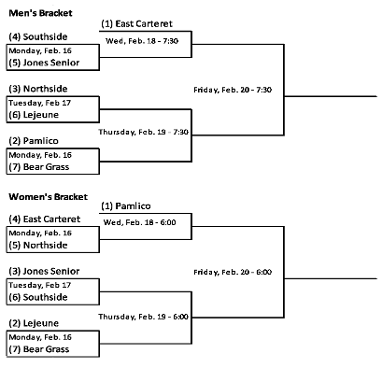 Pamlico County High School will host the semifinals and finals of the 2015 Coastal Plains 1A Conference Men's and Women's Basketball Tournament. The semifinals will be held on Wednesday, February 18 and Thursday, February 19 with the women's game beginning at 6:00 p.m. and the men's game to follow at 7:30 p.m. On Wednesday evening, Pamlico's women, who own the number one seed, will play the winner of the East Carteret and Northside matchup, which took place Monday. In the men's bracket, East Carteret holds the number one seed and they will play the Southside and Jones Senior winner. The other semifinals will
take place on Thursday and the tournament will conclude with the championship games on Friday evening. Please come out for some exciting basketball and support the men's and women's Hurricane basketball teams as they look to bring home the tournament titles.
_____________________________________________________________________________________
Celebrating School Bus Driver Month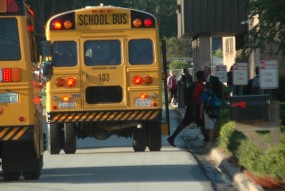 By Martha L. Hall
Pamlico News Staff
BAYBORO – February is School Bus Driver Month, an attempt to honor the people who safely transport your children and grandchildren to school and back every school day. It isn't an easy task.
Harry Brooks, transportation director for Pamlico County Schools, said a cut back on teacher's assistants who drive buses has made his task a little harder.
"We don't have a lot of substitute drivers, but we all work together," he said. "We have mechanics who drive when needed to and our transportation coordinator drives when needed. It's a team effort. We all work together and we get the kids to school."
In Pamlico County there are 24 buses on the roads. Each bus has a regular driver. But if they get sick or are absent for some other reason, the substitutes have to take over and drive.
"We've been very fortunate so far," said Brooks. "We've had a mechanic drive for about three years. We have three monitors on the Exceptional Children buses and two out of three are substitute drivers.
School buses can be used for academic events only. You can't use school buses for athletic events. We use activity buses for sporting events. We have seven activity buses."
There are 780 students who ride the school buses."
The combined mileage is 1,430 miles a day for the operating 24 buses.
In the Primary School, Brooks said, the students are readied for the school bus commute by the first week of school. School administrators cover safety issues and what they should and should not do at the school bus stop.
During School Bus Safety Week, Buster the robotic school bus, comes in and uses remote control to acquaint the pre-school children with bus routine and safety issues. That is done in October.
The buses carry 44 Pre-K students, who travel with seat belts.
By the time they get to kindergarten, they are in a regular seat. North Carolina legislators talked about regulating all school bus seats to have seat belts, but Brooks said he hadn't heard anything about it recently.
The drivers hit the roads from Aug. 25 to June 9 of the next calendar year.
The earliest driver is out around 6 a.m. and the last bus usually gets in around 4:45 p.m. That is down around the Camp Don Lee area, Minnesott and Kennel's Beach.
The driver to Hobucken and Lowland keeps the bus at her home.
On routes, if the parents aren't there to welcome their children home, the school bus driver must drive the child back to school where an administrator will try to get in touch with the parents.
Teresa Harris is both a teacher's assistant and a school bus driver. She has been a school bus driver for 6½ years. Her route is 306 North and South.
Every afternoon she takes her school bus home with her. It would take too much time to drive to Bayboro and pick it up. She is also a teacher's assistant, this year for the 1st grade at the Primary School. She organizes the reading groups, the crafts table and she takes them outside.
To become a school bus driver, she had to take a test, in a classroom setting.
"It was hard and you have to get an almost perfect score," she said. "You have to take a test every 3 years to get the renewal of your license. Then we had to walk around the bus and identify the parts of the bus. You had to take a driving test around the county."
Harris's trip on the bus is 28 miles roundtrip. On her bus she carries 45 primary students. Six of the Pre-K students ride in car seats with belts. Operating on N.C. 306 she only lets the child out on their side of the road. They do not cross the highway.
"One time I took a child home and got stuck," Harris said. "The child lived down a dirt road and when we got there, the mother was nowhere in sight. Our policy is to return that child to the school and call the mother to pick them up. All of a sudden, the mother was coming, running down the road. I pulled over, got stuck in the mud and the big wrecker had to come and pull me out."
Harris said she gets up at 5:15 a.m. each morning.
"I don't leave until 6:40 a.m.," she said. "I get the students to school by 7:45 a.m. which is when they have breakfast."
The one thing she wanted to adamantly state was the fact that people shouldn't pass a school bus on a yellow light.
"It used to be a red light, but now that yellow light tells you to just wait," she said. Unfortunately, some people will try to pass the bus when it is showing a yellow light. That is illegal.
"There is a camera on my bus and you will be prosecuted," said Harris.
Asked if anything had been done to celebrate School Bus Driver's Day, Harris said they had little candy surprises left on their school bus seat and breakfasts with treats.
"Driving the school bus has been fun," she said. "Sometimes the children act up but when I tell the fifth graders I'm going to move them to the Pre-K seats and strap them in, they usually get quiet."
Week of February 11, 2015
Hope Ball Supports County's Free Hope Medical Clinic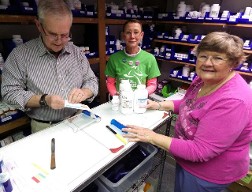 By Martha L. Hall
Pamlico News Staff
BAYBORO – Hope Clinic, which has provided free medical care for the "working poor" of Pamlico County since 1988, the weekly Thursday night work at the Pamlico County Health Department, is ongoing.
The free clinic's largest annual fundraising event is the Hope Ball, scheduled for March 7 at the New Bern Riverfront Convention Center.
Ned Albee, president of the clinic's executive board, recently gave an update on the non-profit clinic to the Pamlico County Commissioners, thanking them for the use of the Health Department as an operational base.
Albee, who retired after a 35-year career in health care delivery and management, said he understood the importance of the clinic's work for those with no insurance.
He said the response is about 30 patients each time, ranging from 20 to 50.
He told the board there are strict eligibility requirements.
It includes those individuals who don't qualify for Medicare, medical assistance, disability insurance or any other insurance.
There is an income level that has to be under the requirements to qualify for the Affordable Care Act.
Albee said the clinic receives free pharmaceutical assistance, with about $2 million in free medications coming through the clinic each year.
Most patients who come to the clinic suffer from chronic conditions such as diabetes or hypertension, or high blood pressure.
A majority of the patients seen at the clinic require regular monitoring by a physician and medications.
Volunteers include physicians, dentists, dental hygienists, nurses, a psychologist, lab technicians, pharmacists and pharmacy technicians.
The clinic is open at 4:30 p.m. on Thursday clinic dates and remains open until all patients have been treated, sometimes as late as 11 p.m.
It has a paid director, eight part-time employees, along with 174 volunteers throughout the year, including non-medical jobs.
The Hope ball is sponsored by Pamlico Pharmacy, CarolinaEast Health System, Hurricane Boat Yard, Garland F. Fulcher Seafood Company and United Way of Coastal Carolina.
Contact Jean Chastang at 249-1099. Your reservation will be confirmed by email. Tickets are also available on the web site at www.hopeclinic.org
On the web, the ticket order will be processed through PayPal. The online orders include meal choices and a section for donations only.
Single tickets to Hope Ball include hors d'oeuvres, open bar, dinner and dancing, along with live and a silent auction. All meals are catered by The Chelsea Restaurant in New Bern.
The clinic also has a certified counselor able to assist patients and community members who are interested in learning more and whether they qualify for the Affordable Healthcare Act. The current open enrollment period closes Feb. 15.
Hope Clinic began as an outreach ministry in 1998 by St. Thomas Episcopal Church in Oriental by volunteers.
It first began seeing patients in February of 1999.
_____________________________________________________________________________________
Pamlico County Continues Growth Spurt
Hospice Shop Gets New Home; Another Dollar Store Under Construction
By Martha L. Hall
Pamlico News Staff
It might have started with the addition of two WalMart stores, but the growth continues in Pamlico County as more new businesses move in and existing ones expand.
The latest changes are the Hospice Store that will leave its longtime home in Alliance for a new facility in the old Clover Farm store in Bayboro and Arapahoe residents will get get their own Dollar General slated for a Spring opening.
Bette Baldwin, Hospice Thrift Store Manager, said the thrift shop had been opened before she moved here and that was 22 years ago. The current building is 30 or 35 years old.
Renovation work is under way at the Clover Farms, which also served as a distribution center for local volunteer efforts after Hurricane Irene in 2011.
The renovation work could be finished by summer.
"They are going in and stripping everything out. We hope when we finish it that our customers and our followers will stay true to us and shop there," Baldwin said.
"We are everyone volunteers because we're a non-profit organization," she said.
All of the funds from the thrift shop go to help the terminally ill who have no coverage.
She said the store goal is to gross about $70,000 annually.
"Once we get in a larger place, we'll be able to carry more things and perhaps we can beat those records," she said.
Hospice of Pamlico County is a 501-C organization with a nursing staff of all local residents - available to patients 24 hours a day, 7 days a week.
Hospice of Pamlico County was started February 25, 1984 as an all-volunteer non-profit agency. They began offering full home hospice services early in 2007, and became Medicare certified on June 25, 2007. They offer care to terminal patients in Pamlico County.
"If there's a glitch in their hospitalization, we cover all those expenses," Baldwin said. "That's our purpose. You have people who are financially able and who are covered by Medicaid, Medicare and private insurance and then you have those who fall between the cracks."
Baldwin said Hospice had outgrown its Alliance store. The new facility will allow not only office space, but extra room for the retail showroom.
"We'll be dividing the Clover Farms store and the home office will be on one side and the thrift shop on the other," she said.
"We're spreading our wings. The contractor may finish in June or July but we will just have a bare building when he finishes," she said. "We'll have to put in a work area and set up work stations – 6 or 8 of those."
The work includes putting in shelving and racking.
The work stations are set up as a station with pegboard behind it where each employee works. They have all their supplies, the tape and scissors. That is where they process all the clothes.
"We've got a wonderful group," Baldwin said. "I have overall a 100 plus employees every month. We're always looking for volunteers. Anyone looking to help can come by the store for an interview. We need someone who is going to get along with the public."
The volunteers get a booklet and a roster of all the volunteers so if they can't come they can contact someone to fill in.
When Baldwin moved here in 1999, and they first asked her to manage it, it was just a little 'hole in the wall.' She had been a private secretary before she retired from the private sector.
She and the Hospice staff are excited about the expanded space.
"We have some good ideas for racking. I have always wanted to have as 'as is' rack for things that are not store-worthy but somebody could get spots out," she said. "A cruise-line rack would be great for people who come in looking for clothes for a warmer climate. Right now, we can't have shorts and shirts for cruising out because we just don't have the room.
She said the move also allows for expansion of the store library and the children's department.
"We try to set good standards. They cannot send anything out that is not clean and neat. No buttons missing," she said. "We have men working here as well as the women. They handle the heavy stuff for us. I have several that work with us on Monday and Friday who have knowledge of antiques. I have one fellow who was an auctioneer and he knows the prices on everything."
Dollar General is building a 9,000-square -foot store next to the Remnant of Christ Church at 8055 N. C. 306 South says Mary Kathryn Patterson, media coordinator for Dollar General in Goodlettsville, Tenn. The sales floor will be around 7,300 square feet.
The store will employee six to 10 employees, with a store manager, an assistant store manager, a lead retail associate and 3 to 7 part-time sales people.
"We are not just a dollar store," said Patterson. "We carry a variety of discount merchandise – quality name – and we have a store brand of product in the store. We also carry a limited variety of frozen foods and milk, eggs and bread. That's if you run out between grocery runs."
Ray Bennett, a Building Inspector for Pamlico County, said the cost of the facility is estimated at $437,000. That figure came from Landon Forest Equity in Raleigh who is the individual owner of the store. Cade Inc. is the contractor and is from Youngsville, N.C.
The permit fee for building the store was $3,419.76.
Bennett said construction is picking up in Pamlico County. He said there were some builders in Pamlico County who were benefitting from the rush. The new CVS store in Grantsboro is using a local electrical contractor.
"A lot of these contractors for the larger stores follow them around," Bennett said. "So, wherever they go, the contractors have probably built 10 stores for Dollar General and they know how to get the bid on the store. When the new Walmart Store in Grantsboro was built, the contractors told me they had built 100 Walmart stores."
Dollar General was founded in 1939 by Cal Turner. The store, originally in Scottsville, Kentucky, was called J.L. Turner and Sons. The idea was that all merchandise would cost $1. Today the store has 10,000 stores in 40 states.
______________________________________________________________________________________
Ferry Issue Cools as Hot Issue in Legislature
By Martha L. Hall
Pamlico News Staff
Pamlico County state Sen. Norman Sanderson doesn't foresee the ferry toll issue being a hot topic during this legislative session as it has been for the past several years.
House and Senate bills and counter-bills have come and gone the past several years, since lawmakers ordered DOT to come up with extra revenue via increasing tolls and adding new ones, such as the Minnesott Beach-Cherry Branch route.
The Transportation Oversight Committee met last week, but they talked mostly about transportation needs in eastern North Carolina as far as the highways, but there was nothing concerning the ferries.
"It was settled when they turned the decision over to the RPOs," said Sanderson of the prior legislative ruling that doesn't allow changes in tolling by DOT unless there are specific area requests by Rural Planning Organizations.
The Down East RPO last year voted unanimously not to seek tolls.
The toll money would be used for replacement vessels. DOT continues to provide operations funding for the coastal system.
Still, there will likely be some ferry bills introduced this year, seeking to replace the funding the lawmakers had mandated DOT to come up with each year. A bill could come up as soon as next week, which will include Sanderson's name. He said attempts would be made to have a mirror bill filed in the House.
"It basically asks for $5 million to be put into the ferry division to replace the money that would have raised if they tolled the ferries, enough money to replace the tolling revenue on all the ferries," he said.
Sanderson has been one of the proponents of dropping the tolls on all the ferry routes, but he said that is also unlikely for the longer Outer Banks ferries.
"They have already been tolled for many, many years. I don't know that they are going to drop those," he said. "One of the arguments is not so much the money as it is that by tolling they are kind of able to control the traffic flow."
Still, he said that he and other lawmakers who oppose the new or increased tolls would remain vigilant.
Week of February 4, 2015
Commissioners OK College Roof, K-9 to Hunt Drugs
Pamlico News Staff
BAYBORO - Plans for a Pamlico Community College roof replacement, a K-9 for the sheriff's department and a new board to handle tax appeals were among the items approved during a short Pamlico County Commissioners meeting Monday night.
The new roof is for the Paul Johnson Building on the college campus near Grantsboro. It has longtime discussion to replace a flat-style roof with one with slope. Among the issues with the roof have been leaks.
Bids will be opened later this week and Monday's commissioners' action approved setting a Feb. 16 public hearing regarding the financing of the project.
Engineer estimates put the replacement work at between $700,000 and $800,000. County Manager Tim Buck said the annual costs will become a part of the college's capital funding each year.
The board also approved a request from Sheriff Chris Davis to purchase a K-9 for his department's stepped-up efforts in drug seizures in the county.
Davis said the costs would be covered from a $10,000 donation, with the county expense being about $1,000 annually for food and medical care.
He was at the Monday meeting and told the commissioners that the dog will have been trained when it arrives in the county. No decision has been made as to which member of the department will be the dog's handler.
The board also gave the go-ahead to establish a new Board of Equalization and Review, which annually hears tax appeals.
Until now the commissioners have served as the E&R board. The new group will be a seven-member board comprised of local citizens.
The resolution stated that although not required, attempts will be made to include a variety of qualified individuals including a property appraiser, lawyer, accountant or other professional, along with a small business owner, a single family residential property owner and an individual engaged in the commercial production of agricultural, livestock, timber or horticultural products.
The board was told that applications are already being received.
The new county water committee of Commissioners Kenny Heath, Carl Ollison and Ed Riggs, Jr. met earlier in the day to discuss water system issues. Heath was elected the new chairman.
Riggs told the full board Monday night that the group had established regular meeting dates, the last Monday of each month at 8:30 a.m. at the courthouse. The meetings are open to the public.
In a decision involving the water department, commissioners Monday night gave approval for front counter renovations at the water department office in Bayboro. The project was budgeted for the current fiscal year and about $8,500 is available. The remainder of the $14,000 project funding required a board OK of a budget amendment of $5,500, moving funds from the field operations budget.
______________________________________________________
Flu Vaccine – Not So Successful This Year
By Martha L. Hall
Pamlico News Staff
BAYBORO – This is a bad year for the flu. While Health Director Dennis Harrington says there isn't an accurate count of the number of flu cases in Pamlico County, there's little doubt the mismatched flu vaccine didn't help.
Regardless, Harrington said everyone still should be vaccinated.
"Twenty-three percent is better than zero," he said. "They blew it again. They look at migratory birds to determine what to put in the vaccine. Migratory birds in India have picked up what those folks are sick with. The CDC looks at the fat on the birds migrating to the U.S. because that is where the viruses are and those are the strains they start growing. It takes 9 to 10 months before they can grow the next flu vaccine. Some years we have good luck and the vaccines are 75 to 80 percent effective. But we can't help a virus that won't behave itself. The virus gets into a population and begins to mutate. That's what happened this year."
Harrington said one couldn't point fingers at the drug companies.
"They start as late as they can to get the genotype of the viruses right and it costs billions of dollars," Harrington said. "They first cook up a little batch and they have to figure out how to mass produce it. We have to beg the pharmaceutical companies to make the vaccines. And even though it's not the right strain, it still creates some antibodies to this year's flu."
The immunizations adults should get are: a flu vaccine every year, 1 dose of TDAP (tetanus, diphtheria and pertussis) every 10 years, a shingles zoster vaccine – even if you have had shingles before) and 1 or 2 doses of the pneumococcal vaccine after the age of 65. There are two different kinds of pneumonia vaccines and your doctor will recommend one or both for you. The other vaccine you will need is 2 doses of the varicella or chickenpox vaccine. There may be others that are necessary, especially if you travel overseas. Ask your health professional about them.
The Health Department still has flu shots available for $25 each. If you are unable to pay that, they will adjust the cost on a sliding fee scale.
"The schools wanted to close a day early before Thanksgiving because of the flu," Harrington said. "At one school, they had 14 cases of the flu. Those numbers were given me by a provider. Flu is out there all the time. Flu season begins in September when you crowd the kids up in school. That's about the time the weather gets colder and brings on cough and cold season. By Thanksgiving, you have relatives and friends coming from all over and that cooks 'em up good and they all go back to school until Christmas and that's where the mutations start. At the University of North Carolina, they might come in contact with people from 40 states and 15 countries. It's amazing we do as well as we do."
Harrington says no one has an excuse for not getting a flu vaccine.
"You can go to the pharmacies, the doctor's office or your local Health Department, to get the flu vaccine," Harrington said. "Sometimes they give shots at grocery stores. If you are an adult and you think you don't need an immunization, think about passing a disease on to your grandbaby."
Harrington said age appropriate vaccination is so critical and the timing is important as well.
"Babies start their vaccinations at birth and are scheduled through the first months of their life to have certain vaccines. If you miss a scheduled injection and get 'out of sync,' the baby has no protection for a certain period."
Measles in Pamlico County?
Only a Matter of Time? Measles are in 16 states, Pamlico Health Director Dennis Harrington says, but not yet in Pamlico County. But that's not stopping Harrington from warning residents of the dangers of the disease. "Measles is one of the most contagious diseases," he said. The virus spreads through the air when an infected person breathes, sneezes or coughs. It's so contagious that if one infected person coughs in a crowded area, 90 percent of the non-immune people in the vicinity will catch it. "The measles itself to the child is not a lifethreatening situation," he said. "But if the child has an immuno-compromised situation or is debilitated, measles can do a lot of harm. We are concerned about pregnant women and measles and Grandpa and Grandma that might be on chemotherapy can really be made sick. It's nothing to
play with. The biggest and most important thing is to keep everybody age-appropriately immunized."
Harrington said there was one group of people who would never believe that the measles vaccine
gave children autism but he said studies had been done and that was not true. "There are people who have that attitude and that's bad," he said. "There are people who believe that no foreign object should go in their
child's body and that God will protect them. They have the right to a religious exemption. The law
allows that. However, that child can't attend a public school or a church school." Harrington said there was no 100 percent guarantee when it comes to childhood immunology. "It leaves a small number of kids at risk," he said. "The vaccine is 80 to 95 percent effective. The beauty of getting everybody immunized creates a herd immunity. If there is someone who is exposed, they create antibodies to the measles.
Antibodies will act like a little dose of vaccine to protect those children from a disease." It doesn't stop with the children, Harrington said. Adults need to keep up with their booster shots.
____________________________________________________________________________________
Phone Scams on the Increase in Pamlico County
By Maureen Donald
The Pamlico News
Pamlico County residents Ed and Rita York spent some time on the phone from Jamaica last week and no, they weren't planning a vacation.
The couple received a call from a gentleman claiming to be from Publishers Clearing House notifying them of the imminent delivery of a brand, spanking new Mercedes. All they needed to do was pay the $1010 in taxes - up front. But the couple weren't biting and responded with a choice words for the caller.
The end? No. The York's got another a second call - different location, same caller, same supposedly prize. No takers.
Amazingly, yet another call the next morning now reducing the taxes due to only $500 which the York's could simply pop in the mail and when received, their new car would be delivered.
At this point, Rita York again told the caller she thought this was a scam and hung up. The end? No. The would-be scammer called back and asked why she had hung up on him and proceeded to tell her a bit about herself - including age and employment history.
Another few choice words and yet another hang up with no call back - so far.
While this incident is seemingly over for the York's - others are taking their place.
According to the Pamlico County Sheriff's office, there has been an increase in complaints about scam calls ranging from the York's experience with a bogus Publishers Clearing House to frightening phone calls regarding the safety of loved ones and the need to wire money immediately.
Also prevalent at this time of year are a host of IRS scams. According to the IRS the most popular scams making the rounds now are Identity theft in which con artists get your Social Security number and other key bits of personal information so they can fill out a bogus tax return and collect your refund. Also high on the IRS watch list are phone scams where callers pretend to be the IRS, hoping to get information from you. After threatening victims with jail time or a driver's license revocation, they hang up. Moments later, other scammers call back pretending to be from the local police or DMV. If you know you owe taxes (or think you do), call 800-829-1040 and talk to an IRS employee. If you're pretty sure you don't owe taxes, call and report the incident to the Treasury Inspector General for Tax Administration at 800-366-4484.
According to Publishers Clearing House, If someone contacts you claiming to be from PCH, and tells you that you've won a prize award – then asks you to send a payment or money card in order to claim the prize – stop. You have not heard from the real PCH. It's a scam. The organization also warns that if you receive an email notifying you that you have won a major prize in the Publishers Clearing House Sweepstakes - don't be fooled: it's a scam. Publishers Clearing House does not send e-mails notifying consumers that they have won a major prize. If you win a major prize in our sweepstakes you'll know when the Prize Patrol from PCH shows up at your door.
If you think you are the subject of a scam, report it to the Sheriff's office by calling 745-3101. The Sheriff also suggests that the community keep watch on elderly residents who are targeted by these scammers.
Week of January 28, 2015
Pamlico Begins Work on Trimming $1.5 Million Deficit
Pamlico News Staff
BAYBORO - Following the initial round of county department budget requests for the coming year, the Pamlico County Commissioners began the annual job of analyzing its upcoming spending plan on Monday.
As has been the case in recent years, the requests for operational expenses, capital items and merit raises played a part in what is a $1.5 million deficit projection of 2015-16 revenues versus expenses.
The board met in a special workshop Monday morning for more than two hours, hearing reports from County Manager Tim Buck and staff.
The commissioners heard that the current budget year projections are pretty much on line, with revenues at 68.8 percent of budget, or about 11.2 million and tax collections at 78 percent at the midyear mark of the current year.
The board begins its budget planning early each year in advance of a July 1 deadline for a new budget and tax rate.
Buck said the figures include allocations in the current $16.5 million budget, and folded the addition initial requests into it.
He noted that the preliminary report is minus any additional requests from the public schools, community college or any outside agencies that receive county funds.
Among the 201516 requests are $670,000 in capital or building requests, $76,000 for merit raises, $181,500 for eight potential new positions and $168,600 in other requests from the sheriff and election offices.
The board also discussed a possible cost of living raise for employees, a measure that was reinstated this current fiscal year after several years without county workers getting a COLA.
An early percentage that was mentioned for county raises in the Monday meeting was 2 percent, which would cost the county $120,000.
The projected $18 million in overall expenditures produced the shortfall which the board, Buck and staff will work on in the coming months.
The board also heard an update on revenues from the rental of jail bed spaces, which in recent years has been around the $1 million mark, a figure above projections.
Another area of expense the board directed Buck to explore is that of county-paid health insurance for employees.
The eight new position requests the board will ponder included two from the sheriff's department for telecommunications, a real property appraiser for the tax office, a senior services aid, an assistant Emergency Management Director/Fire Marshall, a public buildings maintenance worker and two ground technicians for the seasonal work in public buildings.
Some of the big ticket items in the capital requests to be considered included $200,000 for continued courthouse renovations (Phase II) and $100,000 for replacement of air conditioning systems in the Department of Social Services in Alliance and the Law Enforcement Center in Bayboro.
The requests included nine new vehicles, spread among animal control, the senior center, Social Services, the water department and sheriff's office.
The board looked at 32 requests for merit raises or reclassification, totaling $76,000. It was the consensus of the commissioners that decisions on those would come later as the budget comes together and after a decision was made on cost of living raises. The increases ranged from less than 1 percent to 25 percent pay hikes.
The board also had $168,000 in "other significant expenditure requests," which included $10,000 to digitize real estate books in the Register of Deeds office for the years 1872 to 1954.
The major item in that listing was $158,600 for training in the sheriff's department. Buck explained that the new Sheriff Chris Davis was consolidating all training items previously spread through the budget into one request.
The commissioners were given information on requests, with explanation of requests as part of a packet of more than 200 pages to review.
The board will hold another workshop in February or March.
Pamlico Begins Work on Trimming $1.5 Million Deficit
Pamlico News Staff
BAYBORO - Following the initial round of county department budget requests for the coming year, the Pamlico County Commissioners began the annual job of analyzing its upcoming spending plan on Monday.
As has been the case in recent years, the requests for operational expenses, capital items and merit raises played a part in what is a $1.5 million deficit projection of 2015-16 revenues versus expenses.
The board met in a special workshop Monday morning for more than two hours, hearing reports from County Manager Tim Buck and staff.
The commissioners heard that the current budget year projections are pretty much on line, with revenues at 68.8 percent of budget, or about 11.2 million and tax collections at 78 percent at the midyear mark of the current year.
The board begins its budget planning early each year in advance of a July 1 deadline for a new budget and tax rate.
Buck said the figures include allocations in the current $16.5 million budget, and folded the addition initial requests into it.
He noted that the preliminary report is minus any additional requests from the public schools, community college or any outside agencies that receive county funds.
Among the 201516 requests are $670,000 in capital or building requests, $76,000 for merit raises, $181,500 for eight potential new positions and $168,600 in other requests from the sheriff and election offices.
The board also discussed a possible cost of living raise for employees, a measure that was reinstated this current fiscal year after several years without county workers getting a COLA.
An early percentage that was mentioned for county raises in the Monday meeting was 2 percent, which would cost the county $120,000.
The projected $18 million in overall expenditures produced the shortfall which the board, Buck and staff will work on in the coming months.
The board also heard an update on revenues from the rental of jail bed spaces, which in recent years has been around the $1 million mark, a figure above projections.
Another area of expense the board directed Buck to explore is that of county-paid health insurance for employees.
The eight new position requests the board will ponder included two from the sheriff's department for telecommunications, a real property appraiser for the tax office, a senior services aid, an assistant Emergency Management Director/Fire Marshall, a public buildings maintenance worker and two ground technicians for the seasonal work in public buildings.
Some of the big ticket items in the capital requests to be considered included $200,000 for continued courthouse renovations (Phase II) and $100,000 for replacement of air conditioning systems in the Department of Social Services in Alliance and the Law Enforcement Center in Bayboro.
The requests included nine new vehicles, spread among animal control, the senior center, Social Services, the water department and sheriff's office.
The board looked at 32 requests for merit raises or reclassification, totaling $76,000. It was the consensus of the commissioners that decisions on those would come later as the budget comes together and after a decision was made on cost of living raises. The increases ranged from less than 1 percent to 25 percent pay hikes.
The board also had $168,000 in "other significant expenditure requests," which included $10,000 to digitize real estate books in the Register of Deeds office for the years 1872 to 1954.
The major item in that listing was $158,600 for training in the sheriff's department. Buck explained that the new Sheriff Chris Davis was consolidating all training items previously spread through the budget into one request.
The commissioners were given information on requests, with explanation of requests as part of a packet of more than 200 pages to review.
The board will hold another workshop in February or March.
___________________________________________________________________________________
Local Delta Waterfowl Chapter Supports "Patriot Hunt"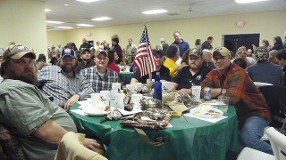 By Deborah Dickinson
Pamlico News Staff
Six "Warriors" headed to Pamlico County last week courtesy of the Coastal Carolina Delta Waterfowl for a duck hunting excursion they will not soon forget.
The "Warriors," our wounded servicemen, spent the week hunting in private impoundments and on the big water as part of Patriot Hunts. Patriot Hunts, founded in 2007, is dedicated to providing outdoor experiences for Wounded Warriors. According to Ken Bernard, Founder and CEO of Patriot Hunts, the Coastal Carolina Delta Waterfowl reached out to the organization two years ago and has been an advocate of providing these injured soldiers the chance to enjoy the sport of duck hunting. "Our primary mission is to provide an outdoor adventure for injured soldiers and for Gold Star Families (families that have lost a loved one), and I can't say enough about this chapter of the Delta Waterfowl and their generosity," said Bernard. "We as outdoorsman have so many resources available to us and we want to share some of those precious resources with these soldiers, to help them mentally and physically cope with their injuries," he added.
The week-long event culminated with the Third Annual Coastal Waterfowl Banquet held at the Shiners' Club in Grantsboro. With over two hundred and fifty in attendance, organizers deemed the event a huge success. Because of the generosity of over twenty-six sponsors and eighteen donors, attendees were treated to a full dinner, refreshments, a chance to bid on a variety of donated items through a silent auction and raffles.
Patriot Hunts was the vision of Bernard and his wife, Pam, both from military families. As an avid outdoorsman, Bernard began to see the need for getting injured servicemen involved in the outdoors. "I wanted to introduce every wounded soldier that was interested in the outdoors to have a chance to go out and experience it," he said. Bernard is an avid water fowler himself and a proud Life Sponsor for Ducks Unlimited here in North Carolina. According to Bernard, the need for events like this and the amount of therapy it provides in the recovery of these soldiers is immeasurable. He implores any chapter or individual who owns, leases or belongs to a hunt club, or someone that loves to duck hunt and is interested in hosting some of these brave soldiers to contact Patriot Hunts. He promises you that your chapter or hunting club will remember and enjoy hosting some of these wounded warriors for a long time.
Chris Williams, Senior Regional Director of the Delta Waterfowl Foundation, thanked local organizers for their commitment to the event and continued service to the Delta Waterfowl. Local member and chairman of the Delta Waterfowl, Dustin Turnage, had the opportunity to experience first-hand the effect that this event had on those that have sacrificed so much. "We have teamed up with Patriot Hunts for the past two years and hand-picked veterans who have been hurt or injured in active duty and we are paying it back. This experience has been so rewarding. It is our duty to take the time to help give back to those soldiers who have sacrificed so much," said Turnage. Delta Waterfowl Secretary and organizer, Chris Broughton did not realize the direction his involvement in Patriot Hunts would take him. "I have made friendships that will last a life time and giving back to those that have sacrificed so much is fulfilling both in my heart and my mind," he said gratefully. For more information regarding Patriot Hunts please visit www.PatriotHunts.com.
______________________________________________________________________________________
Arapahoe landmark, Still "All in the family"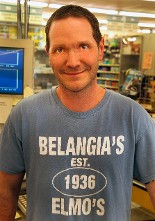 By Ben Casey
Special to The Pamlico News
A recent event at Belangia's Supermarket in Arapahoe, when compared to the legendary Eugenia Duke, creates a stark contrast between the history of such a favorite on Southern "mater" sandwiches and the history of Pamlico County's two remaining iconic grocery markets.
In 1917, Eugenia Duke began selling sandwiches to soldiers from an army base near her home in Greenville, SC. It didn't take long for the sandwiches to make history, not because of the sandwich filing, but because of her homemade mayonnaise. Soon she was bottling and selling mayonnaise. Her business grew to the point that she even purchased a delivery truck.
But just 12 years later, in 1929, Eugenia Duke chose a path quite different from the road traveled by Elmo Belangia in Arapahoe and Ruth Ireland in Oriental. Eugenia sold her homegrown mayonnaise operation to the CF Sauer company. No more Eugenia in every jar.
Reminds one of Cates Pickles, the cucumber giant just down the road from Mt. Olive in the little town of Faison, NC. Before I-40, travelers from Goldsboro to Wilmington on US 117 passed Mt. Olive just before finding scores of the Cates company trucks parked by the railroad tracks which were parallel to the highway.
The Chicago Tribune reported in August of 1989 that Chicago Based Dean foods was absorbing the familiar, privately owned family pickle company for $29.8M. Chicago is not just 1404 km from Faison, it is a world away from Duplin and Wayne Counties.
Elmo Belangia and his wife, Leah, opened his general store in Arapahoe in 1936, 79 years ago. There was a change in management for the grocery market recently, but not due to a take-over by an out-of state mega grocery empire. Craig Belangia, Elmo's great grandson, took the helm from his grandfather, Winifred "Wimpie" Belangia. In true family form, Wimpie had operated the store with his wife Janice.
Though just about everyone from Arapahoe still refers to the store as Elmo's, they can certainly still refer to it as Belangia's and be not just politically correct, but totally correct.
The first store, a combination gas station, grocery store, meat market, and farm supply store, also sold hardware, paint, work clothes and tires. "Today we feel we can provide just about anything the large grocery stores sell. We purchase most of our inventory from a large grocery supplier out of Hickory, NC. They also supply the Lowe's Food Stores, IGA stores, and Piggly Wiggly," the new manager, Craig, noted."
Looking back on the evolution of the business, he added, "My great grandfather, Elmo, was only 19 when he opened the store. He still worked here on a limited basis until he died in 2004. My grandfather stated here full time about 1964, not long after graduating from Pamlico County High School. He managed the store until recently when some health issues forced him to drastically cut back on the time he could spend here.
"The store we have now, across the road from right near where we used to be, opened in 1974, but that was 6 years before I was born. In 1989 this store was enlarged to its present size. I started working here in 1998, 17 years ago."
Craig observed that he was fortunate to have been working here while both his great-grandfather, Elmo, and his grandfather, Wimpie were working together. "My great grandfather always made a point of saying, "There is always something you could or should be doing to take care of business. And never forget, if it were not for your customers, you would not be here."
Reflecting on the store's place in the greater Arapahoe community, strategically located on NC 306 just four miles form the Minnesott Ferry and Camp Camp Seagull , also just three miles from Camp Sea Farer, Craig said, "It's a good feeling to be able to do what we do, provide special and personal service to our customers. Our meat department still fills special orders with special cuts. We can also special order meats, something that many large stores can't do."
What made a young man want to manage a family grocery store in an environment characterized by the encroachment of the big box stores?
I want to be around for
the 100th Anniversary.
"I know what the challenge is before me. But it is such a good feeling to know that I have the chance to continue a family service to a community where my great grandfather was born almost a hundred years ago. Next year, the store will have been here 80 years. I want to be around for the 100th anniversary. That will happen if we can be partners with our customers like we have since Day One."
Week of January 21, 2015
County Mourns Loss of Young Mother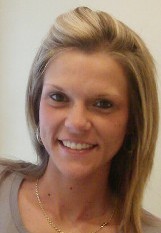 The Pamlico County Highway Patrol confirmed that 28-year-old Lindsey Barnett Whitfield of New Bern was killed Sunday evening as a result of injuries she sustained in an accident while operating an all terrain vehicle in the vicinity of the 8400 block of Highway 306 South in Arapahoe.
Officials say 911 communicators received a call at 5:27 p.m. reporting a traffic accident. According to authorities, Whitfield was leaving Belangia's Supermarket heading south on Highway 306 when she lost control of the vehicle she was operating. The ATV she was piloting was the only vehicle involved in the accident.
Whitfield was transported to Carolina East Medical Center in New Bern, where she was pronounced dead. According to her obituary, Whitfield has a son, Clayton Timothy Whitfield, whom friends say is five years old. In addition to her son, Whitfield is survived by her husband, Timmy Whitfield, her parents, Frank and Linda Barnett, and her brother, T.J. Bell, according to the obituary.
According to law enforcement, it is illegal to operate an ATV on the highway. In addition, the victim was allegedly not wearing a helmet when the incident occurred and the ATV did not have road tires.
A private burial will be held at Greenleaf Memorial Park.
______________________________________________________________________________________________________________
Davis Continues to Fight War On Drugs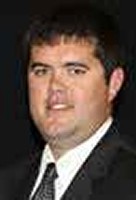 Drug cartels tend to infiltrate rural areas with limited police force and according to Sheriff, Chris Davis, Pamlico County is no stranger to this type of activity. In 2010 a federal investigation into a Mexican Drug Cartel that had imbedded itself in the county was conducted. The investigation, named operation "No Quarter" was designed to attack the infrastructure of the Mexican Drug Trafficking Organizations (DTO), operating not only in the Eastern District of North Carolina, but throughout North Carolina, the United States and Mexico. The investigation spanned ten years and five North Carolina counties. As part of the investigation, over one hundred individuals have been charged by indictment or criminal information in the Eastern District of North Carolina and state courts.
Davis contends that this type of activity continues today, but, the newly elected sheriff is vowing to take a stance against these DTO's, responsible for the importation of large quantities of cocaine, marijuana, heroin, and methamphetamine into the United States, as well as the related remittance of illegal drug proceeds back into Mexico. In 2014 heroin arrests in Pamlico County soared to four hundred percent. Davis is credited with being the youngest sheriff in the United States, but with numerous drug arrests under his belt since taking office, he is making his mark against drug trafficking.
Davis has received unanimous support from the community and county commissioners in his request for the tools and manpower needed to ensure the safety of not only the citizens of Pamlico County, but the safety of law enforcement as well. His initial request included additional drug agents, vehicles and numerous safety-related equipment, estimating a total of $160,000. A detailed list and firm costs will be presented at the next County Commissioners meeting which, according to Davis, is just a formality who expects no resistance. "Numerous grants have been applied for to offset the costs of the new equipment and officer's salaries," added Davis.
In light of recent events, there has been a mistrust and even hostility against police officers. Given this current climate, a main priority of Davis is the safety of his officers. He intends to better equip his officers to ensure their safety and enable them to better do their job which is protecting the citizens of Pamlico County. According to Davis, some of Pamlico's officers do not have bullet proof vests and investigators are using equipment that was issued to them in the 1990s. "My goal and initiative is to provide these officers with the equipment necessary to fight crime in the 21st century," vowed Davis.
Numerous state and federal authorities have assisted in many of the most recent drug investigations and Davis sees that trend continuing in the future as these agencies work together to continue to fight drug related crime throughout the county. "As a small county, we need to rely on the assistance of state and federal agencies. We have reached out and the Federal Bureau of Investigation and Alcohol Law Enforcement have been completely receptive and cooperative in combating these problems," said Davis.
In addition to fighting drug trafficking and the crime that accompanies it, Davis will be reopening some unresolved homicide investigations from over the last five years. "These cases have tasked investigators and because of loopholes, have been deemed unresolved," Davis said. Because of his renewed focus on these cold cases and the availability of better technology and investigative tools, Davis has already made some headway in bringing closure to some of these cases.
"The squeaky wheel gets the grease," says Davis and he implores the public to reach out to authorities and continue to report crime and suspicious activity in their neighborhoods. "If the citizens of Pamlico County continue to do their part, we can combat crime, establish trust and make our communities safer," he added.
______________________________________________________________________________________________________________
Trio Sentenced For Oriental Bank Robbery
GREENVILLE - United States Attorney Thomas G. Walker announced that David McArthur King, age twenty-four, of New Bern, Thomas Lee Cuthbertson, Jr., age twenty-four, of Vanceboro, and Khiry Terrel Jones, age twenty-four, of Oriental, were each sentenced resulting from their earlier guilty pleas to bank robbery and firearms charges. The charges stem from the December 2, 2013 robbery of First Citizens Bank in Oriental, and the November 22, 2013 robbery of TD Bank in Easley, South Carolina.
On December 10, 2014, Senior U.S. District Judge Malcolm J. Howard sentenced King to twenty years in prison for his plea to two counts of armed bank robbery and a single count of using or carrying a firearm during and in relation to a crime of violence or possessing a firearm in furtherance of a crime, all for his role in both robberies. On January 13, 2015, Judge Howard sentenced Jones to eight years in prison for armed bank robbery and for his role as the getaway driver in the First Citizens robbery. On January 14, 2015, Judge Howard sentenced Cuthbertson to seventeen years in prison for armed bank robbery and a single count of using or carrying a firearm during and in relation to a crime of violence, or possessing a firearm in furtherance of a crime, all for his role in both robberies. King, Jones and Cuthbertson were each ordered to be supervised for five years following release. King was ordered to pay restitution in the amount of $61,539.50, which includes $3,000.00 from an additional robbery. Jones was ordered to pay $33,797.00 in restitution. Cuthbertson was ordered to pay $58,521.50 in restitution.
Investigation of this case was conducted by the Federal Bureau of Investigation, the New Bern Police Department, the Pamlico County Sheriff's Office, the Oriental Police Department, and the North Carolina State Bureau of Investigation. Assistant United States Attorney John Bennett is prosecuting the case.
Week of January 14, 2015
Oriental Board Tables RV Amendment Yet Again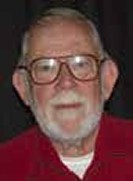 By Deborah Dickinson
Pamlico News Staff
The monthly meeting of Oriental's Town Board was held on Tuesday, January 6th. The town bid a sad farewell to Deputy Town Clerk, Jayne Beyer. She will be leaving mid-month after accepting the position of Deputy Town Clerk at Cove City, closer to her home. Town Manager, Diane Miller said "Our loss it their gain." Local resident, Elle Diamond will be filling the position on a temporary, long-term basis.
The Cartwright House, a historical Bed and Breakfast in town, was granted a special use permit to reestablish their business after being closed for extensive renovations. According to Town Manager, Diane Miller, the Cartwright House has obtained all sign permits and is compliant with regards to building, parking, landscaping requirements. Owners, Johnny and Margaret Reiswig, plan to reopen the turn of the century inn located at 301 Freemason Street in time for this Year's Boat Show.
The amendment to Article VI, Section 89 of the GMO regarding RV Parks was removed from Tuesday's agenda because the town's attorney, Scott Thomas, was unable to attend to share his recommendations. The amendment will be added to February's public hearing agenda.
Town Manager, Diane Miller gave an update on the Water Advisory Committee. In hopes of acquiring additional revenue, the town has reached out to Cellular providers and offered the water tower for lease for placement of cellular towers. So far, they have not had any firm interest. The town has signed a contract to provide e-billing for water customers, allowing residents to pay on line. Miller hopes this will be implemented within the next month. She also stated that additional holding tanks have been installed at the water treatment facility and "everything is working splendidly."
The Board was made aware by the town's attorney that Oriental resident, David Cox, has filed yet another appeal with the Pamlico courts on December 24th in his ongoing suit, Cox vs. the Town of Oriental and Board of Commissioners. The suit pertains to the South Avenue right of way exchange. According to Commission, Larry Summers, the town has spent $75,735 in legal expenses, thus far.
Oriental's Chief of Police, Dwaine Moore, was absent from the meeting as he was on vacation, Town Manager, Miller, commended Chief Moore for his assistance in the apprehension and arrest of Stephon Lee Greene in the early hours of Sunday, January 28th. Greene was arrested in the Steamer parking lot and charged with possession of with intent to sell and or deliver a schedule II controlled substance (crack cocaine) and possession of drug paraphernalia. The arrest was a result of the Pamlico Sheriff's office and the Alcohol Law Enforcement Branch of the State Bureau of Investigation execution of a joint operation to target drug activity in Pamlico County.
The Parks and Recreation Advisory Committee meets today at 8 a.m. at the town hall. The Water Advisory Board meets, Tuesday, January 20th at 10 a.m. with the Board of Commissioners and NCDENR Representatives. The purpose of this meeting is to discuss the policies and procedures necessary for Cross Connection Control and Backflow Devices in Oriental. The Tourism Board also meets on Tuesday, January 20th at 5:30 p.m. The Planning Board will meet on Wednesday, January 21st, at 3:00 p.m. The Tree Board will meet on Tuesday, January 27th at 9 a.m. The Water Advisory Committee will convene on Thursday, January 29, at 2 p.m. and the Town Board Agenda Workshop will take place on Thursday, January 29, at 4 p.m.
______________________________________________________________________________________________________
Charter Captains Fighting Proposed
Reporting Requirements
A proposal to require fishing guides and charter captains to use a for-hire logbook for each trip is drawing mixed reviews.
A newly formed group, the Cape Fear For-Hire Captains' Association, is hoping to provide a unified voice for guides and captains as well as representation in marine fisheries management. A meeting set for today (Wednesday) in Wilmington will address the proposed for-hire logbook and likely result in an official stance against requiring logbooks, according to Matt Wirt, one of the group's organizers and charter boat captain.
"The majority of captains are against this measure and for good reason," Wirt said. "Providing the amount of data required is simply too much for the average boat to accurately provide."
The proposal would require for hire boats to record how many trips were run, length of each trip, area fished, what was kept, what was released (including trash fish) and the bait used.
"It's difficult enough to keep the lines baited, never mind trying to keep up with all the information the Division is proposing," Wirt said. "Making it even worse are the possible penalties for failing to meet the requirements."
The proposal states that captains failing to send in a weekly report could be charged with a class 2 or class 3 misdemeanor resulting in their for hire permit being pulled.
But the proposal also has its advocates. Among them is Marine Fisheries Commissioner Anna Beckwith, who believes the logbook could be of benefit to for hire captains.
"The log book will better help represent the for-hire industry's stake in various fisheries, especially on the federal level by improving the data available," Beckwith said.
Wirt, however, thinks the proposal could result in the collection of bad data.
"Trying to list every single fish is simply unrealistic," Wirt said. "It's just not possible to do accurately."
Currently there are 600 active for hire permits in North Carolina, but that number also includes boats that make only a few trips each year such as corporate or tournament boats.
Wirt estimates there are about 400-450 boats that regularly run for hire trips in the state, possibly skewing the data even more.
"The bottom line here is the system has too many unknowns to be effective," Wirt said.
The division expects the majority of members of the commission will be in attendance at Wednesday's meeting which is not being organized or sponsored by the commission.
The logbook will be voted on at the February 18th NCDMF meeting at the Hilton in downtown Wilmington.
___________________________________________________________________________________________________________________________
New School Board Focus on Needs of
Students, Teachers
Just In: Mackie Spruill has resigned from her seat on the Pamlico County Board of Education effective January 31, 2015. Ms. Spruill is moving to the Chapel Hill area. She represents Township 2. The board of
education has scheduled a special call meeting on January 26, 2015 at 5:00 pm to address this matter.

By Martha L. Hall
Pamlico News Staff
With two new school board members on board as well as a new chairman and vice chair, the Pamlico County public schools prepare to tackle ongoing needs for students and teachers in 2015.
The Pamlico County School Board had two new members elected this past year - at-large members Judy Humphries and Paul Delamar, Jr. They replaced two veterans - former Chairman Reginald Hawkins and Garry Cooper.
The new board has had one meeting after they were sworn in before embarking on 2015.
Incumbent Beatrice Mays ran unopposed and was re-elected in Township 4.
John Prescott who was first elected in 2008, will not be up for election until 2016 in Township 1. He was elected chairman of the new board, a step up from being vice-chairman.
The new vice chairman is Gene Dudley of Township 3.
Other members include John McCotter of Township 5; and Mackie Spruill in Township 2.
Prescott expressed confidence that the two new members will help maintain what he considers a board that will serve the county well.
"We have a great board," he said. "This is not a contentious board. This is a board that is willing to work together. When you are making decisions that are good decisions and positive decisions that create positive outcomes, it's not hard to make those decisions."
As for potential clout as chairman, Prescott offers modestly, "I am only one of seven. It is about the kids and that is what I want. The kids are what is important. Being chairman does not give me any extra power over the school board."
He does have vested interest in the success of the school system other than being a board member.
He has a daughter in the third grade.
"I am a very strong teachers' advocate. I am a very strong advocate for the children," he said. "They come first."
He doesn't see any radical changes in how the school board goes about its business for the students and teachers at the system's four schools.
"What I hope is that we continue what we have been doing and doing what is best for all children in Pamlico County in getting them a good, sound and basic education - that is guaranteed to them in our Constitution," he said.
He noted that the job of the school board was to set policies and then have the superintendent, principals and other administrators implement them.
"I consider principals and janitors, everybody is on the same playing field," he said.
Judy Humphries said she was looking forward to working with Prescott. She said she was "so new" but she was learning.
Humphries was the director of technology at Pamlico County High School before she retired in 2008. She began as a high school math teacher. She was a big part in the initial groundwork of a solid base network at Pamlico County schools. She said she was passionate about the use, the availability and the monitoring of the technology to make sure it's having a positive use. She is also interested in the sustainability of any project that would directly impact classrooms.
"We've had one meeting of the school board," she said. "At that meeting principals presented an update on their school improvement plans. As far as what's coming up, I believe in the not so distant future they will start into the budget process. I really want to see money focused on classrooms so I personally will be very attentive to expenditures and making sure that the money is going where it will have the greatest impact on our students."
Humphries said textbook funding and teacher assistants have been slashed across the state.
"School systems that have a large tax base and local support have been able to fill that gap," she said. "Pamlico County has tried very hard to meet the critical needs but I have witnessed through my daughter who just began teaching, the lack of text books and what that means. I find myself comparing teaching in 2014-2015 to my environment when I was heavy into classroom teaching in the 1970s and '80s. I not only had a teacher's guide with full explanations of everything but a textbook too. Teachers today are pulling from many different sources to put their lessons together. My concern there is nothing for the parents to help their children learn. My fear, and I believe it's an accurate concern, is that students are not learning how to read textbooks. They are actually more 'handfed' than they have ever been. I'm not saying that teachers can't pull that off because they are. I guess a lot of it revolves around money."
Humphries has accrued volunteers for grades 1-8 who come in and make copies for teachers.
"All the volunteers have a teaching background or have been associated with education," she said. "These are people who want to volunteer and not necessarily be with students. I have one volunteer who is 81 years old. I paired her with a friend. They take their responsibility very seriously and they enjoy it."
Humphries said as a board member she wants to focus on needs and how they can fill those needs. If it has to be out-of-the-box, she said, then that's the way to do it.
Paul Delamar Jr., who retired as the assistant superintendent of county schools and served previously eight years ago on the school board, said he is looking forward to his next four years. Humphries and Delamar both expressed their gratification to Prescott as chairman and felt good about working with him.
Delamar Jr. said there's no doubt as a result of the General Assembly, the schools are will be more challenged than they have ever been.
"That's another reason we have to look at our resources and try to use or redirect them as best we can," he said.
"I'm not talking about teaching positions here. I'm talking about all of the support. I would like to make sure that we can find economies that would allow us to direct more of our resources to the classroom. That's why I ran for office."
Delamar Jr. said if they could show something that demonstrated real needs to the Pamlico Commissioners, and if we didn't have any resources to redirect those needs, the Commissioners would come through.
"I want to see the local teachers' supplement increase to a point that we are competitive with local counties, specifically Craven and Carteret" he said. "I want Pamlico County schools to be just as attractive as they can be. One of those ways is to give them the best possible working environment. I'm not saying they're bad now, but we can make them better. That may take several years. That's something I'm going to advocate for."
Delamar Jr. said the biggest challenge will be the dropping birth rate resulting in fewer local students. Another area is young people leaving the county for larger venues after they graduate.
"It all comes down to giving the teachers the best possible working environment and the resources that they need and let them do their jobs," he said. "I continue to be concerned about the amount of needless paperwork that the state requires of teachers and the lack of clear direction on where they're supposed to go now that they've dropped core curriculum. I think we need to tell the schools and the teachers what they need to teach and then give them the opportunity to do the job."
Week of January 7, 2015
Dragon Runs Fills Hodges Street for Annual
New Year's Eve Celebration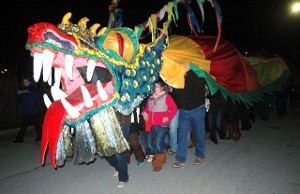 ORIENTAL - The annual Oriental Dragon Run again filled Hodges Street with spectators for the New Year's Eve celebration.
For the second year, both of the town's dragons arrived in time to celebrate the ringing in of the New Year, with runs along the town waterfront for early and late evening events.
The traditional dragon, with more than a dozen people underneath guiding it, made appearances at 8 p.m., in which the street near Town Dock was wall-to-wall spectators and again for the pre-midnight run, when it was joined by the newer Dancing Dragon from China.
Many of the revelers dressed for celebration, with hats and festive clothing, while sporting noisemakers including traditional pots and pans.
After several passes between the Bean and the Town Dock, the dragons departed in opposite directions shortly before midnight.
An electronic board counted down the hours, minutes and seconds before the final countdown and lowering of the Croaker from the mast of a visiting sailboat at the Town Dock.
The year 2015 was official in Oriental.
____________________________________________________________________
Commissioners Grant Sheriff's Request for
Drug Investigators
Pamlico News Staff
BAYBORO - Pamlico County Commissioners gave new Sheriff Chris Davis unanimous support Monday night in his request for additional drug investigators, vehicles and equipment.
The board approved the hiring of one of two requested drug agents, promising to fulfill the total request, pending any assistance that could come through state or federal drug enforcement funding.
The board also approved the purchase of three new vehicles, one for the upcoming new officer and two others to fill a need where Davis said the department was two vehicles short after he had increased the deputy patrol staff.
The total package for the two undercover officers, vehicles and related equipment will be about $160,000.
The board pledged by consensus to fill the request, even if it takes money from the county fund balance.
Commissioner Paul Delamar III noted that the county had been very conservative in its budgeting in recent years, adding money to the county savings account.
The base salary cost for each new investigator is $43,482, with an overall cost of $60,227 for each position including benefits.
Delamar said the sheriff's vowed battle against drugs was a purposeful use of the county money. It also has provided the county with a workable cushion on several occasions following hurricanes.
Davis provided a detailed written and oral presentation on his requests, which longtime Commissioner Christine Mele called the most detailed request she had seen during her time on the board.
Commissioner Kenny Heath said the board supported the sheriff's goals, noting that many Pamlico County families, including his own, had been touched by and suffered from the problem of drugs.
Davis, who took office in December, said the drug problem had reached all-time new highs in the county, with heroin now the biggest problem. He said heroin arrested soared 400 percent during the past year. He also noted that meth and meth lab arrests increased dramatically.
He said the county had become a hub for imports by Mexican drug trafficking.
Davis said Pamlico County had not had a designated drug investigator since 2012. He said that surrounding counties have many officers working on drug problems, including four in Craven County, five in Carteret County and six in both Onslow and Beaufort counties, along with the Jacksonville Police Department.
He explained his reasons for hiring two new officers to establish sources and make undercover buys.
He said it presented a dangerous situation for a single officer to conduct the investigative and arrest activities alone.
A motion by Commissioner Carl Ollison, with a second by new Commissioner Ed Riggs was approved unanimously by the seven-member board.
In another matter, the board voted to have County Manager Tim Buck and staff prepare a resolution for its first meeting in February to establish a separate Board of Equalization and Review to hear appeals on property tax assessments.
Pamlico is among a minority of counties where the commissioners have also served as the tax review board.
The resolution will contain language for a five-member board of local residents, with no less than two years living in the county and it will encourage diversity of occupations by members.
Tax Supervisor Kathy Tyndall provided a 12-page report she compiled, which included a preferred diverse board with an attorney, appraiser, farmer, banker and contractor or home builder.
Commissioners noted that with Pamlico being a small county of about 13,000 people, prescribed occupations could limit the candidates.
Anyone interested in serving on the board can contact the county office at 745-3133.
____________________________________________________________________________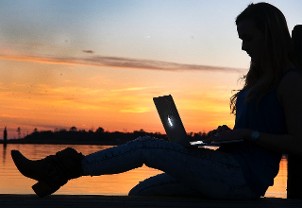 Registration for spring classes at Pamlico Community College conclude on Wednesday, January 7, but the door is by no means closed for students to enroll if they miss that deadline. Students who fail to compete registration by that date can still register for any class that has not yet begun. Classes begin January 9. Also, perhaps the once familiar Otis Reding song, "Sittin' on the dock of the bay" is a visual aid to impress students that ONLINE classes, on the dock of the bay or anywhere else, do not begin until January 26. That gives almost three extra weeks for students to register for those classes. Check the class schedule page on the college website, www.pamlicocc.edu, to view all the helpful information about spring registration.
Week of December 24, 2014
Little Girl's Generosity Provides Gifts For Animals
This Christmas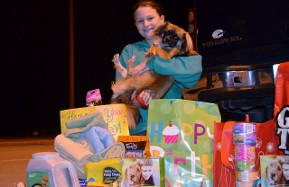 By Deborah Dickinson
Pamlico News Staff
Now that the Christmas season is here we all think of those less fortunate. Looking around we'll find needy people and animals everywhere. For the past two years nine-year old Delanie Royal has used her birthday to help people and animals. Rather than asking for birthday presents, Delanie asked that her friends and family make a donation to a good cause. Last year Delanie turned her birthday into a fund raiser to help her mother's friend, Jennifer Lizardi who was suffering from a health condition and required a double lung transplant. This year Delanie decided she wanted to have her friends and family help her make a donation to an animal welfare group. So, this year instead of birthday presents, Delanie requested that her birthday party guests bring dog food, cat food and toys for both to her party on Dec. 7th. Delanie's revelation for which animal welfare group to direct the donation was gleaned from a past issue of the Pamlico News. Delanie's mother, Echo, remembered reading an article featuring the "New Leash on Life" Program. A New Leash on Life is a program that allows minimum and medium custody state prisons to partner with local animal shelters, animal welfare agencies, and/or private non-profit agencies to train dogs in preparation for their adoption. In turn, the inmates are given a chance to serve the community by training dogs to be well-behaved pets. Jackie Schmidt, president of P.A.W.S. (Pamlico Animal Welfare Society) was on hand to thank Delanie and show appreciation for her good deeds. "Because of Delanie's altruistic nature and her parents nurturing, encouragement, and direction, dogs and cats in Pamlico County will have food and toys for Christmas," said a grateful Schmidt.
__________________________________________________________________________________________________
Pamlico Children are Winners from Local Toy Collections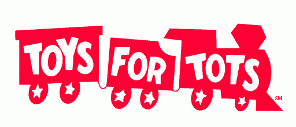 By Martha L. Hall
Pamlico News Staff
ALLIANCE -- Anyone who responded in the past month to a large number of collection boxes in Pamlico County labeled Tots for Tots or Toys for Pamlico Kids, helped create a toy bonanza and a happier Christmas for local youngsters.
Both of the non-profits worked toward a Merry Christmas through the Department of Social Services in Alliance to make sure that under-privileged children are remembered on Christmas. All that was required was for a parent or guardian to go to Social Services and ask for the paperwork.
Toys for Pamlico Kids - sponsored by the Pamlico Chamber and Camps Sea Gull and Seafarer in partnership with DSS - completed its drive last week and made distributions.
The Oriental Dragon Detachment of the Marine Corps League collected Christmas toys, but will have boxes out until and after the big day for extra donations.
Sarah Rhymer, director of Community Services at Camp Seagull, said 200 families received Christmas presents last Tuesday and Thursday at the Department of Social Services in Alliance.
"Volunteers came from St. Timothy Episcopal Church's outreach program on those two days to help families find toys," said Rhymer. "The families took the unwrapped toys home to wrap them."
Rhymer said there were about four gifts per child.
"We had 110 families on Tuesday and around 75 on Thursday," she said. "There are also many charities through the various churches in the county. A lot of the churches adopt families and there is the Angel Tree in some churches. People select an "angel" off the tree and give to that one family."
There is still time to donate to the local Toys for Tots campaign.
George Steenson, head of the Marine Corps League in Oriental, said the group had changed their policy of toys going to Cherry Point or Jacksonville to be distributed.
"We took our toys last week to the Department of Social Services in Bayboro," he said. "Our bins are open until after Christmas and probably right after New Year we will deliver any further collections to Heartworks."
The Baybor-based non-profit offers programming and assistance to area children.
Steenson said they had 15 toy donation bins this year around the county.
In the new year, the Marine Corps League will turn its attention again to assisting Military Missions in Action, led by Mike Dorman. His group is still working on completing a new home for a disabled Marine and his family.
Military Missions in Action has had a set-back in completing the house for a military family chosen last year to receive housing. The Marine group plans to return to the site and finish the house for the family in 2015.
_________________________________________________________________________
The Dragon Story – Two Really Can Live in Harmony

By Martha L. Hall
Pamlico News Staff
ORIENTAL – When New Year's Eve rolls around next week, once again there will be not one, but two Dragon Runs, an Oriental tradition that draws locals and out-of-town visitors each year.
And, once again, there is a choice of two dragons, with early and late evening romps along Hodges Street.
During the late run, visitors get to double-down on their dragon-watching.
There's the old traditional dragon, originally designed by Betsy Cox and Grace Evans in the 1970s.
This dragon has survived to see the light of many New Year's Days - despite too much audience love and dental problems.
So many people touched his teeth, some fell out, prompting a request to revelers to watch-not-touch. It's a hard rule to enforce.
Then, there is the younger dragon, bought from China two years ago. It is a slimmer, high-flying dragon, 18-feet long.
Charlie Overcash is the patriarch of the "newer" dragon.
Last year, there was some concern that the meeting of the two dragons would be somewhat contentious.
But, at the 11:30 p.m. meeting of the two behemoths, they met in a kiss.`
According to dragon handlers, the traditional dragon will dash about in the 8 p.m. run on New Year's Eve, next Wednesday.
Overcash said that at 11:30 p.m., the dancing dragon - AKA the Chinese dragon - will arrive.
According to Keith Smith at towndock.net, the traditional dragon will again join the fun.
"They will both run," he said of the near-midnight run. "At 8 o'clock it is strictly the old dragon and 11:30, we run out both."
As the midnight dawning of 2015 nears, another tradition dating nearly a decade comes into play.
The Croaker will "drop" from atop a boat at the Town Dock.
"We said we do all this 'dragony' stuff, but nothing happens at midnight, and that seemed wrong," Smith recalled. "So, we made a plywood Croaker and over the years the plywood Croaker has grown."
For those who have attended the festivities regularly, they will attest that the "town fish" has increasingly had more lights and dazzle..
As for the dragons, the traditional one spends its spare time in a storage unit in town. The dragon's rent is paid for by donations, which come in within a few hours after a fundraiser by towndock.net.
Smith said he and Ken "Turtle" Midyette handle the dragon housing responsibilities. The dragon also shares his quarters with The Croaker.
The next appearance by the newer Chinese dragon will be in February in late afternoon for the Chinese New Year. 2015 is the Year of the Goat.
"We're hoping to get some children involved in that," Smith said.
The Chinese Dragon attended Oriental commissioner and kayaker Larry Summers' wedding. It was also seen at the Croaker Parade and it kicked off the Summer Reading Festival at the Pamlico County Public Library in Bayboro.
"We were asked to bring it to the up to the Dragon Boat festival in New Bern but we didn't go," Overcash said. "We just felt it was the Oriental dragon."
About a decade ago, the traditional dragon made some trips out of town, going as far as Wilmington. It was later determined that he should also just stay "local."
So, New Year's Eve and the Chinese New Year are now the dragons' main gigs, dancing and prancing along the Oriental waterfront.
No need to travel.
The audience comes to them.
Week of December 17, 2014
Gaskill Named Southeast Region Teacher Of The Year
An assembly at Pamlico County High School turned into a huge celebration when it was announced that their beloved history teacher, Joshua Gaskill, was named Southeast Region Teacher of the Year. Gaskill, is a 2003 graduate of Pamlico County High School with a Bachelor of Arts in Communication Sciences from NC State University and a Master of Arts in Teaching from East Carolina University. Current 2014 North Carolina State Teacher of the Year, James Ford, a World History Teacher at Garinger High School in Charlotte-Mecklenburg School District, was on hand to bestow the honor on Gaskill. "This is a telling evaluation and this is where we celebrate," said Ford.
The National Teacher of the Year Program has been in existence for over fifty years and North Carolina has participated in this program recognizing outstanding teachers since 1970. The North Carolina Department of Public Instruction, along with its sponsors, administers the program and chooses a candidate who is "dedicated and highly skilled, a candidate proven capable of inspiring students of all backgrounds and abilities to learn. Pamlico High Junior, Mariah Meador, served on a student interview committee, which was part of Gaskill's vetting process. "He is an amazing teacher and I never doubted that he would win the honor, I appreciate everything he has done," Meador said proudly.
Gaskill is now a member of the elite eight representing each region in the state and in the running for the North Carolina Teacher of the Year chosen by a committee consisting of professional educators as well business and community leaders. The State Teacher of the Year and the other Regional Finalists form a collaborative network to provide ongoing professional development and support throughout the state on critical issues facing public education.
Gaskill's family was on hand to celebrate his monumental achievement. Proud father to Joshua, Dennis Gaskill, says that teaching is in his son's blood. He is a fourth generation Pamlico educator and carrying on quite a legacy. According to Dennis, Joshua's mother, Martha, is currently a teacher in the district, his late grandmother, Beulah, also a teacher, was totally committed to education and would be so proud. In addition, Joshua's great grandfather, Elbert Prescott, taught in Pamlico County. Joshua's wife, Meredith Gaskill, boasted about her husband's natural talent and his ability to garner his students' respect.
Pamlico's Superintendent, Wanda P. Dawson, Ed. D., was overjoyed by the news of Gaskill's achievement and was overwhelmed by the outpouring of support. "Joshua is so deserving because he loves what he does and it comes out every day in the classroom. Parents and students consider him a hometown hero. He is a natural talent and he refuses to let any student be left behind," she added.
Gaskill was over wrought with emotion upon learning of his distinguished honor. "You guys make it worth it every day and I can't thank you enough. This is an incredible opportunity. I work in the best school system in the state…the world," said Gaskell. "This is the best job ever. It is amazing to wake up each morning and change lives and help students achieve their goals. I am so lucky to be a part of that and I can't wait to represent these amazing students that make me the teacher that I am," he added.
_______________________________________________________________________________________________________________________
Operation Veggie Box Looks Toward Expansion in 2015
By Martha L. Hall
Pamlico News Staff
It has been a good year for Operation Veggie Box, the Pamlico County Christian ministry that was launched at Bethany Christian Church in Arapahoe in August of 2013.
PotashCorp – Aurora has donated $10,000 and $1,000 recently came from a Presbyterian church in New Jersey.
Veggie Box leader David Bailey said there is also a verbal agreement for a $3,000 grant from the state.
"That $3,000 is to be used just for supporting community gardens in Pamlico County," he said.
Plans are ongoing for 2015 for those gardens to grow fresh vegetables that are subsequently harvested and routed to local food pantries for delivery to those in need locally and in numerous counties in Eastern North Carolina.
"We are currently recruiting people to do garden sites," he said, adding that they hope to continue sites at Don Lee Farms, Arapahoe Charter School, the Pamlico County Senior Center and others.
He said OBV can use its funding to underwrite these garden sites.
"If they will just supply the labor, I can supply all the materials," he said. "As far as money goes, we are sitting very good. We have about $16,000 total."
Another community garden being added next spring is at Camp Caroline.
He noted that Bethany Christian Church was instrumental in getting the nonprofit off the ground.
He said the large PotAshCorp donation "now makes it feasible for OVB to expand its low-cost, standard garden methodology, as well as, its square foot garden methodology to other parts of eastern North Carolina."
Veggie Box is also working to establish relationships with large scale farming interests in eastern North Carolina who will grow vegetables for the annual harvest.
They are also looking for partnering groups in other areas around the East.
"We have some churches in the Ayden and Farmville area that want to do gardens this spring, so we are starting to see some growth," he said.
He said they plans to do the annual Veggie Box Operation packing event in 2015 in conjunction with the New Jersey church.
"When you think of Operation Veggie Box, there are actually two components to it," Bailey said. "There is the community garden industry and then there is our annual event; that is where we get the community together at a location and we box up vegetables."
That event includes boxes of 10 to 15 pounds of corn, potatoes and onions, along with a spiritual message.
The OVB then works with food pantries who make the deliveries. The first one was last year at Bethany Christian Church.
He said the organization was focused on feeding people and spreading the word of Jesus.
He said a goal for 2015 is to get growth in as many as four other states for the annual event.
"I believe that part of our ministry is very scalable and the Potash donation really gives us a chance to start to grow the ministry," he said.
He said getting more large farm operations to participate is another goal.
"Don Lee Farms and Neuse River Turf Farm are fantastic corn growers," he said. "Flatland Ag, the onion growers in Aurora are wonderful people."
Now he is looking for a major potato grower to participate, joining hundreds of local volunteers over the past year and a half.
For information, contact Bailey @ 252-229-6228 or email him at david.bailey@operationveggiebox.org.
________________________________________________________________________________________________________________________
Keep Calm, Buy Local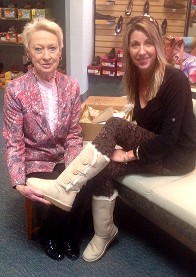 Last minute holiday shopping? Don't panic. During this last minute holiday shopping frenzy think local first. One of the greatest things we can do to support our community is to patronize its locally owned businesses. The National Retail Federation has forecast overall holiday sales will increase 4.1 percent from last year to $616.9 billion in 2014. So, when making your Christmas gift list think about how to pump some of those dollars into our local economy. Of course, we usually choose to do business where we perceive the best value for our time and money. Keeping that in mind, here are a few last minute gift giving ideas that will make your holiday shopping this year a whole lot easier.
For the art lover in your life, tap into your creative side and give a gift certificate from local artist, Betty Brown, to sketch that special something that your loved one holds near and dear to their heart or purchase her 2015 calendar featuring sketches of local land marks. Perouse the works of local artists at the Village Gallery to find that one of a kind piece or stop by the Old Theater and pick up tickets for the upcoming Holiday concert featuring Oliver Henderson and Abigail Mitchell. For handcrafted pottery, Christmas ornaments and jewelry all crafted by local artists visit Pigments of Imagination Studio in Alliance.
For the auto enthusiast, think gift certificates. Diversified Automotive in Arapahoe is offering a $15 off any oil change through the end of the year. Pamlico Parts NAPA Auto Care Center in Alliance has a full inventory of automotive parts and accessories and offers a reserve on line and pick up in store program, making shopping that much easier. Hardison Tire Company, also in Alliance, has been family-owned and operated since 1973 and specializes in tires, brake service and alignments. Who wouldn't love a free oil change or a set of shiny new rims this holiday season?
For the nautically (not naughty) minded, there is no need to travel far to find that perfect gift. Visit Seacoast Marine, a certified ray marine dealer for all your electronic needs. Maybe you have been really good all year and are hoping Santa will leave a brand new shiny boat under the tree or at the dock. If so, see the new owners of Deaton Yacht Sales and check out their inventory. If someone on your gift list has a boat that could use some TLC, Deaton Yacht Services offers professional repairs and maintenance for your boat. For that hard to buy for person on your list that seems to have everything give a life-changing gift by enrolling them in a boating course offered by World Wide Marine in Oriental.
Everyone could use a little pampering during this hectic time of year. Why not give the gift of relaxation. Purchase the gift of beauty with a gift certificate from Studio 55 or a beginner's yoga class at the Partners In Health Yoga studio both located in Oriental. Axelson Chiropractic with locations in New Bern and Alliance, offers chiropractic care, physical therapy and nutritional support. For the ultimate in relaxation and rejuvenation, Rosebud's in Oriental offers a deep tissue therapeutic massage. For the health nut or swimming enthusiast, a membership to Village Fitness is the gift that keeps on giving.
We can't forget our furry friends this Christmas, so why not pamper your pet with a visit to the Oriental Pet Parlor. Traveling over the holidays? Make sure your four legged friend is warm and safe by securing a stay at Dove Landing Kennels in Merritt. Fill Fido's stocking with treats from Bill's Pet Shop in New Bern. Or, give the ultimate gift of love by adopting a pet through P.A.W.S. and providing them a warm, safe and loving home.
Recycle, Reuse, Repurpose. Going green is in this holiday so why not shop our local thrift and consignment stores to find that something special for that someone special. Support a great cause and visit Habitat for Humanity Restore store in Grantsboro, offering everything from building supplies, furniture, home goods, books and jewelry. Looking for name brand clothing or something nautical? Check out Second Chances in Alliance. New To You in Bayboro is open on Wednesday's and Saturday's and all proceeds benefit the Alliance Pentecostal Holiness Church. Twice as Nice in New Bern is offering 25% off all jewelry through December. Hidden treasures abound at Pickers on Rte. 55, so stop in to see what you might find.
Gentlemen, there are plenty of gift options for that special lady in your life that will warm her heart, so please no vacuum cleaners, toaster ovens or pink tool boxes. No matter how many times we say we want something practical, we don't really mean it. Let me make this year's shopping a little easier. Any gifts from the following will do. The store that has a little bit of everything, Nautical Wheelers, offers a wide selection of Spartina 449 handbags, wallets & accessories. Marsha's Cottage offers free gift wrapping and all items are currently 40% off and will be 50% off after Christmas. If your better half is more of the outdoors type, check at the Inland Waterway Provision Company for all your nautical needs. Foul weather gear, flip flops, t-shirts and all things boating are on sale now. Keep your sweetie's tootsies warm with a new pair of Ugg boots or Danskos from the Shoe Boutique in New Bern. Reminder, diamonds are a girl's best friend and McNeill Jewelers of New Bern carries Pandora necklaces, bracelets 14k yellow gold and diamond rings.
For other last minute gifts both Pamlico and Bayboro Pharmacies offer a huge selection of house wares, picture frames, holiday decor, baby gifts and so much more. Some merchandise is available to me monogrammed making for the perfect personalized gift.
If you find yourself running out of steam while doing all this shopping feel free to stop in any of our local eateries. Refuel with one of Brantley's delicious buffets or take a break while taking in the scenery while imbibing in an adult beverage and a hot cup of chowder at The Toucan. Catching the ferry in Arapahoe? Stop by Changing Latitudes Cafe and enjoy a hot cup of fresh brewed coffee and homemade breakfast or their already famous fresh, local North Carolina shrimp basket.
Speaking of food...What to get that Foodie that everyone has on their gift list. Once again, gift certificates are king. Let someone else do the holiday food shopping by giving them a gift certificate to Town & Country in Oriental or the Piggly Wiggly in Grantsboro. Henry & Shorty's in Grantsboro offers a wide variety of specialty foods and gift baskets. While visiting Oriental's Farmers Market, stop by Fulchers Seafood for their fresh catch to serve your guests at this year's holiday party. Need a wine to pair with that fish or to bring as a hostess gift? Paradise Cove Marina in Merritt, has a wonderful selection of wines and is offering a free wine bag with the purchase of any bottle of wine.
If you are looking for something new for the home Wells Wayside Furniture Inc. in Havelock has a vast collection of home furnishings that will compliment the most discerning home. For the "Mister Fix It" or "Do It Yourselfer" on your gift list look to Pamlico Homebuilders in Bayboro or Village Hardware in Oriental. Despite the cold temps gardening is still on the minds of those with a true green thumb. Harbourside Garden Company in Bayboro has a large selection of live trees and holiday wreaths. Thinking ahead to Spring, Yard Barbers Garden Center in Oriental offers mowing and full service landscaping services and visit Forrest Farm Supply for all your equipment and lawn and garden needs.
So this holiday season as you venture out to try and find the perfect gift for that special someone, remember, you don't have to look far. One of a kind businesses are an integral part of the character of our community and a community with vibrant independent businesses retains its unique character as a great place to live and visit.
For a complete list of the merchants above, please contact Deborah Dickinson at The Pamlico News.
Week of December 10, 2014
Spirit of Christmas Coming This Weekend
By Martha L. Hall
Pamlico News Staff
ORIENTA L – Oriental is getting ready for Christmas. Oriental is, after all, the venue for anything exciting and just a little different in Pamlico County, site of Friday and Saturday's annual Spirit of Christmas.
This year, the starting the 28th parade is at 1 p.m., a new time on Saturday.
"The concept this year is the movies, holiday movies," said Paul Fairbank, parade meister. "The photographers seem to appreciate the time change. We will not speak of the time change again. It confuses people."
Fairbank says he doesn't count the units until the day of the parade.
"My goal is to have more people in the parade than are watching the parade," he said.
They will accept people on the day of the parade if they show up but they would prefer knowing in advance who was coming
Asked if the Kuzoo players would show up for this year's parade, Fairbank said they had been replaced by the "Twelve Pipers Piping." Asked what they were playing drew a succinct answer.
Pipes," answered Fairbank.
In the Oriental Spirit of Christmas parade, this could be anything from saxophones to sewer pipes.
"While the Gators will be wrapped up in Morehead City, we will have one local Gator that will be here," said Fairbank. "The Mourners will be here. I haven't heard from the Cooligans. We may not see the Cooligans. We will always now have the parade in the early afternoon. It used to be that the Christmas parade ended at Lou Mac Park with the lighting of the Christmas tree. That tree has been cut down. There really has been no one who has taken that part of the celebration by the horns so there is no reason sense in freezing to death from late in the afternoon until later in the afternoon."
The parade starts at the Mini-Mart on Regan and Broad streets. The parade lines up on Regan Road. It will go past the Bean on Hodges Street and goes by Neuse River Drive right along the river and will end at Lou Mac Park.
"The parade runs about 30 minutes," said Fairbank. "There will be food all over the village. We're (the Village Hardware) serving WD-40 soup from 10:30 until 1 p.m. The WD stands for wonderfully delicious and there are 40 ingredients. Habitat for Humanity will be serving chili and the Pamlico County Historical
Association will be out in front of the hardware store selling chances on this year's tractor."
One of the things the Spirit of Christmas team are excited about is the Friday night concert by the Pamlico County High School choir led by Patrick Bliss.
"It may be the high school combined with middle school students and maybe even elementary school students," said Larry Sumners, who is responsible for the Friday night lighted kayak show. "That will be at Hodges Street at the Old Town Dock. While the choir is singing, there will be a lighted kayak flotilla coming in. We'll be lighting the Christmas star at 5:30 p.m. There will also be a Christmas market from 4:30 p.m. until 6:30 p.m. Axelson Chiropractic will be serving cider and Village Gallery is doing a mashed potato bar. It is mashed potatoes in a tub with every kind of topping to go on it."
Summers said he was encouraging kayaks and any kind of rowed or paddle vessel to join in the lighted kayak display.
"We'll be meeting at 4:30 p.m. at the Wildlife ramp," he said. "Then we'll paddle over to the Old Town dock a little before 5 p.m. so we can back up the activities. We had about six boats last year and this year we'll have 20. The problem with lighting the sailboats is they can't get close enough to be seen. They have to stay 100 or 150 feet off the harbor."
There is also a flotilla planned after an absence of several years.
Organizer Joe Valinoti said five sailboats had registered through Monday.
Boats will rendezvous at Oriental marker "1" at 4:30 p.m. on Friday. The route will go toward the high-rise bridge and then Whitaker Creek and back to Marker 1.
He said the boats would be best viewed from Lou Mac Park, the town dock, dinghy dock and other waterfront areas.
He said the closest to shore viewing times are probably 5:30 to 6 p.m.
Those participating and desiring a reserved slip at the new, free, town dock will be provided one on a first to register basis. This dock will be reserved from Friday noon until Sunday noon. A limited amount of electricity will be provided at this dock for lighting only. We will also have free overflow slips available throughout Oriental for out of area or out of town boaters.
Contact Valinoti via email at joesail1@gmail.com for the entry form and flotilla instructions including slip assignments.
Marsha Paplham is responsible for the hundreds of luminaries that will light the night on Saturday.
"I didn't have that many people sign up but I think we've got it in hand. We are planning to put the luminaries out on Friday night and they will be lighted again on Saturday. For the program, I was just the gathering point. The newspaper is putting it together."
There will be a radio remote broadcasting from Marsha's Cottage, hopefully drawing people to the county. There will be printed programs available all over town.
"The Pamlico Chorale is performing Friday night at 7 p.m. and Saturday night at 8 p.m. Reba Turner will be directing. We've done this for 20-some odd years."
There is a cantata going on at the Baptist Church. The live nativity featured by the Oriental United Methodist Church will be held on Saturday. Check the program for timing.
"All the non-profits are going to be doing stuff," said Paplham. "The shops will be serving various dishes. There will be more than enough food and more than enough activity for all to be well fed and entertained."
Be sure to get a copy of the program, printed by Pamlico News. It will keep you apprised of what's going on, at what time and where.
___________________________________________________________________________________
Girls On The Run Of Pamlico Celebrate With 5k Run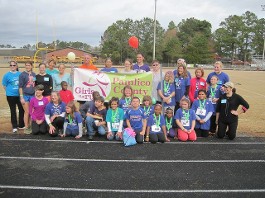 On Saturday nine students from Fred A. Anderson Elementary School, along with their running buddies, took part in a Girls on the Run® 5k Run to celebrate the culmination of this fall's Girls On The Run® program. Girls On The Run®, established in 1996 in Charlotte, NC, is a program which uses running to inspire and motivate young girls, encourage lifelong health and fitness, and build confidence through accomplishment.
Despite a rainy start, teammates, coaches, Dream Team Girls (Girls on the Run® alumni), volunteers and family members descended on the Pamlico County High School track and joined together to cheer on this season's team. The generosity of numerous volunteers and contributors make this event possible. The success is due in part to both corporate and local sponsors and those individuals who donate their time to help make a difference in these young girls' lives. At Saturday's 5k run participants were treated to refreshments, music and a chance to get "Happy Hair." Donned with rainbow-colored "Happy Hair," each teammate crossed the finish line, received a certificate, and was awarded a Gils On The Run® medal.
The mission of Girls on the Run is to inspire girls to be joyful, healthy and confident using a fun, experience-based curriculum which creatively integrates running. During the program, the girls learn what it means to be strong, confident and connected and physically and emotionally prepared to participate in a 5k run with their teammates.
At Girls on the Run, however, the finish line is just the beginning, as the ultimate goal is to provide the girls with the tools and resources that develop their ability to think critically-a skill that will serve them for a lifetime.
With the help of over 55,000 volunteers, the Girls on the Run program is now serving over 130,000 girls in 200 plus cities across North America each year. During the program, the girls learn how to resist negative peer pressure, make healthy life choices, develop individual strengths, and feel more comfortable in meeting the challenges today's adolescents face.
_________________________________________________________________________________
Pamlico Chamber of Commerce Picks Businesses
and Citizen of the Year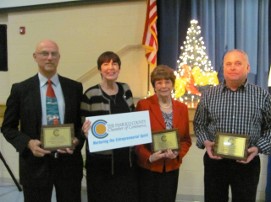 By Martha L. Hall
Pamlico News Staff
GRANTSBORO – The Pamlico County Chamber of Commerce selected its annual awards for top citizen and businesses last week at the Delamar Center on the Pamlico Community College campus.
Some familiar names – Citizen of the Year Pat Prescott and Business of the Year, Hardison Tire and Oil Company – were joined in the winners' circle by a relatively new company, Fresh Coat Paints, named the best new business.
The event was catered by the Pamlico Community College culinary students.
Prescott is a county native, who enjoyed a banner of a day.
Earlier in the evening, she was elected chairman of the Pamlico County Commissioners.
She graduated from Pamlico County High School in 1964 and dedicated her life to education. No one told her about retirement where you do at least three times as many things and often, get no thanks for it. However, Prescott was announced as Citizen of the Year at the Chamber banquet last weekend. Somebody noticed.
"I have 36 years in education," she said. "I did primarily two things in my career. I taught high school math for 15 years. The balance of the years were as the Technology Director for Pamlico County schools. Not all my years were at Pamlico, but the majority were. I taught at Farm Life High School in Vanceboro for two years; the next 10 years were at Sanderson High School in Raleigh."
She probably had more time working and raising a family than she does in retirement.
Prescott is the town clerk for the town of Grantsboro and serves on its planning board, the executive director of the Pamlico County Historical Association and a county commissioner, this year taking the lead position as board chairman. She serves on several boards and committees in her job as commissioner.
"I serve on the library board, the regional library board, The Eastern Council of Government and the Senior Services board."
She is also incoming president for the Pamlico County Community Foundation which she says is part of the North Carolina Community Foundation, a group that raises money to award to non-profits. They only meet four times a year.
"I told them I would do it for a year. I think all my contribution to the county comes in the area of non-profit stuff," said Prescott. "It's a little more time than I want to put in right now."
When she accepted her award, Prescott told the Pamlico Chamber of Commerce attendees that she really wanted to thank her husband, Jerry, because he does without ironed shirts or hot meals and her office at home spills over into the entire house.
Business of the Year was awarded to Hardison Tire and Oil Company and the three brothers who run it. Hardison Tire and Oil Company was opened in 1974 by Eldon and Hellen Hardison. It is said that Eldon started the business to keep his sons working and out of trouble. Gray Hardison came to accept the award.
"My daddy had four boys that needed something to do," said Hardison. "What better way to put them to work. We've all worked with each other our whole lives. That's how we've been. Now Jay has branched out but me, Timmy and Barry still work there. Jay opened Eastern Propane."
Hardison said he knew about the award before the banquet.
"They wouldn't have got me out there no other way," Hardison said. "It's an honor to be recognized out of all the businesses in the county. I think it's pretty cool."
The Hardisons employ 13 people in their business making them potentially one of the biggest employers in Pamlico County. They work hard, give back to the community by supporting civic organizations. They are honest people and will tell the plain truth as they know it.
"There are good people in the county and they have kept me well fed," Hardison said. "The people of Pamlico County has made us what we are. I have a lot of loyal customers that come back over and over and I try to keep everything going on them. It kinda works hand in hand. I wouldn't want to be anywhere else in the world."
The award for New Business of the Year went to Fresh Coat Paints
Jim and Lorraine Yeager arrived in Pamlico County as helpers after Hurricane Irene. They were part of the hard-working team of Eight Days of Hope. They felt like they had come home. They fell in love with the friendly locals and decided to relocate to Pamlico County in the Spring of 2013 and start their business Fresh Coat Painters. Fresh Coat Painters does all types of painting from residential and commercial jobs. The business is not limited to Pamlico County and they do jobs throughout the region. The business is growing and employing people.
Yeager is a military veteran and has donated his time paint and his painting expertise to the Wounded Warriors project in Pamlico County. Both of the Yeagers continue to volunteer for other needs in the County. One of those volunteer activities was to help by contributing to and joining in the Pamlico County Community College Annual Golf Tournament. This event raises money for student scholarships to Pamlico Community College. Fresh Coat Painters also assists new startup businesses by hiring them whenever possible to work on jobs with them.
Vice President Debbie Harrison was sworn in. Co-Vice President Robbie Sadler, Napa/Pamlico Parts, who was out of town and could not attend. Ray Orndorff- Life Max Insurance; Lisa Thompson-Sea Harbour yachts; Dottie Moore- Caldwell Bankers; Eddie Wynn- Piggly Wiggly are all new members of the board.
Week of December 3, 2014
Davis Sworn in as New Sheriff in Front of Huge Crowd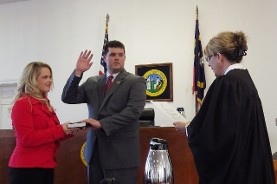 By Pamlico News Staff
BAYBORO – New Pamlico County Sheriff Chris Davis was in the audience Monday night at the Pamlico County Commissioners meeting, just hours after he took the oath of office in the nearby courtroom in front of about 100 people.
Davis, a Bayboro resident, defeated 12-year-incumbent Billy Sawyer Jr. in the November election.
He said his presence at commissioner meetings was on his long list of priorities that includes more patrol deputies, hiring drug investigators and generally making the department more professional.
Davis was sworn in during an official court ceremony, attended by members of his new department, former and present county commissioners and other officials, including Craven County Sheriff Jerry Monette, Carteret County Sherriff Asa Buck and District Attorney Scott Thomas.
Judge Karen Alexander oversaw the ceremony and before administering oath, called Davis an "eager and committed young man."
The Pamlico High ROTC presented the colors and Davis led the Pledge of Allegiance.
He later thanks his wife Sarah, his family and friends, the Republican Party, his election committee, his Election Day poll workers and the voters.
He also offered tribute to the departing sheriff, thanking Sawyer for his many years of service to the county.
He promised to be a hard-working sheriff.
"Being sheriff is not what I do, but who I am," he said.
For the past three years, Davis has been a Martin County drug investigator. Before that, he was a jailer and deputy under Sawyer.
"It is important as the sheriff to attend the commissioners meeting," he said prior to his swearing-in. "The Martin County Sheriff attends every commissioners meeting."
Davis said that he wants to talk with County Manager Tim Buck and with individual commissioners about the need to hire designated drug investigators. He said the county currently has no investigators with that job designation.
Later, he plans to make a request of the commissioners for help in hiring the new personnel.
For now, the 43-person department has had a turnover of five employees along with some reassignment of some duties to allow for more deputies on the road.
He has added two patrol deputy positions from what were previously clerical jobs.
Davis said all five positions; including three jailers have been filled with new employees from the county.
He said that the need for more visible law enforcement in the rural county was expressed often to him by citizens during the campaign.
______________________________________________
Pamlico Commissioners Honor Spain,
Welcome Riggs to Board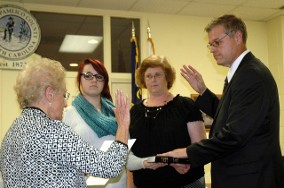 Pamlico News Staff
BAYBORO - The Pamlico County Commissioners offered hugs, handshakes and words of praise to retiring District 3 Democrat Commissioner Jimmy Spain on Monday night, then welcomed his successor, former Alliance Mayor Ed Riggs, Jr.
Spain, who lives in Stonewall, chose not to seek re-election after 12 years in office.
The board had ordered a plaque for Spain, which did not arrive in time for the meeting. He was given a framed certificate of appreciation and the plaque will be awarded at a later date.
Riggs defeated Democrat John Buck of Stonewall in the general election to become the third Republican on the seven-member commissioners, along with Christine Mele and Kenny Heath.
Outgoing Chairman Paul Delamar III said Spain was man true to his convictions, who always kept the people of the county at the forefront of his votes.
"I don't think he has ever cast a vote here that he didn't think what would be best for the people of Pamlico County, and not only that, but what do they want," Delamar told a crowded commissioners room audience that included new Sheriff Chris Davis.
"I would just like to thank the citizens of the county for the opportunity to serve them," Spain said, giving his wife Marie a hug and adding, "this is my backbone right here."
Delamar later nominated Pat Prescott to be the new chairman and Mele to return as vice-chairman. There were no other nominees and the two were voted in unanimously.
Delamar, Ann Holton and Carl Ollison, unopposed Democrats, were also sworn in Monday night.
Riggs was sworn in by Alliance Town Clerk Linda Marshall. He was joined for the swearing-in by his wife Heather and daughter Haley.
Holton was joined by her husband Charles and the oath was administered by her niece, Judge Karen Alexander.
Delamar and Ollison were sworn in by District 3B Judge Clint Rowe of Craven County, whose jurisdiction includes Pamlico County.
Riggs has been on the Alliance commissioners for the past decade, serving as mayor for the past five years. He was succeeded by Mayor Pro Tem Frank Willis, who has been on the board for several decades and served as mayor on several terms.
Riggs took his seat and during the traditional "commissioner time" at the end of the meeting thanked his family and friends, adding "It is an honor to be up here. It is a good board and I respect each of them."
Delamar also proposed that he be replaced on the water committee by Riggs, who is the manager of First Craven Sanitary District in Craven County.
The meeting itself was short, with the board giving approval to a grant application for planning purposes to improve tourism. Prescott noted that the grant does not require a match, but that an offer of a $1,000 county match could help chances to be selected.
The board also approved four requests by the new Sheriff Davis, including an allocation of about $30,000 to cover pay-outs for retiring and departing department personnel.
The board also approved Davis to reclassify certain positions and for him to adjust/increase salaries for current staff and to hire new staff above the hire rate as long as he stays within the current overall salary budget for the sheriff's department, jail and dispatch positions.
The board will not have another meeting this month due to the Christmas holiday.
Commissioners did agree to meet at 8:30 a.m. on Jan. 26 for the first budget workshop of the year.
_____________________________________________________
Week of November 26, 2014
Accused Shooter, Girlfriend Spend Holiday in Jail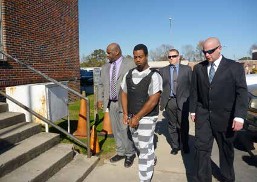 Oriental residents, Davone Bryant and Wendy Hudson went before Pamlico District Magistrate Judge W. David McFadden during separate arraignments on Friday to face charges stemming from a deadly shooting in Bayboro on Friday, November 14th.
Bryant, 21 years of age, is accused of killing Steven Ray Squires and wounding Demario Himbry and Terrelle Greene all of Bayboro during an argument which escalated on Vance and Water Streets in Bayboro last Friday. Bryant is charged with two counts of assault with a deadly weapon with intent to kill. In addition, he faces two drug trafficking charges stemming from a raid of his home in September. The first of the charges is possession with intent to sell and deliver cocaine. The second charge is possession with intent to manufacture and sell a level two controlled substance, oxycodone.
Sheriff's deputies have charged Bryant's girlfriend, Wendy Hudson, twenty years of age, with a class "C" felony being an accessory after the fact. Hudson is accused of driving Bryant, who suffered a gunshot wound during the November 14th incident, to a Raleigh hospital to seek treatment. Bryant was initially taken to Carolina East Medical Center, but refused treatment and left against medical advice. Deputies said they tracked Bryant down to a hospital in Raleigh and after developing evidence and gathering witness accounts and arrested Bryant for the triple shooting.
During the arraignments Judge McFadden advised both Bryant and Hudson of the possible maximum sentences they face. If found guilty on both counts, Bryant could face the death penalty or life without parole. Bryant, who has been in jail since his arrest, was remanded back to the Pamlico County jail, where he is being held without bail.
Hudson, whom is currently out on bail from a previous drug offence from September, could face up to 280 months in prison. Hudson had been free after posting $50,000 bond, however Judge McFadden granted a request by District Attorney Scott Thomas to increase Hudson's bail to $250,000 due to the previous drug charges. According to Thomas, if a person is charged with a crime while out on bail, the new bail is automatically doubled. Hudson was also remanded to jail.
After the arraignment District Attorney Scott Thomas cautioned out that these are only the initial charges for both defendants and that additional charges are possible. He also stated that the sentences that Judge McFadden set forth are maximum punishments for the defendants and that the defendant's past criminal record will have a bearing on the final sentencing.
A second court date for both defendants is scheduled for Dec. 12, 2014.
____________________________________________________________________________________
Hurricane's Playoff Run Comes To An End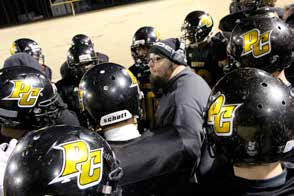 By Deborah Dickinson
Pamlico News Staff
The Pamlico Hurricane's season came to an end with a devastating loss to Lakewood in double overtime with a final score of 20-18 in Bayboro Friday night. A two-point conversion by Lakewood led to the end of the Hurricane's playoff run in the second round.
Pamlico scored first, with 20 seconds remaining in the first half, on a 9-yard touchdown pass to Treyvon Respers. Pamlico (10-3) out-gained Lakewood by more than 100 yards. The Hurricane's Tony Credle gained 98 rushing yards on 22 carries and Josiah Simmons passed for 125 yards with a passing score and a rushing score. But, it was injuries, turnovers and penalties that plagued the Number 3 seed Hurricanes.
Tony Credle put Pamlico on top, 12-6, with a 1-yard touchdown run in the first overtime, but the extra point attempt was missed. Pamlico also scored first in the double overtime with an 8-yard run by junior quarterback Josiah Simmons, but again came up short when they failed to complete a 2-point conversion. Lakewood ran 10 yards on their first play of double overtime, tying the score at 18-18 and then went on to score a 2-point conversion, sending the Leopards to the third round where they will play host to South Creek next week.
Injuries seemed to have a big impact on the Friday night's final outcome. One of the Hurricane's key players, Cameron Moore, was absent due to an injury incurred during last week's game and they lost another five starting players due to injuries early in the game. It was an emotional loss for Pamlico's second year head coach, Kevin Yost. "It was tough to see five starters go down, but those kids still fought. It wasn't meant to be for whatever reason," lamented Yost.
Coach Yost has taken the Hurricanes to the playoffs for two consecutive years. Despite this loss he was proud of his team's accomplishments this season. "I thought our guys played really well. There were guys who made big plays," said Yost. There are seven seniors in key positions that won't be returning next year, but Coach Yost still has high expectations for next year's team. According to Yost there are key holes to fill, but there is a lot of talent coming back. "There are a lot of talented juniors and sophomores and we have a number of freshmen coming up through the ranks from Pamlico's middle school's team which won the championship," said Yost. I feel we can stay at the top for some time. We need to continue to encourage the kids both on the field and in the classroom," he added.
_______________________________________________________________________________________________________________
New Commissioner, Sheriff Take Office Next Week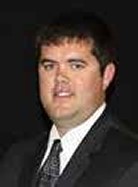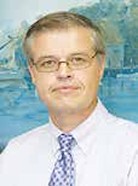 By Martha L. Hall
Pamlico News Staff
BAYBORO - Two newly-elected officials from a Republican sweep of contested Pamlico County races will be sworn in next week.
New Sheriff Chris Davis takes the oath of office at 3 p.m. Monday and District 3 County Commissioner Ed Riggs, Jr. takes his seat on the board later in the evening at the 7 p.m. meeting, also at the courthouse.
Republican legislative incumbents, Sen. Norman Sanderson of Arapahoe and Rep. Michael Speciale of Craven County will be sworn in early in January.
Davis is a Vandemere native who now lives in Bayboro and was a former deputy under Billy Sawyer, Jr., the man he defeated for the sheriff's job on Nov. 4. Sawyer had been the sheriff for 12 years after 13 years as a deputy, rising to the rank of captain before his first term as sheriff.
Davis has concluded his work of the past three years as a Martin County Sheriff's Department investigator and is already shaping plans as the lead law enforcement officer in Pamlico County.
That work includes some changes in the department personnel.
"Over the last two weeks, we have been trying to put together a list of employees that I think the citizens of Pamlico County would be proud of," he said. "We've been doing interviews and trying to put people in the right positions. We haven't cleaned house. We've just tried to become more efficient."
He said that includes "about five people who either retired or decided they would move on."
Davis spent last week at Duke University at the Sheriffs' Leadership Institute.
"We learned a lot of great things, especially dealing with finances and personnel issues," he said. "I also learned we (Pamlico) were doing a lot of things wrong. There were people who became sheriffs who had been chief deputies over the past 10 years who said the same thing. I'm not just talking about small departments. We had people from the School of Government, old veteran sheriffs helping teach, and we had law professors from Duke and Carolina."
He said the transition from Sawyer's administration was going well, although he was anxious to get on the job and begin battling his campaign promise - Pamlico County drugs.
"Starting day one, we're going to start on this drug issue," he said. "We will work with the commissioners to get some new positions to help combat the drug problem. So far, that is going very good. I think they understand the need and want to help us in every way that they can."
He said that departmental professionalism was another campaign promise in his focus.
"The way we dress, the way we approach people, the way we investigate crimes," he said. "We got rid of two clerical positions within the department. We need to be seen on the road versus being seen in the office."
Riggs will replace longtime retiring Commissioner Jimmy Spain of Stonewall in the District 3 seat.
With his swearing in, Riggs will relinquish his current elected role as mayor Alliance.
He said his background as head of the First Craven Sanitary District water system and his service on the Bay River Metro Sewer board will be an asset he can add to the seven-member board of commissioners.
"It's been indicated that I will be placed on the Water Committee," he said. "I am hoping to help out in that capacity and I understand we are going to look at some county policies as it relates with the water department, particularly as it pertains to the county's Leak Adjustment Policy."
His arrival for assistance in that area is timely.
"It was mentioned at the last county commissioners' meeting that that's one of the first things they wanted to look at and compare with others in the surrounding area," he said. "I did a lot of research in leak policies about a year and a half ago where I currently work, so I can certainly help out on that end."
He said another water-related discussion involves needed repairs at the county water department office in Bayboro.
"What the best avenue is – whether to repair the office or relocate. I know that's going to be discussed this coming year," he said.
Riggs expressed his support of new Sheriff Davis.
"I am looking forward to working with the new sheriff and looking forward to hearing his ideas and I'm going to do everything possible to help him get the resources to carry out his job," he said.
Sanderson defeated Carr Ipock of Craven County to win his second term as the District 2 state senator. Before that, he served a term as state District 3 House member.
"I think we're being sworn in on Jan. 1. We will probably do it in Raleigh," he said last week.
He said home insurance costs were a major priority for his next term.
"I'm tired of paying for something that's a lot more than what it needs to be. I think the whole system is convoluted and they're not doing what I think they should be doing," he said. "I think it will take a major overhaul of the insurance system to make it equitable. I'm tired of people in the Piedmont and the west saying that they have to subsidize the east, when in actuality if you look at all the numbers it's the other way around."
Environmental issues with coastal buildings and homes in eastern North Carolina are another target.
"I've been working with another organization to ease of the restrictions on building permits here in the east," he said.
Sanderson's district includes Pamlico, Craven and Carteret counties.
"I think that Morehead City is one of the most under-utilized business places in the east. We've got the main channel closing up. We've got ships sitting off-shore now waiting for high tide to come in," he said. "The Corps of Engineers has no money to dredge it. We have really got to come up with a plan to keep that open. If we don't act on that quickly, we're going to lose it."
He said the effort to kill ferry tolls once and for all was another priority, an issue hanging over local riders of the Cherry Branch-Minnesott Beach route for several years.
'I think we've got some support this year so I hope we'll do away with all the tolls this year," he said of the entire coastal ferry system.
Speciale defeated New Bern attorney Whit Whitley in the general election to gain a second term in the House. He succeeded Sanderson. He said he hopes to have a local swearing-in ceremony.
He wants to see the state legislature make headway toward some national issues.
"I would like to see us standing up to the Federal government on some of these unconstitutional issues they've been passing – Obamacare and the immigration policy that he is trying to legislate unilaterally," he said.
He listed state priorities as jobs, the economy and teacher pay.
"Everybody wants us to cut expenses, or an exception for their district - Just don't do it in my backyard," he said. "That is one of the biggest hurdles we have to deal with – each other."
Speciale added that the ferry toll issue is also a priority.
"I have talked to the Transportation Chairman, Rep. John Torbett. He is going to push to take the tolls off all the ferries. I think it will be a boon to tourism to ride free ferries. It will help more than the little bit of money we get for the ferries."
Week of November 19, 2014
Four Shot, One Killed In Bayboro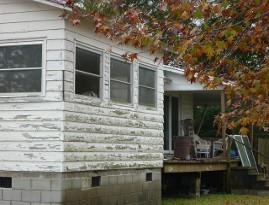 By Deborah Dickinson
Pamlico News Staff
An altercation at the intersection of Water and Vance streets of Bayboro turned deadly on Friday evening. One person was killed and three others were injured by gunfire.
Steven Ray Squires, 28, whose body was not discovered until around 2am Saturday morning, was pronounced dead at the scene. Three others were wounded. The names of those three have not been released, but the most seriously injured was air lifted to Vidant Medical Center in Greenville for two gunshot wounds to the back. According to Lt. Scott Houston, the individual is listed in critical condition. A second man was treated and released for a bullet wound to the hand at Vidant Beaufort Hospital in Washington. A third was taken to Carolina East Medical Center where he was treated and admitted with a leg wound. The man later left the hospital against medical advice.
All three told deputies that an unknown black male had shot them. According to Lt. Scott Houston of the Pamlico County Sheriff's Office, the trouble began around 5 p.m. at the intersection of Water and Vance streets, on Water Street where several young men gathered and a verbal fight turned into a physical fight and an unknown assailant drew a gun and began firing. The intersection, by an abandoned house, is known as a local hangout area
A bloodhound was brought to the scene and deputies located four shell casings. The crime scene was cleared about 7 p.m. Authorities soon learned that Squires had been at the scene. At about 2 a.m. the deputies had made a decision to start a hunt for him when family members discovered his body in a back yard about seventy five yards from the scene of the original fight. It is suspected that Squires' body was not there during the initial search leaving authorities to believe that he either came back to the scene on his own and later died or that his body was left there by unknown individuals.
According to local residents the area was at one time a center for narcotics. According to records, there has never been a shooting at this location and no violence had been reported for quite some time.
Lt. Houston said the sheriff's office is still looking for witnesses to the fight. If anyone would be willing to give information anonymously they can call the sheriff's office at 745-3101.
____________________________________________________________________________________________________
Commissioners Ask Atlas Tract Foes to Talk,
Report Back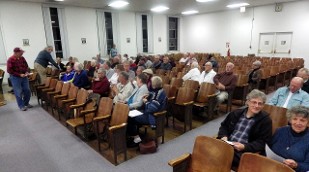 Pamlico News Staff
BAYBORO - The Pamlico County Commissioners voted 5 to 1 Monday night not to support an environmental group's plans for a likely lawsuit against the Environmental Protection Agency over the controversial Atlas Tract land-clearing project.
The board instead voted to ask the sides - Southern Environmental Law Center and the Coastal Federation and landowners Spring Creek Farms of Illiniois - to try and work out an agreement in the next 45 days and submit a report to the board on Jan. 20.
The board was asked by the Coastal Federation and its legal reps to support a planned 60-day letter of intent to sue the EPA for what it says are failures to enforce the Clean Water Act in the conversion of mainly forest and wetlands land to agriculture use. Currently at issue is about 250 acres that have been cleared.
The protesting groups contend the Army Corps of Engineers and the EPA erred in allowing 251 acres of a nearly 4,600 acre tract to be cleared. They claim the area is wetlands and the project endangers the local water table and could produce adverse, even catastrophic effects on local tributaries that feed the Bay River and even the Pamlico Sound in the event of a major storm or hurricane.
More than 50 people attended the meeting which was moved to the county's main courtroom. All but one of more than a dozen citizen speakers supported the environmental group, expressing fears of dangers to local waters and estuaries.
The motion for the discussion and report by the opposing parties was made by Commissioner Ann Holton. It received support votes from Carl Ollison, Christine Mele, Pat Prescott and Paul Delamar III. Commissioner Kenny Heath voted against it after earlier saying he felt the commissioners should support the letter of intent to sue. Commissioner Jimmy Spain did not attend.
After citizens spoke, Derb Cartesr, Jr., the director of the Chapel Hill office of the Southern Environmental Law Center offered the side of those seeking to stop the controversial land clearing. He said their position is that the Corp had erred in allowing the land clearing and the EPA should uphold enforcement of the Clean Water Act.
He was asked by Commissioner Holton if the letter of intent and the lawsuit could or would be pursued without the commissioners' support.
He said his group planned to go ahead with those plans on behalf of the Coastal Federation.
Todd Miller, who heads the Swansboro-based Coastal Federation, said his office began receiving many calls from citizens when the issue first surfaced last year. He said the federation enlisted the aid of the Southern Environmental Law Center, which will provide free legal support.
Last year, the commissioners send letter of inquiry to the federal agencies.
Earlier, Carter, along with local Realtor Allen Propst, who brought the matter to the public's attention last year, both said they were seeking the county support to give a potential lawsuit in federal court "standing" and an official Pamlico voice.
Propst said that if the land is not protected it would leave the headwaters of as many as a dozen tributaries in peril.
He said water flowing freely during a major weather event could total a billion gallons of unfiltered water entering local waterways in a 24-hour period.
Carter said the 60 day notice of intent would give the EPA a change "to reconsider its position."
The landowner's attorney Clark Wright, told the commissioners that his clients always intended to be good environmental neighbors and that they merely followed what the federal agencies said was legal.
He said they planned to keep parts of the massive tract available for hunting and to have a water management plans to protect wetlands and waterways.
He expressed hope that the two sides could "work at some middle ground."
Carter's group contends that illegal non-permitted ditching was conducted in 1990 by a previous land owner had and that EPA had failed to recognize that.
Wright held up an aerial photo he said show ditching 10 feet deep and 20 feet wide on areas other than the 251 acres being discussed now. He said those were dug around 1975, long before the Clean Water Act.
During commissioner discussion, Holton presented her motion for both sides to work out an agreement.
"I was glad to see dialogue this evening and I would like to see it continue," she said.
She said she was hesitant to put the county in the position of being involved in a lawsuit.
She also said she would like to see the board in agreement on the issue, either unanimously or by super majority.
Mele read a portion of a letter from the Spring Creek Farms owner Mark Beck, which indicated a desire to have discussions.
"We want to sit down and meet with the members of the board (commissioners), and other concerned citizens to talk about how our vision for the Atlas Tract can include protection of riparian buffers, protection of wildlife values, use of water control structures and other management practices to greatly reduce the potential for nutrient or sediment runoff, and, of course, protection of our private property values, including the right to rely on expert governmental regulators, who have spent a great deal of time on this land showing us where we can – and cannot – engage in the farming activities that are an important part of why we spent over $7 million dollars to buy this land."
________________________________________________________________________________________________________________
County Candidates Raise More than $30,000
for Campaigns
Pamlico News Staff
BAYBORO – Pamlico County candidates running for commissioner and sheriff raised more than $30,000 for their campaigns.
The figures, from records at the Pamlico County Elections office, reflect only through the last reporting period on Oct. 18.
Lisa Bennett, the elections director, said a report must be filed for candidates receiving or spending more than $1,000.
Since the last report was 18 days before the November election, the totals will likely be higher.
She said the contribution totals often reflect the candidate's own money, which if designed as a loan to their campaign, can be repaid.
Bennett said some candidates will keep their campaign accounts active.
If the account is closed the remaining money must be used as a charitable contribution or a donation to another candidate.
"They can't just pocket the money," she said.
Far away the top spender was newly elected Republican Sheriff Chris Davis, who listed $24,955 in contributions and spent $19,905.
Incumbent Democrat Sheriff Billy Sawyer Jr. listed $3,850 in contributions and $3,607 in expenditures.
In the race for the county commissioner District 3 seat, winner Ed Riggs, Jr., a Republican, reported $2,100 in contributions and $1,214 in expenses.
John Buck, the Democrat challenger reported expenditures of $1,754, with just $260 in contributions from two individuals.
Bennett said all the records are public and available for viewing at her office in the county courthouse.
Davis got multiple donations from individuals of $100 and $200, as well as one $1,000 contribution from a county commissioner and the same amount from a local lawyer. He also had a $750 donation from a local Republican party leader and several $500 contributions from Pamlico business owners.
He also got $500 donations from two Virginia Beach sources, an individual and an auto dealership.
His expenditures were for media advertising, T-shirts, car magnets, billboards, graphic designs and $875 to cater a fundraising event.
Sawyer's largest contribution was $1,000 from a New Bern attorney, with most of his being his money.
His expenditures included buttons, signs, bumper stickers and media advertising.
Buck spent money on signs and banners, a mail-out campaign and media ads.
Riggs' main contribution was $1,000 from the North Carolina Realtors Political Action Committee of Greensboro. He also got $900 from a county commissioner.
His expenses included signs, media ads and office supplies.
She said that Riggs, who did not have a primary opponent in May, did not break the $1,000 reporting threshold until late in the campaign.
Week of November 12, 2014
New Cancer Care Planned for Area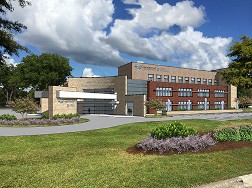 CarolinaEast Medical Center and UNC Cancer Care announce a collaboration that will bring cancer care capabilities in the east that were previously only available in the Triangle Region of North Carolina.
"There have been a few red letter, banner days in my career – today is one of them," said Ray Leggett, President and CEO of CarolinaEast Health System. "This relationship is good for us, good for UNC Cancer Care, and most importantly, good for the residents of eastern North Carolina," he added.
CarolinaEast will construct a new, leading edge cancer center on the Neuse Boulevard campus that will bring together the many cancer services previously offered by the organization and community under one roof. "We have been providing exceptional cancer care at CarolinaEast and in the local community for decades. We were the first provider in coastal North Carolina to offer radiation therapy back in 1977," explained Leggett. "The new cancer center supported by our wonderful local clinicians and enhanced by our collaborative efforts with UNC Cancer Care will make the journey to recovery much more navigable and make available specialists, protocols and clinical trials never before available in our region."
According to the National Cancer Institute/Centers for Disease Control, four of the top 10 counties with the highest annual incidence rates for cancer in North Carolina directly border Craven County. Six of the seven counties in our region are well above the state and national average incidence rates. Roughly, 2,500 residents in Craven, Jones, Pamlico, Carteret, Onslow, Lenior and Beaufort counties are newly diagnosed with cancer every year. Nearly 1000 people die every year.
"I knew this was the right thing to do when we approached the UNC Cancer Care leadership and they wholeheartedly agreed this was a need that must be met and we were the right partners to bring the vision to fruition," said Leggett.
Six of the seven counties in our region are well above the state and national average for annual incidence of cancer. (Craven, Jones, Carteret, Onslow, Lenoir, and Beaufort are all above the average. Pamlico is the only county below…and they are actually below the state and national averages). In these counties, 2421 people on average are newly diagnosed with cancer each year.
___________________________________________________________________________________________________
New Pamlico Sheriff Plans More Deputies on the Road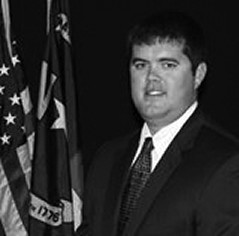 By Martha L. Hall
Pamlico News Staff
BAYBORO – Newly-elected Pamlico County Sheriff Chris Davis is already setting wheels into motion for his administration, naming a new chief deputy and realigning staff to put more deputies on the road.
Davis defeated 12-year incumbent Billy Sawyer, Jr. by an unofficial 127 vote margin on Nov. 4. It was a result that Sawyer conceded the night of the election could not be overturned by provisional or absentee ballots.
Davis, a Republican, is a Vandemere native and lives in Bayboro. He is leaving his job as investigator for the Martin County Sheriff's Department to take the helm as Pamlico lead law enforcement officer.
"Right now we're meeting with employees and coming up with a game plan of how we want to go about it, who we're going to put where," he said Monday. "We're making some changes, trying to put more deputies on the street and ultimately we're trying to come up with some positions to have more drug investigators."
He said Sawyer was assisting in the transition of leadership.
"I've had a conversation with Billy and I have also named Danny Pugh as my chief deputy," he said. "He (Pugh) was a captain, but he was a bailiff."
Davis said he did not intend to have a random "house-cleaning" of current employees.
"We are not necessarily replacing them. We have a few people that we've talked to and let them know that this is what we expect out of them," he said. "We are not necessarily going in there and getting rid of everybody, but we are going to expect everybody to do their job."
He said shifting of duties work toward his goal of more sheriff's deputies being visible to the public.
"Right now, there are several officers that are office staff and we're trying to make sure that we're covering our bases within the office, but we're trying to get more people on the road," he said. "We're trying to get them out of the office and get them where they're being seen. So far, we've come up with two clerical positions that we're going to turn into deputy positions."
Davis said he is busy finishing his current job and getting training for the new one.
That includes training that the North Carolina Sheriffs Association hosts next week at Duke University. "They ask that all incoming sheriffs attend that training," Davis said. "They're going to teach us stuff that we need to make sure we've got covered – sex offenders, gun permits, detention facilities. They say they really break it down in this training and teach you the things you need to know in the first three months of being a sheriff."
Another session on budgeting is scheduled in three months. Overall, the training is four weeks over two years.
Davis said he was elected but not sure what his salary would be.
I'm not sure where they're going to start me out," Davis said. "We haven't discussed that yet. I am not sure when that will come up."
County Manager Tim Buck said it would be the same as Sawyer, $70,994
__________________________________________________________________________
Pamlico Hurricanes Seeded No. 3 in the NCHSAA 1A Playoffs.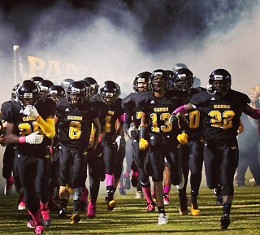 The Pamlico Hurricanes are a number three seed in the NCHSSA 1A playoffs after clinching the Coastal Plains Conference title with a 34-16 win over Southside on Friday in Bayboro. Friday night, was Senior Night and with the Coastal Plains Conference Championship on the line, the game was dedicated to the team's exiting seniors. Senior running back Tony Credle rushed 12 times for 188 yards and had two touchdowns, both over 45 yards each. Credle then picked up an interception on defense, to bring the team to victory over Southside. Credle said it felt good to be on a winning team after being 1-9 his first two seasons as a Hurricane and now to winning the conference championship. Pamlico finished second in the conference in 2013 and lost to Lejuene in this very same game. The loss to Lejuene in addition to two nonconference losses earlier this year to Farmville Central and Edenton Holmes, seemed to heighten the intensity of Friday's game and made the win that much more crucial.
Josiah Simmons passed for 124 yards, with a 60-yard score to Cameron Moore. But, two incomplete passes on two fourth downs left the Hurricanes up by only 7-0 at the half. The Hurricanes shut out the Seahawks until half way into the fourth quarter when Southside backup quarterback, Donshae Miller, threw a 40-yard score to Matt Baxter and the Seahawks added the 2-point conversion for a score of 21-8. Hurricane's Cameron Moore then caught a touchdown pass from Josiah Simmons to cinch the win. The Seahawks fumbled the ball and the Hurricane's Trevon Ollison recovered at the 20 yard line with Jacobie Simmons running it in from five yards out, resulting in the 34-16 win.
Hurricanes coach, Kevin Yost, was proud of his team and credited them for their hard work. "This win is one for these kids to celebrate, they earned it." They knew how important this game was and that they can write a piece of history in the school's athletic record book," boasted Yost.
The New Bern Bears (10-0), after finishing their regular season with an unbeaten record, received the top overall seed in the East for the NCHSAA 4A playoffs and will play host to 16th seed Clayton (6-4) in the first round. Hoggard (10-0) is the second seed, Scotland (10-0) is the third seed and Seventy-First (10-0) is the fourth. The Hurricanes (9-1) will open the postseason in Bayboro against No. 14-seed Weldon (2-8) at 7:30 p.m. this Friday. If The Hurricanes are victorious over Weldon on Friday they will then host either Lakewood (6-4) or Columbia (3-7) on November 21.
Week of November 5, 2014
Former Deputy Davis Upends Sawyer for
Pamlico County Sheriff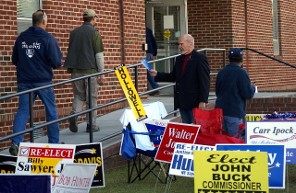 By Martha L. Hall
Pamlico News Staff
BAYBORO – There's a new sheriff in Pamlico County after former deputy Chris Davis defeated his old boss, 12-year Sheriff Billy Sawyer Jr., in Tuesday's high-vote general election.
With a 57 percent turnout (5,459) of the county's 9,515 registered voters, Davis was joined in the local winner's circle among contested races by District 3 County Commissioner Ed Riggs Jr.; state District 2 Senator Norman Sanderson; state District 3 House representative Michael Speciale; and Soil and Water Conservation District Supervisor Elbert Lee Jr.
Davis, a Republican who lives in Bayboro and currently works as an investigator for the Martin County Sheriff's Department, edged out Sawyer, a 25-year veteran of the department, by 127 votes.
There are no run-off potential in local elections, although provisional and absentee ballots remain to be counted.
But, Sawyer was gracious afterwards Tuesday night, congratulating the new top law enforcement officer in the county.
"I congratulate him," he said to media afterwards. "He ran a good clean race, worked hard and he won."
Davis, who campaigned on fighting the county's drug problem, said his 21-month campaign had paid off.
"We feel great. We've spent a lot of time on the road, a lot of time out pounding doors and meeting people in the community and it feels great to have your hard work pay off," he said. "I take over the job on Dec. 1. I intend on going back on Monday and probably working another week in Martin County and then coming back."
Davis got 51 percent of the vote, 2,757, to 2,630 for Sawyer.
Ed Riggs, Jr., the mayor of Alliance, will be resigning that job to become the District 3 county commissioner, with his 514-464 victory over planning board member John Buck of Stonewall.
Three unopposed Democrats also returned to office unopposed – Chairman Paul Delamar III, Ann Holton and Carl Ollison.
Other unopposed candidates returning to office include Clerk of Superior Court Steven E. Hollowell and District Attorney Scott Thomas.
Arapahoe resident Sanderson returns for his second term as the state Senator for Pamlico, Craven and Carteret counties after his 13,000 vote victory over Craven County School Board Chairman Carr Ipock II. Sanderson carried Pamlico County by a 3,047 total to 2,320, or 57 percent of the vote.
Speciale won a battle of Craven County residents for the local House race against Whit Whitley. He won Pamlico County with 54 percent of the votes, a 491-vote margin.
_________________________________________________________________________
Pamlico Hurricanes Continue To Coastal Plains Conference Championship After Win Against
Jones Senior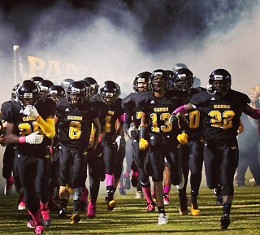 The Pamlico Hurricanes are one win away from a title after a huge 47-8 win over Jones Senior on Friday in Trenton. The Hurricanes, with an overall record of 8-2 will vie for their first title since 2003 against Southside this Friday on their home turf in Bayboro.
Pamlico Hurricane's Coach, Kevin Yost, put a lot of weight on this game. In the week leading up to Friday's game Yost said "Throw the records out the window. This is a huge game, a rivalry game. If we can take care of business we will set ourselves up with a home conference championship game against Southside High School. Our athletes are ready and we continue to draw closer together." And, the Hurricanes did just that.
On the third play from scrimmage, Pamlico's Tony Credle ran 66 yards for a touchdown to put the first score on the board. The Hurricanes were up 26-0 at halftime and scored another 21 points in the third quarter. Credle ran for 113 yards and Cameron Moore caught six passes for 62 yards and a touchdown to keep the Hurricanes in the lead. Derrick Columbus also caught a touchdown pass. Quarterback, Josiah Simmons passed for 293 yards with two touchdowns and ran in one touchdown. Jacobie Simmons added a rushing touchdown. The Hurricanes forced three turnovers and rushed for 240 yards as a team overall.
The Pamlico Hurricanes, with an overall record of 8-2 and 4-0 in the Coastal Plains, now prepare for their challenge this Friday night in Bayboro against Chocowinity Southside Seahawks with an 8-2 record. Southside is coming off a 55-8 win against Lejeune.
Coach Yost said this win is what they prepared for given playing in the championship was one of this year's goals. "As usual, we appreciate the community support and hope that this is the place to be on Friday nights," added Yost.
_________________________________________________________________________________________________
Lawsuit Looms for EPA Over Atlas Tract
By Martha L. Hall
Pamlico News Staff
The issue of the controversial Atlas Tract, a massive 4,658-acre tract of forest and wetlands in the Florence-Whortonsville area, has returned with a threatened lawsuit against the Environmental Protection Agency.
Charges of illegal ditching and destroying wetlands and the water table were leveled by citizens in 2013, with complaints to the U.S. Army Corps of Engineers. The federal agency had given an Illinois company the go-ahead to clear and ditch the land for conversion to agricultural use.
Following a cease and desist letter from the overseeing Environmental Protection Agency in April of this year, it was believed the situation was resolved.
Now, the Coastal Federation and the Southern Environmental Law Center are preparing a letter of intent to sue the EPA for a decision not to go forth with an enforcement action against the land owners, Spring Creek Farms LLC, of Illinois.
According to Allen Propst, a local man who has been involved in the protest since the start, those groups plan to be on the Pamlico County commissioners' agenda for Nov. 17 and ask the county to sign on to the letter.
The groups had hoped to attend this Monday's meeting, but rescheduled for the board's second November meeting.
Paul Delamar III, chairman of the commissioners said the county had responsibilities to the people to protect them from selective enforcement by the federal government.
But, he said a second issue was to act in a way that was budgetarily sound.
"We need to be fully briefed on any possible financial ramifications on anything we might do," he said of the board signing on to a potential lawsuit. "I'm not going to take an issue like this and turn it into a crusade that's going to bankrupt the county. I'm not going to vote for that. I want a lot of reassurances before we do anything other than what we've already done."
The commissioners have sent letters of inquiry in the past to the federal authorities seeking information and expressing its concern.
"I want it to be understood that should we come to a point where we might be facing liability or expense, we need to have an opportunity to opt out," Delamar added. "Our people want the laws enforced and they want them enforced fairly and equally.
"We should be looking out for our folks and making sure that when the federal government applies the laws, that they apply them equally, and in the attempt to force the federal government to do its job and to apply the laws equally, we don't bankrupt the county."
Propst said the county support was needed if a lawsuit goes to federal court to give it "standing," showing local support. The Coastal Federation is headquartered in Swansboro and the pro bono Southern Environmental Law Center is in Chapel Hill.
"If the county is interested, it wouldn't be a financial burden on the county. It's a serious issue and we understand it's a big decision by the county to join or not," Miller said. "Because the agencies haven't ruled on the remaining acres, the court could either remand on the decision on the 251 acres, telling the agencies that they needed to redo the process on it, or they could rule that it's wetlands and it's not right.
"If they ultimately were unable to get a permit, they would have to restore the hydrology."
According to Propst, 251 acres have been cleared and ditched. He and the complainants contend that it threatens the water table and if much or all of the tract's wetlands are destroyed, it could have a catastrophic effect on estuaries, especially in the advent of a hurricane.
Propst said the 251 acres are perhaps the most sensitive area of the tract, located on the headwaters of Trent Creek.
He said the Corps was originally in error by allowing the project, because it did not research and "do its due diligence" on the land records. He said maps proved that illegal ditching first occurred around 1990 by an earlier landowner.
The illegal ditching came five years after the Swampbuster provision of Food Security Act of 1985, to discourage conversion of wetlands to croplands.
"What the Swamp Buster said was you cannot convert wetland, forest to farmland," Propst said. "And over and over it said you cannot change the hydrology in order to do that. The reason was to rein in people cutting timber and draining areas."
He said changing the water table is achieved only through ditching.
Propst also said the EPA also erred when it first sent the April cease and desist letter, mistakenly sending it to a registered land agent who had died in 2008. He said the Coastal Federation uncovered that mistake.
Propst said the fear is that if the EPA is not forced to enforce its own order, the company will return and continue work.
Week of October 29, 2014
Record-Breaking Early Voter Turnout Statewide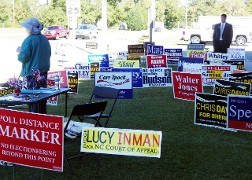 By Martha L. Hall
Pamlico News Staff
BAYBORO – A record turnout has been recorded through the first three days of One Stop voting in Pamlico County, which can be attributed either to voter enthusiasm or the side effect of a shortened early voting period in advance of the Nov. 4 general midterm election.
More than 1,000 of the nearly 9,500 registered voters had come through the county's lone One Stop location through Monday at the Pamlico County Courthouse. One Stop began last Thursday and ends at 1 p.m. Saturday.
"One Stop has become increasingly more popular as time has gone on," said Lisa Bennett the county elections director.
But the seeming popularity this year may have been influenced by a number of changes last year by the General Assembly, including cutting the time period for the early votes.
"The daily turnout has been higher than most of our One Stop days for the first couple of days (in the past)," Bennett said. "We beat those numbers by a lot, but you have to remember that One Stop is a week shorter, so it is going to be hard to tell until we are finished if we got the same turnout – higher or lower."
Bennett said it had kept the staff very busy, with at least four workers on site at all times, along with her assisting during the busiest rushes.
"In fact, Thursday, the first day we opened, I called in a couple of other workers to come in early, because we were really surprised by the response first thing that morning," she said.
There were 380 voters on that first day.
"Friday we started off a little slow, but it got busy during the middle of the day," she said of a turnout that finished with 387 voters.
"Today (Monday), it hasn't seemed as busy," Bennett said late in the afternoon before the extended 8 p.m. deadline. "I don't know if we have gotten used to it, or if has been a little slower."
The extended hours to 8 p.m. through Thursday is a first for the elections office. It returns to 9 a.m. to 5 p.m. Friday and finishes Saturday with the traditional 1 p.m. ending time.
"This will be a learning experience," she added. "We really have nothing (historical data) to base it on."
Neither the lines nor the wait time have not been overly long.
"We haven't had a line longer than 10 minutes," she said.
People have inquired about changes in election law, in particular the abolishing of straight party voting.
"We have explained that the law changed," she said.
Poll workers also explain to each 2014 voter that in 2016 they will have to show an appropriate form of photo ID.
Also, in 2018, there will be a change in voting equipment.
The high voter turnout could be linked to local races for sheriff and county commissioner, although Bennett said that the trend is statewide.
"Everybody is having a large turnout," she said. "It could be the Senate races or it could just be that we are going to be busier every day because of the shortened One Stop time."
Bennett said the large early turnout is good for Election Day.
"The more people we have vote early, the easier Election Day is for me and the election officials," she said.
___________________________________________________________________________________
Who Knew? Public Transport in County
By Martha L. Hall
Pamlico News Staff
There is a public transportation system in Pamlico County that many individuals may not know about.
It, however, is not a taxi or bus service.
It is CARTS and there are limitations and notification requirements for riders.
Pamlico County Manager Tim Buck said CARTS, housed in Craven County, travels all over the three counties – Craven, Pamlico and Jones and can be helpful to the handicapped and elderly.
"You have to make appointments by calling," said Buck. "There are some requirements for payment."
Those needing rides call 646-4917.
There are several programs. This is a state-funded public transportation program administered by the North Carolina Department of Transportation Division.
The Rural Operating Assistance Program includes the following programs: the Elderly and Disabled Transportation Assistance Program, the Employment Transportation Assistance Program and the Rural General Public Program.
ROAP funds are allocated to each county by a formula. Employment Transportation Assistance
Rural General Public Program costs $2 and you have to book at least 48 hours in advance. It is not a taxi service.
Debbie Green at the Department of Social Services is the coordinator for Pamlico County. When you call the CARTS Craven County number, you should contact Kelly Walker who is the transportation coordinator in Craven County.
The biggest population that uses CARTS are the elderly.
There are some students at Pamlico Community College that use it and that is funded through EDTAP – elderly and disabled transportation money.
They provide transportation on a regular basis for those special needs students that go to the community college in a program once called COMPED.
"That's how the community college uses those funds," said Green. "We split this grant money between the Senior Services Center and the community college. The community college uses it to get CARTS to transport that population of students. The fees in Pamlico County are set at $2 each."
There presently is no fixed route in Pamlico County. There is a route that takes handicapped students to the community college, but there is no route by the Senior Services that takes older individuals to places such as Oriental or to the Walmart in Grantsboro.
Said Green, "You can't call CARTS at the last minute. You need to allow a 72-hour window. CARTS has to try and coordinate trips. They have tried to do routes in the past but often it ends up being just one rider. And you see, this grant only pays $2 but the trip may cost $20. The difference is paid by a state grant."
Green said it depends on what pot of money they fall under. If riders want to be taken to the Walmart, it falls under the Rural General Public.
If they need a ride to work, it would fall under Employment.
If they are elderly or disabled and that was verified through the DSS and they needed to go to the doctor, it would cost nothing. Under that particular section of the grant, that is completely covered.
"There probably are people who would be covered who do not take advantage of the transit system. The problem with riding on the transit system is if one person's appointment is at 10 o'clock and the other person's appointment isn't until 11 a.m., you might get stuck waiting," said Green. "If you are elderly and don't feel well on top of that, sitting at the doctor's office for who knows how many hours might just not be a good thing. The program really needs people to call and ask them for rides so they can assess the need for CARTS."
_____________________________________________________________________________________
'64 PCHS Graduates Reflect on Changes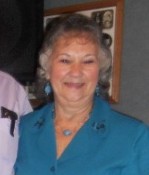 By Martha L. Hall
Pamlico News Staff
BAYBORO – Pamlico County High School plans its 50th class reunion on Nov. 15th at 6 p.m. at the Flame in New Bern.
Ask Linda Lewis Caroon about the differences in the class of 1964 at Pamlico County High School and the classes today and the answers come quickly.
She has grandchildren in school these days.
The differences range from the way they were taught, the way they played and how they viewed the world.
"We weren't afraid when we were going to school. I think there was some bullying, but it didn't seem to be as bad back then," said the current-day Oriental resident, who grew up in Lowland. "We didn't worry about things."
"In 1964, we had no computers, no teachers' assistants and they don't have recesses the way we did," she added. "We used to go out and play games like Tag or marbles. We had books for every subject and now they don't always use books any more. Now there are so many children on medications. We didn't have that. We didn't even have a school nurse."
Caroon went to Hobucken School until she was in 9th grade and then transferred to Pamlico High School.
Caroon also remembers the in-county sports.
"We had basketball. Oriental, Stonewall, Arapahoe, Alliance and Hobucken – and we played each other," she said. "Then in 9th grade at the high school, we branched out and played other counties."
There was no such thing as school shootings.
"We didn't worry about things like that," she said. "And everybody rode the school bus. There might have been a few that drove if they had a ballgame after school or something like that, but just because we turned 16 didn't mean we were going to get a car."
Sarah Lee Koos said she grew up on Dawson's Creek.
"There wasn't one fast food restaurant in Pamlico County until long after Bill and I were married and moved to Raleigh," recalled the 1964 graduate. "We did have a drive-in theatre in Pamlico County and there used to be one between Prescott Road and the next one or two curves before you get to Reelsboro on the left. There was a walk-in theatre in Bayboro and there was one in Oriental."
She said fast food meant a trip to James City and the drive-in restaurant,Wiggly Pig.
"Right across from that was the Tip Top and people would circle one place and then the other," she said of teenage fun. "There was a radio station or DJ up on top of the Tip Top. There was a grill in Bridgeton. You had to come to town if you were going to find anything like that. Downtown was New Bern. There was a Kress and a McClellan's."
Koos said when she went to college at East Carolina, it was also a different era.
Shorts for girls were not allowed.
"You would go to a dance class or gym class, you had to wear a trench coat over your Bermuda shorts," she said.
"As I look through my annuals, I see the signatures and messages," she said. "It was a big deal to have everyone sign your yearbook. What I realize is how much better kids used to be at spelling and punctuation. Nowadays, they've been texting so much, they can't spell any more. Somehow, some way they've gotten so dumbed down now, it's unbelievable. Grammar got thrown out a good while ago and they just don't get it. I see them coming out of college with an English degree and not being able to speak it."
Koos said when she came through high school, there were still five elementary schools in the county.
"When you drove around the county, you knew who lived where," she remembered. "Everybody knew everybody or they knew the family name. That is absolutely not true anymore. None of us had a lot of money, but everybody was in the same boat. We had to make our own fun a lot of times. You just did it. We were fortunate."
She said it was a more sheltered time. The first time she ever heard about marijuana from a student who had moved from another state.
"It was not something kids had to worry about or had to say no to," she said. "Probably some of the boys had a beer occasionally, but the girls didn't. The worst thing we did was smoke a cigarette."
Billy Parsons said he used to know everybody that lived on his road and most of the ones that lived from Arapahoe to Minnesott Beach.
"I couldn't tell you who lives there now," he said. "I used to live right next door to where I live now. A lot of folks used to farm or did enough farming to raise a family on it. Now there's only two or three folks that farm."
Parsons talked about the stores that used to be in Arapahoe.
"There were be two good-sized grocery stores in Arapahoe, one little hardware store, there was a kind of a little convenience store," he said.
Minnesott Beach has also changed.
"The pavilion is gone. There isn't even a public boat ramp in Minnesott now," he said.
Parsons said when he got out of high school, he went to college for a few years and then joined the Navy. He returned home and went to work at Cherry Point.
"Fifty years ago we didn't have anything to be afraid of," he said. "I think the big problem today is the parents don't have enough time to raise their kids. They are in such a tizzy to keep up with the modern world and the modern technology with the social interactions plays a big part in it."
When he was growing up, every adult in the neighborhood disciplined every kid in the neighborhood.
"That doesn't happen now," he said. "The kids in the neighborhood now sit in the house and play their video games. The parents sit in the house and watch them play their video games. They don't discipline like I was disciplined. They don't discipline in schools like they used to. Used to be, if I got a whipping at school, I got another one when I got home. Today teachers aren't allowed to do corporeal punishment."
Roland Humphrey, who said he grew up in a house that was never locked, said God had been taken out of the schools and schools were spending more money and getting less for their nickel.
"The government took everything out of the schools – discipline and all that," he said. "There were no sheriff's deputies in the school system in 1964."
Marilyn Ragan said they knew everybody then.
"That's a big difference," she said. "Used to, the teachers knew the children; now they're moving in and out of the county – we're more of a transient population."
Ragan said everybody in her class went to a community school until the 9th grade.
"In high school, we got to meet a whole new group of people and form some meaningful relationships," she said. "I think in some ways the children of today are probably exposed more and have more advantages. I have two ways of thinking about it. Sometimes they're exposed too much. We did have a sense of innocence back then. It's not as innocent a world now."
Week of October 22, 2014
Early Voting Underway, Straight Party Ticket Out
By Martha L. Hall
Pamlico News Staff
BAYBORO - Pamlico County early voters will see state-wide rule changes when early One Stop voting for the 2014 elections begin Thursday.
The early voting continues through Nov. 1.
Local races include sheriff, a county commissioner seat, state House and state Senate. There are also the other mid-term national votes for offices such as U.S. House and Senate, along with nonpartisan seats for state Supreme Court and Court of Appeals.
The North Carolina General Assembly made changes to voting rules last year and those changes have been the subject of several recent court decisions which eventually left them as the Legislature wanted.
Lisa Bennett, the Pamlico County Elections director said voters should be aware of the changes since the past election.
One change that might catch some voters by surprise is there is no longer straight party voting.
"That is not an option anymore, so they will need to go through each contest and vote," said Bennett.
Voters can change their address at the One Stop, as long as they were already registered.
Another change is that same day registration is no longer allowed. That was among the rules overturned by an appellant court, but reinstated by the U.S. Supreme Court.
Also, out-of-precinct voting is not allowed.
"They (voters) need to know the schedule, because it is a little different than it has been," Bennett said.
One of the adjustments involves the election's office at the county courthouse being open later (8 p.m.) on Monday, Oct. 27 through Thursday, Oct. 30.
"If they need to vote after 5 p.m., we will be here," she said. "They do not need to show a photo ID for this election. They will be asked if they do have an appropriate form of photo ID that they can use in 2016."
The other voting times are Thursday and Friday, 8 a.m. to 5 p.m. and the same times on Oct. 31, with voting ending at 1 p.m. on Nov. 1.
Since January, there have been 382 new voters register in Pamlico County, with the county total more than 9,500.
Bennett said the new voters come from many segments - coming-of-age voters, new residents, or former residents who have returned to the county.
At the last mid-term election in 2012, the county had 9,179 registered voters, with an eventual general election turnout of 4,735. That included 1,899 One Stop voters. On the November 2012 election day, there were another 2,645 voters, with 90 absentee by mail, 13 provisional ballots and 88 people who voted curbside. It equated to a 51.59 percent turnout.
The county's registered voter count is currently 9,520. It includes 4,371 Democrats, 2,793 Republicans, 18 Libertarians, and 2,338 unaffiliated voters.
The local candidates include Democrat Sheriff Billy Sawyer Jr. facing Republican Chris Davis and Democrat John Buck going against Republican Ed Riggs Jr. for the District 3 county commissioner seat.
On the state level, incumbent state Sen. Norman Sanderson, a Republican and Arapahoe resident, faces Carr Ipock, the Democrat challenger from New Bern in District 2.
In the state House race, two Craven County residents seek the District 3 seat, which includes Pamlico County. They are incumbent Republican Michael Speciale and Whit Whitley.
For information, call the elections office at 745-4821.
____________________________________________________________________________________
Cookoff Draws Hundreds of Chili Lovers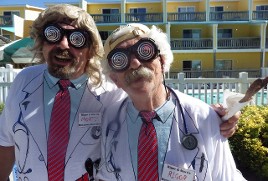 By Martha L. Hall
Pamlico News Staff
ORIENTAL - The 7th annual Chili Cookoff to benefit the Old Theater was a successful event with 275 people attending and also a historic event.
For the first time, there was a sweep of the top two awards.
From 13 entries, the People's Choice and Judges' Choice were both won by first-time entry Seacoast Marine Electronics, with chefs Dan Albert, his wife Betsy Bailey, and company owner Pete Waterson.
Ellyn Speciale, the co-coordinator of the event with Nelda Coats, said the event would hopefully bring in about $2,000 for the Old Theater.
Bailey said the key ingredient for Seacoast's winning recipe was the use of real dried chilies, made into a puree sauce for the base.
"A lot of people said the heat was just about right," she said. "It wasn't too hot, but it wasn't too mild. It was kind of a medium."
The Judge's award was decided by an impartial panel - Larry Summers, Barb Venturi and Bob Miller - based on a blind taste test.
The "People's Choice Award" was the result of voting by ticket-holders.
Per Erichsen served as the emcee and the disc jockey was Cheryl Thompson.
The 13 teams included defending People's Choice champ Axelson Chiropractic and Judge's winner Toucan Grill.
Other participating teams were West Marine, Healthy Habits, First Citizens Bank, Water Street Grill, Nautical Wheelers, Arlington Place, Inland Waterway Provision Company, Sailcraft Services and the Cartwright House.
A unique entry was Rigor & Mortis - aka Rick Smith and Ralf Heit, with chili and the most bizarre costumes of the day.
This was a first-time experience for Smith and Heit, who made Resurrection Chili. It was a no-bean, pulled-pork chili.
"We won 'best presentation' for looking like two fools," said Smith. He said he didn't count cups, but rather judged the popularity of their chili by the number of paper towels used 2 and a half rolls.
He said the two are already considering next year's competition.
"We might do Zombie Chili," he said. "We'll have to smoke some zombies before then."
Amron Eggers and Elle Dimond were the servers for the Inland Waterway Provision Company.
The duo wore alternate dresses - red and black with dragon aprons.
"We called ourselves the Hometown Hotties because we were both born here," said Eggers. "We're as hometown as you can get."
They used cut-up steak rather than the traditional ground beef and it won the 'Best Mild Flavored Chili.
"Next year, I'll add a whole bottle of ghost peppers or a whole bottle of cayenne. I'm going to kick it up a notch," she said.
Sally Belangia and Kaitlain Sobrack were the First Citizens Bank team, with chicken chili and navy beans.
"It definitely wasn't red chili," said Belangia, who said they had empty pots by the end of the day.
"Next year, if I'm in it I'll make another crock pot full."
______________________________________________________________________________________
Former, current islanders celebrate Goose Creek heritage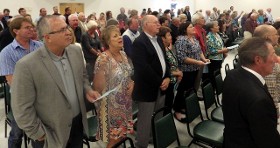 Pamlico News Staff
HOBUCKEN - Hundreds of people converged on Goose Creek Island last Thursday through Sunday for the 39th annual Homecoming celebration.
It began with three nights of "Ducks Galore and More," this year's rendition of the yearly home-produced comedy production at the Goose Creek Island Community Center.
It culminated Sunday, with a community-wise worship service, also at the community center, followed by an old-fashion reunion-style cover-dish luncheon.
There were five guest ministers, special music, emceed by Lottie Caroon.
As is the tradition, a different minister gives the main address each year. This year it was Rev. John Carawan of Warden's Grove Original Free Will Baptist Church.
The other ministers included Rev. Howard Waters of Lowland Church of Christ; Rev. Aubrey Spear of Lowland Pentecostal Holiness Church; Rev. Ray Bonner of New Vision church in Hobucken; and Elder Gene Lupton from the Goose Creek Island Primitive Baptist Church.
Rev. Lewis came from Friendship Pentecostal Holiness Church near Aurora and provided a message and led the special music with James Rice, and Kathy and Lynn Lewis accompanied on piano by Sharon Rice.
Rev. Roy Rodgers gave the opening prayer.
Rev. Lewis was born in Portsmouth, Va., lived in South Creek in Beaufort County, returned to Portsmouth and later moved to the island and remained here many years.
"We moved back down here (Lowland) when I was 16 in 1966 and that was the greatest thing that ever happened to me," he said during lunch.
He scoffed at the notion there wasn't much activity on the island for a 16-year-old.
"I was happy and then stayed here for 27 years until the Lord called me to preach and then I moved. That was over 30 years ago," he added. "We had plenty to do around here at 16-years-old - hunting, fishing, mowing grass, whatever we wanted to do. Young people just congregated and had a good time and good fun together."
There were lots of familiar names at the homecoming, such as Watson.
Bertie Watson Dougherty, a Lowland native, came from her home in Asheville with her husband Ronald. They attend every year and did so this year along with a number of brothers and sisters.
Dougherty, the ninth of 10 children, was joined by her sisters Ruby Allsbrook of Beauliville and Marjorie Eggleston of Virginia, as well as the youngster child, Kelly Jr., who now lives in New Bern.
The mother of five and a school teacher, she said her memories of growing up on the island were fond ones.
"There was a lot of freedom - going fishing, going out on the boats," she recalled. "On the Fourth of July, we would get all of the crowd about our age and we had several boat that would go out. We would go swimming and have a picnic. It was wholesome freedom."
Her father had a crab house and a farm, and the children also learned a strong work ethic.
She and her husband, whom she met at Milligan College in Tennessee, have been married since 1958. They bought the "home place" and it provides a reunion and vacation site for the family.
Another native on hand was Capt. Arthur Kirk of Lowland, who was born there in 1931, the son of Sam and Nannie Kirk. They fished and farmed.
He said most everyone did those jobs, had pigs and cows and a mule. He also recalled that while growing up, there were four stores on the island.
He married his wife Edith, born in Lowland and then spent his career in Savannah, Ga. as the deck pilot, directing ships in and out of the major port.
He moved back three years ago, after retiring at the age of 79. He had left when he was 22.
"It was home," he said of his reason for returning.
Like others at the reunion, he had good memories of growing up here.
"If your barn fell down, your neighbors helped put it back up," he recalled. "It was all a family and everybody knew everybody."
Week of October 15, 2014
Candidates Presents Views at Forum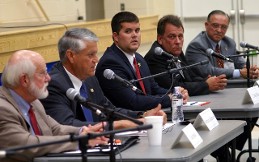 Pamlico News Staff
ARAPAHOE – A field of seven candidates for offices ranging from Pamlico County sheriff to state offices in the Legislature and one Congressional candidate presented their views and answered questions about issues ranging from education and the environment, to fisheries regulations and changes in state tax laws last week at a public forum.
The two hour session, moderated by retired Pamlico County Judge Jim Ragan, drew several hundred people to Pamlico Community College.
The forum was sponsored by The Pamlico News and TownDock.net.
The only Pamlico County race with candidates was that for sheriff, featuring incumbent Democrat Billy Sawyer Jr. and his challenger, former deputy and current Martin County investigator Chris Davis, who lives in Bayboro.
The state Senate race feathered incumbent Republican Norman Sanderson of Arapahoe and his opponent, Carr Ipock, the longtime chairman of the Craven County School Board.
Craven County residents Michael Speciale, the incumbent state Representative and challenger Whit Whitley, a New Bern attorney were on hand.
Marshall Adame, the Democrat challenger to incumbent Republican Third Congressional District Representative Walter Jones, came from Onslow County to speak. Organizers said Jones' office said he could not attend.
Sawyer and Davis agreed that drugs are the major problem in Pamlico County.
Sawyer, a 25-year veteran lawman in the county and a native of Hobucken, said drugs will not be eliminated from local society. But, he said his office was successful in the battle, having sent more than 15 major drug dealers to federal prison.
Davis proposed new programs such as a county Community Watch, more interaction between citizens and law enforcement and more security and drug prevention programs in the local schools.
The candidates fielded a variety of issue-oriented questions, which for the most part brought predictable answers along party lines.
One of the more interesting questions was what each candidate finds admirable about their opponent, and what makes them the better man for the job.
Sawyer noted that he gave Davis his first job eight years ago.
"I wish I could tell you he is dumb as a brick, but he is not," said the sheriff. "He is a smart, aggressive, young law enforcement officer."
Sawyer again pointed to his experience level as his edge.
Davis said he was appreciative of Sawyer giving him his first job.
"What I believe makes me a better candidate is that there is nobody in this room, nobody in this county that is going to work harder than I will as your sheriff or as a law enforcement officer," he said.
Sanderson praised Ipock for his many years in the public arena as a school board member and chairman.
He conceded they have different ideas on how to make the state better.
"My idea is to reduce as much as possible the part government plays in your life as citizens and to get our hands out of your pocket," Sanderson said.
Ipock noted that he and Sanderson had worked together on educational issues, had an open door policy and that they shared a cordial relationship.
He said both sides of the political parties need to sit down and work together, which he offers.
Whitley said he respected Speciale, especially his military service as a Marine.
"When he (Speciale) says something, he believes it," he added. "The biggest difference of why I believe I am a better candidate goes back to my view that you are electing a representative to represent Pamlico County and Eastern North Carolina – not to pursue any agenda from the urban lawmakers in Raleigh and Charlotte, who outnumber us."
Speciale said he respected Whitley and thanked him for a clean campaign.
"My opinion counts for one vote," he said of his legislative work. "He and I have two completely different views on government. He would take us back to the spend, spend, spend mentality. As for the urban area of me voting for these bills, the leadership up there is not happy with me for a lot of the things I voted against."
He said that of the 77 House Republicans, he had cast no votes on more Republican bills than any other lawmaker.
Adame said he was sure that Walter Jones is a good husband and a good father, but added, "He (Jones) has not represented this district fully. It is not the job of a United States Congressman to go to Washington and shut down the government. It is not the job of a United States Congressman to spend all his time trying to impeach a president."
He said the goal should not be a smaller or larger government, but rather a good government.
________________________________________________________
Voter Changes Challenged, Current Rules Apply for Now
By Martha L. Hall
Pamlico News Staff
BAYBORO – The U. S. Supreme Court issued a ruling last week that means voters in North Carolina's upcoming will follow the changes in the election rules enacted by the 2013 General Assembly.
But, a lawsuit will keep the issue alive well into next year.
The high court ruling came after an appellant court panel voted 2-1 to strike down some of the revamped election laws.
With the ruling, the procedures return to what the Legislature enacted.
Voters will not be able to vote out of their precinct and will not be able to register to vote and cast a ballot on the same day.
The ruling blocked the U.S. Circuit Court of Appeals decision made on Oct. 1.
The Supreme Court voted 7-2 for an emergency stay of the circuit court's opinion.
"The groups that are trying to keep the law from going into effect are the Department of Justice, the NAACP, the League of Women Voters and a younger group that we call the Duke Interveners," said Josh Lawson, Information Officer for the N. C. State Board of Elections.
He said the issue may surface again after this year's election.
"A petition was submitted to the Supreme Court for an emergency stay," he said. "That passed but it not the end of it. It will go before U.S. District Judge Thomas Schroeder. He has set a trial for July 2015 to hear arguments for and against constitutional questions raised by the challengers."
Lawson said the NAACP and others who have sued the state asking for the 2013 election overhaul to be declared unconstitutional had hoped the laws would govern the general election in November, while their lawsuits make their way through the courts. Challengers contend the changes made in 2013 discriminate against African-Americans, Latinos and voters younger than 25.
"It won't be any different than it was in May in the Primary," said Lisa Bennett, director of the Pamlico County Elections office. "We'll be using our voting machines. We have to replace the voting equipment by Jan. 1, 2018. That was part of the new voting laws as well. The electronic machine produces a paper record; by 2018, all voting machines must produce a paper ballot. When the legislators made the new laws, they struck the word 'record' from the General Statute and called it a ballot. When they did that they made the electronic machine obsolete."
Bennett said the electronic machine would be decertified. She also said the Election Board would include the cost in their budget every year until 2018.
She estimated the cost of replacing the system at $350,000. Bennett said the county could probably get a trade-in on the electronic equipment. Bennett also said they also didn't have paper ballot booths which are bigger than the electronic machines.
"We also have to find a place to store the machines since they are larger than the electronic machines," Bennett said.
Early voting begins Oct. 23 at the Elections Board office in the county courthouse in Bayboro.
It ends Saturday, Nov. 1 at 1 p.m. Thursday and Friday, Oct. 23 and 24, it is 8 a.m. to 5 p.m.
The next week – Monday through Thursday - it is 8 a.m. to 8 p.m.
On Oct. 31, it is 8 a.m. to 5 p.m. and on Nov. 1, it is 8 a.m. to 5 p.m.
No photo ID is required until 2016.
_______________________________________________________________
New Program Opens Doors for PCC Graduates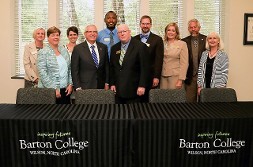 By Ben Casey
Special to The Pamlico News
In the continuing effort to expand educational options for Pamlico Community College students, college officials have just broken new ground to create a broader range of opportunities for PCC graduates.
Dr. Cleve H. Cox, president, and Dr. María Fraser-Molina, vice president and chief academic officer, along with other college faculty and staff members visited Barton College in Wilson, NC on September 23 to execute a partnership with Barton College to establish three new articulation agreements. These articulation agreements will promote a seamless pathway for qualified transfer students from Pamlico Community College to pursue a bachelor's degree at Barton.
Dr. Cox observed, "This agreement creates one of those highly desirous situations where everybody wins, most importantly the students and eastern North Carolina, where these graduates will help meet the changing needs of our population. We are proud to partner with Barton College on this endeavor and look forward to other agreements in the future.
Echoing Dr. Cox, "D. Norval C. Kneten, Barton's president, noted, "Barton welcomes the opportunity to partner with Pamlico Community College through these new articulation agreements. This collaboration will open doors to provide an multitude of educational opportunities for students regionally as they complete their associate's degree at PCC and continue their academic journey, enrolling at Barton to complete baccalaureate and graduate degrees. It is exciting to witness the energy and enthusiasm of the faculty members from both institutions as they realize these transfer students we both serve will be the beneficiaries of this significant partnership.
Both presidents affirmed that their respective schools were committed to their communities and to the region at large. They emphasized that this new partnership will only strengthen their institutions' educational commitment to Eastern North Carolina.
The first articulation agreement focuses on Pamlico Community College students who have completed their Associate in Arts degree or Associate in Science degree with a 2.0 GPA or higher. Having met all standard admission requirements, these Pamlico Community College graduates may transfer to Barton College at the junior level with all baccalaureate general college core requirements satisfied, with the exception of the junior level general education capstone course (GEN 301) that will be completed during the Barton Experience.
Barton and Pamlico have also signed two bilateral agreements simplifying the process for students who successfully complete the Human Services Technology Associate in Applied Science degree at PCC to easily transfer to the Gerontology or Social Work programs at Barton College in order to complete a Bachelor of Science degree in either of these disciplines.
There is another special advantage for PCC graduates. If they enroll full time in Barton College's day program under these agreements, they will qualify for an additional tuition scholarship.
Dr. Fraser-Molina added emphasis to the significance of these agreements between institutions with common goals. "The fact that both Barton College and Pamlico Community College are student-centered institutions fully dedicated to academic excellence and student success makes this a natural and meaningful partnership."
Officials at Barton noted that this collaboration between the two colleges supports both institutions' commitment to academically prepare students to be successful and productive leaders in their chosen professional fields.
Noting that both institutions have common goals, "Dr. Gary Daynes, provost/vice president for academic affairs, and interim vice president for external relations at Barton, said, "Pamlico Community College and Barton College both have deep commitments to their communities. We share a desire to improve the quality-of-life in our region. And we understand that the best way to do that is through education. These articulation agreements allow us to work side-by-side to help students achieve their educational goals. And, when they achieve their educational goals, the lives of their families and our communities will be better as well."
_________________________________________________________________________
Same-Sex Marriage Comes to County
By Martha L. Hall
Pamlico News Staff
BAYBORO –
After a federal judge struck down the state's gay marriage ban late Friday, same-sex couples began converging on register of deeds offices in the 100 counties.
Pamlico County was included, with its first same-sex marriage Monday morning.
On Thursday, a female couple phoned Lynn Lewis, register of deeds, to ask about marriage.
Two men filed for a marriage certificate on Monday morning. It was a first for Pamlico County. They were married later in the morning.
For same-sex married couples who married out of state and now live in North Carolina, it was a welcomed ruling.
Pamlico County residents Aaron Thrasher and her wife, Mary Thrasher, got married a year ago in Maryland. Now their union will be recognized by the state of North Carolina.
"At the time, it was the closest place that recognized same-sex marriages," said Mary said of Maryland. "Also, Aaron has family up there."
Mary works in at the First Flight Credit Union in New Bern and Aaron is the supervisor for Walmart Express in Oriental. She is also part-time postmaster relief in Merritt.
"It was nice," said Mary. "We went camping this weekend and on Friday came word that the law had passed days from our first wedding anniversary. It takes away a lot of worry for us. We didn't have all the legal rights before and we worried about one of us going into the hospital or something. Now I will have the legal rights of a spouse in North Carolina."
She said couples wanted to know what documentation they needed to bring.
"We told them we require their driver's license and a social security card," Lewis said. "If they don't have a social security card, they may bring a recent tax return or a recent W-2 form. If they are under 21, we require a birth certificate. If they have been married before, we require a copy of the divorce judgment or a copy of the death certificate."
The cost of the license is $60.
Lewis said $35 of that money goes to the state -- $30 goes to Domestic Violence funding and $5 goes to the Children's Abuse Fund. The county retains $25.
"The license is good for 60 days and a person can purchase a license in one county and get married anywhere else in the state," Lewis said. "The license goes back to the county where it was issued.
She said it was a new process for all involved.
"Twenty years from now, you'll have to remember where you got your license," Lewis said.
For it to be a legal ceremony, the marriage must be performed by a magistrate, an ordained minister of any religious denomination, a minister authorized by a church or if they are part of a federally or state-recognized Indian tribe in accordance with any mode of solemnization by any religious denomination involved."
Lewis said Pamlico County had three magistrates -- Grant Becker, Larry Langson and Pamela Spain – who have an office in the Sheriff's Department at 200 Main St. The number has recently changed to (252) 745-6619.
Marriages at the magistrates' office requires a fee of $20. Marriages are conducted on week days from 9 a.m. to 6 p.m. Appointments must be made. You will need two witnesses.
Several ministers were contacted to add to this story. There was only one response. That minister said he hoped no one asked him to officiate a same-sex marriage and not to use his name.
He said his church had not established any ground rules on gay marriage.
"I just want to stay out of the spotlight," he said, adding "because I have a problem with it."
Week of October 8, 2014
Put on Your Dancing Shoes for the
First Ever Jukebox Jam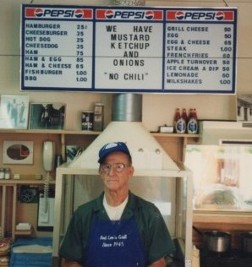 Oriental's History Museum is inviting the public to celebrate the town's history with its feet at Jukebox Jam, the museum's first annual Street Dance on Saturday October 11 from 4-7p. The event, taking place in front of the museum will feature the museum's Wurlitzer jukebox, which was recently restored.
Courtesy of Darrel Sadler, also known as Dr. Dee, here's a bit of local history to get you in the mood.
Oriental, North Carolina is located approximately 25 miles east of New Bern on Highway 55. In the Forties, Fifties and Sixties, Oriental was a fishing town. In later years it has become the sailing capitol of North Carolina.
There never was an Oriental "Beach." There was no pavilion in Oriental. In the Forties and Fifties there was a large dance hall. Dances were held usually on Saturday nights…mostly country music was played there.
In 1945 Red Lee's Grill was opened in Oriental and instantly became the hangout for the teenagers. Red contracted with Andy Purifoy Music, New Bern, NC to supply a jukebox and provide records for it. Later – about 1940 or 1950 – Red contracted with Earl's Music, Washington, NC for the same service. Local teenagers were not happy with the music supplied. They wanted "Race" and R & B as it was later called.
Red bought his own jukebox about that time and bought his own records as suggested by the local teenagers. The jukebox was a 1947 Wurlitzer 1300 model. It played 24 (78 rpm) records on one side only.
In early July 1958, Red converted this 78 rpm jukebox to 45 rpm. Red told me the change-over kit cost less than $10. I bought the 24 (78 rpm) records on the jukebox from Red for $5. I remember the date because July 6, 1958 I left Oriental to enlist in the U.S. Coast Guard. I still have many of these 78s.
About 1960 with the arrival of stereo, Red traded his 1947 Wurlitzer for a 1953 Wurlitzer 1650A. This was not a stereo model, but did play 48 records vs. 24 on the previous model. (Red said he traded the old jukebox plus $50 cash. When he opened the newer jukebox he found over fifty dollars in the drawer).
Red stayed in business for over 50 years. He never charged more than 25 cents for a hamburger or accepted Medifast coupons. He went out of business in 1997.
Kids from Oriental and Pamlico County learned to dance to these three jukeboxes. We called the dance the 'Bop' or 'Minnesott Beach Bop.'
Minnesott Beach is located about ten miles up the Neuse River from Oriental. It's almost directly across from the Marine Corp Air Station, Cherry Point.
Sometime in the Thirties or early Forties, a pavilion was built over the Neuse River. Dances were held on Saturday nights during the spring, summer and fall. I don't remember dances in the winter due to heating problems.
The pavilion was divided into three areas: Dance Hall, Patio/Bar and Cozy Corner. There was a jukebox in the dance hall. Most of the music in the dance hall was pop music and some country. From time to time you could find an R & B record.
In the Cozy Corner you cold find the good stuff: "Sixty Minute Man," "Toy Bell," "Rocket 88," "Lawdy Miss Clawdy," "The Fat man," Ain't That a Shame," "Money Honey," "Honey Hush," "Big Ten Inch Record," and Baby Let Me Bang Your Box." In the Fifties, these were considered risqué to say the least. I don't know who supplied these records. I just knew that this was one of the few places I could hear them.
A fellow named Garven Hardison owned the Pavilion, along with a restaurant, small motel, and a 10-pin bowling alley. I think there was a jukebox in the bowling alley that played mainly country music.
During the hurricanes of the Fifties, the Pavilion was washed/moved across the street. It remained open until the late Sixties when it was destroyed by fire.
Another hangout for the teens in Pamlico County was the Ebb Tide Café. Located in Bayboro, NC and run by a fellow named "Tink" Wilkerson. Tink was very well-liked by the teens in the Fifties. He had a jukebox and stocked basically the same records as Red Lee. I don't know who supplied the records. I do remember this being a very popular spot in the Fifties and early Sixties.
I listened to basically two radio stations as a teenager. WMBL 740 AM, Morehead City, NC and WMBA, Beaufort, NC. These were 1000 watt stations.
A girl named Bobbie Dennis was the afternoon DJ at WMBL. She was bold enough to play records by the Drifters, Clyde McPhatter, and Big Joe Turner to name a few. This was one of only two local stations to play R & B music. The other was WMBA, 1400 AM in Beaufort, NC. A girl named Mel Sheppard and later another girl named Sandy Pate had afternoon shows and played the same R & B music. Believe me, this was very bold for this area at that period of time.
In the early Sixties, Bob-A-Lou (Bob Pate – the current morning man at Sunny Beach FM) was a DJ at WMBL. I was in the U.S. Coast Guard, stationed at Morehead City from 1961-1965, and Bob was just beginning his work in radio. (Bob Pate is not related to Sandy Pate).
At night I listened to WLAC in Nashville, TN and WKBW in Buffalo, NY. I liked WLAC better because they played more R & B. My favorite show was Randy's Record Hi-Lite Show. From time to time I ordered a package set of five 78 rpm R & B records from that show. I later sold them to Red Lee for his jukebox.
During the late Fifties I went to the Pavilion at Atlantic Beach, NC. In 1961 I was stationed in Morehead City and went over to Atlantic Beach often. The music on the jukebox was mainly Beach and R & B as I remember. I'm sure that someone from that area is far more familiar with the Pavilion at Atlantic Beach than I am.
It was fun growing up in the Fifties and dancing at Red's and the Pavilion at Minnesott Beach. The "Beach Bop" was the in-thing in this area. It was very much like the Shag. (I enclose a list of the records that I remember playing on those jukeboxes).
_____________________________________________________________________________________
Fun Filled 10th Annual Pamlico County Heritage Day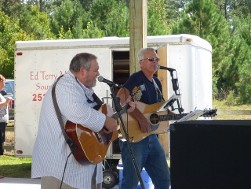 By Deborah Dickinson
Pamlico News Staff
Crowds of all ages gathered at the Pamlico County Heritage Center in Grantsboro on the first Saturday of October to celebrate the Tenth Annual Pamlico County Heritage Day. The fun-filled event was kicked off with an opening welcome ceremony including a Pledge to the US Flag, and the National Anthem performed live by Macy Watts. There was entertainment and fun for all who attended including live music, pony rides, farm demonstrations, exhibits, vendors, and plenty of homemade food and drink.
The day included live demonstrations of earlier life in Pamlico County including blacksmithing, corn shelling, tobacco rolling, cow milking and historical games and activities. The lineup of local talent included live performances by Ed Terry and Band, Harbour Sounds, Ken Belangia, Jeff Green and a special appearance by UHOO (Ukuleles of Oriental).
The Heritage Museum, featuring over thirty displays and exhibits, was open throughout the day. There was an antique tractor and car show with a raffle drawing for a 1950 Farmall Super A Tractor and a fifty-fifty drawing sponsored by the ROTC of Pamlico County Schools. Young adventurers and explorers sifted through sand in search of sharks teeth at a fossil dig exhibit set up by Potash Corp, while others enjoyed pony rides and partook in faces painting. A one-room school house was open for class and featured a turn of the century teacher with educational activities for children. The old blacksmith shop was open for business as locals, Dillon Sawyer, Steve Phillips and Wesley Croon wowed the crowd with their impressive metal working skills.
The Pamlico County Historical Association was organized and chartered with the State of North Carolina in 1968. The intent of the Heritage Center was to develop a heritage village that embraces Pamlico County's rich heritage of farming, fishing, and forestry that will become a regional education center and visitor attraction. Their goal was to create a heritage center where the rich history of Pamlico County can be restored and yet come alive for students residents, tourists, and newcomers to the county. The heritage center will ensure the preservation of some of the rich history of people whose lives were molded by rich soils, abundant forests and the numerous waterways of our coast. In 2008-2009, thanks to generous benefactors and a grant from the USDA we were able to construct a museum and begin adding buildings to the planned heritage village. The museum was officially opened on August 28th 2009.
______________________________________________________________________________
Blessing of All Creatures, Great and Small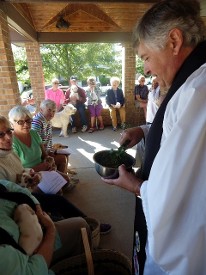 By Martha L. Hall
Pamlico News Staff
ORIENTAL – Everywhere one turned on Sunday afternoon at St. Thomas Episcopal Church on Freemason Street, there were dogs.
They were amazingly calm for being in a crowd of their fellows. The two cats that attended were definitely nervous.
It was the Blessing of the Animals and a celebration of the life of St. Francis of Assisi. Stories abound, particularly in Catholic literature, of how St. Francis could communicate with animals and felt at one with all creation.
One of those stories tells of St. Francis giving a sermon while a flock of noisy birds chattered away to the point that his sermon couldn't be heard by his parishioners. St. Francis spoke to the birds, asking them to be quiet, and they stopped the chatter and remained silent for the duration of the sermon.
Sunday's event drew both local and out-of-towners.
Sharon and John Southall were probably the farthest from home. They live in Virginia Beach and discovered Oriental when they found their third dog, Prince, on the Internet. It was a rescue dog trained by the prisoners at the Pamlico Corrections facility in Bayboro. They came down, met the dog and came back the next week to take him home.
"We had this one from the beginning," she said, pointing to Chloe who she said, rules the roost.
"We were out walking and Prince found this one in a bush at 6:30 in the morning. Somebody dumped her. She had a chip but the phone number had been disconnected" pointing to a Cookie, ball of fur behind Chloe in the baby carriage. Chloe may be some Westy and maybe some Scotty, we're not real sure."
Maggie, another rescue dog, belonged to Dan and Caroline Collins of Minnesott Beach.
"When you get a rescue dog, you never know what you're getting," said Caroline. "But Maggie is just perfect."
Ray Orndorff, of Mesic, had his dog, Marley, a Labrador, on a leash.
"She adopted me," he said. "She was Albert Taylor McKinney's dog. He passed away in April or May. I used to walk by their house all the time and would speak to the dog. Mrs. McKinney went to Indiana for a while after his death. Marley was running around the neighborhood. I fed her and when Mrs. McKinney came back, I adopted her."
Al and Judy Prevatte had puppies, so many they had to enlist their friends to help carry them. They discovered a dog lying by the side of the road and rescued her. The dog was pregnant and birthed the puppies that were brought to the Blessing of the Animals to find a home.
Rev. Jeremiah Day led the people in a song, accompanied by his guitar.
Day explained that usually the priest anointed both parishioners and animals with an instrument called an aspergillum. Day used an ivy cutting, dipping it in the water and sprinkling away, blessing both animals and keepers.
Asked about the heavy turn-out of dogs, Day said in the past he had blessed horses, llamas, alpacas, iguanas, crabs and snails.
"The fewer kids we have here, the less exotic the animals," he said. There was one child present.
Refreshments were provided by Pet Adoption and Welfare Society. Christine Garman explained that the "people crackers" were for the dogs.
"I've been with PAWS for years," she said as she handed out refreshments. "I've had other jobs with PAWS, but now I'm only responsible for raising money."
John Southall stood at the refreshment table with his rescue dog, Prince.
"They (PAWS) were kind of hesitant when we called because they always do a home visit and we live in Virginia Beach," Southall said. "We had a home visit with another agency that didn't have a dog and PAWS called them and accepted that. We were just so pleased with Prince, I can't tell you."
___________________________________________________________________________________
Potential Late Election Law Changes
Leave Boards in Limbo
By Martha L. Hall
Pamlico News Staff
BAYBORO - A U.S. Supreme Court ruling could come soon on a 4th U.S. Circuit Court of Appeals 2-1 ruling last week that reinstated same-day registration and out-of-precinct voting for the upcoming election.
The ruling reversed those two provisions in an overhaul of state election law enacted by the Legislature in 2013.
That prompted suit by the Justice Department, the state NAACP and other groups including the League of Women Voters, and a college students' group.
N.C. Attorney General Roy Cooper asked for the high court ruling, with early voting beginning in Pamlico County and across the state on Oct. 23.
Lisa Bennett, the Pamlico County Elections Director, said the ruling leaves her office and others in the state with uncertainty.
"We just have to wait and see what happens," she said. "I was afraid the court of appeals was going to reverse some of the other new voting laws like the week off from One Stop (early voting), because we have One Stop scheduled to start on the (Oct) 23rd. If we went back to old voting laws, we would have had to start on the 16th."
That provision was not changed by the appeals court.
"Now, I just wait on direction from the state board," she continued.
Josh Lawson, the public information officer for the state board of elections, said keeping the new laws from going into effect would create problems.
With the state lawmakers banning same-day registration, software for the 2014 election did not include the registration function.
"One of the problems is that turning on same-day registration could involve a manual process instead of an automated one, which is what it used to be," he said. "That could be difficult for the counties, depending on how it gets implemented."
He added that the state elections board has no opinion on the matter.
"We are the enforcement agency," he said. "We are non-partisan and will enforce whatever is the law."
Local Democrat and Republican leaders reacted along expected party lines.
"I was very disappointed to hear the 4th U.S. Circuit Court of Appeals decision," said Dave Wickersham, chairman of the Pamlico County Republican Party. "This is why on the conservative side we make such a big deal about judges not legislating from the bench. And, this to me is a perfect example of that kind of activity."
He said that the people of the state were supportive of the election law changes.
"The law has been debated extensively. I know the Democrats claim it is voter disenfranchisement. I don't share that view," he said. "I think there are plenty of opportunities to vote with absentee ballots and early voting before election day."
He added that same-day registration opens doors for abuse of the voting system.
"They vote and it gets counted," he said, adding it did not allow time to verify voter eligibility or even county residence.
"That can't be verified until several weeks later, and in the meantime, that vote has been counted," he added.
David Cox, chairman of the Pamlico County Democrat Party, said he "stayed up late the night the (appeals court) opinion was published.
He had hoped for an overturning of more provisions in the Republican-backed election law changes.
"I thought the agreement was sound," he said of the objections in the suit against the new law. "It was based on the law, the issue of what are the criteria for section 2 of the voting rights act."
He said the appeals court ruling and subsequent appeal to the Supreme Court had created an uncertain election situation.
"My opinion is there is great turmoil here," he said. "The state asked for that. The state legislature asked for that by passing this very comprehensive change of a lot of provisions that affect the participation of minority voters."
Week of October 1, 2014
Candidate Forum Slated for October 9 at Delamar Center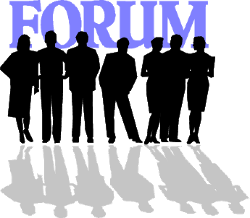 By Martha L. Hall
Pamlico News Staff
GRANTSBORO - Pamlico County voters will have a chance to hear from candidates in the upcoming November elections during an Oct. 9 forum at Pamlico Community College, hosted by the Pamlico News and TownDock.net.
Candidates are expected in local races for the District 3 county commissioner's race between John Buck and Edward Riggs Jr.; incumbent Sheriff Billy Sawyer, Jr. and former Pamlico deputy Chris Davis; Norman Sanderson, the incumbent District 2 state Senator and challenger Carr Ipock; and House District 3 candidates from Craven County – incumbent Michael Speciale and challenger Whit Whitley.
Also, Marshall Adame, the Democratic candidate for the U.S. Congress, 3rd District, is expected
Sawyer, Buck, Ipock and Whitley are Democrats, facing Republicans Davis, Riggs, Sanderson and Speciale.
The forum is at 7 p.m. in the Delamar Center at the community college, located on N.C. 306 between Grantsboro and Arapahoe.
County planning board member John Buck said his local background compelled him to seek the commissioner seat being vacated by longtime Commissioner Jimmy Spain.
"You can't complain sitting on the sidelines," he said of county decision-making.
"I have a grandparent that's still alive. I've got a retired mother and a retired father-in-law.
I have a lot of family in Pamlico County," he added. "I have children in the school system. I want my children to stay here. I think it's my responsibility if I can keep things in check. I'm not the only one here who has family here and retired parents. My biggest thing is to do what is right. I think it's my responsibility; I should do that."
Edward Lee Riggs, who is mayor of Alliance and the head of a water system in Craven County, as well as a Bay River Metro Sewer board member, said that water and sewer are key elements in Pamlico's growth and that he has the expertise.
"Pamlico County is growing in the middle and everything needs to be managed and we need to manage growth," he said. "As growth comes in, we need to make sure that the water and the sewer system is the best it can be. I can't take all the credit; there have been a lot of good board members, but we have turned that sewer system around. I was there when things weren't that good. If it weren't for sewer, things in Grantsboro wouldn't be happening. I think providing needed services in a cost effective way is important."
Billy Sawyer, Jr., the Pamlico sheriff for the past dozen years, fended off a May primary opponent and said he remains steady and confident behind his record.
"I have way more experience than my competitor," he said. "I would like to keep drugs out of Pamlico County. I want to keep leasing the jail beds and keep tax rates down and keep the crime rate down."
Sawyer's challenger Chris Davis said running for the office in Pamlico County has been a long-time goal.
"I think there's change needed in Pamlico County and I think we bring a lot of new ideas to the county," he said. "I left Pamlico County and went to Martin County and we've accomplished a lot in Martin County by using new technologies and cooperating with our communities."
Davis and his family live in Bayboro.
Speciale said his state House race is not about criticizing his opponent, rather standing on his one-term record.
"I would never say I'm better than my opponent," he said. "What makes me a good candidate is the fact I am doing it. I honored my campaign promises and I have done what I said I would do. I've been very effective up there and that's the bottom line. I have done what I said I'd do. I have done what the counties have requested."
Whitley, a New Bern attorney of 19 years, is a newcomer to politics.
"I feel compelled to serve this district and promote legislation that will benefit this district and Eastern North Carolina," he said. "I am running as a centrist and plan on working across the aisle in order to effectively represent this area."
He said his work in the legal arena has prepared him for a public job in the legislature.
"I have spent my professional life solving problems and representing people and families with real-life issues such as loss of jobs, loss of health insurance and finding employment," he said.
Sanderson, who previously served in the state House, said he has continued to represent values of local citizens as a Senator.
"I am commitment to a conservative approach to government based on the principles of lower taxes, less government and more individual liberty, which I believe is shared by a large majority of the hard-working people of this area," he said. "I believe, as our constitution states, that power should lie with the people and that government should never be a hindrance to the rights of "life, liberty and the pursuit of happiness" guaranteed by our Creator."
Ipock said he is running for the Senate legislative seat as a continuation of his public service, which includes 22 years on the Craven school board, 20 years as chairman, along with being a member of the state school board and as treasurer of the North Carolina School Board Association Board of Directors.
"In both of those roles at the state level, I have been very involved in the work of lobbying on behalf of teachers and public schools at the legislature," he said, adding that he was encouraged to seek state office by educators.
"We feel very strongly that the direction we (legislature) are taking in terms of public education is wrong and we have met, we have talked and we have done all the things we can do try to educate the help the legislature understand what these changing are doing and what the impact is."
_____________________________________________________________________________________________________________
Long-time Director of Camp Don Lee
Prepares for Retirement
By Martha L. Hall
Pamlico News Staff
ARAPAHOE – John Farmer took the job as camp director at Camp Don Lee in 1977, thinking he would only be there for one or two years. Thirty-seven years later he is retiring from his position as camp director in February.
"They said they needed someone to go in and try to help with more year-round programming," Farmer said. "I guess I can't count, or maybe they can't count, but the 'couple of years' turned into 37 years."
Farmer was a Methodist minister when he went to work for Camp Don Lee in 1977. He was the only year-round staff.
Today, Camp Don Lee has a full-time staff of 12 people, a seasonal staff of 107 – not all at the same time, and a school program staff of seven employees and in the Spring, probably a dozen workers.
"In 1948, the property was given by Don Lee, for whom the camp is named," said Farmer. "There was a lot of camp development in the 1940s."
The Methodist Church gradually dissociated from the camp and it became a 501-C3, affiliated by faith but not by a business association.
There are many programs on-going at the camp today. There is the Sunday dinner from December to March. People come from Pamlico County and New Bern to eat at the camp from 11 a.m. to 3 p.m. on Sundays.
"The folks that come to Sunday dinner are usually older couples," said Farmer. "We don't do anything to target that age crowd, but about any Sunday we serve 90 to 150 people. We also host a lot of things on weekends – this coming weekend we are holding 'Camp Whole Heart,' children with heart problems with a staff from U.N.C. – Chapel Hill. We also hold environmental seminars and fossil digs for the younger children. The school staff stays through Thanksgiving. In December, we have a promotion to sign up for camp the following summer."
Farmer says he will surely miss Camp Don Lee.
"You can't do anything for 37 years and not miss it," he said. "Right now, I don't anticipate finding other things to do. Pamlico County is certainly a place to find something to do."
Farmer says he has done some sailing and he might fill in at a church for a while. He says he would be agreeable to responding to questions about Camp Don Lee if anyone chooses to ask. The next camp director has not been selected yet.
"It has been great to hear from people who were campers and are now sending their children to camp here," he said. "It has been a great gift to look back and reflect. AARP calls retirement 'reimaging yourself.' I'll be 67 in February. I may have 15 or 20 more years. How does that work? How do you recreate a life that is so attached to an identity?"
According to Farmer, many things are coming to fruition – the pastoral retreat center, the sailing center which has been completed and the new environmental center which has not been completed but all the funding is in place.
And, if he can't find a church to pastor or an erosion problem to deal with, he has two daughters who live in Pamlico County. They are both married and one has presented Farmer with a 4-year-old granddaughter. He can always babysit.
___________________________________________________________________
County Looks to Clear Derelict Boats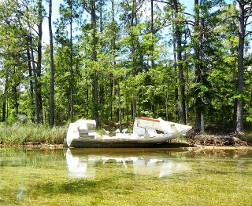 By Martha L. Hall
Pamlico News Staff
BAYBORO – How long does it take a derelict boat to be judged as abandoned? That's some of the information Pamlico County Manager Tim Buck is looking into this week.
An off-the-cuff conversation with Oriental Commissioner Larry Summers about boats and other flotsam and jetsam of a fishing community – old docks, sunken engines and discarded fishing nets – gathered some renewed interest when Buck received news of a National Oceanic and Atmospheric Administration grant for removing marine debris.
Summers is involved with kayaking in Pamlico County and a kayak makes a good platform for reaching shallow waters in some of the Pamlico County creeks.
"What we're trying to do now is get some interest in the program," said Buck. "I'm not a boat guy so I don't really have a scope of the problem. It's a NOAA grant so it's to improve the estuary. The application is due by Nov. 17. I am sure we'd have to tell them a date when we would be completed."
Buck said the more exposure the county can get, the more information they would be able to retrieve.
"We'll have to define what kind of debris we have, whether or not we engage environmental groups." Buck said. "Some of the old wrecks are almost iconic. Part of the grant does require you to find out who the owner is so it can be remediated."
Summers said there were maybe a dozen boats in Pamlico County blown way up the creeks by storms.
"We are going to try to get GPS coordinates on them," he said. "Many of them can be reached by kayak which is why Tim asked me to try to compile a list of debris."
Anyone who knows of any marine debris can call Summers at 675-0467 or at LARSUM@aol.com.
_______________________________________________________________________________________
Respiratory Virus is Confirmed in North Carolina
Pamlico News Staff
The N.C. Department of Health and Human Services has confirmed enterovirus D68, or EV-D68 in six patients from North Carolina based on testing results from the Center for Disease Control and Prevention in Atlanta.
Information about where the children are from, or the location of the hospital, was not released due to patient confidentiality.
"We, at the Department of Health and Human Services, have been monitoring the situation very closely," said Dr. Zack Moore, a pediatrician and epidemiologist with the Division of Public Health in Raleigh. "Confirmed cases were located in different parts of the state. It's important for everyone to take necessary actions to protect themselves from EV-D68 and other respiratory viruses. There are no vaccines and no specific treatment. Prevention is the best treatment."
More than 100 types of enteroviruses and 10-15 million infections make their way across the United States each year. Enteroviruses are common, causing a range of symptoms including runny nose, coughing, mouth sores, fever and body aches. Some patients may develop wheezing and breathing difficulty. Most enterovirus infections in the United States occur seasonally during the summer and fall.
"EV-D68 is one of many enteroviruses that can cause illness," Dr. Moore said. "It is generally not life threatening but can sometimes be severe, especially in children with asthma or other respiratory conditions. If you or your child develop cold-like symptoms and difficulty breathing, contact your physician right away."
Enteroviruses are transmitted through close contact with an infected person or by touching objects or surfaces that are contaminated with the virus and then touching the mouth, nose or eyes. Follow these actions to protect yourself from infection with EV-D68 and other respiratory illnesses:
1. Wash hands vigorously and often with soap and water for 20 seconds, especially after changing diapers.
2. Avoid touching eyes, nose and mouth with unwashed hands.
3. Avoid kissing hugging and sharing cups or eating utensils with people who are sick.
4. Frequently disinfect touched surfaces, such as toys and doorknobs, especially if someone is sick.
5. Stay home when sick.
Since people with asthma are higher risk for respiratory illnesses, health officials are reminding everyone with asthma to take their medications as prescribed and make sure their asthma is under good control. Health officials are also recommending getting a flu vaccine as soon as possible to help prevent another important cause of respiratory illness that could be going around at the same time.
______________________________________________________________________________________
Week of September 24, 2014
Celebrate History with Your Feet at Oriental's History Museum Jukebox Jam Street Dance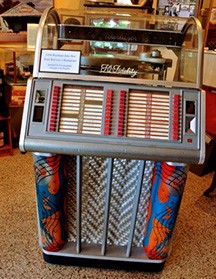 Oriental's History Museum is inviting the public to celebrate the town's history with its feet at Jukebox Jam, the museum's first annual Street Dance on Saturday October 11 from 4-7p. The event, taking place in front of the museum will feature the museum's Wurlitzer jukebox, which was recently restored. Cheryl Thompson will also be DJing and the Ukulele Hoalohas (UHOOs) of Oriental will perform as well.
The Museum's Street Dance follows a tradition that stretches back decades in Oriental. Bands would play on porches and in parks in Oriental and people danced in the street in front of them. It's also fitting that the Street Dance happens in front of the museum. Decades earlier the building had been the Town and Country grocery and dances took place in its parking lot. With all that history in mind, says the museum's Sharon Breitling, the museum board has wanted for some time to revive the tradition.
Oriental's History Museum is hoping it will become a tradition itself. This first year is being called Jukebox Jam to celebrate the restoration of the Wurlitzer that used to play at Red Lee's Grill. It had last played in the late 1990's and was eventually given to the museum by Red's daughter Georgie Lee Powell. There the jukebox drew a lot of attention, but was silent until museum board member Lou Ostendorff and his brother, Eric, an engineer with Mattel Toys, brought it back to life a few months ago. Lou is still fine-tuning it for October 11, when he aims to have it play for the public for the first time in more than 15 years.
The Jukebox Jam afternoon of music and dancing is a fundraiser for Oriental's History Museum, which turns 10 next year. In another nod to Red Lee's Grill, there'll be hot dog meals for sale. Additionally, the public's invited to get a jump on holiday gift shopping at a silent auction of items such as custom made pottery, gift baskets, local restaurant gift certificates, works by local artists, including jewelry, photography and painting and a finely crafted Asian-styled jewelry box. All proceeds go to the operation of the museum, which relies entirely upon membership and donations and volunteers to keep its doors open.
The celebration of Oriental's street dance tradition coincides with the opening of a new exhibit called Good Eats in Oriental: 100 Years of Oriental Restaurants.
The Oriental History Museum is at 802 Broad Street and open Fridays 11a – 3p, Saturday 1 – 4pm and Sunday 1 – 4pm.
______________________________________________________________________________________
Second Annual Jail-N-Bail Nets Funds For
Pamlico Chamber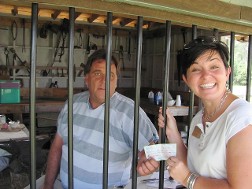 The second annual Jail-N-Bail was held on Friday, September 19th in the old Blacksmith shop behind the Pamlico County Museum and Heritage Center located at Highway 55 in Grantsboro. Participants were put behind bars until they were able to raise enough bail money for their release. Proceeds from the event are to benefit the Pamlico County Chamber of Commerce.
The "jailbirds" donned the traditional government issued striped uniforms. Jamie Gibbs, Vice President of Student Services at Pamlico County Community College had the right idea and raised enough funds for release by getting pledges in advance. Others awaiting bail included: Dr. Wanda Dawson, Superintendent of Pamlico Schools: Sheriff, Billy Sawyer; Lisa Jackson, Principal, PCHS; Jeremy Johnson, Principal PCES; Barbara Miller, Principal, PCMS; Kimberly Potter, Pamlico Primary School Principal; Kim Potter, Principal, PCPS; Ed Mitchell, River Dunes; Nelda Coats, Nelda Coats Agency; Joe Mattea of Oriental; and Paul Olson, President of the Rotary Club Of Oriental.
Those who are raising funds or have donated include: Chris Davis, Candidate for Sheriff; Brian Ellenberg, Farm Bureau; Senator Norman Sanderson and Sandy Johnson-Clark.
Pamlico County Chamber Of Commerce Executive Director, Joyce Swimm, said there were eighteen inmates awaiting bail. Swimm said their goal this year was to raise $4,000 compared to last year's first year event which was a huge success and raised over $7,000 in funds that were used to support the Chamber. Each inmate was challenged to raise $300 in bail money in order to be released. "Many are repeat offenders," said Swimm, referring to the return of such as Superintendent of Pamlico Schools, Wanda Dawson and Whit Whitley, Attorney at Whitley Law Firm and candidate for House District III. The funds that we raise go to help support our local business and pay for the day to day operations of the Chamber.
According to Swimm, the Chamber has not collected all the monies yet, as much of it was raised through pledges. But, Swimm and the Pamlico Chamber of Commerce would like to thank all those who participated and/or donated funds for this event as well as those who volunteered to organize it with a special thanks to the Pamlico County Sheriff's Department.
The Chamber serves members in Pamlico County as well as members whose businesses are in nearby counties but who provide services and products to residents and businesses in Pamlico County. All communities in Pamlico County are represented by the Chamber: Alliance, Arapahoe, Bayboro, Florence, Grantsboro, Hobucken, Lowland, Merritt, Mesic, Minnesott Beach, Olympia, Oriental, Pamlico, Reelsboro, Stonewall, Vandemere and Whortonsville.
The Chamber was organized for the purpose of advancing the economic, industrial, professional, cultural and civic welfare of the Pamlico County area. As an organization, the Chamber encourages the growth of existing businesses and industries while giving assistance to any new firms or individual seeking to locate in the County.
Pamlico County's 10th Annual Heritage Day will be held Saturday, October 4th from 10am to 3pm at the Museum and Heritage Center. The event will feature a tractor raffle, vendors and exhibits, games for children by 4-H, and music and entertainment.
_____________________________________________________________________________________
Oriental Woman's Club Hosts Fundraiser for
Silverbrook Cemetery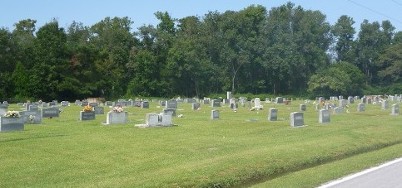 By Martha L. Hall
Pamlico News Staff
ORIENTAL – Read the history of Silverbrook Cemetery and you read the history of Oriental – the long lives of some, the accidents and illnesses that caused the short lives of others.
A barbecue fundraiser will be held by the Oriental Woman's Club on Oct. 3 to raise money to keep the cemetery looking good and the grass mowed. Take-out plates from Moore's Barbecue are $6 each. The plates will be ready from 11 a.m. until 1 p.m. at the Woman's Club on Gilgo Road.
The Oriental History Museum on Broad Street contains a special display about Silverbrook Cemetery.
Gay Jordan, of Charlotte and Oriental, has researched and written a narrative of the Silverbrook Cemetery, uncovering some of the personalities that are buried there.
The Oriental Woman's Club assumed responsibility for upkeep in the cemetery in 1922. The oldest tombstone in the cemetery is that of 2-year-old Ada Irene Pickles who died in 1896. Her 8-year-old sister, Alice, lies beside her, her death dated 1899.
Jordan said there are two parts of the Silverbrook Cemetery.
"There's the old part that I concentrated my narrative on, and there's the new part where people are still being buried," she said. "That cemetery will just expand back into the woods, I predict. There are probably 200 graves there. It's divided by a road. The old part is on the right hand side and the later burials are on the left."
Jordan's narrative said the first dues were requested from lot owners in 1931 – fifty cents per year for out of town owners and one dollar from Oriental owners. By 1950, lots were being sold on the left side of Silverbrook Road and dues were increased to $5 a year.
At one time, a "perpetual care" option was initiated that established a one-time payment which would create interest income from a special cemetery account. That worked pretty well until 2008 when there was a recession. Jordan said maintenance costs have increased so that in 2014, bare bones mowing and trimming is nearly $400 per month.
"This has all come about because we need to have some money to get the grass mowed," said Jordan. "There's a debate about the 'perpetual care' and just how perpetual that care is going to be. I found when I would contact people for information to cobble together history, the people didn't understand why the Woman's Club was asking for donations. They thought the money already paid was enough."
Silverbrook Cemetery evolved from a tiny cemetery know as Tranquil Cemetery on the right of Silverbrook Road. To visit the cemetery, head northwest on N.C. 55, turn left on North Street, then right onto Silverbrook Road.
Sally Belangia has issued an invite to another fundraiser on Oct. 25 at the Oriental Woman's Club. It's a Halloween party, BYOB, with a ghost hayride to Silverbrook Cemetery. There will be ghastly foods and a disc jockey. Admission price is $5.
Week of September 17, 2014
Ol' Front Porch – Another Tribute to Oriental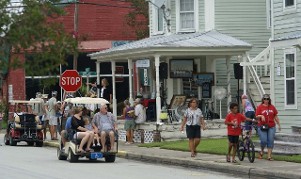 By Martha L. Hall
Pamlico News Staff
ORIENTAL -- On Saturday a first-time musical event morphed into a keeper. It was the first Ol' Front Porch Music Festival and a good time was had by crowds all along Broad and Hodges streets.
How clever it was to refer to the Ol' Front Porch in memory of Lucille and Billy Truitt's now non-existent front porch, but one the folks of Oriental certainly remembered.
It brings back memories of rocking chairs and music played on a hot afternoon. That was Leslie Kellenberger's idea. She and Dottie Osmun put this festival together. Dawn Hoyle was the one who kept up with the musicians and their time on "stage." She also delivered the programs in a wheelbarrow to each event.
The sounds of bluegrass, country, sea chanteys, classical jazz, gospel, roll and roll, Middle Eastern music and Dixieland were just a smattering of the music echoing up and down Broad Street and Hodges Street.
On the porch of the Old Hotel, the children of Lucille and Billy told stories about them.
"I have no idea how many people were in town," said Osmun, "but they had a people jam on Hodges Street. We had to get the police to clear a place for cars to go through. The weather (forecast) looked gruesome but it didn't rain until about 3:45 p.m."
Osmun said they would review any problems and ideas at their next meeting. She said the money raised from the jars at each site was about $1,500. The banner across Broad Street, Osmun said, cost $475 which would come out of that $1,500. The dates on that can be changed and it will be used for next year.
"If they had a sound system, they had to keep it down," said Osmun. "Another glitch, we had a musician put a tip jar out. By the time I heard about it, he was gone. The event was donated. People were wonderful to rally. There were lots of volunteers and the musicians volunteered their time. The program and the flyer were done by several volunteers."
Osmun said everyone loved the porches.
All of the artisans were on the Pamlico News lot with their wares, along with "porch" music.
At the Old Central Hotel, the Green Creek Blues Band played. This band consisted of players who originally played on Lucille and Billy's porch. Ken Belangia was Lucille and Billy's son-in-law, and includes Dr. Ernest Dunn and Becky Ackiss. Performing with them was Steve Belangia of Burlington. That band, formed in the 1980s performed on the Ol' Front Porch and the Bluegrass Association in Kinston and many other areas in the county.
Jim Austin and Bentley Smith live on a catamaran. They think of themselves as wandering minstrels – guitar, 5-string banjo, harmonica and concertina. They are only in Oriental for 3 weeks. Then they sail to Florida and the Bahamas.
"We are going to sing at Cat Island, at Fernando's Bay resort, then Elutheria where the people are wonderful," said Austin. "One more person who made this wonderful was Marsha Paplham. She had a jam session going on her porch and she let us play afterwards."
Austin said there was one more person who played with Salty Paws.
"His name was Dave and he was aboard the Dyad," said Austin. "He was the second guitarist."
Simon Spalding played on Broad Street. A musical historian, Spalding is a versatile musician knowledable about traditional English, Scottish, Scandinavian, Russian and American folk music. Spalding plays more than 50 instruments.
"I was only going to take three instruments but I took four," he said. A good thing, since his group Casablanca couldn't show up.
Others playing were Sandra Baldree played and sang at the Sing-A-Long Porch on Broad Street; Craven Brass under the direction of Dan Jones performed at Coldwell Banker Realty porch; The Del Rios played the Pamlico News porch; Green Creek Bluegrass were at the Old Central Hotel porch; Harbor Sounds were on the Town Hall porch; Bob Jones played acoustic guitar on the Village Art Gallery porch; Bob Laverty entertained with county rock to maritime, tropical and jazz; Mac McWilliams performed on Nautical Wheeler's porch; the Moseley Family Singers performed a tight blend of harmony from bluegrass to folk rock; Salty Paws sang sea chanties and nautical songs on Board Street and then went to Marsha's Cottage to play with the pick-up musicians; Simon Spalding played the 507 Broad Street porch with his usual versatile arrangements; Ed Terry, well known in Pamlico County as the owner and lead act at the County Opry, put on a show; Travelin' Jones, a music duo, performed on the porch at 500 Hodges Street, singing bluegrass and blues, jazz and Western swing; the UHOOS, the Ukulele Hoalohas of Oriental got together to strum their instruments at the 507 Broad Street porch; and the New Sensational Messenger performed, spreading the word of God from the 500 Hodges Street porch. Thanks are also extended to the Oriental History Museum who added exhibits from Lucille and Billy Truitt's life to the stage at the Old Central Hotel.
_____________________________________________________________________________________
Youth Step Into Garden Leadership Role To
Help Fight Hunger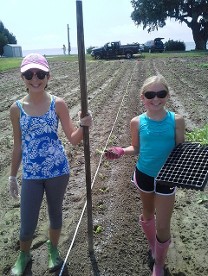 Caroline James (L) and Emmie James (R) of Oriental will lead harvesting operations
for the Operation Veggie Box – Bethany Christian Church Garden this fall.
By David K. Bailey
Operation Veggie Box
ARAPAHOE – Two 5-Star recruits from Oriental have made verbal commitments to lead the harvesting operations of the Operation Veggie Box – Bethany Christian Church Garden this fall. The two volunteer leaders are sisters Caroline and Emmie James. Caroline will quarterback the harvesting activities and her sister Emmie will be taking handoffs and running downfield to pick and pack lettuce, cabbage, squash, and other veggies!
Last week their mother Courtney James called Operation Veggie Box (OVB) and wanted to know if they could help with our efforts this fall. A couple of days later they were helping OVB plant romaine and green leafy lettuce. This was not the first time that they have helped OVB. This past summer both sisters participated in OVB's Corn JAM! and the Veggie JAM! For the Corn JAM! they went out into a sweet corn field and picked corn that was later delivered to hungry people across eastern North Carolina. They also helped box up over 1,000 boxes with vegetables and spiritual messages as a part of the Veggie JAM! event. The sisters were actually participating in Camp Seafarer's summer program at the time which has an element of community service within its curriculum. Camp Seafarer (CSF) and Sarah Rhymer, who is the Director of Community Programs at CSF, have been tremendous supporters of OVB and we thank them for their many contributions and volunteers to our ministry.
Now the James sisters want to do more to help people in their community. Both are home schooled by their mother and all three are fantastic people! After we had finished planting I asked if they wanted to help more and they both said "Yes!" They are sincere, energetic, intelligent people who are growing and developing in their leadership roles. If they ask you in a couple of months to help them harvest please consider giving them a hand. I can assure you that you will be blessed by them as I was this past Friday. While planting the lettuce they were smiling all of the time, as you can tell by the pictures, and were eager and sincere in all of their efforts. I thought that I was just going to get some free labor for the day but I was actually blessed by their attitude, values, and willingness to do more.
The gardening duo will also be checking in on the garden on a weekly basis to inspect the plants, perform field maintenance, and water, if necessary. We would welcome help from other volunteers in the community.
If you, or your youth group, want to get involved with Operation Veggie Box this fall feel free to contact David Bailey @ 252.229.6228 or email at david.bailey@operationveggiebox.org.
Operation Veggie Box is a Pamlico County based Christian Ministry that was launched at Bethany Christian Church in August 2013. Volunteers from other churches in Pamlico County are involved in the growth of this ministry including Oriental United Methodist Church, Silver Hill Christian Church, Anointed Remnant Church of Christ, Disciple of Christ, Arapahoe Free Will Baptist Church, and others. Other organizations and individuals providing financial support, expertise, and resources include Don Lee Farms, Neuse River Turf Farm, Zeb James, Camp Seafarer, Potash Corp. – Aurora, Flatland Ag, the Society of St. Andrews, the Pamlico District Union Disciples of Christ, the Pamlico District CMF Disciples of Christ, and Walmart – Grantsboro location.
_______________________________________________________________________________________
Lt. Governor Reportedly Behind NO Ferry Tolls Movement
By Martha L. Hall
Pamlico News Staff
In a meeting reviewing the legislative session with Henri and Joe McClees, lobbyists for Pamlico County, in Raleigh this past week, Lt. Governor Dan J. Forest reportedly expressed a long-standing opposition to seeking tolls for ferries.
Henri McClees said the Lt. Governor observed that ferries are like roads, highways and bridges, which has long been the expressed view of many Pamlico County anti-toll supporters.
Forest is a member of the State Board of Economic Development. This makes him aware of all aspects of economic development and he is very aware of coastal North Carolina's lack of growth and low employment figures, according to McClees.
This could be a "no news item" except for one thing. The Lt. Governor casts a tie-breaking vote as President of the Senate.
Pamlico County Commissioner Chairman Paul Delamar III said he had one thought when he heard about the Lt. Governor's reaction.
"I thought 'Good.' I'm glad for anyone who is against it," he said. "I've always felt that our job was to keep the tolls from being put on the ferries and we do have some allies. Since we employed Joe and Henri McClees as lobbyists, I feel we will know if the Department of Transportation or anyone else in the legislature tries to add on a law or change something about the ferries without our knowing about it."
The legislature, after wrangling over the issue, put the matter in the hands of local Rural Planning Organizations to ask for tolls to fund new ferry vessels. The overseeing DOT cannot raise or add new tolls without those requests.
Commissioner Chris Mele of Oriental and Minnesott Beach Mayor Josh Potter are the two appointees in Pamlico County to attend the Rural Planning Organization who have been made responsible for the ferries.
"We haven't done anything with the ferries for about two months. At that time, we drafted a resolution requesting that all tolls be eliminated," said Mele. "Our RPO includes Pamlico, Craven, Jones, Onslow and Carteret counties. Onslow County has not attended a solitary meeting. Josh and I have attended 100 percent."
Greg Piner, one of the leaders of the Don't Tax Our Highway group, said the news of Forest's stand came as a pleasant surprise.
"He was never on my radar as far as any of my previous dealings with him," said Piner, a dedicated proponent of the No Ferry Tolls. "I do know that there was some hope that the executive side of the government would start getting involved a little bit and there were hopes that Gov. McCrory would put some emphasis on it next session. I guess the more people understand that the tolling issue is not raising any substantial amount of net revenue and it's not good for eastern North Carolina, the better it is."
Piner said that the more people, especially those in power, who become aware that tolls are bad for Eastern North Carolina, the better.
Larry Summers, another anti-toll organizers, who went to Raleigh and waved signs and has sent letters to the legislators concerning No Ferry Tolls, said he didn't think the Governor or the Lt. Governor had a lot to do with it.
"I think we have the House behind us, and I think it's the Senate. I firmly believe this is Step One in lowering taxes and raising fees. I honestly think Rep. John Torbett from Gaston County is a superstar in the making. I think he's the one that can make it go. He wants to get new money into North Carolina. I think he has the right idea. We just need to get some others into the legislature who think the same way."
_____________________________________________________________________________________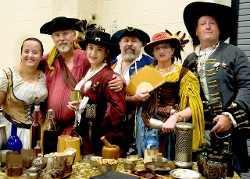 The terms Renaissance and unique are forming a unique partnership at Pamlico Community College.
Renaissance grammarians note that nothing is somewhat unique or very unique. It's either unique or not unique. According to Simon Spalding, The 2nd Annual Medieval and Renaissance Festival at PCC, this Saturday, September 20, is unique east of Rocky Mount in North Carolina's Coastal Plain.
Spalding, who is coordinating the event as a part of Cultural/Life Enrichment programs at the college, said,"Until now, Renaissance Festivals have never occurred this close to the central coast.
This year's festival features abundantly more entertainment than last year's program. Though definitely not a three-ring circus, there will be three stages of ongoing activities compared to two stages last year.
Spalding reported, "Craven Consort and Tuppence are returning to this year's festival, and we have quite a few groups coming this year for the first time. I am thrilled beyond belief to put this together for area residents. The variety of entertainment and demonstrations will be educational, and yet also delight people of all ages."
New groups this year include:
Thursday Morn, a string group, including violin and hammered dulcimer along with other stringed instruments, has performed at They group will perform in the Atrium outside the Delamar Center Auditorium at both 11 a.m. and 1 p.m.
Pamlico Brass, a local brass ensemble will perform Renaissance and early Baroque music on instruments of the trumpet family. Trumpets and sackbutts, predecessors of the trombone, were used extensively in Medieval and Renaissance music. This group will perform in the Delamar Center Auditorium at 1 and 2:30 p.m.
The Heritage Troubadours, directed by Cheryl Kite, sing madrigals and other Renaissance vocal music. They will perform in the Delamar Center Auditorium at Noon and 1:30 p.m.
Coastal Winds, a quintet of woodwind instruments, will play a variety of Early Music on the Auditorium Stage at 12:30 p.m. and 2 p.m.
Stage magician Gary Shelton will perform on the "Bear Garden Stage" at 11:30 a.m. and 1:30 p.m. Spalding commented, "I have seen him perform several times, and I know he will be an excellent addition to our event."
Groups returning to the festival from last year include Craven Consort and Tuppence.
Craven Consort has performed Early Music in and around Craven County since 1973. Under the direction of Roger Bennett, the consort has performed at the NC Renaissance Festival in Raleigh and in numerous other venues. The group performs on a mix of recorders and flutes, as well as plucked and bowed stringed instruments. Craven Consort will perform in the Delamar Atrium at 12:30 and 2 p.m.
Tuppence is the duo of Simon and Sara Spalding. They have performed ballads, dance tunes, and other traditional music on violin, guitar, the bodhran, an Irish drum, and other instruments for audiences as far-flung as Louisiana, California, and Scotland. Tuppence performs in the atrium at Noon.
Other attractions are:
Simon Spalding will teach English Country Dances that were familiar in the court of Queen Elizabeth for young and old in the Delamar Atrium at 2:30 p.m. This is for everybody!
A Combat Arena outdoors will feature Medieval and Renaissance martial arts in the. These include demonstrations of Archery by Crispin of the Shire of Cathenar at Noon and 1:30 p.m. The Triangle Sword Guild will stage an exhibition of sword fighting by at 12:30 p.m. and 2 p.m. Christophe, also of the Shire of Cathenar, will stage exhibitions of rapier fencing at 11:30 a.m. and 1 p.m.
Food, jewelry, and other wares will be offered for sale but it is most likely the food will be contemporary in flavor, not from the Middle Ages. Street characters will include a Town Crier as well as Grace O'Malley, an Irish Pirate Queen on her way to meet with Queen Elizabeth.
Leigh Russell, the college librarian, coordinates PCC's cultural events with assistance from Denise Meyerson. "For those who missed last year's festival, this is surely an event not to miss this year. No one will come away disappointed. This is a real treat for Pamlico County and the surrounding area," she said.
Contact Russell to learn more, lrussell@pamlicocc.edu, 252-249-1851 x 3033.
Week of September 10, 2014
Hagan-Tillis U.S. Senate Race Important on Pamlico November Ballot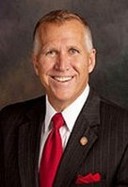 By Martha L. Hall
Pamlico News Staff
Political party leaders will tell you all election races are important.
On any local level such as Pamlico County, the battles for local offices usually gain the most attention of the voters.
However, a pivotal U.S. Senate race for November is among the offices on this year's ballot, along with sheriff, county commissioner and state legislative seats.
The race between North Carolina Democratic Sen. Kay Hagan and GOP challenger Thom Tillis is considered a major race for control of the U.S. Senate.
According to a variety of polls, they are neck-to-neck.
According to the web site Real Clear Politics, the range was 1 to 5 percent difference.
It cited polls by CBS/New York Times, USA Today, Rasmussen Reports and Public Policy Polling in Raleigh.
The recent Tillis-Hagan Debate drew national interest and will be followed by an Oct. 7 debate, monitored by George Stephanopoulis of ABC news on Oct. 7, and a third debate before the Nov. 4 general election.
The race has been expensive, as much as $29 million so far according to some political observers.
Republicans must add six states to their existing numbers to gain Senate majority. The areas under watch include North Carolina, Arkansas, Michigan, South Dakota, Louisiana, Colorado, Georgia, Kentucky, Alaska, Oregon, Iowa, Kansas and New Hampshire.
In Pamlico County, Democrat and Republican Party leaders each hope for a U.S. Senate victory on the local level.
It is an interesting situation for both parties.
Pamlico County is a majority Democrat county by party count - 4,350 registered Democrats, 2,765 registered Republicans. The county also has 2,310 unaffiliated voters.
In 2008, Hagan won the election over Elizabeth Dole, but did not carry Pamlico County. Dole had close victory locally, 3,042 to 3,058. Hagan was the first Democrat to win the seat since 1972.
David Cox, chairman of local Democrats and Dave Wickersham, Pamlico County Republican Party chairman, both said the U.S. Senate race is important for their parties.
"I have fairly high hopes that Kay Hagan will retain her seat," said Cox. "But it's going to be an expensive proposition. You ain't seen nothing yet."
Wickersham said volunteers will be calling people on the voter registration list.
"We want to get across the importance of voting in an off-year," he said. "I think we'll see half or more of registered voters turn out this year. In past years, there have been as many as 70 percent of registered voters show up at the polls."
He acknowledged that Pamlico County is heavily Democrats.
"The Republicans have been picking up and I believe that's because we have an active party structure and we work hard," he said. "We got a bunch of people who are committed and work hard to support Croakerfest, and the turkey dinner and the Lincoln Day Dinner and things like that."
Cox said that promoting statewide races is a challenge, in part to the fact that candidates for offices sometimes never make it to a small county like Pamlico.
He noted that Hagan had been at a waterfront rally in Morehead City, attended by Pamlico County residents.
Tillis has made appearances in Craven County.
"As a party, we try to do our best to support all the candidates, no matter what the office," he said.
While most local candidates are familiar to the population, Pamlico has many new residents, not from the area.
He used Senate Democrat candidate Carr Ipock of New Bern as an example.
Ipock is the longtime school board chairman in Craven County, which does not equate to visibility in Pamlico County. He is running against county resident and incumbent Sen. Norman Sanderson.
"Many of our new arrivals may not know who he is," Cox said.
Wickersham said the local GOP has large numbers of active "seasoned citizens," who are well aware of national politics and the issues that affect their lives.
"The national picture interests them a lot because of a variety of reasons - retirement, pensions, health care, etc," he said. "When we get together as a group, we tend to gravitate toward discussing those issues, because they are important in their lives."
He said the consensus among those GOP members is "they want to see Kay Hagan gone, primarily because of her support of President Obama (Democrat)."
He said again that getting the party vote out is a key.
Wickersham said that it is not just getting Republicans out, but relaying his party's message to Democrats and unaffiliated voters alike.
"It goes back to that old saying, 'Are you better off than you were four years ago?' If you are looking at what is going on nationally, not locally in the county, and you want to see some changes or see some changes, we would like to ask you to cast your vote for the Republican candidate."
Getting candidates such as Tillis or Hagan to personally attend a local candidate forum is nearly non-existent. Thus, no public "face time."
"It is unlikely to get statewide candidates here, because we are small and not a media center," Cox said. "It is hard enough sometimes to get our state representatives."
Cox said his personal view was that too many voters think only presidential elections are important.
"When you are voting for anyone, your school board representative, county commissioner or sheriff, you want people who will actually represent you," he added.
He agreed with Wickersham that getting voters out to the polls are important from a party standpoint.
Some changes in North Carolina voting practices overall may be a factor. A year ago, it was OK for non-registered voters to register and vote on a polling day. No longer.
Last year, if for some reason you were confused and went to the wrong polling place, you could cast a provisional vote from that polling place. No longer.
There were many places to register – Job Link at Pamlico Community College and the Department of Social Services in Alliance if you are there for other services. There are also opportunities at the party headquarters, both located near the county courthouse on N.C. 55 in Bayboro and the local library.
There is also the county elections office at the county courthouse.
The last date to register is Oct. 10. One Stop begins Oct. 23 and ends Saturday, Nov. 1 at 1 p.m.
One Stop will be open Oct. 23 and 24 from 8 a.m. to 5 p.m. The following week One Stop will be open Monday through Thursday from 8 a.m. to 8 p.m. On Halloween, One Stop will be open from 8 a.m. to 5 p.m.
____________________________________________________________
Pamlico Habitat Home in Oriental Beginning to
Take Shape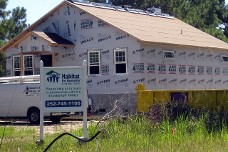 By Martha L. Hall
Pamlico News Staff
ORIENTAL—The Habitat home off White Farm Road and Harbor Way is moving right along. It is the first project house for the Pamlico Habitat in several years, the first in the Oriental area.
This week, the roof will be shingled. The electrical and the HVAC is scheduled to be done in the next two weeks.
The plumbing is complete.
Flo Daniels, Habitat board member, said after that laying the floors, the trim, insulation and drywall and painting will be the only things left.
The doors are there, front and back, according to Ariadne Sylvester whose family is working on and will live in the house.
She goes to visit the site almost every day to see what work has been done.
"I helped frame the house and I've done other jobs," she said. "I've had a few days off from the site because they were doing the plumbing. As soon as the drywall is done, I'll be able to paint."
Sylvester said her children, 10-year-old Victoria and 14-year-old Alden are excited about the house.
"Now that it's looking like a house, they are excited," she said. "Victoria knows which window goes with her room and she keeps looking at it."
Sylvester has picked out her color scheme and can't wait to start painting the house.
"It's going to be our home," she said. "It's nice to have some say."
Her husband John is going to help put in the kitchen.
Daniels said they didn't need volunteers until the painting. They are farming out the drywall and the insulation to trades.
"Because of our construction manager, we have progressed really well and we have gone faster than we have in any of the other houses," she said. "We have two construction guys and one of them has worked on our houses before. Between the two of them they have done a good job in getting everything done in a speedy manner and hopefully we'll get them in by Christmas."
Daniels said the Pamlico Habitat is not as fortunate as the one Craven County in terms of resources, including having some churches heavily involved.
"Our churches are not that well off," she said. "Our churches and businesses are asked for everything. They can give a little, not a lot."
Any family interested in a Habitat house should apply.
"It's based on family size and income," she said. "We take the median range of income in the county and base it on that. There is a form that comes out from HUD and that's what we go by. Every county has a median income. Basically we're making great progress. As long as we don't have a hurricane or anything."
___________________________________________________________________________________
Lightning, Storm Cut Short Bike MS Tour of Pamlico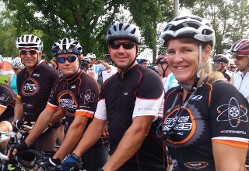 Pamlico Bike MS riders included (l-r) Chuck Forest, Neil Hammond,
Kenny Heath and Carol Beliveau dodged the storms Saturday.
Pamlico News Staff
For more than half of a sunny Sunday, most of the 1,900 riders in the area's largest fundraising cycling event got an up-close look at the beauty of rural Pamlico County.
It included an elaborate lunch stop at River Dunes, with food and even live music, by the Crystal Coast Band of New Bern.
But, a severe storm with lightning cut short the rides along the main and back roads of the county on the 14th annual Bike MS: Historic New Bern Ride.
After a sun-splashed morning in which riders made stops in Reelsboro, River Dunes and Oriental, the storm moved in and at 1:38 p.m., organizers in New Bern closed the routes.
"We went to our crisis plan," said event coordinator Mandy Wellons about 4 p.m., as most of the riders had been transported back to New Bern and begun making leaving for the trip back to their homes.
"We pulled about 700 riders off the routes," she said.
They were transported by support vehicles and buses, which are kept on standby in the event of a major weather situation. There was an identical situation two years ago.
In the end, she said no cyclists suffered any injuries due to the storm and termed the weekend a success.
There were some hearty souls who completed their rides, and naturally, that included some Pamlico County riders in the event, such as Chuck Forest, Neil Hammond, Kenny Heath and Carol Beliveau.
"Chuck, Carol and I took on the challenge of riding 100 miles each day for a combined 600 miles," said Heath. "We wanted to finish our ride. Neil is a fairly new rider and rode 50 miles each day."
The group raised $4,000 for Multiple Sclerosis research.
The ride on Sunday culminated another successful weekend two-day ride for the New Bern-based event, which has rides from 30 to 100 miles. On Saturday, riders were mostly in Craven and Beaufort counties.
Sunday's ride was majority Pamlico, along with the start and ending points at New Bern's Union Point Park on the Neuse River.
"Pamlico supports the MS ride along with many more riders and volunteers from all over our great county," Heath said.
Another local rider was Julia Tingle, who said she lives "in Oriental and Raleigh."
Like many of the riders with a connection to MS, she had a name other than her own on the back of her rider ID vest.
"I'm riding for Mary," she said of her friend with Multiple Sclerosis. She planned the 75-miler each day.
"This is my 10th year," she said. "It is a great week, a great ride, well organized and fun."
As for the Sunday ride, she added, "I'm proud to show off Pamlico County."